News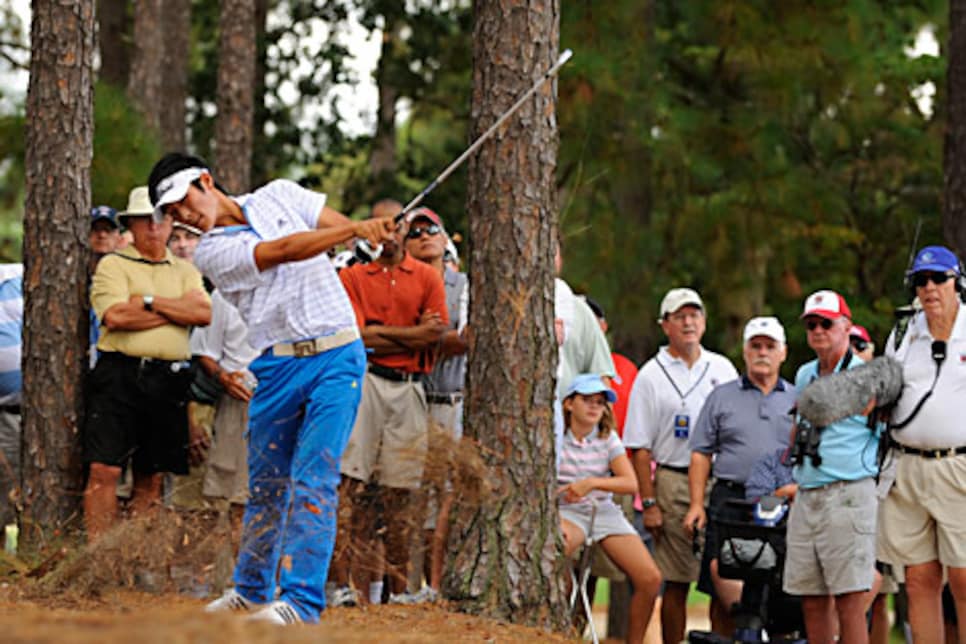 Foes weren't pining to face Lee, whose 3-and-2 semifinal win set the stage for history.
Where do you begin when talking about all the things Danny Lee has experienced the past 11 weeks en route to becoming the world's top-ranked amateur golfer? Since arriving in the U.S. last May, the South Korean-born, New Zealand-raised teen has attended the U.S. Open, celebrated his 18th birthday, caddied in the U.S. Women's Amateur, affirmed a fondness for cheeseburgers, posted a top-20 finish in a PGA Tour event and spent one hardy night near Buffalo, N.Y., sleeping inside a car.
"Yeah, that was pretty crazy," Lee said of the July evening when the final round of the Porter Cup ended late because of rain and the flights for Lee and his chaperone, Rambert Sim, were bumped to the next morning. "We couldn't find a hotel room. Eventually, we just pulled into a parking lot. It was a little cramped [in the car], but it worked out OK." Where your conversation ends regarding Lee's remarkable odyssey, however, is now rather obvious: North Carolina's historic Pinehurst Resort, on the famed No. 2 course, at the 108th U.S. Amateur Championship. Putting on a performance even Donald Ross would have tipped his tam to, Lee defeated Florida State sophomore Drew Kittleson in Sunday's 36-hole final, 5 and 4, to wrap up a stellar week for a budding superstar.
"I think I played incredibly well today," Lee said. "I don't think I can play better than that. I played perfect golf. I'm really happy with myself and how I played."
While such a statement drips of bluster, Lee may actually have been demonstrating restraint considering the astounding 13 birdies (offset by two bogeys) he made in 32 holes during the championship match, the last a 32-foot uphill putt on the par-4 14th to close things out with bravado.
During an eight-hole stretch to start Sunday's afternoon round, Kittleson was the equivalent of five under par, yet only cut into Lee's lead by two holes, his opponent was playing so well. "There's not much you can do," Kittleson said. "He played awesome. It was kind of fun to watch."
With the victory Lee became the fourth international player to win the championship in the last six years, the first New Zealander ever to claim the U.S. Amateur title and the second Kiwi to triumph in any USGA event -- 2005 U.S. Open champion Michael Campbell finding Pinehurst to his liking as well. Still, the most significant historical footnote Lee took possession of was youngest player (18 years, one month) ever to hold the Havemeyer Trophy, eclipsing his golf idol, Tiger Woods, by nearly seven months.
And to think what Lee, whose quick wit is topped only by his quick play (by the time you're done with this sentence, he has already hit his next shot), might have achieved had he had some rest? Last Sunday marked the 11th consecutive day he played a tournament round, having competed at the PGA Tour's Wyndham Championship down the road in Greensboro, N.C., the previous week. By shooting a 68-66 to make the cut, Lee kept himself too busy for any practice rounds at Pinehurst, which was hosting its second U.S. Amateur and the first since 1962. Instead, he prepped by posting weekend rounds of 67-67 at Sedgefield CC to finish T-20 against the pros.
Interestingly, 13 rounds in 11 days isn't even the most golf Lee had played in the last month. Three weeks earlier he counted 10 competitive rounds in a six-day stretch, winning his biggest title to date, the Western Amateur, then taking medalist honors at his U.S. Amateur qualifying site.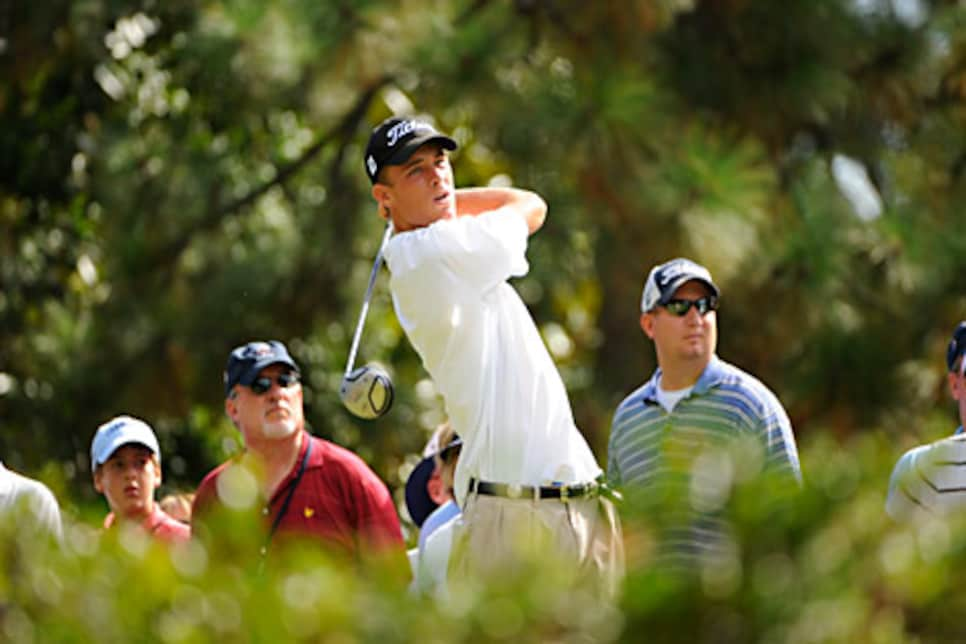 It wasn't just Lee's play Sunday, but his dominance throughout match play on Ross' 7,281-yard, par-70 masterpiece that was so impressive. Prior to the final Lee hadn't had any of his previous five matches go beyond the 16th hole. Only one of Lee's opponents, second-round foe Jacob Burger, ever had a lead on him, and that lasted all of one hole. Indeed, the only thing that could have derailed Lee was "a click" he felt in his left shoulder while warming up on the driving range prior to his 4-and-3 quarterfinal victory Friday over Morgan Hoffmann. (An X-ray that afternoon showed no damage, and by Sunday any soreness had essentially disappeared.)
"He's just a solid player," said Patrick Reed, who Lee dispatched, 3 and 2, in Saturday's semifinals. "He keeps the ball in play off the tee, hits greens. There aren't any faults in his game."
Noted Kittleson: "He didn't miss one putt inside 15 feet that I can remember. He was making everything."
For that, credit Sim, a family friend who has watched over Lee each of the last three summers. Owner of a driving range in San Diego, Sim felt Lee's ball-striking was fine but that his short-game needed attention. To help, he contacted the folks at La Costa Resort and got the green light for Lee to practice there while in town.
"It's the biggest improvement he's made," Sim said of Lee's sharpened play around the greens. "It's what has allowed him to make such big leaps this year."
Lee's stellar run filled the void when a handful of prominent Americans bowed out of the championship early. Of the five former U.S. Walker Cup team members in the field, only Rickie Fowler made it to the third round of match play. Jamie Lovemark was beaten in the first round, while Billy Horschel, Kyle Stanley and Brian Harman fell in the second.
In their place, new names emerged. Robbie Fillmore, a BYU junior who had taken two years away from the game while serving a church mission from 2004-06, earned medalist honors with a six-under 134. Georgia senior Adam Mitchell, a second-team All-American, reached the semifinals before falling to Kittleson, 4 and 2.
Then there was Kittleson himself, a 19-year-old from Scottsdale whose junior career hinted that bigger things were to come. Little did he know one of them was his own "bigger" body. Kittleson grew two inches during his freshman year in Tallahassee, requiring swing adjustments to account for his new 6-foot-3 frame. It wasn't until the end of the spring semester that Kittleson felt comfortable over the ball again. His confidence grew, however, during a trip to Scotland earlier this month with his Seminole teammates, where he successfully played several British Open courses, including a 64 on the Old Course at St. Andrews.
If there were any nerves on Kittleson's part, you wouldn't have known it from the 10-foot birdie putt he rolled in on the first hole to take the early Sunday lead. He went 2 up with a nifty up-and-down for par on the fifth hole that Lee failed to match.
At the par-4 seventh, however, Lee swung the momentum his way with a birdie to win the hole, the start of a nine-hole stretch where Lee won seven holes (five with birdies) to go 5 up. He preserved that advantage at the end of the morning 18, making impressive up-and-down par saves on Nos. 17 and 18 to halve the closing two holes.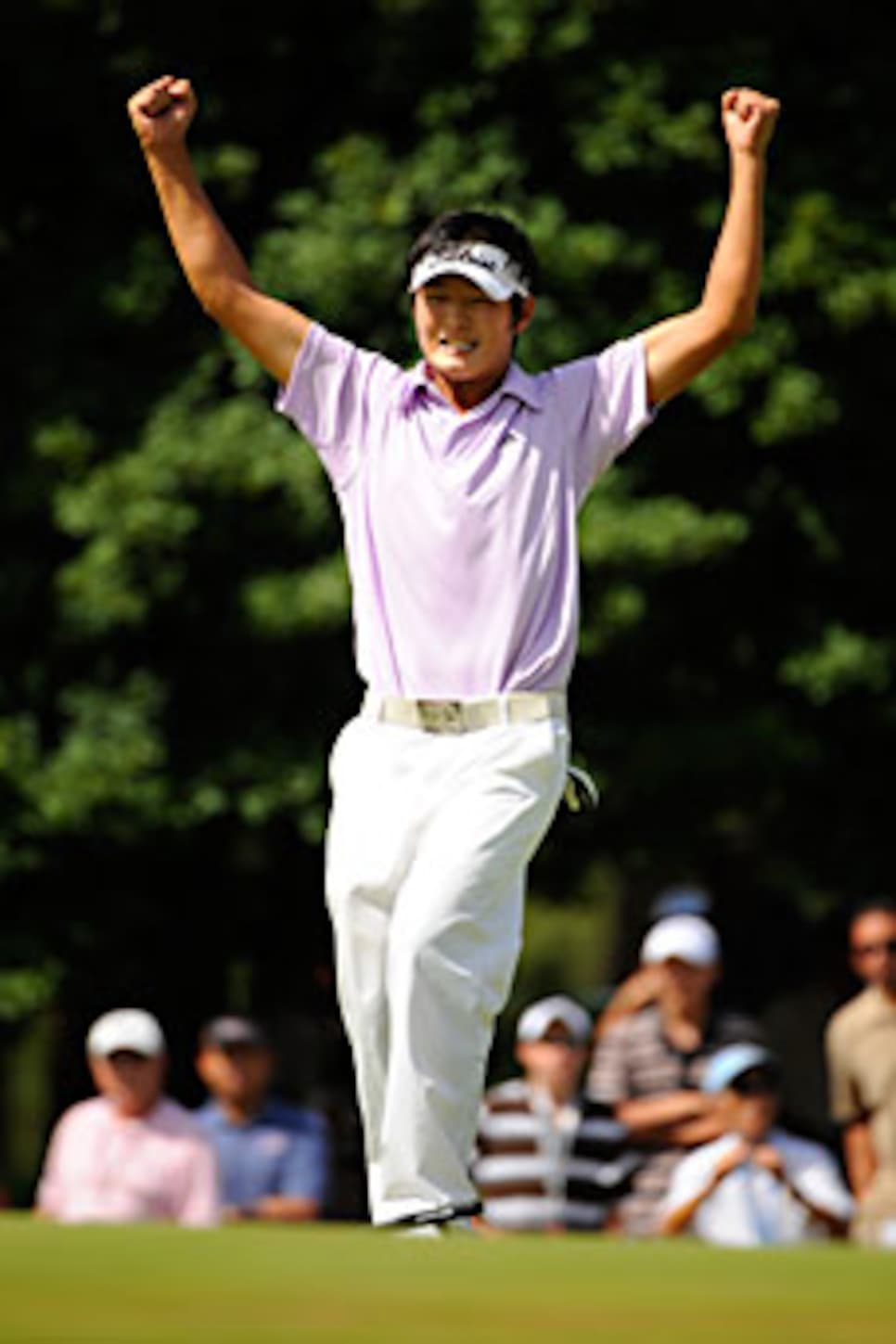 To Kittleson's credit, he didn't fade when Lee built his sizable lead. After losing the 20th hole with a bogey, Kittleson won four of the next six holes to trim his deficit to 2 down and rally much of the 3,000-person crowd behind him. The highlight of the run came on the 25th hole, when Kittleson chipped in from 25 feet for an eagle.
"I'm proud of myself that I didn't [get frustrated while trailing]," he said. "I'm usually that guy who would not be happy about anything going good for anybody else."
After the two halved the 26th with birdies, Lee birdied the 27th and 28th to regain a 4-up advantage with eight holes remaining, ultimately setting up the winning birdie putt on the 32nd hole. "I feel like I'm in a dreamland," Lee said, "I really can't believe it."
Neither could Sim, who throughout the final match was pecking away on his Blackberry, text messaging Lee's parents in New Zealand with hole-by-hole updates despite the 16-hour time difference.
As interested as Lee's father, Sangjoo, was in the proceedings, his mother, So Jin Seo, had even more at stake. She got the family's oldest son involved in the game in the first place when she worked as a teaching pro at a driving range in South Korea. Waiting for his mom one day, a then 8-year-old Danny picked up a driver and starting hitting balls himself, displaying natural form. So Jin Seo encouraged him to keep playing after the family moved to New Zealand a year later, becoming his primary instructor.
Lee's game flourished back home, but to continue developing, he decided to travel to the U.S. to play a handful of events in 2006 and 2007. This summer, he added more tournaments to his schedule, posting top-10s at the Northeast Amateur, Dogwood Invitational and Porter Cup before his breakthrough victory at the Western pushed him to No. 1 on the R&A's World Amateur Golf Ranking.
Asked his favorite part about coming to the U.S., Lee quickly says "the cheeseburgers." His dry sense of humor belies a big heart, explaining how he made his way to Eugene CC to carry the bag for South Korea's Ha-Na Jang, a friend of Sim's, for one round during the U.S. Women's Amateur.
With spots in the field at next year's Masters, U.S. Open and British Open if he remains an amateur, Lee's plan to turn pro this fall has been scrapped, although trying PGA Tour Qualifying School as an amateur remains a possibility, says Sim. Lee also will compete for New Zealand at the World Team Amateur Championship in October in Australia, returning home this week for a training camp before finishing up his high school studies prior to next month's graduation.
"I went to Torrey Pines this year [for the U.S. Open], and it was so cool," Lee said, watching as a spectator after failing to qualify. "To think I'll be playing [in it] ... " Lee's voice trails off, leaving his mind to wander. At the start of his summer sojourn, it would have been hard to believe he would be there so quickly. Eleven weeks later, so much has happened. Better yet, so much is still to come.