News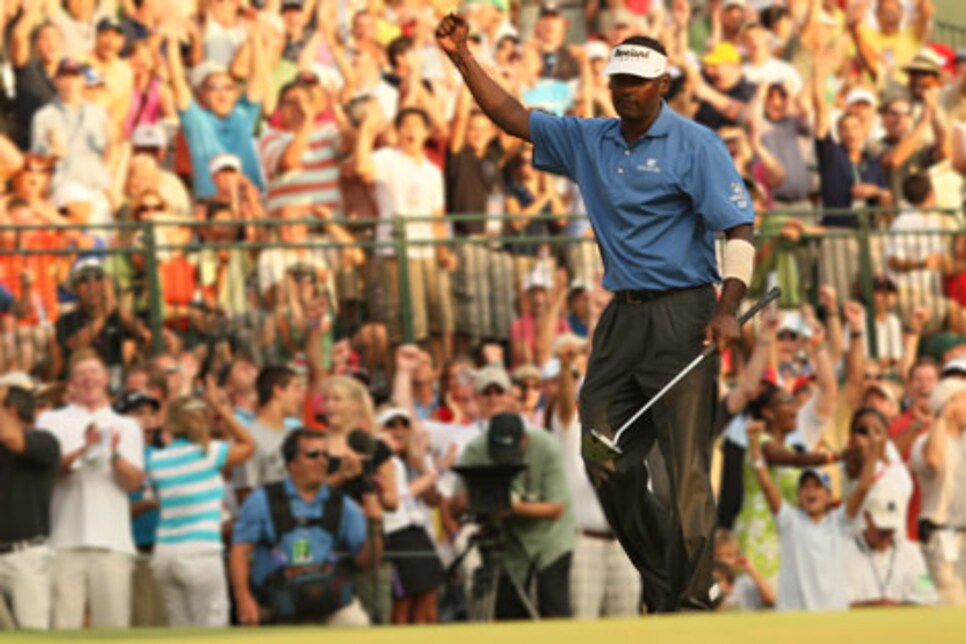 Must-make moment: Singh matched Garcia's birdie on the first extra hole.
As if to convince everyone that last year's inaugural FedEx Cup playoff series was not a runaway success, the PGA Tour kicked off its 2008 postseason at a new venue under a heavily revised competitive format, although the man largely responsible for prompting both changes was neither here nor there. Tiger Woods' absence from this same tournament a year ago played no small role in the Barclays moving from its longtime home north of New York City to suburban Paramus, N.J., where Ridgewood CC hides in the woods like a kid who might have stolen something.
"I know the people at Westchester don't miss us," one tour pro observed, "and we sure as hell don't miss them."
So let wrong-gones be bygones. Although the Barclays is scheduled to return to its old site in what amounts to a 2011 cameo, it won't be a year too late -- Ridgewood was as big a hit as you'll find among 144 guys with $10 million on the line. "Best golf course we've played all year," said Tom Pernice Jr., not the easiest man to please. The old-school look and imaginative medley of holes make this A.W. Tillinghast design a keeper, which doesn't explain why the tour will follow its commercial nose and flee to snazzy-but-raw Liberty National for the 2009 gathering.
"If this one's a 10, that one's a 2," said a veteran who played next year's site last week. But enough on the past and the future, especially when the present packs so much relevance. If Vijay Singh's lengthy stay on the game's short list of premier players appeared over less than a month ago, someone needs to notify the Big Fijian, who outlasted Sergio Garcia on the second playoff hole for his 33rd tour victory, his second in three weeks, his fourth at this particular event and the early lead in the overhauled-but-flawed playoff race.
That skanky sudden-death loss to Steve Lowery at the AT&T Pebble Beach National Pro-Am seems like ancient history, a term one might use to describe Singh, who turned 45 less than two weeks after the Pebble debacle. Twenty-one of those 33 titles have come after his 40th birthday, an all-time record and four more than Sam Snead, who probably had a couple of Ws left in him when he passed away six years ago. After winning nine times himself in 2004, Singh's putting stroke has come and gone. His ball-striking numbers have fallen off since that career season, but he still has enough moxie to win big tournaments on tough courses, so long as it doesn't become a four-day contest to see who can make the most 15-footers.
Not that Singh has convinced himself of that. "For weeks and months and years, with people talking about my [poor] putting and the media writing about it, I've gotten hundreds of letters and phone calls from people saying they can fix it," he said. "At the end of the day, it gets into your head that you're not a good putter, so I made a point last week that I was going to change my attitude. If I keep doing this, I'm going to win a lot more golf tournaments."
It's one of those solutions where the theory might be easier than the application, although it's hard to remember Singh making a bigger clutch putt than the 26-footer he holed to top Garcia's birdie on the first playoff hole. Both men have long suffered through their woes on the greens -- Sergio more from shorter distances, Singh in the eight- to 20-foot zone where many tournaments are decided. To see both guys knock in putts of almost identical length with a trophy on the line was darn near spine-tingling.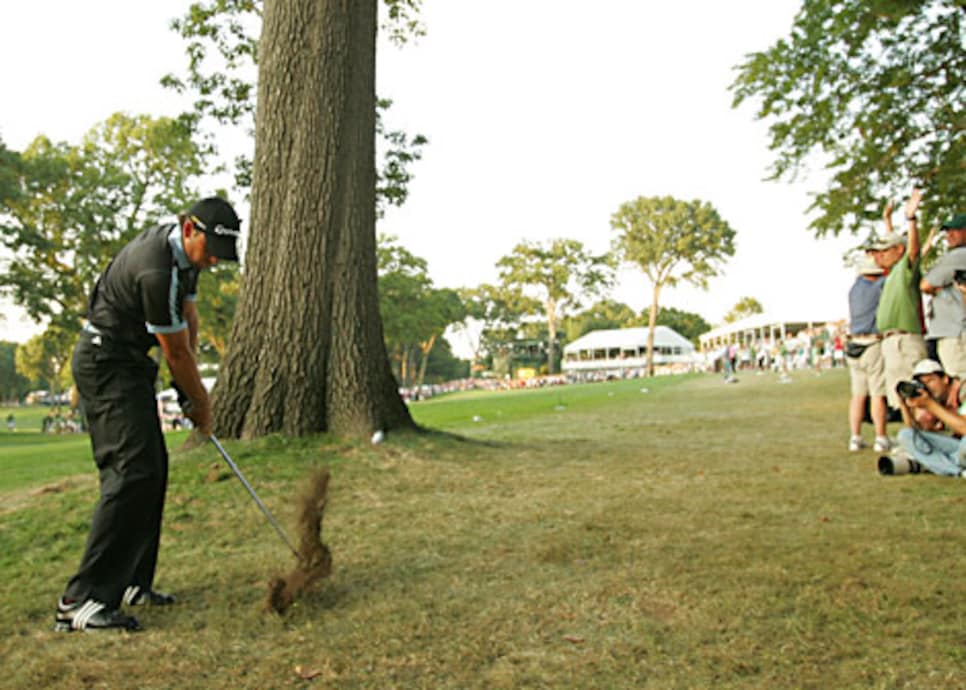 That goose-bump binge eliminated Kevin Sutherland, the third sudden-death contestant, and sent the two survivors to the par-5 17th. Garcia lost his drive on the edge of a hazard left of the fairway. Singh knocked his second shot to within 25 feet of the flag for the second time in a half-hour, and before you knew it, the excitement had come to an end. Although this didn't compare to the major-championship misfortunes inflicted on him by Padraig Harrington, Sergio's tendency to lose tournaments in agonizing fashion would continue, although he hasn't gotten much better at talking about those defeats without leaking excuses.
"I didn't think it was that bad," Garcia said of the miss with the driver, normally his most dependable club. "Obviously, it clipped a tree and spun a little to the left, and I didn't get the best of lies." On making a 27-footer for what looked like the game-winning birdie moments earlier, only to see Singh match it, Sergio sounded as if he had been handed a life sentence on the dark side of fate. "Well, it happens," he added. "What can you do? You can't take it the wrong way."
Too bad the same can't be said of the postseason point-distribution process. Blame all the modifications on Woods, who skipped the first playoff tilt last August and still claimed the grand prize by more than 12,000 points, a margin most recently popularized by Jamaican sprinter Usain Bolt. When the tour's Policy Board began reviewing the first FedEx Cup finish in late 2007, it came up with two primary objectives: create dramatic movement in the standings and make the superstars play in all four postseason events. Thus, the decision was made to turn up the dials on everything that would encourage volatility.
The problem? Almost everyone ignored the fragility. Singh earned 11,000 points for winning the Barclays -- just eight players reached that total in the entire regular season. You want crazy? A solo third at one of the first three playoff tournaments pays 5,400 points, which is more than Trevor Immelman, Woods, Padraig Harrington (and Harrington again) got for each of their major championship victories earlier this year. Simply making the cut at Ridgewood was worth 2,098, almost 400 points more than Rich Beem got for a solo third a week earlier in Greensboro.
Seriously, folks, you can't make up this stuff. "We went overboard," acknowledged policy board member Joe Ogilvie. "We overcooked it, and I'm sure we'll revise [again], but at least we know we took it too far.
"We were given various [projections], so we fully knew what we were getting into," Ogilvie added. "Mark Wilson [a member of the Player Advisory Council] was the one guy who thought we were going too far. I remember him warning us of what might happen. The problem isn't so much the player who wins as it is the player who finishes 135th, makes two [postseason] cuts and jumps into the top 70. That's not in the spirit of the playoffs, or shouldn't be."
Such was the case with Martin Laird. He entered the final regular-season event 162nd on the money list and outside the top 144 among FedEx Cup qualifiers. At Greensboro he made the cut on the number, then shot 64-63 on the weekend to finish T-4 and make the playoffs at No. 128. Laird's T-7 at Ridgewood elevated him all the way to 67th. God bless America. "We equated playing well with making the cut, which was a mistake," Ogilvie summarized. "The players wanted movement and the fans probably want movement, but I think we got a little too infatuated with the concept. The policy board and PAC get the blame there. One thing the system should do is make everyone play. We did solve that issue."
In a sense, Singh and Garcia bailed out everyone with their strong performances down the stretch. Vijay entered the postseason seventh in the standings, Sergio 12th, and the two now reside atop the list, which was pared to 120 for the Deutsche Bank Championship (see page 52). However, if Kevin Streelman, who missed the playoff by a stroke, had won the Barclays, he would have leapt from 102nd into the top three, depending on where Singh and Garcia finished. It's not about what you have done, but what you have done lately. Last year, just two guys who entered the playoffs between 121st and 144th advanced to the following week. This year there were 15 such survivors. Is that good? Bad? Does it really matter? The answer to that last question is definitely yes -- because the 30 who qualify for the Tour Championship are automatically exempt for next year's Masters, which is potentially the biggest reward-turned-flaw of all.
On the downside of this competitive earthquake, you'll find back-to-back major champion Harrington, the co-favorite for the PGA Tour's Player of the Year award (see accompanying story). He entered the Barclays in fourth place, missed the cut and tumbled to 23rd. Harrington is now 15 spots behind Ben Curtis, who has played well of late but hasn't won a thing. The inactive Woods fell from first to 15th. Geoff Ogilvy, meanwhile, did play, although not very well, and in missing the cut by two shots, dropped from 10th to 32nd. If you're looking for justice, you'd better hire a private eye.
What's done is done, however, and Singh apparently is not. After a superb final round carried him to a victory at Bay Hill in March 2007, the question wasn't how many more trophies he would collect, but how long he would keep collecting them. Seventeen months would pass with Singh stuck on 31 wins, causing him to drift outside the World Ranking's top 10 for the first time in a couple of centuries.
Three weeks and two Ws later, Singh is looking younger than ever, and Garcia appears to be getting more mature by the minute. "Vijay is a good friend of mine," Sergio said as he digested this latest heartbreaker. "We enjoy each other's company. You know, if I couldn't win, I'm happy he did, I guess." For now, that will have to suffice.
[Ljava.lang.String;@7388610e