News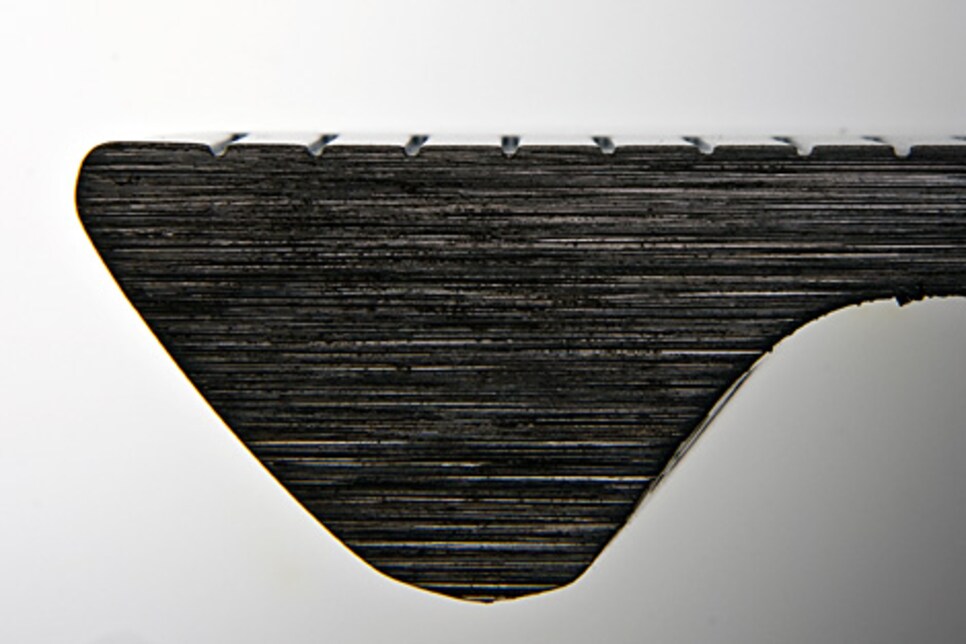 A cross section of opinion reveals some manufacturers' displeasure with the new rule.
There was no USGA official standing at a podium, speaking to reporters. Instead, as with most USGA announcements, the communication came via e-mail Aug. 5, and this time the notice was one equipment-makers had hoped they would never see in their inboxes -- the USGA and the Royal & Ancient Golf Club of St. Andrews, after more than three years of research, tests, conversations and data gathering, finally had pulled the trigger on a rollback of grooves, the first time the rules on equipment had been thrown into reverse in nearly 80 years.
The new rule includes a lot of tech talk about widths, depths and groove radiuses that you would need an engineering degree to understand. But at its base, the rule limits the size of the groove and the sharpness of the groove edge to reduce its effectiveness on shots from the rough. Although the USGA is not banning U-grooves or "square" grooves, it is forcing manufacturers to substantially reduce the size, shape or spacing of grooves, which likely will produce shots similar to those played with V-shape grooves. For clubs with less than 25 degrees of loft, only the volume portion of the rule applies. Drivers and putters are not included in the ruling.
Those are the basics. But such a dramatic move raises more practical questions. Here are seven things you need to know about how this ruling will affect the clubs used by tour players and, more important, those in your bag.
When does the rule take effect?
The USGA will implement the rule in its three pro championships (U.S. Open, U.S. Women's Open and U.S. Senior Open) in 2010, and will adopt it for all its competitions in 2014. As for the tours, the PGA, LPGA and European tours, along with the PGA of America, International Federation of PGA Tours and Augusta National GC, have told the USGA and the R&A they intend to adopt the condition of competition on January 1, 2010.
Why did the governing bodies do this?
According to the notice sent by Dick Rugge, the USGA's senior technical director, "The objective of this change is to limit the effectiveness of grooves on shots from the rough to the effect of the traditional V-groove design." Translation: The USGA and R&A believed current grooves made it too easy for elite golfers to play shots from the tall grass, thus reducing the need for accuracy as an integral part of the game. Rugge believes the change will result in a reduction of spin on shots from the rough by up to 50 percent, forcing players to throttle back to hit more fairways, although Benoit Vincent, chief technical officer for TaylorMade, thinks the number is closer to 25 to 30 percent.
Do tour pros agree with that thinking?
Those who play for pay are pretty much in agreement that taking the ABS brakes off shots out of the rough will somewhat harness the bomb-'n-gouge style of play. Typical of the responses was Sergio Garcia's. "I think it's going to put a premium on driving the ball well," the Spaniard said at Oakland Hills. "Maybe decide to give up a little bit of distance off the tee to make sure you hit the fairway."
Trevor Immelman also believes the R&D minds at equipment companies will find a way to compensate. "As soon as we change the grooves, we're probably going to have to alter the ball because if you're not getting as much spin, you're probably going to have to start using a softer golf ball," Immelman said at last week's PGA. "Nike has been working on that since the USGA started sending up the smoke that they may be doing this. I had a look at a few prototypes where they have started working on some different groove variations."
What about me? Do I have to buy all new clubs right away?
Relax -- no one is going to lose their clubs overnight. Although all clubs manufactured on or after Jan. 1, 2010, must conform to the new rule, regular Joes and Janes will be able to continue using clubs manufactured prior to Jan. 1, 2010, where the new rule (which is actually a condition of competition) is not in effect until at least 2024. You should be in the market for a new set of irons and wedges by then.
Where it might get tricky, however, is if eventually average golfers don't play by the rules, and country clubs don't require the new groove for club events until later on. History has shown this is unlikely (remember the Callaway ERC II driver?), but you never know. In that case some manufacturers might choose to continue making clubs with the current groove configuration.
What do manufacturers think?
Some, such as Callaway and Cleveland, are fine with the ruling; others, such as Titleist, are accepting of it. Some, however, are quite upset. Ping, which filed lawsuits against the USGA and the PGA Tour 20 years ago over grooves, is chief among them.
Ping CEO John Solheim shared a six-page letter he sent to Rugge that outlined his concerns, the sharpest point being Solheim's belief that "the changes to historical money list/driving accuracy correlations the USGA relies on to prop up its proposed ban of conforming square- grooved irons is likely the result of who is, and who is not, playing at various PGA Tour events -- rather than having anything to do with grooves." Solheim also pointed to the fact that the USGA did not know which type of grooves were being used by each player, nor the condition of the grooves (worn or new), nor the length of the grass from which each shot was taken.
"I am disappointed and intend to study this more closely," said Solheim. "How does this help the average golfer enjoy the game more?"
Solheim was not alone in his disenchantment. Vincent said he found the USGA's research incomplete. He also believes a trial period for testing the rule on tour would have been a more palatable intermediate step, instead of a change that, he said, "will affect 12 clubs in the bag." Rugge said a trial period was considered during the process of deciding on the final rule. He also indicated another consideration was not making a change at all, although he said that had not been a serious consideration "for some time."
Not likely. "The USGA cannot be the center of our attention," said Vincent. "For any company now to engage would be a major distraction. Plus you know that the day you start to be really confrontational with the USGA, the next 20 rules they put together are going to feel way harsher. I question whether we can ever really be confrontational with the USGA." That's not to say it can't happen. Some companies believe the rule calls for a more exacting manufacturing process that will make costs go up (although Vincent claims the change will be minor, and costs will not be passed along to the consumer). A business impact could lead to lawyers roaming the buildings. Still, the USGA believes it is on solid ground should that happen.
"You never know what any manufacturer is going to do on the legal front," said USGA president Jim Vernon. "I think we are so well grounded in what we have done here that we are certainly confident that if there is such a lawsuit -- and quite frankly we don't expect there to be one -- we think we're in a very good legal position."
Are more equipment rollbacks likely?
Hard to tell. Listening to Rugge, it certainly doesn't seem as if more rollbacks are imminent. "There is no discussion about this paving the way for anything else at the USGA," said Rugge. "That's not the plan of this at all. This isn't the door-opener to do more stuff. This is a stand-alone item, it's not part of a package, nor does it embolden us to do anything differently."
That might be true, yet it appears that after seeking a way to gain a firm grip on equipment during the past 20 years, the USGA is now comfortable reasserting its authority, and the groove rule is by far the boldest stroke yet. Add in the fact that manufacturers don't seem able -- or inclined -- to put up a fight and it further bolsters the ruling bodies' ability to make more changes should they deem them necessary. Let's not forget Vernon's words at the 2007 USGA annual meeting: "Our work," he said, "doesn't end with grooves."
Now that the work on grooves is done, that statement might be more important to consider than ever.