News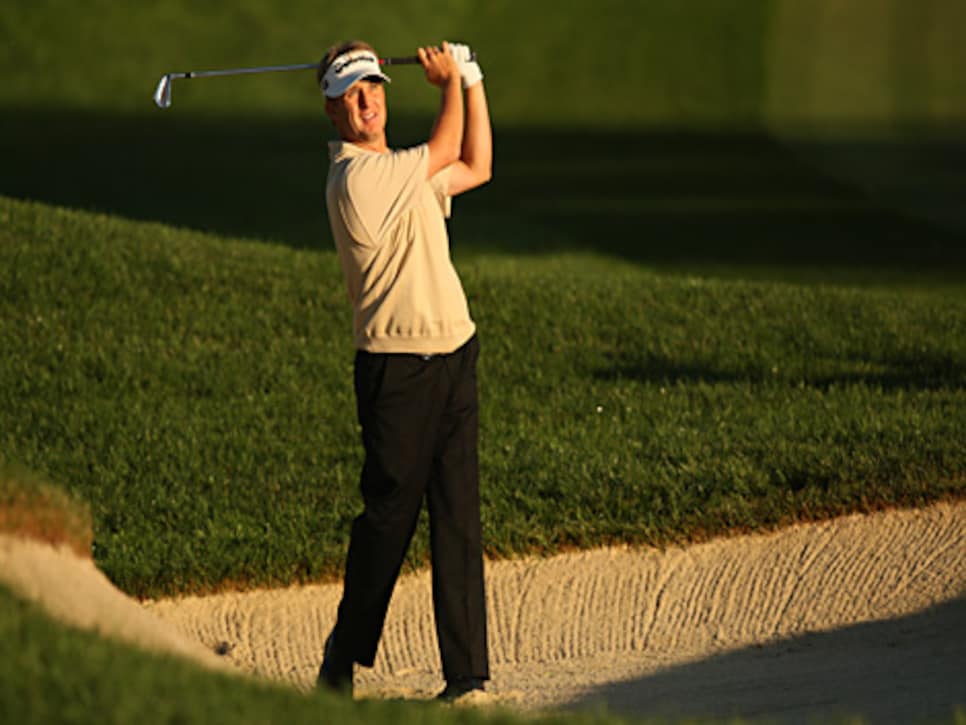 Toms' PGA performance should have gotten captain Azinger's attention.
With Ben Curtis representing America's lone hope down the stretch at the PGA Championship, CBS failed to mention any jostling for berths on the U.S. Ryder Cup team. Curtis jumped from 20th to seventh (he was actually eighth, but the PGA of America deleted the injured Tiger Woods from the standings) by virtue of his T-2 finish at Oakland Hills, which bumped Steve Stricker and did nothing to simplify Paul Azinger's most important task as captain: making good use of his four at-large selections, which he will reveal Sept. 2.
Recent U.S. skippers have leaned on veterans with their picks. Every player added to the squad since the wild-card process began in 1989 has had prior Ryder Cup experience. Azinger himself was chosen in 2002 and knows how ineffective many of those vets have been. If there's one thing about this year's captain, you rarely have to guess what's on his mind.
"Experience is important, but it's also overrated," Azinger says. "Anyone who has played in the last six Ryder Cups has experienced getting their a-- beat."
On that note, here's a glance at eight guys who factor prominently in the selection equation (their rank in the final Ryder Cup points standings is in parentheses). It's a far more unproven cast than we've seen in other years, although Azinger, who asked for and got the number of picks doubled, is almost certain to choose at least one guy who has been down this road before. Even if it is a beaten path.
Steve Stricker (ninth): He began the year third on the World Ranking and almost certain to lock down a spot by spring, but a T-7 at the British Open is his only top-10 since March. Still, the captain could do much worse than to add a likable gentleman who holes more 40-footers than anyone on the list. Walking together from the scoring area to the clubhouse last Sunday night, Azinger and Stricker had a nice chat. "I told him not to worry too much about it, that he's still in great shape [to make the team]," Azinger said. He should be.
Woody Austin (10th): Maybe the toughest of the bunch to figure out. Austin has blown two chances to win in 2008, at the Zurich Classic of New Orleans and the Buick Open, and both featured meltdowns on the 72nd hole. He's as poor a putter as Stricker is good, quirky and capable of becoming a distraction, although Woody played a key role in the Presidents Cup rout last September. Azinger has a tough decision here; it's easier to see Austin making the team than being left off it.
Hunter Mahan (12th): Will his anti-Ryder Cup comments knock him out of the picture? Azinger knows he needs the 12 best players regardless of whether they show up with a foot in their mouth, but Mahan's chances haven't gotten any better this summer. He shot 80 in the first round of the British Open, 81 to start the PGA, and has six missed cuts in his last 13 starts. He's another American with plenty of talent who has been slow to develop.
Sean O'Hair (13th): Speaking of young studs and stunted progress, O'Hair is right there. He seems to have one really big week every year, spurring talk that he is ready for the top tier, then goes back into hibernation. Why? He misses a ton of fairways and ranks 183rd on the PGA Tour in putting, which explains why the 2007 Players remains the only time he contended in a premium-field event. Despite his high finish in the final U.S. standings, the feeling here is O'Hair isn't ready for a Ryder Cup.
Rocco Mediate (14th): One more high finish and he's in, which makes the next three weeks crucial for pro golf's Everyman. Nobody offers more to the U.S. team room in terms of personality and chemistry. He is also good friends with Azinger. "It's going to be a different Ryder Cup with him this year," Mediate says. "Way different." As much as he would bring to the team, Mediate has only the U.S. Open playoff loss and a T-6 at the Memorial to justify a spot.
J.B. Holmes (17th): Factored heavily last week until his final-round collapse, which may or may not diminish Azinger's desire to have a 320-yard bomber on his roster for best-ball purposes. Let's not forget Holmes' superb performance against Tiger Woods in the first round of this year's WGC-Accenture Match Play, where he lost in heartbreaking style. Two career wins (both FBR Opens) don't hurt his case, and the native Kentuckian would help raise the gallery volume at Valhalla, site of this year's matches. The hunch here is that Holmes has a pretty good shot. One more high finish could seal his deal.
David Toms (38th): Out of nowhere, his respectable T-15 at the PGA came with a sense of timing. On several underachieving U.S. teams, Toms has been one of the steadier performers, but amazingly, last week was his best finish in 16 starts this year. The captain might really have to talk himself into this one. "The advantage of being able to wait three more weeks is the ability to identify someone you wouldn't normally think of," Azinger says. "I've got my eyes open to anything right now."
Davis Love III (64th): Another blast from the past, even if the past is at half-mast. The idea that Love might even be considered for a captain's selection speaks to the lack of depth on the U.S. side. With so many younger players slow to take the next step, Azinger has little choice but to ponder guys who have been there and done that. Love has one win in the last five years. In 16 starts in '08, his best showing is a T-19, so he's a noncandidate on paper. The longer you look at Azinger's options, however, the more you begin to realize that no idea is too silly.