News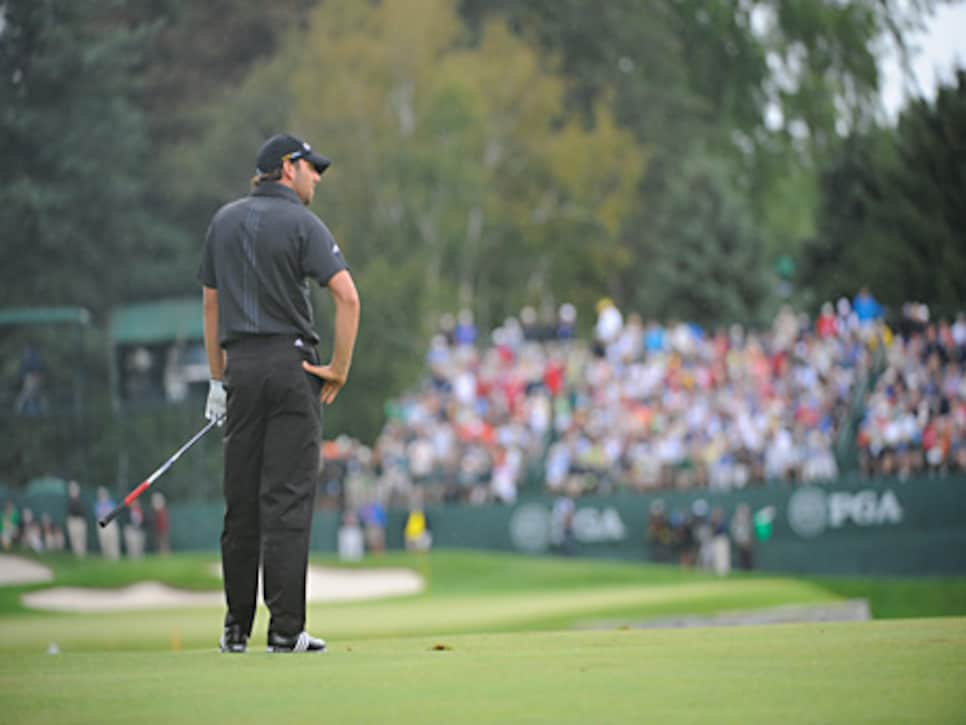 Garcia displayed major gains Sunday, but his approach at No. 16 was costly.
The nickname El Nino has been ironic for awhile now, so it was difficult watching Sergio Garcia bravely pretend that losing the PGA Championship at Oakland Hills -- in a way no golfer would wish on another -- wasn't going to hurt.
"Why are you trying to make this a disappointment?" he asked a questioner just behind the 18th green, where Padraig Harrington had just hit Garcia with the golf equivalent of a perfect left hook to the liver. "Obviously I was trying to win, but that's it. It's not disappointing."
To his credit, this wasn't the Garcia of the 2007 British Open at Carnoustie, visibly shaken and finally petulant. He knows better that pain can be essential to growth. But his nearly all-black outfit and unshaven whiskers foreshadowed a serious darkening to come.
This PGA was a major championship loss that will be painful on many levels. It was unavoidably personal because Garcia was beaten head-to-head by the now-nemesis who had faced him down at Carnoustie. At neither championship did Harrington play as high a quality of tee-to-green golf as the younger Spaniard. At Oakland Hills even Harrington's 66-66 finish was more a testament to a gritty ability to minimize mistakes and intensify focus at crunch time than the kind of full-flighted physical talent Garcia consistently exhibited in closing with 69-68.
Harrington one-putted eight of the last 11 holes, finishing that run with a trio of mid-rangers as clutch as any ever seen to close out a major championship. Garcia was beaten even though the crowd was with him, a young man who has paid his dues and whose talent and charisma they long to see unburdened. He was beaten with the coast clear of Tiger Woods, beaten in a year in which his destiny seemed foretold by the Spanish winners at Wimbledon, soccer's European Cup and the Tour de France. Beaten when he did everything a professional golfer has to do while near the lead in the final round of a major better than he ever has.
"It looked like his day," said Harrington of Garcia, admitting he was feeling close to beaten himself when he fell behind by three at the turn. "He's holing putts, and this is obviously an area that maybe he struggled with in the past, and it's really looking like it's going to happen for him."
Reading those words will increase the sting, and Garcia seemed to be inoculating himself when he called his final-nine 44 at Royal Birkdale at last month's British Open, which came when he had fallen to the outer fringes of contention, more difficult to take. "When you give your best ... it's hard, but you feel good," he said. "It was worse when I finished the Open Championship [because] I kind of lost control a little bit."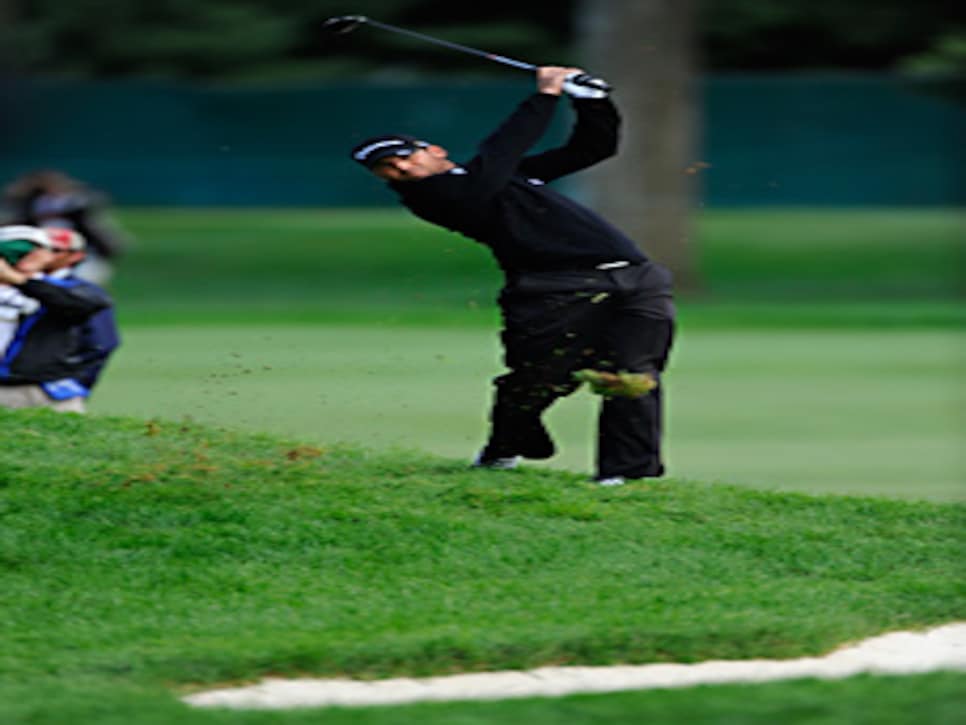 He didn't at the PGA, but while there's no question Harrington won more than Garcia lost, after his final-round front-nine 31 Garcia made five mistakes on the back nine that were enough to give Harrington and his newly intensified instinct for the jugular the openings he needed.
The first came when Garcia chunked a simple uphill pitch from 30 yards at the par-5 12th, costing him what should have been a birdie for a two-stroke lead. The second was badly pulling a birdie putt from 10 feet on the par-4 15th after a near-perfect 6-iron approach jumped into the hole before unluckily bouncing out.
The third mistake was the big one, the 6-iron approach to the par-4 16th from 178 yards that Garcia -- whose iron play to that point in the round had been stellar -- pushed wide of the green and into the infamous water hazard. Garcia "did the no" (to quote the anathema of competitor extraordinaire Raymond Floyd,) and although he followed it with a superlative 55-yard pitch from the drop area and a good putt to salvage bogey, the momentum had switched.
"I was surprised on 16, I was surprised," said Harrington. "It was within his control. ... And there is no doubt that was the opportunity I was looking for. That was the opening of the door. I felt it was going my way on the 17th tee. I thought I was going to win the PGA Championship. I did not feel that way on the 16th."
The fourth mistake was a pulled four-foot birdie putt -- after a majestic 5-iron from 216 yards -- on the par-3 17th. Harrington of course made the putt much more difficult with his merciless birdie from 10 feet. "I knew if I holed this, I probably would win the PGA," said Harrington. "If I missed, Sergio would probably win the PGA." Garcia, whose short putting was first-rate Sunday, gave way with the slightest of pulls to fall a stroke behind.
The final mistake was Garcia's pushed drive into the rough on the brutish par-4 18th -- with perhaps the most important fairway to hit on the course -- after Harrington had momentarily given the advantage back by hitting his drive into a bunker. Again, Garcia's driving had been extraordinary, but not when he needed it most. His near-heroic 5-wood shot from the rough caught the corner of greenside bunker, from where a mediocre sand shot might have been a sixth mistake, but Harrington erased its specter.
Garcia's profound disappointment was probably best registered by a complete lack of acknowledgement for the putt that beat him. As Harrington celebrated, the Spaniard stayed in a crouch ostensibly reading the green. After missing and putting out, Garcia gave Harrington the quickest of handshakes, Woods/Mickelson style, telling because Garcia would later give fellow runner-up Ben Curtis a warm hug. The two Europeans clearly have a cool relationship, chilled considerably by the desperate hours at Carnoustie. There, after Harrington hit his drive on the 72nd into the Barry Burn, he passed a perhaps inappropriately smiling Garcia (who was playing the 71st hole) on a bridge. "I was in no mood to smile," Harrington said later. Then on the final hole of the playoff -- again the trouble-laden 18th -- Harrington was preparing to address his tee shot with a two-stroke lead when he found it necessary to ask Garcia to give him more room.
"I would definitely say we're very much the opposite, me and Sergio," Harrington told The Guardian last September. "While we are [Ryder Cup] teammates, and the bond in that environment is amazing, we don't have a huge amount in common. We would be fairly competitive, I'd say." Adding that he had felt genuinely sorry for Garcia during the trophy presentation at Carnoustie, "That was it. I've seen him around since, but I'm not there trying to help him."
At Oakland Hills the best Garcia could come up with in the way of acknowledging Harrington -- who has now won three of the last six majors -- was, "He was obviously very good on the back nine and things just happened his way." He was then asked, "What would you say about Paddy's last month?" Garcia barely managed a just-this-side-of-sarcastic, "Great."
Garcia is now 0-for-38 in majors as a professional, and his undeniable ability and recent close calls will lay the Best Player Never to Have Won a Major label on him as heavily as it was ever worn by Mickelson (who shed it by winning one) or Colin Montgomerie (who shed it by steadily contending in so few). Perhaps more problematic, Garcia's loss at Oakland Hills had a Normanesque quality, as he was beaten by improbably brilliant shots made more damaging by his own untimely errors.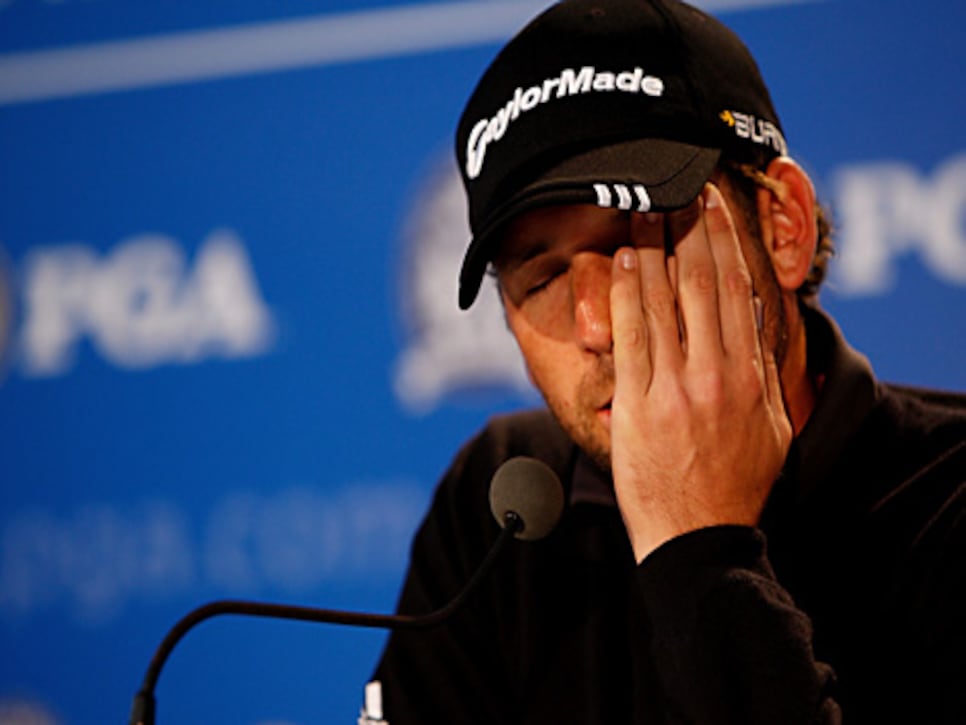 "I felt an edge in terms of my experience," said Harrington, who seems to have gained a sure knowledge that it is competitive intangibles that matter most at the end of a major, as well as the confidence that he possesses them. "I felt an edge in terms of my ability to take an opportunity when it comes around." Still, the big picture for Garcia remains bright. Despite his tenure near the top of the game, he is only 28. The odds are still well in his favor that he will keep getting better. Garcia's most obvious gift is an exceptional athleticism that produces a full-swing hitting action that is universally admired by his peers for its speed, correctness and versatility through the impact zone. It will make him a force to reckon with particularly in majors, where the high integrity of his shots is most rewarded.
Garcia is realizing that to not just impress but actually win, his mental game has to follow suit. As he struggled with his emotions in the aftermath of Oakland Hills, Garcia seemed to waver near a Carnoustie relapse of victimhood. "I've said it before, there are guys who get a little fortunate," he said. "They get in contention in a major and manage to get things going their way, either because they play well or because somebody else comes back. And unfortunately it hasn't happened to me. I feel like I played well enough to win probably more than two majors in my career. Unfortunately, it hasn't happened."
But then he caught himself, seeming to take value rather than frustration from the beatings he has suffered at the masters of intangibles, particularly Woods and now Harrington. "That doesn't mean that I'm not on the right track," Garcia said. "So I'm looking forward to the challenges."
The biggest of all remains the putter. Since beginning his work with short-game guru Stan Utley earlier this year, Garcia has not only shown improvement on the greens but actually putted like a whiz, most noticeably in winning the Players in May, and during his runner-up finish in the European Open earlier this summer, where he called his 21-putt final round the finest putting round of his life. But his final-round meltdown at Birkdale was foreshadowed by the shocking misses of two putts inside 18 inches as he was making his way into contention in the second and third rounds.
Utley has basically tried to encourage Garcia to return to the more flowing and freer stroke he made as a teenage prodigy, and at Oakland Hills Garcia brought the relaxed and fluid mannerisms of his full swing to his often too-tense stroke. Although he spoiled his second round by four-putting the 17th hole from 50 feet, the main result was his putts less than 10 feet regularly entering the center of the hole at ideal speed.
"He's much more confident with his putting than he's been in a long time," said Utley from his home in Scottsdale. "His good putting is now much better than it has ever been over the previous five years. He's still inconsistent, so he can still throw in a round where it's very mediocre. That's the evolution of someone improving, where technique comes before confidence. But he showed a lot on those Oakland Hills greens. The confidence is growing, and confidence is the most important piece."
It's the ultimate intangible. And golf's best healer of things that hurt.