News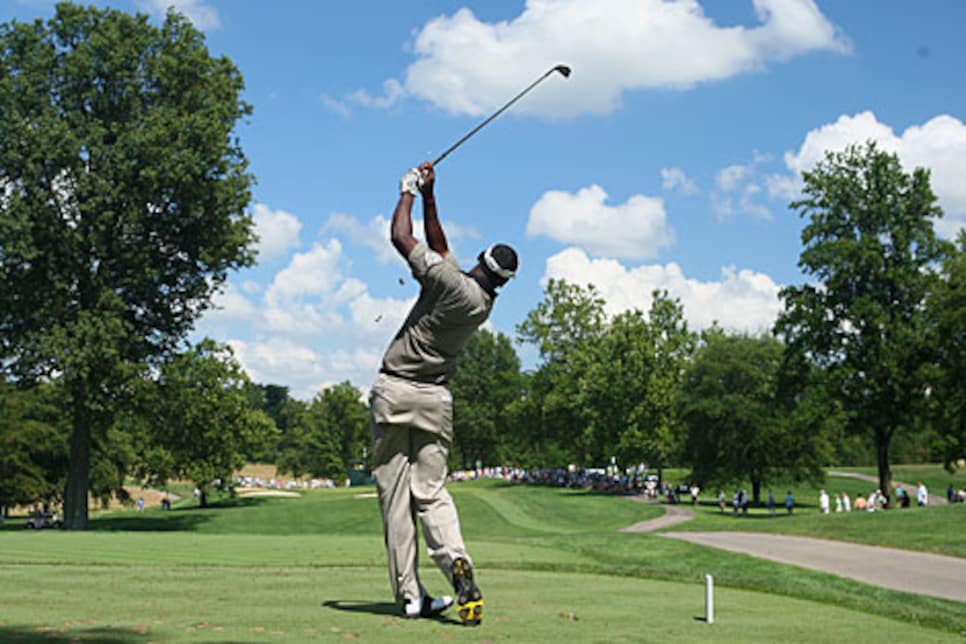 A third-round 69 gave Singh a share of the lead, his 32nd PGA Tour win within sight.
Between waves of drug tests, golf was played last week at Firestone CC South, and played with gritted teeth by several of the game's elite performers. One of them, Vijay Singh, had been written off and out of victory scripts by some experts, which might have made Sunday's narrow triumph in the WGC-Bridgestone Invitational that much sweeter. But when you log so many hours attempting to perfect a craft, it doesn't leave much time for leisure reading or TV viewing. "If people were thinking I was done, I really don't care," said Singh. "I don't pay attention to that. And if people thought I didn't have the desire anymore, then why do I do all that I do to get better?"
At 45, however, Singh admits losing confidence. "But we all do, sooner or later, regardless of age," he went on. While at relative peace with the other 13 clubs in his bag, Singh has been at war with his putter, or putters. He dumped the short stick after the British Open and had returned to the belly version upon embarking, fingers and hands crossed, on this stretch of six consecutive tournaments. Results have been mixed, but as he reminds himself and others, "The ones you make help you forget the ones you miss."
Thus, Singh's freshest memories of Sunday's taut fourth round will be therapeutic fuel entering the PGA Championship, the final major in a year that he won't categorize as his finest. Singh converted a 4½-footer for par on No. 17 and then made a 3½-footer for par on the 18th to complete a 68 for 10-under 270. one fewer than Stuart Appleby and Lee Westwood. The conquest was Singh's first since March 2007, an eternity bordering on an aberration for an enduring heavyweight whose 32 career triumphs are the most by an international player in PGA Tour history.
Singh passed Harry Cooper, pretty fancy company, and also Phil Mickelson, another superstar anxious to build momentum toward the season's homestretch. The left-hander had it going, but it is unlikely any of those ubiquitous urine sample collectors who watched the concluding hour will suspect him of using performance-enhancing substances. He bogeyed three of the last four holes to tumble from the lead. He wound up with a 70 and a share of fourth with Retief Goosen at 272. "I'm turning 63s and 64s into 70s," said Mickelson, who, like Singh, wanted desperately to at least reach détente with his putter. Phil the Thrill was thrilled about Firestone's greens as soon as he sampled them, and he had that bounce to his step for much of the week.
At the end, however, Phil could have landed his new jet plane on his lower lip. He bunkered his tee ball on the par-3 15th, drove it into the fairway sand on No. 17, and his wayward rocket on No. 18 evoked shady recollections of Winged Foot. "I thought I had to birdie 17 or 18, and I didn't," groaned Mickelson. Still it was overall an uplifting trip for Mickelson and his swing maven, Butch Harmon, except for that instance Friday night at an Akron Aeros' baseball game. A fan leaned over and asked Harmon, "Aren't you that world famous instructor, Bruce Fleisher?" Unfortunately for Butch, Mickelson was within listening range so rest assured this story will have an extended shelf life.
With numerous players being detained to supply bodily fluids—"I thought we were being tested one by one, not 10 by 10," quipped Sergio Garcia—Singh and Mickelson paired off in a spiffy anchor twosome Saturday. Crowds had been thin, but not for the weekend, not with those two protagonists who came out swinging after not shaking hands. The afternoon was thoroughly entertaining. Mickelson had 68, and Singh 69 to join a three-way scrum at the top at eight-under 202 with Westwood, who was ranked 266th in the world five years ago but would have vaulted to No. 4 with a victory. During his round, Singh twice flipped clubs in distress, a message to those who wondered whether his fire was extinguished. His body English certainly was not that of a man who thought he might never win again, either.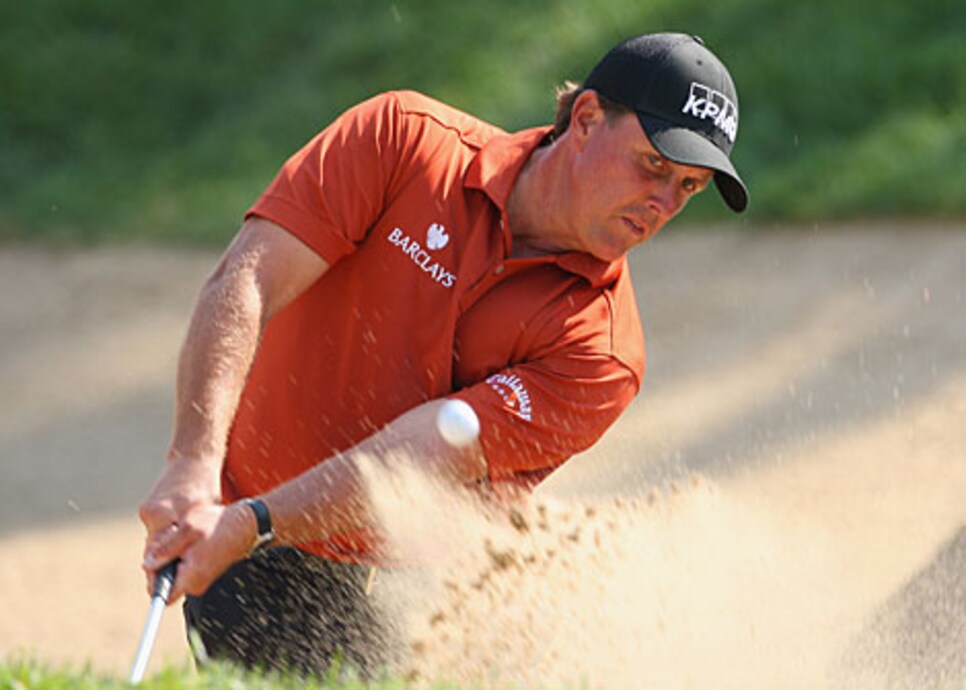 "I've been telling my friends, my trainer, the people around me, that I am close," said Singh, who practiced putting until near dusk Saturday evening, then for another couple hours off-campus Sunday morning. After a nifty save on No. 7, where he planted one foot in the sand, Singh led by five over Westwood, who made a double bogey mess out of that par 3. But then Singh left a 6½-footer for par short—short!—on No. 8, and Westwood reversed gears with a birdie. At No. 11 Singh missed a 7½-footer for par. Then at No. 13, another eight-footer for par avoided darkness. When another birdie attempt refused to drop at No. 16, statisticians gone wild declared that he was only eight of 18 for the week from four-to-eight feet. "So what do I do?" Singh moaned later, through a smile. "I leave myself two more of those. Like I said, I will remember the ones that went in because that gives me confidence. If you don't make anything, that's different. At least, most of the time, the ball is going where I aim it, and it looks like it could go in even when it isn't."
There was precious little wrong with Singh's irons, but when the putter is moody, sometimes even inside-the-leather isn't near enough. His "people"—from agent Clarke Jones to trainer Jeff Fronk to caddie Chad Reynolds—all seemed to agree that it would have been a shame for Singh to lose when he hit the ball with such authority. Meanwhile, he was telling them to keep the faith. Victory is near. "The swing [changes I made] toward the end of last year are finally coming together," said Singh. "And being 45, that doesn't mean anything. I have a great trainer who's taken me to the next level, and I think he's done wonders for me. As you get older, you just have to work a little harder, and that's what he's done for me. That shows if you are physically fit, you can play as long as you want to play."
Westwood, who appears to be major material, will testify to that. He was in the front row of contenders at the U.S. Open, too. "I'm 35 now," said the Brit, who waited until he was 34 before he looked at himself in the mirror. "And I probably started 10 years too late. I should have taken the warning from Ernie [Els]. He said he wished he would have started before he was 30."
Appleby, slim and trim, had to come back from nowhere, but in a different fashion than Westwood. The Aussie went out in 40 Thursday.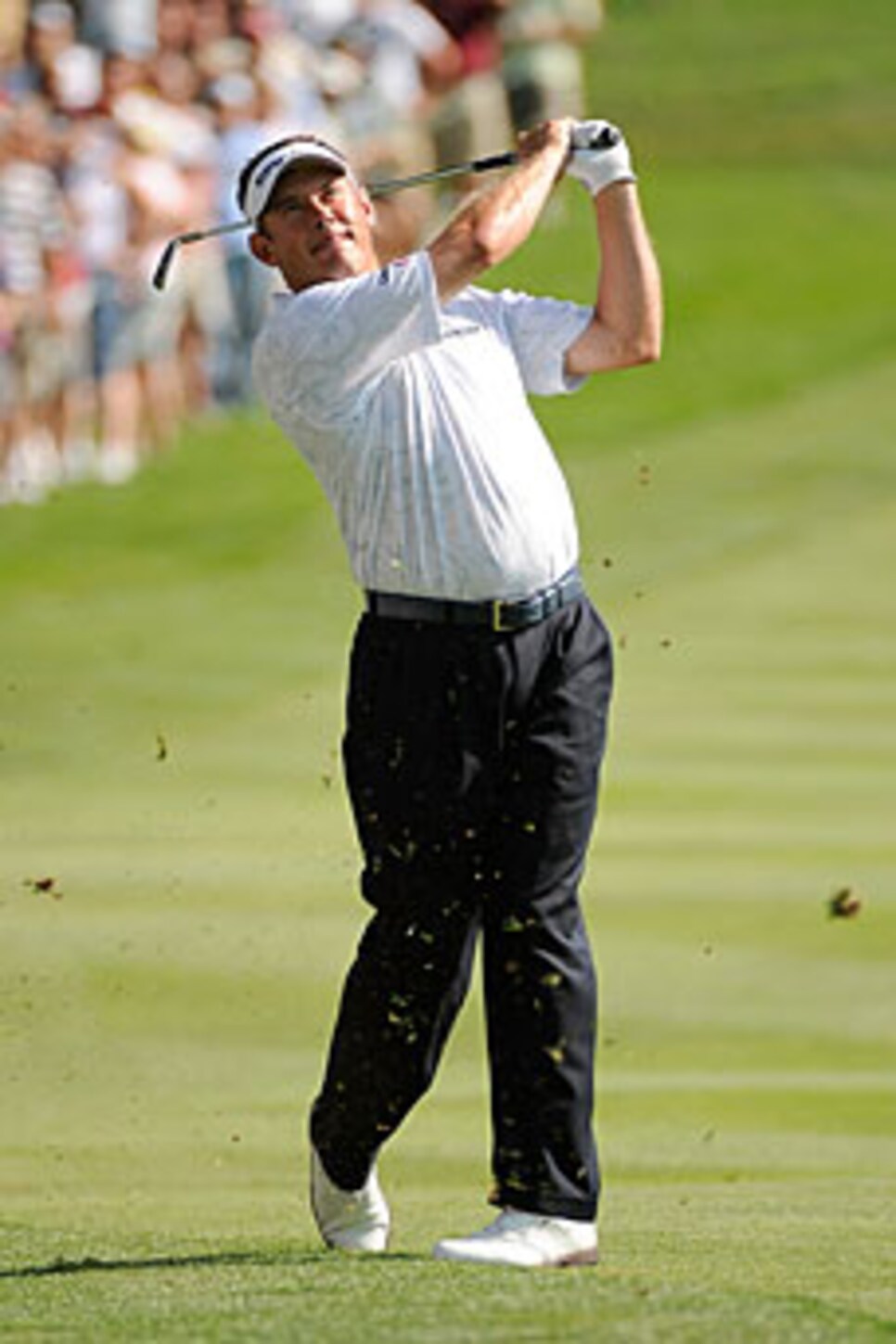 By virtue of his 66 Sunday, Peter Lonard secured a T-6 with Darren Clarke, one back of Mickelson and Goosen, whose 66 led after 18 holes. Lonard regaled listeners with tales of his recent trip to Egypt, where he was amazed by the pyramids but declined the offer of a camel ride. His tour guide repeatedly quizzed Lonard on the significance of what he was viewing. She mistook him for a student of history instead of a pro golfer. And he thought he went there on vacation.
Another focal point last week was Kenny Perry, the Kentuckian who will be on Paul Azinger's U.S. Ryder Cup team. Perry, in case you've been away, missed the U.S. and British Opens and he is still being scolded. "To me, that's more of a compliment than a criticism," he said. "In 22 years nobody has ever cared where I played golf. That's the truth. Now, all of a sudden, I'm the bad guy over there [Europe]. It was kind of comical. I was chuckling over it. I was like, 'Wow, this is pretty cool.' I love stuff like that. I love when people tell me I can't do something, because I'm going to prove you wrong. People told me I'd never make the tour, I proved those people wrong. They said I'd never win out here, never amount to much. I'm kind of a low-key easy-going guy, and I kind of need stuff like that. When I get something burning in my belly a little bit, it just kind of inspires me to work a little bit harder."
Meanwhile, a probable Ryder Cup teammate, Boo Weekley, continued to struggle finding the sweet spot after vacationing between the U.S. and British Opens. He finished T-66 with Perry, but had no problems Friday upon being among those selected for a random drug test after his second round. Well, actually, there was a problem. "I had done my business, if you know what I mean, after 16 holes," Weekley drawled. "So, when I was done with 18, I had nothing left. I had to wait an hour and drink a bunch of liquids to get it done." Several of Weekley's peers have issues with the process, which is not performed in seclusion.
"Hey, I respect guys who think it's an invasion of privacy, but it don't bother me," Weekley went on. "I like that the tour is protecting what we got, only trying to make it better, not that I think there are any guys out here on drugs. Testing us will only prove we're clean. As for the way we gotta do it, heck, it ain't no different than going to the doctor. When you go to your doctor, you don't keep all your clothes on, do you? I don't, not with my doctor. If you get in a car wreck, they ain't gonna bring you to the hospital and then let you lie there with your pants on, are they? They ain't gonna be able to examine you that way, right? So I ain't got no complaints. I ain't got nothing to hide. I just had nothing to give until an hour or so after they asked."