News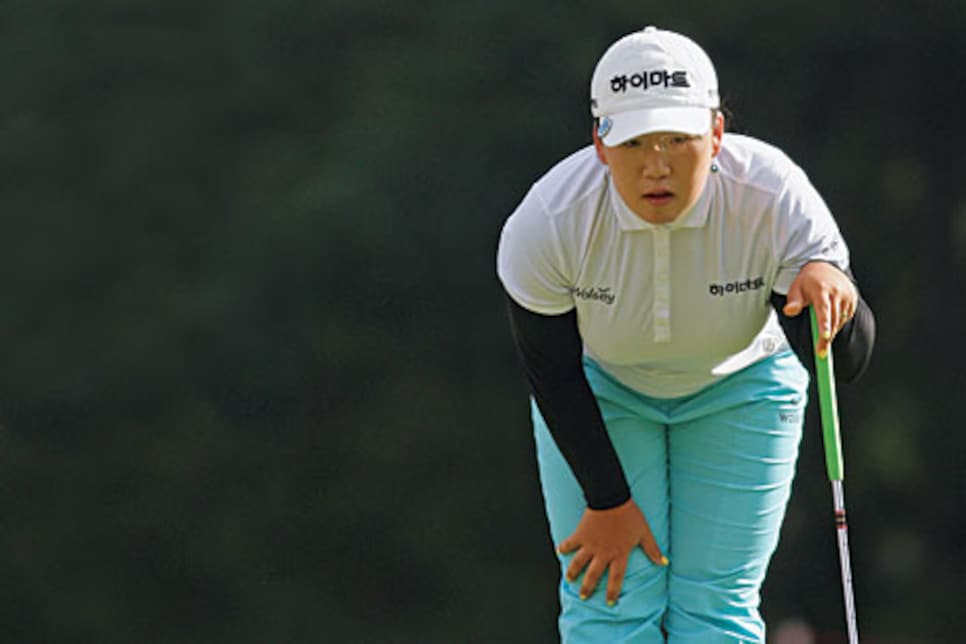 Shin is the third consecutive Asian to win a women's major in 2008. At 20, she is the oldest of the trio.
That rumble beneath the magnificent fairways of Sunningdale GC you felt was the shifting of the epicenter of women's golf decidedly east. The tsunami warning whispered for several years was shouted loudly last week at the Ricoh Women's British Open in this London suburb—the Age of Asia has arrived. Not only did Ji-Yai Shin of Korea win in a virtual cakewalk Sunday, closing with a bogey-free 66 for a three-stroke victory over Yani Tseng of Taiwan, her next three closest challengers after Tseng were from Korea or Japan. This tour, dominated by the United States and Europe since the LPGA was formed in 1950, has gone global and, by long hours of practice even more than sheer force of numbers, is undergoing a dramatic power shift. If the traditional forces in the game want to remain even remotely competitive, they must cultivate young talent as do those nations on the tomorrow side of the International Date Line. They are the future. The sun rises in the East.
As symbolic gestures go, there could have been no more appropriate place for the game to make its most definitive statement yet about the direction of women's golf than in the last major championship played by Annika Sorenstam, the retiring superstar who carries the passports of Sweden and the United States. "I think what we are seeing is going to continue for awhile," Sorenstam said about the Asian influence after closing with a 68 to finish T-24 at six-under-par 282, 12 strokes behind Shin's 270.
"The key is to grow the game at an early age," Sorenstam, a product of the highly successful Swedish youth program, said about what must be done to keep up with the Asians. "It's very important to stimulate the juniors and get them involved."
The victory by Shin was the third in a row by Asians in the women's majors. Tseng took the McDonald's LPGA Championship and Inbee Park of Korea won the U.S. Women's Open. Of the three, Shin at 20 is the oldest. Both Tseng and Park were 19 when they won their majors. In all, 13 of the top 20 finishers at Sunningdale were from Asia—nine Koreans, three Japanese and a Taiwanese—with four from the United States and none from Britain, despite the fact it was a home game for the Brits.
"It's a global game, and I think you are going to see a continued growth of Asians," Sorenstam said. "If you watch the KLPGA, there is some tremendous talent and they all want to be [on the LPGA], so the next five years will probably be about the same." Asked who among the young players impresses her, Sorenstam quickly said: "Yani Tseng. I wouldn't be surprised if she was No. 1 in four years."
Actually, if the effort to get golf into the 2016 Olympics is successful next year when the International Olympic Committee votes on which two sports to add to the Games, the domination by Asian players may well extend beyond five years and may be even more complete. China hasn't even weighed in on the issue, sending only one player to Sunningdale, Shanshan Feng, who missed the cut. Sources in China say it will make a big push in the women's game after the Beijing Olympics, which begin this week.
Asked her impression when she looked at the final leader board, Juli Inkster, who turned pro five years before Shin was born in 1988 and finished T-14 at Sunningdale at 279, let out a long rush of air and said, "It's not stopping either."
Shin, who now has 22 career victories, trailed Yuri Fudoh of Japan by one stroke as the final round began. But Shin shot 33 on the front nine while the 31-year-old Fudoh, who has 43 career victories and has led the JLPGA money list six times since turning pro in 1996, managed only to equal par of 36, giving the Korean a lead that was never threatened on the back nine. Birdies by Shin on Nos. 10, 13 and 14 put the tournament away as she became the first non-member to win an LPGA major since Laura Davies took the 1987 U.S. Women's Open.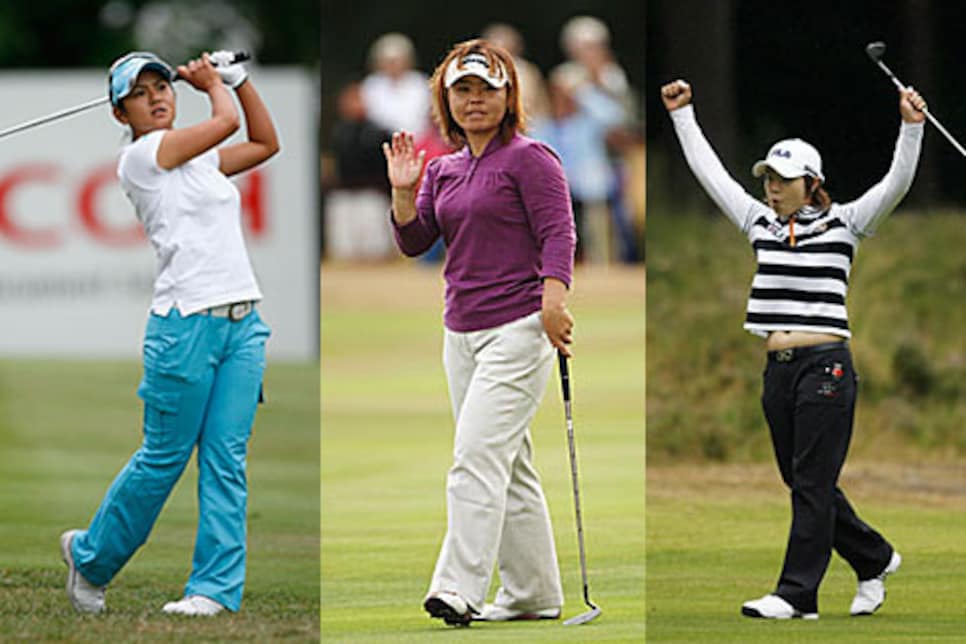 Shin's 270 was followed by Tseng (who also closed with a 66) at 273, Eun Hee Ji of Korea and Fudoh at 274, and Ai Miyazato, also of Japan, at 275. The low American was Cristie Kerr at 276. Defending champion Lorena Ochoa was at 277. Just like Inbee Park at Interlachen in the U.S. Women's Open, Shin showed startling composure down the stretch.
"I couldn't sleep last night," said Shin, who got a telephone pep talk from her father, Jae Sup Shin, the night before the final round. "I was pretty nervous. [But I] got confidence [as I went along and was] very comfortable the last few holes." Shin's father wants her to play the JLPGA in 2009, feeling she isn't ready to take on LPGA talent. "Maybe now he [will] change his mind," she said. "I want to play [the LPGA]." And she now has automatic membership.
If there is any golf course where following the proper path is essential, it is Sunningdale. Find the route and stick to it, and you can go low. This heathland course is hash-marked by cross-bunkers and heather-covered hills slashing willy-nilly across the fairways. Stay out of that stuff and birdies are abundant. "It's out there," Inkster said about low scores on a course where all four par 5s were reachable in two shots and the par-4 ninth, just 275 yards long, was drivable.
Inkster grabbed the first-round lead with a bogey-free 65 Thursday that included an eagle 2 at the ninth. Seven players, including Shin, were one stroke back as 65 subpar rounds were recorded in cool, windless conditions perfect for scoring.
The players found a very different golf course Friday. The 12-mph breeze that blew out of the northwest didn't so much affect shots as it impacted decision-making, gusting just hard enough to create doubt about club selection. Only 35 players broke par in the second round, including Shin and Fudoh, who both shot 68 and shared the halfway lead at 10-under-par 134, one stroke ahead of Inkster.
Saturday was one of those lovely English summer days that resembles November in Seattle, with sun and rain alternating. Fudoh's 69 put her at 13-under-par 203, one ahead of Shin. Miyazato was another stroke back at 205. Inkster and Kerr were the American hopes at 206. Ochoa lurked at 208, making bogeys in three of the final eight holes to turn what could have been a great score into a 71.
While several players made a move early Sunday, the two opening par-5 holes followed by the short third provided every opportunity for a fast start. Shin avoided the sort of mistake that would let others back into the tournament. Fudoh eventually cracked when she went bunker-to-bunker to bogey the short ninth, and Shin capitalized with her back-nine birdie outburst.
Shin is a fascinating story, and although her rudimentary English can make grasping it cumbersome, it is the kind of tale that will touch the heart. While hitting balls on the practice range when she was 15, Shin was told her mother, brother and sister had been in a terrible car crash. Her mother, Song Suk Na, died, and her two siblings were hospitalized for almost a year.
"I never won a tournament when my mother was alive," Shin, a fireplug of a player at a shade over 5-foot-1, said from behind wire-rim glasses. Playing for a higher cause, Shin won four amateur events in 2004 and seven in 2005 before turning pro at the end of that year. Shin's nickname in Korea is "Finals Queen," because of her ability to close out tournaments. She already has another nickname supplied by LPGA players who have been paired with her: "Chalk Line," because of how straight she hits it.
Ultimately, golf is a meritocracy that rewards talent and effort. The players from Korea, Japan and Taiwan—with their skill, early start in the game (they can play KPLGA events as amateurs beginning at age 14) and hard work—have thrown down the gauntlet. Who will pick it up? Last year, nine Americans combined to win 10 LPGA events and two majors. This year only two Americans have won—Paula Creamer (three times) and Leta Lindley.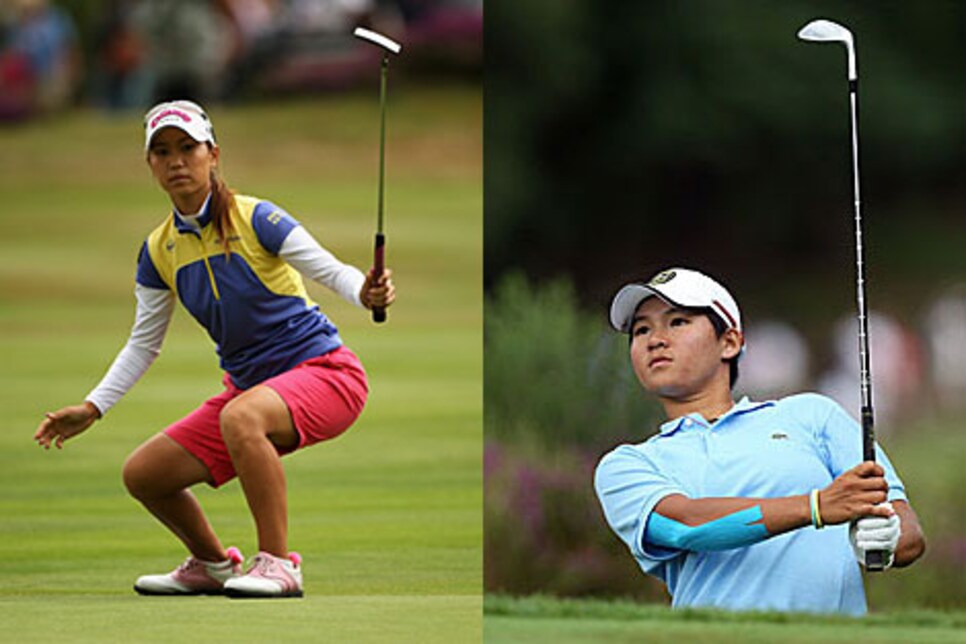 If anyone was caught off guard by what happened last week at Sunningdale, they simply have not been paying attention to women's golf. "I'm not really surprised," said Tseng. "We play together on national teams in Asia, and there are a lot of great players." Asked if there are more coming, Tseng laughed and said, "I think so. I'm sure."
Bank on it. Whether the women's game is stepping into a lucrative new world of talent and Asia-based sponsorship money or whether it will alienate its traditional fan base as it struggles to get to know the sport's new stars remains to be seen. This much is clear: There are a lot of players like Ji-Yai Shin who can really play golf and are well worth getting to know.