News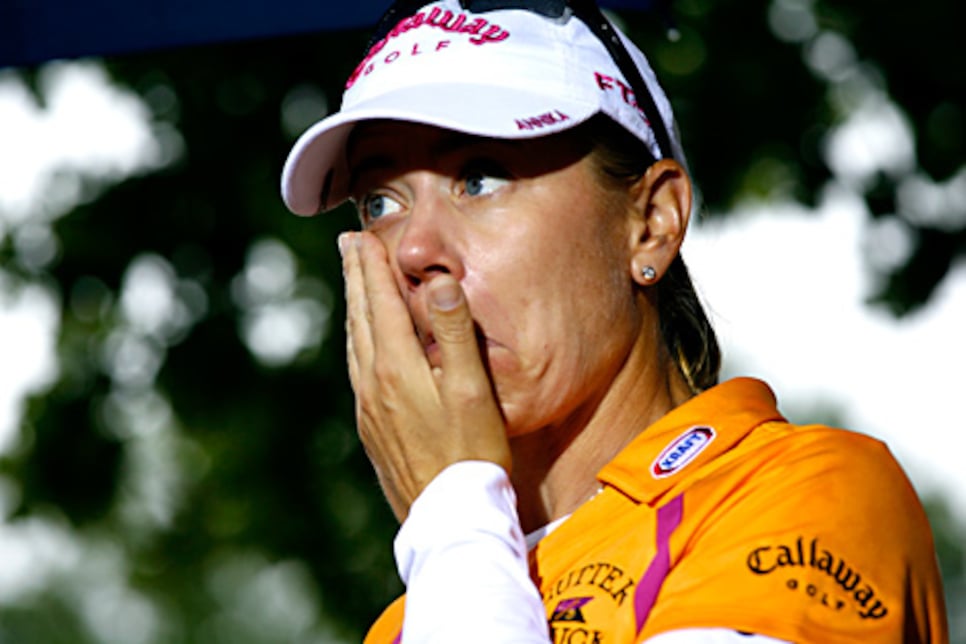 An emotional Sorenstam birdied 18 Sunday at Sunningdale for a T-24 finish.
No sooner had the headcover been slipped back onto Annika Sorenstam's driver after she struck her final tee shot of the 2008 Ricoh Women's Open -- and perhaps her final in a major championship -- than the heavens opened and, for a brief few minutes, it rained harder than it had all week at Sunningdale GC. As symbolism goes it was oddly appropriate. There were precious few dry eyes as Sorenstam trudged the final 100 yards to the 18th green Sunday, carried along by a standing ovation beneath a scoreboard that read: "Annika You Will Be Missed. XXX"
That Sorenstam's 6-iron approach was a laser that nearly knocked down the pin before settling 10 feet from the cup was appropriate. Perhaps the greatest fairways-and-greens player ever had hit all 18 greens and closed with a 68 to finish T-24 at six-under-par 282, 12 strokes behind winner Ji-Yai Shin. That the only blemishes on Sorenstam's card were two three-putt bogeys was also appropriate. With better putting this year, Sorenstam might have gone out with a couple more majors to add to the 10 she has among her 72 career LPGA victories.
"I felt a little [emotional] on the first tee and the last few holes, but other than that I was focusing on my game," Sorenstam said. "Today I played well. I hit 18 greens, so what can I say? It's an ironic game."
Fittingly, she made her final birdie putt, which meant she had played her last hole in the U.S. and British Women's Opens in three under par, holing a 6-iron from 199 yards for an eagle on the 72nd hole at Interlachen CC. "To finish with a birdie is obviously extra and [there] didn't seem like there was any doubt it was going in. It's just amazing when you will something. It just happens."
Sorenstam's emotional reserve that wills things to happen has become increasingly difficult for her to tap into. That's part of the reason she is retiring. "I wish I had the desire and the motivation and the drive [I used to have] and then I wouldn't step away," she said. "But I just don't have that." And while Sorenstam, who will be 38 in October, leaves open a door to returning to competition a few years down the road, she says there will be no tournaments next year -- not even the Solheim Cup.