News
Is Phil Ready To Fly? Butch Says Yes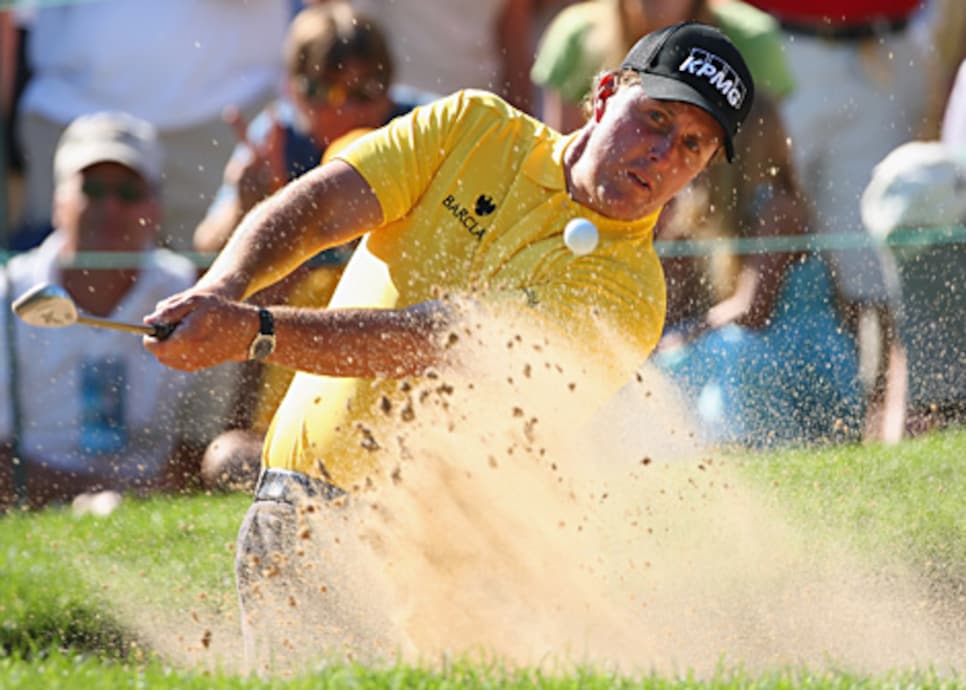 Within an hour after double-bogeying the the 72nd hole to lose the 2006 U.S. Open by a stroke, Phil Mickelson felt sociable enough to spend 10 or 15 minutes signing autographs for several dozen fans who had waited for him to complete his post-meltdown media obligations. Even without Oingo Boingo's "Dead Man's Party" serving as a musical accompaniment, the macabre scene made for an undeniably weird atmosphere.
If you can't win the golf tournament, be sure to clinch first place in the popularity contest.
It left me thinking Philly Mick was emotionally bulletproof, that he could smile his way through anything and would handle the devastation of Winged Foot with the same princely perseverance that pulled him through prior disappointments. Twenty-six months later, Mickelson has done very little to validate my theory, although it's presumptuous to think he'll forever be haunted by hospitality tents left of the 18th fairway.
"I think it affected him for 24 hours, maybe 48," says swing coach Butch Harmon, who joined Camp Lefty in early 2007. "Phil Mickelson believes very strongly in himself, and that's his greatest strength. A lot of guys can't say that."
No doubt, this is a guy driven by outrageously high competitive standards and burdened by less than an ounce of fear, but on the eve of the 90th PGA Championship, Mickelson still carries a heavy load. Last Sunday marked the second time this season that a frigid putter cost him a victory (the other occurred at the FBR Open in February). Everyone will blame the drive into the left trees on the 71st hole at Firestone, but if Mickelson, one of the game's best scorers from eight to 15 feet, hadn't frittered away so many opportunities from that range, he would have won going away.
Of far greater importance than the immediate past is the big picture. In the nine major championships prior to Winged Foot, Mickelson won three times and put himself into position to win two others. In the nine majors since, his only top-10 finish was a T-5 at this year's Masters, where he sat three strokes off the lead after 36 holes, then vanished from the hunt with a third-round 75. Again, poor putting, not the 300-yard bomb into the forest, proved the culprit.
My biggest concerns regarding the state of Mickelson's game come from two sources: this year's U.S. Open and last year's Players Championship. Torrey Pines was arguably the biggest tournament of his life: a national championship played 20 minutes from his childhood home with the only guy ahead of him in the World Ranking coming off knee surgery. It boggles the mind to think someone such as Dave Pelz could convince Mickelson he would be better off playing a 7,600-yard golf course without a driver.
In the words of one highly respected observer, "We're talking about the greatest wedge player in the world. Does he really need five of them?" Beyond the composition of his bag is evidence that Pelz, who markets himself as a short-game guru, has some strange control over Mickelson's psyche, an ability to push his buttons without noticing the destructive consequences.
Given Lefty's bullheaded nature and creative brilliance around the greens, the relationship makes little sense. Not only does it exist, but Pelz and his comprehensive statistical data basically knocked Mickelson out of contention at Torrey Pines before the tournament started. That's not Pelz's fault. Mickelson has an ultra-inquisitive nature and a fondness for the percentages, a decidedly left-brain trait that conflicts with a gifted performer's right-brain instincts.
At the 2007 Players, where Mickelson shot six under on the weekend to win by two strokes, Harmon had been on the job for less than a month. But in that short period of time, the Butch Effect couldn't have been more obvious. Mickelson finished T-3 in Dallas and Charlotte, then won at TPC Sawgrass, a course he had never played consistently well. Lefty's swift transformation to a control-oriented mindset was impressive, and Harmon looked like a genius.
Those days don't look like ancient history, but it's no accident that Mickelson's best golf in the last four years was played during his first month with Harmon. The two men are quite similar -- feel guys with great eyes, compatible in that Butch knows how to dispense excellent advice in its simplest form and Lefty knows how to apply it.
"Oakland Hills is very much a driving and putting golf course," Harmon says, "and right now, driving the ball is one of Phil's strengths." Come to think of it, that's all the data this man really needs.