News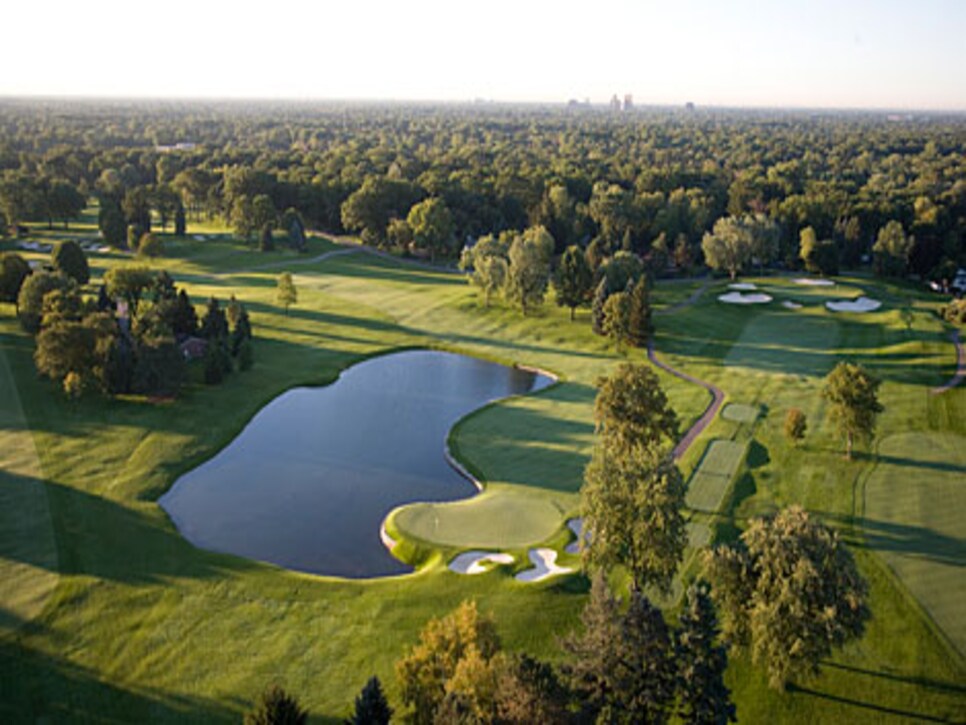 The dogleg, lakeside par-4 16th and the 238-yard, par-3 17th (right) set the stage for late drama.
They've already held this year's PGA Championship. You may remember it. Tiger Woods won over Rocco Mediate, out at Torrey Pines on the Pacific Coast. OK, they called it the U.S. Open, but it looked and felt and played like the PGA Championship usually does, except for that cumbersome 18-hole playoff.
Every year, it is the PGA Championship that offers edge-of-your-seat thrills involving a superstar and a journeyman. Most times the superstar wins (Woods over Bob May in 2000, over Woody Austin in 2007). Sometimes the journeyman wins (David Toms over Mickelson in 2001, Rich Beem over Tiger in 2002). Even in 2003, when the PGA came down to a battle of two journeyman, Shaun Micheel and Chad Campbell, it still was a sensational finish.
In contrast, recent U.S. Opens have been a succession of train wrecks: Mickelson fumbling the trophy into Retief Goosen's waiting arms at Shinnecock Hills in 2004; Goosen inexplicably melting down in the last round the following year at Pinehurst, giving Michael Campbell the win; Mickelson's and Colin Montgomerie's painful final-hole double bogeys in 2006 that left Geoff Ogilvy on top.
You have to go back to 2002 at Bethpage (Tiger's second Open triumph, with Mickelson the runner-up) to find any Open that compared to the drama regularly found in the PGA. Until this year, that is.
Which brings us to next week's PGA, or as I prefer to call it, the U.S. Open Two Months Late. It won't be fun and games. It won't be thrust and parry. It won't be can-you-top-this-birdie-with-one-of-your-own. It will be a U.S. Open in everything but name. Players will struggle. They will play defensively. One or more big names will self-destruct in the final round. The winner will be a slightly shell-shocked sole survivor—who nobody expected to win.
The main reason this will happen is that the PGA is being contested at the South Course at Oakland Hills, of U.S. Open fame and infamy. Oakland Hills, a lush, green torture chamber situated in Bloomfield Township, Mich., is a certified monster dating back to the days when real golfers played with sticks and stones. It gives up subpar rounds as often as a bulldog lets go of a pant leg.
Yes, I'm aware that the last time Oakland Hills hosted a PGA Championship, in 1979, players picked it clean, like turkey buzzards on roadkill. Nine players finished under par. David Graham posted a final-round five-under 65 (even with a double bogey on the 18th) to tie Ben Crenshaw at eight-under 272, then won on the third hole of sudden-death playoff (the way ties in majors should be handled, by the way, over by sundown.)
But Oakland Hills had been saturated by rain back in the summer of '79. The rough was low, and the greens were soft. It won't be that way next week. It has been hot and dry in the Detroit area this summer, good weather for growing grass. The rough is a consistent four inches in depth, and so dense that course superintendent Steven Cook has had to use push mowers because regular mowers have bogged down in the stuff. The greens will be running around 12½ on a Stimpmeter, which means they'll be breathtakingly fast down some of the steep slopes of those notorious putting surfaces. That's about how it plays for members every day, and they like it that way.
All of which means Oakland Hills is no namby-pamby municipal course gussied up for a big show.
"Now, don't be diminishing Torrey Pines," says Rees Jones, the golf architect who knows both layouts intimately, having revamped both in preparation for this year's championships. (Jones did a good deal more redesign to Torrey Pines than to Oakland Hills.) He points out that the winning score of one-under-par 283 at this year's U.S. Open was just two strokes shy of the winning 285s of the two previous years, five over at Oakmont and Winged Foot's West Course, both par 70s. (He might have added that a Tiger Woods victory on a course forever legitimizes its selection as a major championship host. See: Valhalla, Bethpage and Royal Liverpool.)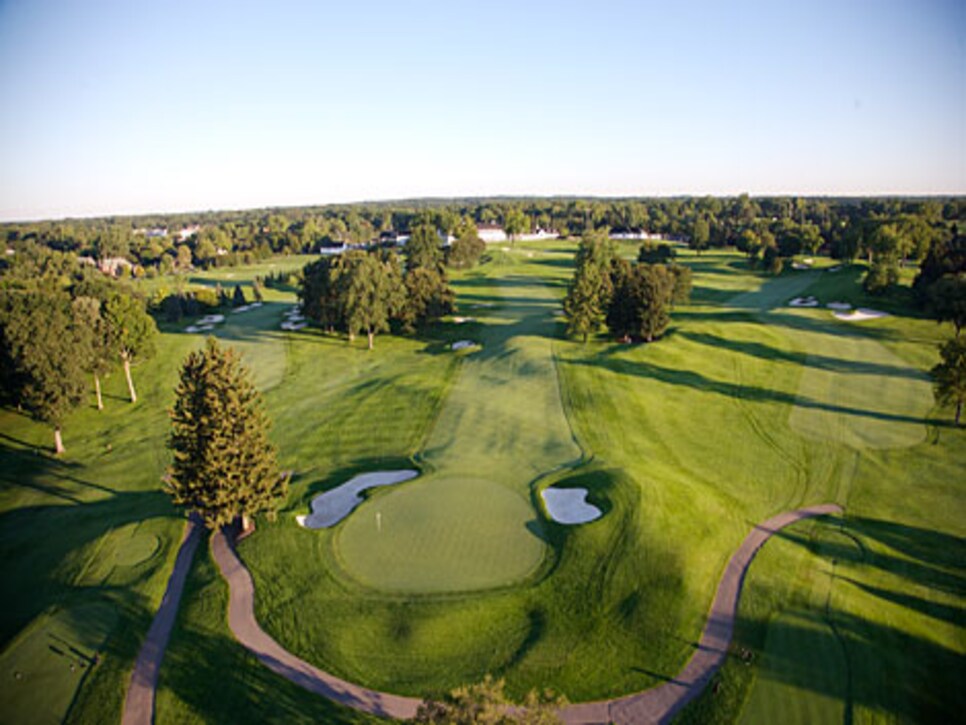 Jones says his touch-up work on Oakland Hills brings it into the 21st century. New back tees mean players will hit the same clubs into greens that they did in the '96 U.S. Open, Oakland Hills' last major championship, even though technology has made quantum leaps since then. He moved bunkers closer to the greens, so the set-up men can hide hole locations. He flip-flopped fairway bunkers, eliminating front ones, adding back ones so they are in the properly pesky locations for today's equipment.
And the new bunkers aren't all 320 yards off the tee. A new center bunker on the par-4 15th is just 285 yards out.
"We're trying to make them think of options, like they had to at Torrey Pines," Jones says. " 'Should I try to hit driver and carry it? Or should I lay up and have two clubs longer in?' "
Despite all the nuances he feels he has added, Jones is not sure Oakland Hills will be as tough as Torrey Pines.
"Oakland Hills doesn't have as many diagonal greens as Torrey Pines, so it will be easier for players to make their club selections," he says. "But the green contours are more severe at Oakland Hills. At Torrey those fairway bunkers really came into play. Of course, there are more of them at Oakland Hills, so they'll probably come into play even more.
"I guess it all depends upon how they set it up," he says. "The Open is usually set up harder than the PGA."
The man in charge of the setup at Oakland Hills is Kerry Haigh, senior director of tournaments for the PGA of America. Haigh says he hasn't needed to do much in preparation for this year's event. He is sticking with the relatively narrow fairways established by the recent Jones redo. He approves of the massive tree removal and bunker enhancement. He thinks the four par 3s are particularly challenging. Haigh's primary task is to find enough difficult but fair pin positions on the greens.
"They're some of the most severe, challenging and exciting green complexes anywhere in the country," Haigh says. "They're fun, but they're scary. Oakland Hills is tough as nails, a very difficult course day in and day out. Our philosophy is to set it up so that if you're in trouble, you're punished, but it's not impossible to recover. You can still play and display your skills. That's what we try to do everywhere we go, allow the players and golf course to speak for themselves and not get in the way of that."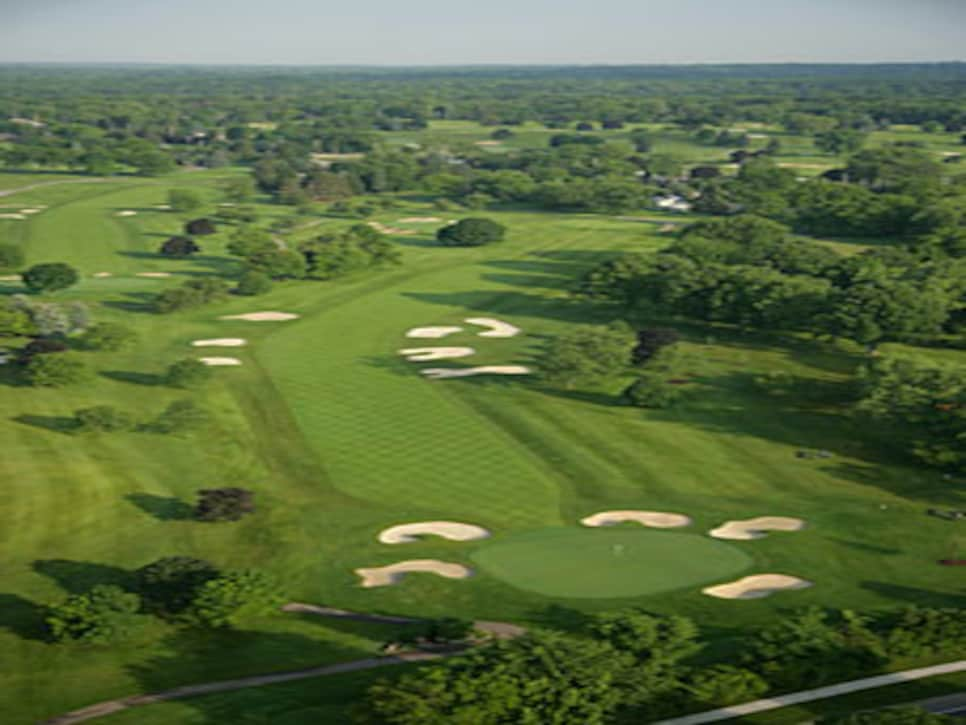 Oakland Hills will play considerably longer than it did for the 2004 Ryder Cup, somewhere between 7,395 and 7,445 yards, par 70, up from 7,077 yards. Only two back tees, on Nos. 1 and 11, won't be used at all, for gallery circulation reasons. The remaining holes may or may not play to maximum yardages on any given day.
"I don't like to predict what we're going to do without knowing what Mother Nature is going to give us," Haigh says. "We'll make our best judgment each morning after seeing the wind direction and weather conditions. I will say that the new back tees do give us some options."
He also says the 387-yard, par-4 sixth will play as a 305-yard, drivable par 4 at least one day, probably Saturday or Sunday so as to avoid delaying the crowded field during the early rounds.
There is one more reason why the dog-days-of-August PGA should play more like a choking-dog U.S. Open, and it has to do with the player not in the field.
The absence of Tiger Woods will simply add pressure, not subtract it. That's because every player knows that with Woods on the disabled list, this year's PGA Championship is their best chance—for many their last best chance—for a major championship title. But they have to win it at Oakland Hills.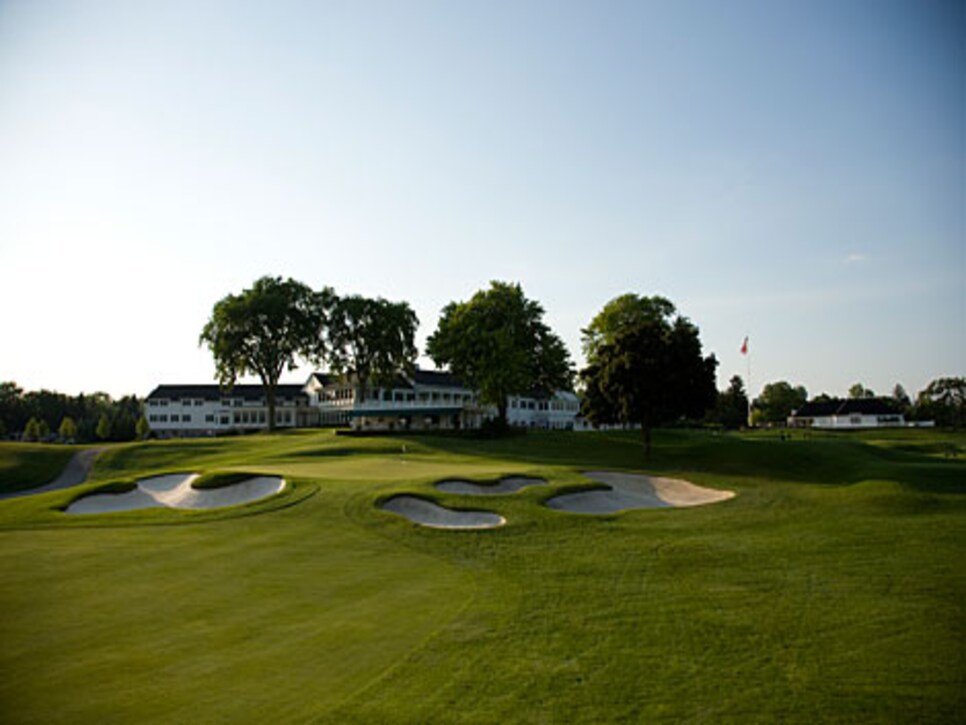 Most already squandered one lifetime opportunity at windblown Royal Birkdale. They can't afford to blow this mulligan out-of-bounds, too. Tiger's absence means the rough will seem an inch deeper, the greens a foot faster, the bunkers even steeper, the shirt collars even tighter, down that final stretch.
Rees Jones may think he has brought Oakland Hills into the 21st century, but I think he has returned it to its real glory days of 50 years ago. I'm not saying the winner will post Ben Hogan's score of 1951, seven-over 287. But I do think today's players will grapple with it about the way they grappled with Oakmont and Winged Foot.
I think five-over 285 will win it.