News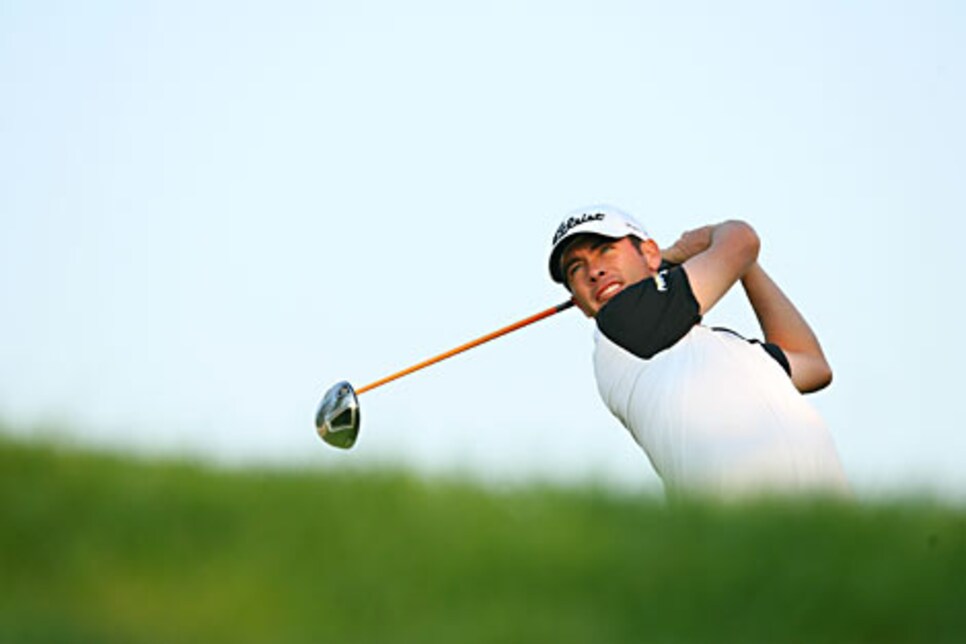 A one-under 70 Sunday secured rookie Reavie his first PGA Tour win
Chez Reavie's home games are played at Whisper Rock GC in Scottsdale, a brutal test that owes its degree of difficulty not to the golf, but to the golfers. An evidentiary argument (green jackets and Open trophies) could plausibly be advanced that if all its members played in the club championship one year, it might be easier to win a PGA Tour event.
Ask Reavie where he would fit in a four-ball with Whisper Rock members Geoff Ogilvy, Phil Mickelson and Aaron Baddeley, for instance, and he no doubt would humbly suggest that he is batting cleanup.
They play for blood and money at Whisper Rock, though the money is substantially less important to them than the blood, at least until it is time to saddle the rookie with the bar bill, and this one promises to be a prohibitive one. "They're running it up right now, I guarantee it," Reavie said in the fading light of Sunday evening.
It will serve as Reavie's hazing fee for having won his first PGA Tour event, the RBC Canadian Open at Glen Abbey GC in Oakville, Ontario, where he outplayed Anthony Kim head to head and expertly staved off a late charge by another Whisper Rock member, Billy Mayfair.
Reavie owes his club brethren a debt anyway. The education of this golfer may have started at Arizona State, but it has been refined at Whisper Rock, home to a multitude of PGA Tour members that also includes Paul Casey and Fred Couples. Reavie's instructor, Peter Kostis, said that playing there has been integral to his pupil's development. "He sees Paul Casey's game, Geoff Ogilvy's game, Billy Mayfair's game," Kostis said. "He's had a chance to see how his compares and what he needs to do."
More of the same will suffice. Reavie, 26 and a PGA Tour rookie, was relentlessly efficient in a tournament plagued by thunderstorms, on a water-logged course for which he was appropriately attired in a shirt manufactured by a Canadian apparel company called Quagmire. The pro-am was rained out Wednesday, and the tournament encountered weather delays Thursday and Saturday, all of it contributing to the Toronto area's wettest summer in 28 years.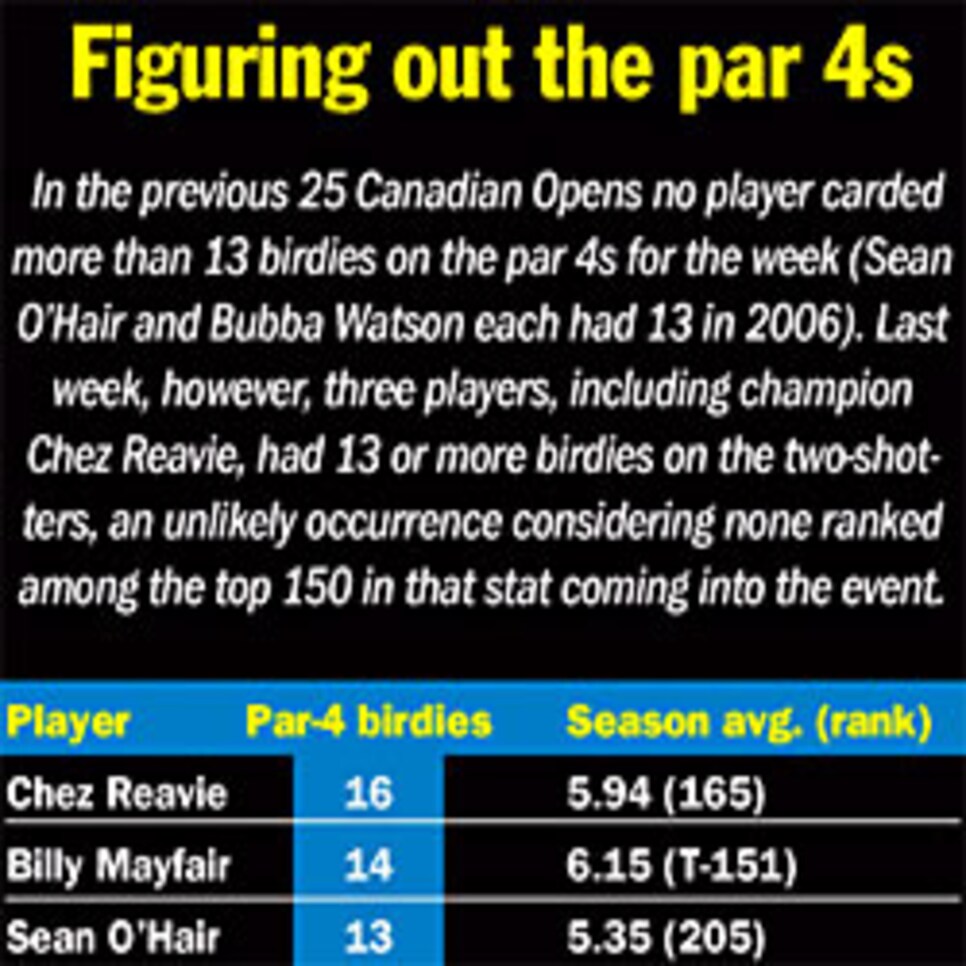 Reavie opened with rounds of 65 and 64, and completed a third-round 68 with a birdie Sunday morning, after which he returned to his hotel and took a nap, officially sleeping on a 54-hole lead of a single shot over Kim. He completed his wire-to-wire victory with a one-under 70 that culminated with an 18th-hole birdie to beat runner-up Mayfair by three strokes.
By way of introduction to the world outside Whisper Rock, Reavie is a former U.S. Amateur Public Links champion whose full name is William Chesney Reavie. Only his grandfather ever called him William; everyone else knows him by Chez. He learned the game at Dobson Ranch GC in Mesa, where summer green fees even now are $15. He was a three-time All-American at Arizona State, where his teammates included Casey and Jeff Quinney and his favorite hangout was a Tempe sports bar, Fumbles, preferably on nickel-beer Tuesdays. An avid Arizona Diamondbacks fan, he has an endorsement contract with the team (that was the D-backs' logo on the chest of his Quagmire shirt).
In 2007 Reavie finished 18th on the Nationwide Tour money list to earn the PGA Tour card Kostis predicts he will have for a long time. "I said it when he went out on tour," the instructor/broadcaster said. "In my opinion he'll be this generation's Jay Haas. His greatest strength is that he has no weaknesses. He's not the longest hitter. He's not the straightest hitter. He just does everything well."
Yet he had done none of them well enough in recent weeks and months to hint that this was coming. Form charts heavily favored Kim, who had won two of his previous eight starts, finished second in another and tied for seventh at the British Open the week before. Moreover, Kim had been deftly demonstrating the maturity that he has added to his repertoire, freeing his storehouse of talent to flourish.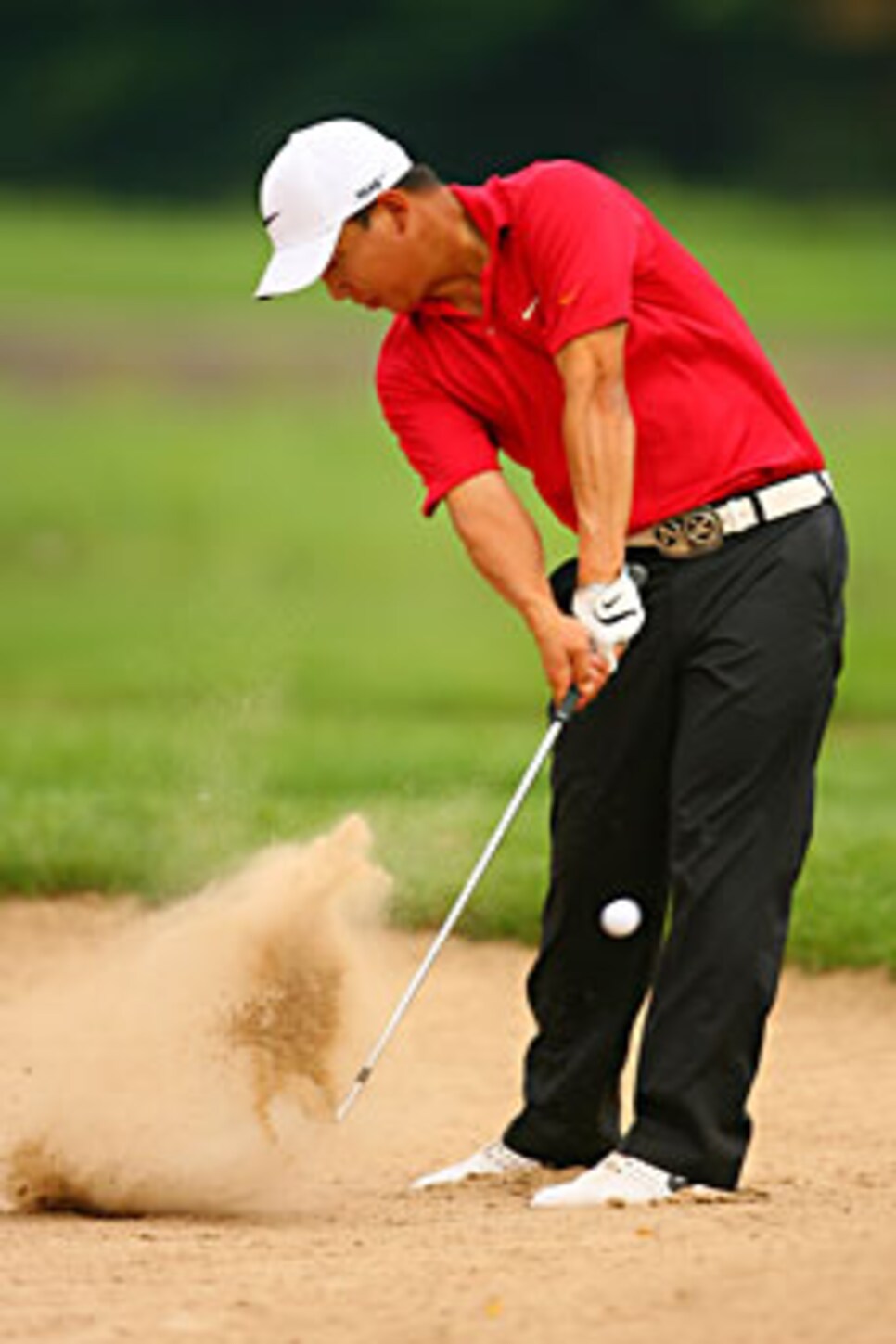 There were Kim's reasons for coming to Canada in the first place, after enduring a trying and tiring week at Royal Birkdale. "There's a lot of history here," Kim said of an event that began in 1904. "Chris Armstrong, my new agent [with IMG], is from this area. He told me what a wonderful golf tournament it was. And I saw that RBC was making a conscious effort to get people over here and to make the tournament as good as it can be. So I felt like this was somewhere I wanted to be."
Then there was the front-nine 40 that he shot Friday after an opening-round 65. A year ago he might have brooded about it, compounding his problems. Instead, he responded with a back-nine 29 (including a birdie-birdie-eagle finish Saturday morning) that thrust him back into the mix.
Reavie, meanwhile, opened his rookie season by tying for fifth at the Bob Hope Chrysler Classic and hadn't finished better than a tie for 34th in his ensuing 20 tournaments. When he conducted a workup on his ailing game, he identified the principal culprit as his putter. "I've been striking the ball well, but I haven't made the momentum putts," he said. "This week I putted great, especially on Friday [when he had to play 33 holes]. I made almost everything I looked at."
The fix was found the Sunday before at the U.S. Bank Championship in a round with Kenny Perry. "I watched the way he was putting and the way he set up to it. He was doing the exact thing Peter Kostis and I had worked on. So I practiced it all day Tuesday and Wednesday and just went with it. Once I got off to a good start, I started to make some putts. Then it was a no-brainer. I just kept running with it."
At the ninth hole Reavie holed a 10-foot birdie putt on top of a Kim birdie that "killed his momentum," Reavie said. "He gave a nice little fist pump there. He was ready to come, and luckily I kind of pushed him off." Reavie also birdied 10, while Kim bogeyed 11, giving Reavie a three-stroke lead.
The rest was relatively easy, notwithstanding his rookie status. The money games at Whisper Rock have steeled him for these moments. "They want blood just as hard there as they want blood out here," he said.
Confirmation came from Mayfair. "We don't let up on him," he said, moments after congratulating Reavie. Mayfair had birdied three of the last five holes to close within two, but he hung around not to see whether Reavie could hang on, but to bear witness to a Whisper Rock member's first PGA Tour victory.
"All this means," Mayfair said, his thirst building, "is that we won't have to buy for awhile. And I'll be the first in line."