News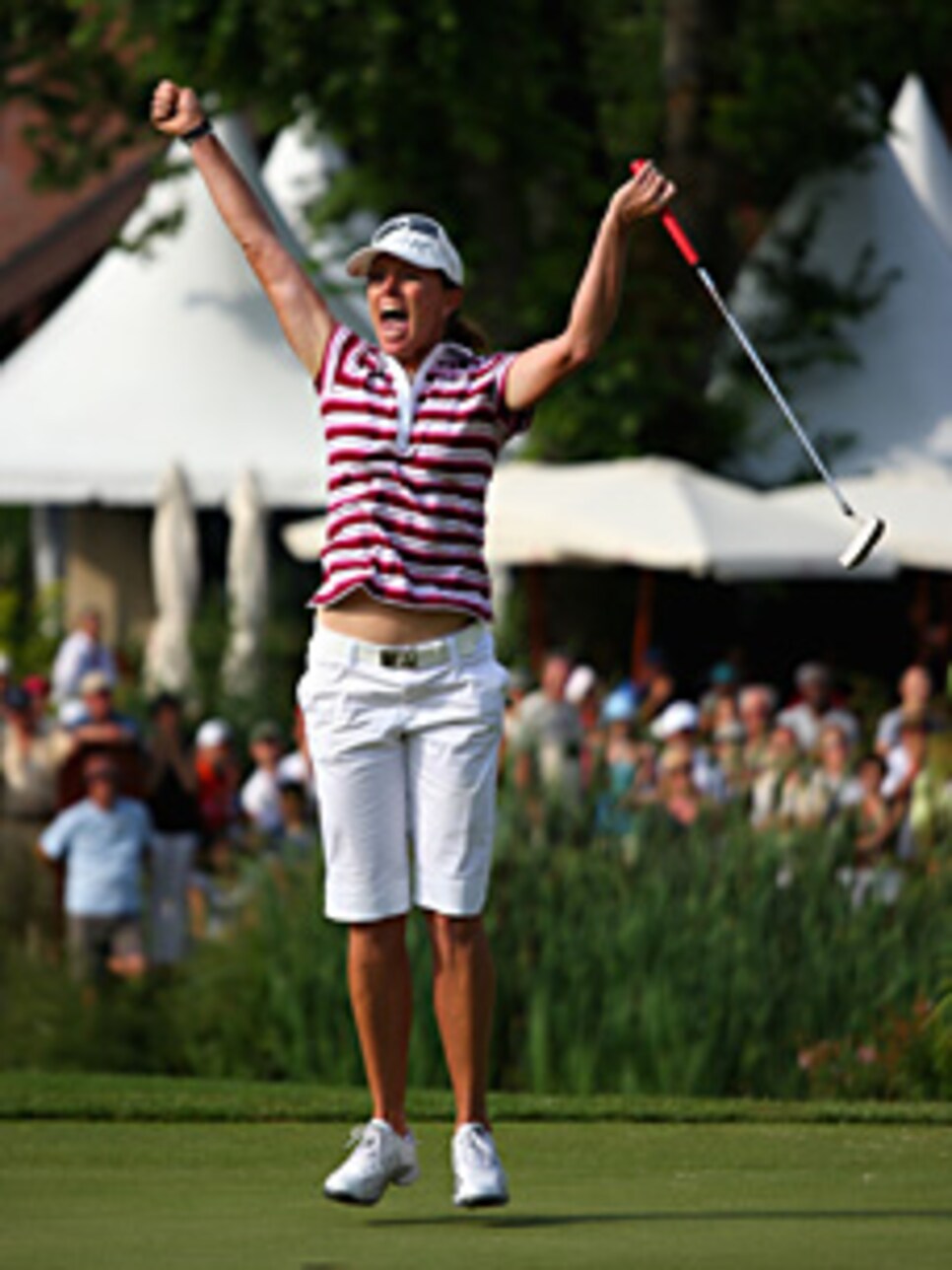 Alfredsson's birdie on the third extra hole secured her first LPGA win in five seasons.
Golf needs more Helen Alfredssons. Maybe not a whole lot more, but a few. All right, perhaps we should quit with the one we have and feel fortunate for the gift. The world would be way too confusing, and possibly too much fun, if there were more than one Alfie running around. This proud and profane woman who exasperates even her closest friends with her unpredictable temper and laughter with total strangers is a remarkably talented golfer who plays with her heart and has left a pint of blood on the fairways more than a few times. Always she bleeds with effort and often she oozes with disappointment, as in June at the U.S. Women's Open when she stumbled home in 75 strokes on Sunday to finish second.
But that was not the way things played out in the final round of the Evian Masters. A putting stroke that at times resembles a conga-line dancer not hearing the beat properly was rock-solid down the stretch after one horrific miss early on the back nine. The result was Alfredsson's first LPGA victory in five years and third Evian title.
To do it, Alfredsson, 43, outlasted rookie Na Yeon Choi, 20, and second-year player Angela Park, 19, two stars in the making, in a playoff that lasted three holes -- making four consecutive birdies on the 457-yard, par-5 18th hole. It was a remarkable effort for a player limited to 11 events last year by a back injury who, after serving as captain of the 2007 European Solheim Cup team, seemed closer to retirement than resurgence.
"I am healthy," Alfredsson said earlier in the week, after an Evian Masters GC course-record 63 in the second round. "I don't think I've been healthy for 15 years, according to the doctors. Having gone through all the adversity, you enjoy things in a different way at the end of your career."
When Alfredsson's winning putt from five feet found the bottom of the cup, she jumped into the air repeatedly, piercing the sky with fist pumps, then collapsed into the arms of her husband, former National Hockey League player Kent Nilsson, for a lengthy hug before being showered with champagne by fellow European player Mhairi McKay.
"Of course you're nervous," Alfredsson said. "That is part of the game. It would be crazy if you were not nervous. It is really how you handle it." Alfie handled it admirably, and some would say surprisingly, well. This is a player who in the 1994 U.S. Women's Open had a seven-stroke lead after 44 holes -- shooting her other career 63 -- then three-putted from three feet and played the next 18 holes in 85 strokes to finish T-9. There would be no collapse on this day.
Alfredsson fell five strokes behind Choi on No. 13 when a putting stroke resembling the motion of someone jerking awake from a sound sleep at 3 a.m. missed from three feet. But she bounced back with a 25-foot birdie putt on the next hole, rolled in a 12-footer for birdie on No. 17 and curled in a ticklish hard-breaker from 3½ feet on the final hole to get into the playoff at 15-under 273, two strokes better than Jin Joo Hong and three in front of Lorena Ochoa.
With Ochoa returning from a three-week absence after the U.S. Women's Open and Annika Sorenstam playing her last Evian Masters, Alfredsson was an afterthought in the event she won in 1994 (the first year it was played) and again in 1998. But she would get her sixth LPGA victory and 20th overall.
Ochoa grabbed the first-round lead with a 65. Friday, Park backed up her opening 66 with a 68 for the halfway advantage at 134, one stroke ahead of Alfredsson, who moved into second place with her 63. Another 68 Saturday gave Park the 54-hole lead at 202, one stroke better than Candie Kung and two clear of Juli Inkster. Alfredsson was four back at 206 with Choi and Shi Hyun Ahn sitting at 207.
The closing-round drama Sunday was lined up like a freight train with boxcar after boxcar of excitement. Kung fell off the tracks early, going out in 38 on her way to a closing 76. Inkster struggled with her putter and shot 73. But Choi birdied nine of the first 13 holes and led by as many as four strokes before bogeys on No. 15 and 16. Laboring, Choi was the first to get into the clubhouse at 15 under par, closing with a 66.
Playing in the group behind Choi was Park, who went out in 38 and was hanging by a thread until birdies on Nos. 16 and 18 (for a 71) allowed her to join Choi at 273. Next came Alfredsson, whose bogey on the first hole hinted she might not be up to the task. But she finished birdie-birdie for a 67 and made three more birdies in the playoff -- five in a row altogether.
Park fell on the first extra hole, the 18th, when she drove into the right rough, was forced to lay up and then had her birdie putt from 20 feet horseshoe out. Alfredsson two-putted for birdie from 30 feet; Choi matched her by getting up and down from a greenside bunker.
"I was a little nervous," said Park, who has finished in the top four in three of her last four events, including T-3 at the U.S. Women's Open. "My ball [off the tee] faded a little bit to the right. I had no shot to the green, so I had no choice but to lay up."
On the second extra hole Alfredsson drove into the right rough, laid up, then hit her third to 15 feet. Choi's 45-foot eagle try stopped 3½ feet short and she rolled that in on top of Alfredsson's birdie.
Both Choi and Alfredsson drove into the left rough on the third hole, but Alfie hit the green in two after Choi punched her second across the fairway into the right rough. Alfredsson's 35-foot eagle try slid five feet past. After Choi's 15-footer for birdie grazed the high side of the cup, Alfredsson knocked in the winner.
Asked how it felt to win $487,500, one of the largest checks on tour, Alfie was, well, Alfie. "Money," she said, "can just buy things, and having memories and having to go through what I've gone through and sort of come out on top at the end, there is really nothing that, you know -- I think my husband is probably more happy about the money than I am."
Like Alfredsson's career, once full of promise when she won the Kraft Nabisco Championship in 1993 and finished second in the U.S. Women's Open the same year, the sentence was incomplete. But we all know what she was trying to say, and we all know the way she can play. Last week at Evian, Helen Alfredsson was a champion.