News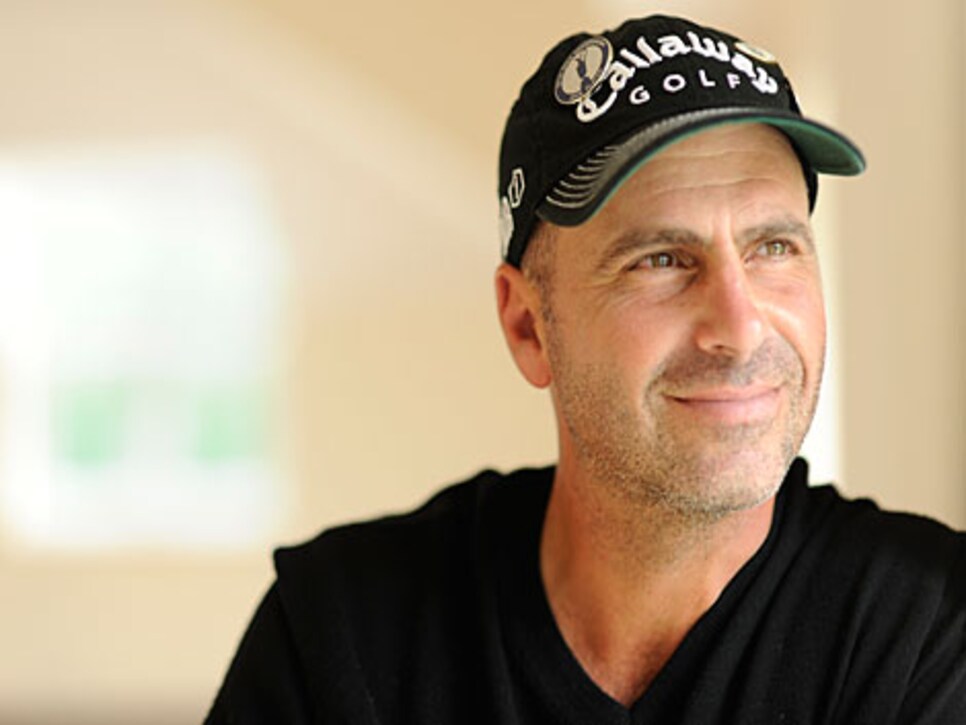 A five-time winner on tour, Mediate always has been popular with peers as well as fans.
Everybody loves Rocco Mediate. Proper English gentlemen standing alongside the 18th fairway at the British Open at Royal Birkdale. Rowdy Americans, who knocked down barricades outside the clubhouse at the ATT National at Congressional CC. A-listers such as Ryder Cup captain Paul Azinger, Tiger Woods, Greg Norman and President George W. Bush. Lifelong buddies from his college days in Florida and the various clubs he has played out of—barefoot at times. People on the streets, at airports and behind counters at coffee shops. They all love the heavily caffeinated, highly animated, very real character who burst through television sets like one big breath of fresh air at the U.S. Open at Torrey Pines.
The Open was more than Mediate's breakout moment as a golfer. Those 19 playoff holes defined him not only as a lovable everyman from western Pennsylvania, but also as a fierce competitor with the attitude to challenge the world's most dominant athlete. The buzz followed him to Royal Birkdale and will accompany him to next week's PGA Championship at Oakland Hills CC, where he will be playing for a spot on his first Ryder Cup team. "Joe Roast Beef knows who he is now," says swing instructor Rick Smith, a long-time friend. "It's like a movie, and he's the hero."
Our hero was there all along, derailed by a bad back, growing older and dipping his toes, literally, into television work. His body and mind needed some fixing in order to free-up the inner Mediate, to let all that joy come pouring out on the course, in a prime-time spectacle that was dubbed an instant classic as much because Woods won with a broken leg and a shredded knee, as because of the fight Mediate put up. "Rocco has a lot of heart, and he ain't afraid of anything," says Azinger. "He proved that at the U.S. Open."
Heart, Rocco's got plenty of. And friends, too. Whether its Southport, England, southwest Florida or Southern California, Mediate's hangout spots are easy to find. Chances are he's holding court either at a driving range, a Starbucks (his drink is a "White Lightning," an iced coffee with four shots of espresso and two pumps of white mocha), the clubhouse at Calusa Pines in Naples, or the head table at Toscana in Los Angeles. When he is out to dinner, Rocco is famous for ordering for everyone, and he will usually pose for pictures with the chef, waiters, maitre d' and dishwashers before the night is over. "When I go out to dinner with Rocco Mediate, I don't even look at the menu," says Azinger, "He'll say, 'What do you want Zing?' and I'll say, 'I'll follow you, whatever.' Then you sit back and all this stuff comes out."
While a little more low-key than normal, Azinger and Mediate shared one of those dinners Friday night at the British Open. Sitting around the table was Mediate's college friend-turned-agent Tom Elliott, who tabbed him "Low Mortal" at Torrey Pines, and the physical therapist Mediate calls his "best friend," Cindi Hilfman. It was an exhausting day on the links, especially for a 45-year-old with a bad back, but before the night was over Jim Furyk and Tom Watson were among those who stopped by.
Mediate always was popular with his fellow players, but what he did against Woods, "for the good of the game," as Norman positioned it with a handshake greeting at Royal Birkdale, put him in a different club. "I won golf tournaments before, so at this stage people knew me," Mediate said earlier that afternoon, mixing Peroni with lemonade to create a beer shandy at his hotel. "Obviously my name is my name. I wouldn't say it's catchy, but it's different."
So is the bearer of the name. Two hours after his second round ended with a birdie, he was relaxing in black drawstring sweatpants, a black Callaway sweater and black Nike Frees. His legs rested on a chair, exposing bare ankles and clean-shaven legs. (That's right—Mediate shaves his legs. "A lot of women are jealous," he says.) On the wall a flat-screen TV replayed the afternoon action, Rocco's name still on the first page of the leader board.
He was riffing, or "yakking," as he likes to call it, about the day that made him famous. Outside, a light rain splattered an English garden. The insanity of Torrey was four weeks old, but still ringing in his ears. "After doing this thing with Tiger in the U.S. Open, that was a big deal," he says. "I still don't comprehend it. I still don't think I was the other guy in that playoff. It's really weird to sit and talk about it.
"It was truly a remarkable day, watching some of the highlights, seeing the people," he says. "[The USGA's] Mike Davis said 27,500 people were scanned on Monday morning to watch us play golf; another 3 to 4 million watched on TV. That's freaky to me. Now, was it because of me? Of course not. It was Tiger and the U.S. Open … but the 'me' part came in when it became a match. All of a sudden, he had to do something he never had to do before and people said, 'Hey, this is cool.' "
And they haven't stopped saying how cool it was. At the ATT National, Woods, recuperating from surgery and unable to attend the event, asked Mediate to fill in and make an appearance for Tiger's foundation. That's where the fans broke down barricades to get at him, and the President invited him to the White House for a July 4th cookout and fireworks show. Rocco, ever the schmoozer and food connoisseur, noted the quality of the fried chicken, the macaroni and cheese and the rest of the menu, saying, "The bean medley was spectacular, and Mr. Bush was a lovely guy."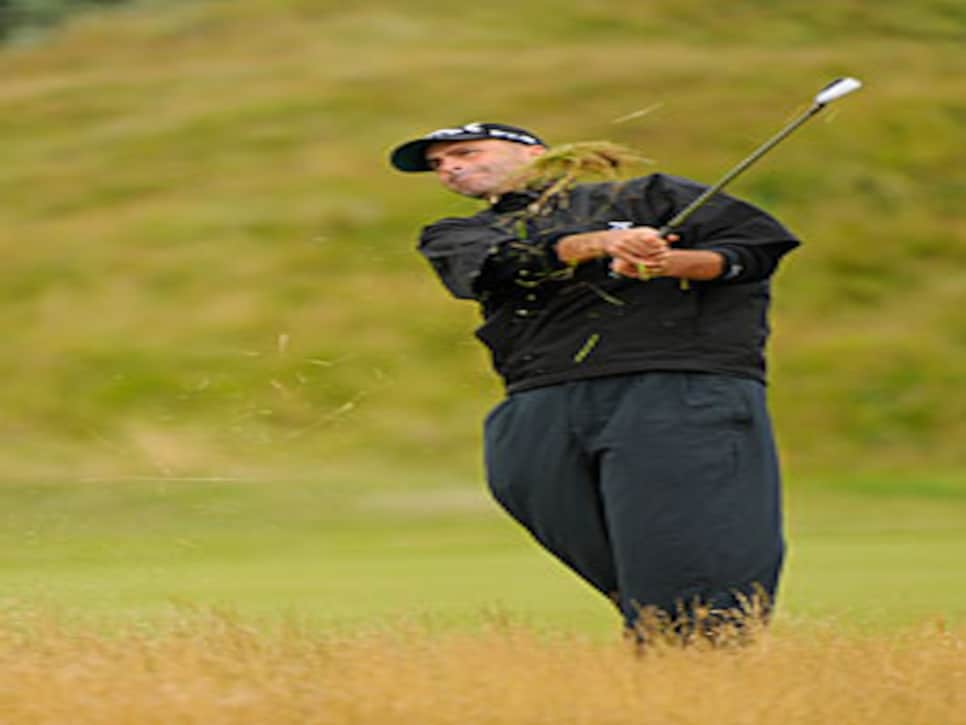 While he hasn't won a tour event since 2002 at Greensboro, the U.S. Open has given him star power, even in L.A., where his name is up for membership at Bel-Air CC. "He went into a Starbucks in Brentwood, and I got a text message from my friend working in the office building next door that they heard Rocco was in Starbucks," says Hilfman. "It was unreal."
Unreal is the way Mediate fought back against Woods from three strokes down to send the 18-hole playoff into sudden death. But it was the smile, the scruffy salt-and-pepper beard, the oversize pants with the peace-sign belt buckle (that he originally had made for Hilfman) and the pin collection on his hat that turned Rocco into a celebrity.
Yet not long ago Rocco's life was dark and dismal. What was the low point? Probably the final round of the 2006 Masters. Struggling entering the tournament, Mediate played his way into contention and had "one arm in the green jacket," before feeling a twinge in his back after he hit the flagstick with an 8-iron at the ninth. At the par-3 12th he hit three balls in the water and made a 10. Phil Mickelson went on to win his second green jacket and everybody forgot about Mediate, who finished T-36 after a final-round 80. He would only finish that high one more time the rest of the year.
The following January he was on the fairways at Kapalua with a belt pack and a microphone, working in his bare feet as an on-course analyst for Golf Channel. This didn't surprise Lee Janzen, who calls his former college teammate, "the best barefoot golfer I know." Rocco had a blast and didn't miss calling many shots that week either, but commentary work was no match for the competitive environment. One month later he was still injured, despondent and sitting on the couch of a friend's house in Los Angeles overlooking the fourth green at Riviera CC, when Hilfman walked in.
A 42-year-old originally from South Dakota, Hilfman is a physical theapist by trade and a free spirit by nature. An eternal optimist, she suffers from a variant of a serious kidney disease that can be fatal. "She peeked around the corner and this big smile covered her whole face," Mediate remembers. "She didn't look like she was dying to me!" Hilfman worked on Mediate's back and two hours later, he was off the table, pain free.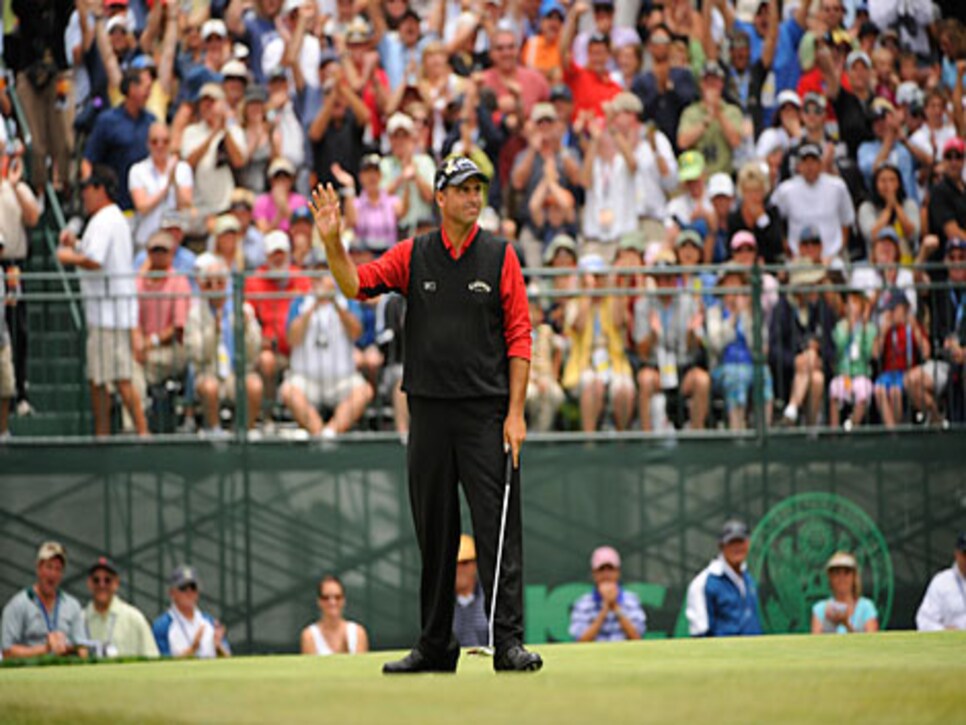 Mediate's back problems go back 15 years and have caused constant interruptions to a career that was launched with a playoff win over Curtis Strange at Doral in 1991. He was the young Italian kid out of Greensburg, Pa., who married the hometown girl (Linda), who worked in his father's barbershop, and who named his boys Rocco, Nicco and Marco in the family tradition. Smith used to tease him about dressing "with a Mr. T. starter kit," but Mediate brushes it off as only one gold chain, with a "Golf Nut" pendant that his mother, Donna, gave him.
Mediate's father, Tony, played minor-league baseball, which was Rocco's first love. But the coach at Florida Southern (where Rocco matriculated), Charlie Matlock, remembers the long practice sessions Mediate endured to make himself a better golfer. He teamed with Marco Dawson and Janzen, his roommate on the road, where they would pass time listening to the rock band Rush while wrestling with each other. "You wonder now why we did it, but we'd pile on each other," Janzen says. "I'd be minding my own business, and he'd come flying across the room, throwing an elbow."
Mediate was the first player to win on tour using a long putter (Smith remembers how they poured sand down the shaft to give it a better feel). With two holes to go, the instructor told Mediate he needed to birdie 17 and 18 at Doral's famed Blue Monster to tie Strange, who was coached then by Mediate's current mentor, Jimmy Ballard. "Rocco was just a babe in the woods, but he had the guts of a burglar and there was no quit in him," Ballard says.
People forget now he won five times, including a head-to-head battle with Woods at the 1999 Phoenix Open (when Tiger famously had gallery members move a boulder so he could hit one shot). He got as high as 12th on the World Ranking, in 2002, but the tender back always has kept him from maintaining that success. He had surgery in 1994, took cortisone shots and languished through a phase in 2005 when he had more enthusiasm for the World Series of Poker than his golf game.
But Hilfman has provided relief. "He never felt that much freedom, that much ability to move," Hilfman said while walking holes at Birkdale. Hilfman, who owns a golf-performance business in Los Angeles, believes Mediate went through years of unnecessary pain. "He had been poorly diagnosed," she said.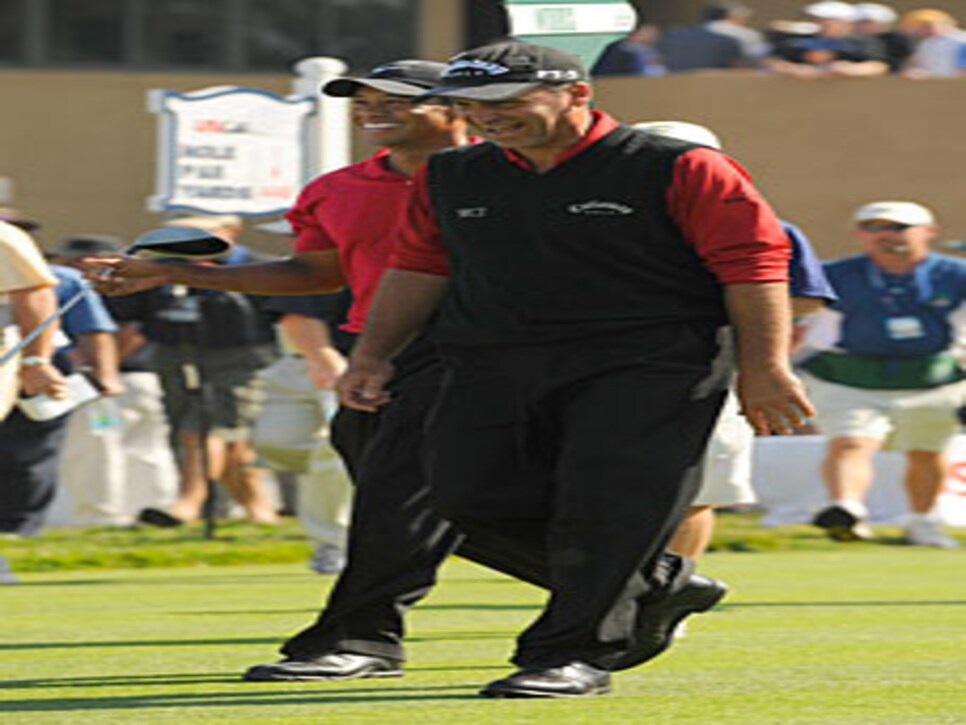 The week they met Mediate finished T-9 in the Nissan Open and then was second a month later to Vijay Singh at Bay Hill. In addition to Hilfman, Mediate credits Ballard for giving him a swing that is both efficient and friendly on his back. He saw Azinger during the Florida Swing in 2007 and told the captain he was going to make his Ryder Cup team. Hearing that, Azinger held off naming Mediate an assistant captain. "Rocco knows how much confidence I have in him," Azinger said.
Then Rocco did nothing the remainder of the '07 season, or right up until the Memorial this year, to get on Zinger's short list. But Jack Nicklaus gave him an invitation to his tournament, and Mediate managed a T-6. A playoff win in a sectional qualifier got him into Torrey Pines, where he elicited scores of laughter when he interjected himself into Woods' Saturday night press conference—after Tiger made two eagles and a chip-in birdie in the last six holes—by yelling out, "Mr. Woods. Mr. Woods. Are you for real?"
But behind the scenes, Mediate was anything but awestruck. "I remember when I shot 66-71 to beat him in Phoenix, he looked at me and said, 'Nice to see you back, Rock.' I could hardly believe it. It was the coolest thing, but a couple of weeks before at Memorial I was saying just one more time before I'm done, I want to have Tiger for something on the weekend and see what I have."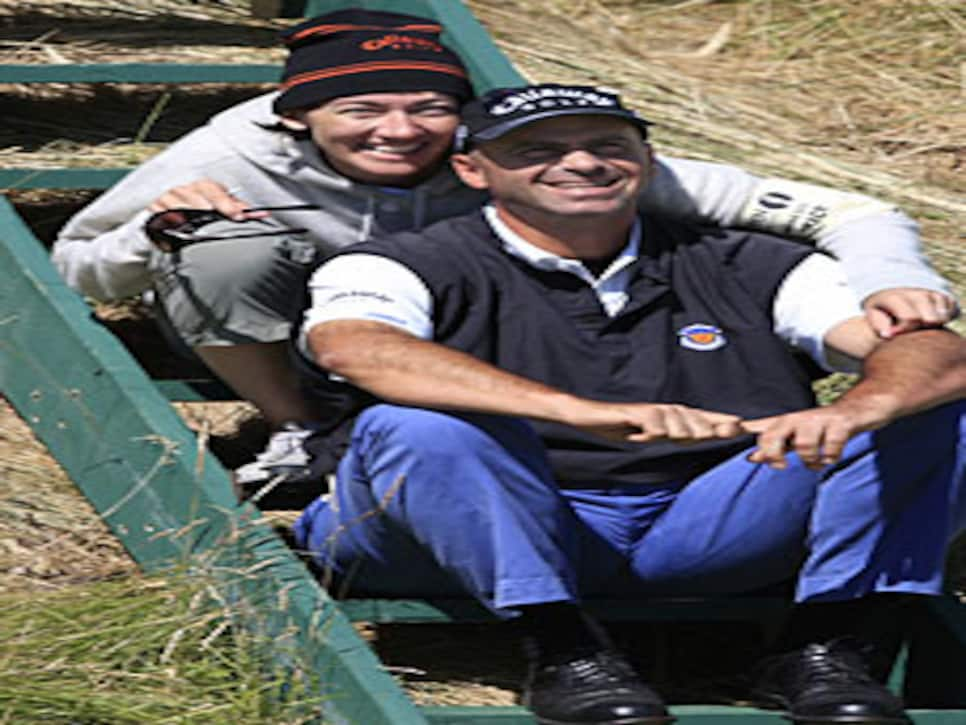 At the British Open, Mediate was one of three co-leaders after the opening round but drifted off on the weekend and finished T-19. Sunday, he got a horrible lie just left of the second green, took a big swipe at the ball and missed, making double bogey. On the third tee Mediate saw Elliott and told him, "Just so you know I made 6 on that hole. That first one was not a practice swing." And he laughed all the way down the fairway, which didn't surprise Elliott, who has seen Rocco laugh at himself for almost 30 years.
Hilfman had to give him adjustments on the course during the practice rounds and throughout the week. Asked to describe his relationship with Hilfman, Mediate says, "She has become literally my best friend in the entire world. That's neat to have that. I don't know how else to say it." (Mediate and his wife are separated.)
The British Open was Mediate's 21st event in 2008, a ton for a middle-aged man with a bad back. His back is better but remains an issue. He needs constant stretching and was "on the table at 4:15 a.m." for his 7:03 tee time Friday at the British Open.
Yet, he and Zinger may be sharing team dinners at Valhalla after all. Currently 11th in the standings—with Woods out, players who finish second through ninth on the points list make the team—Mediate has no doubts his back would hold up for the possible 36-hole days. He also knows it will take more than a runner-up finish at the U.S. Open to make him a captain's pick. "I know exactly where I am," Mediate said. "That's my whole business the rest of the year." He hasn't won, but after years of turmoil, he's finally at ease with himself.
"The peace sign thing goes deeper than you would ever know," Mediate says. "This is the biggest awakening period in my life."