News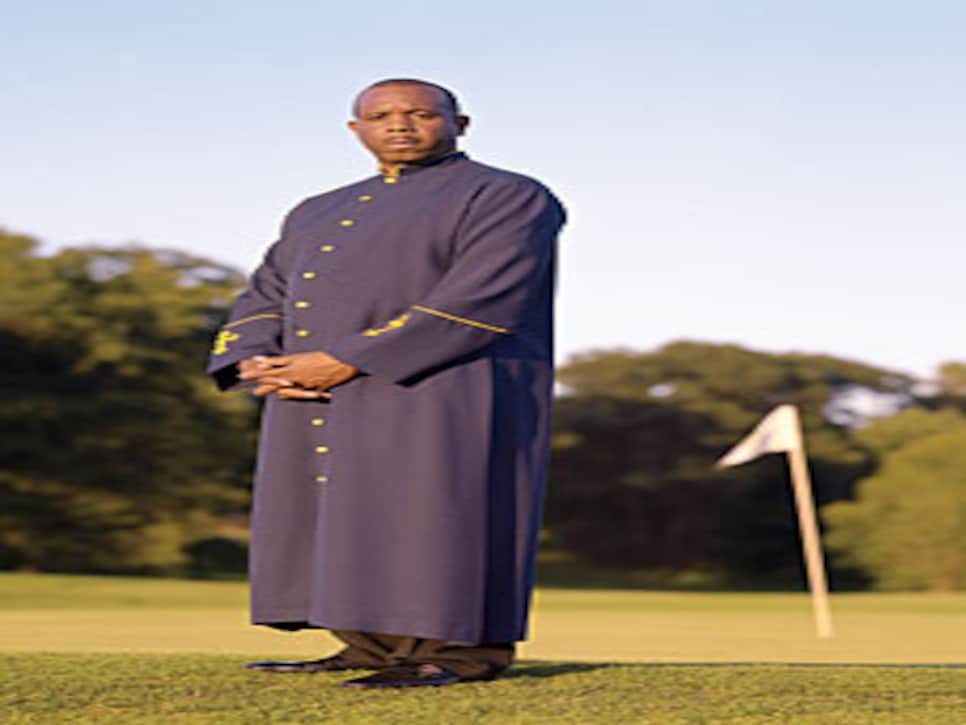 Bishop Ellis' church bought the municipal course from the city of Detroit in 2007 for $2.5 million.
A row of pull carts and another of the gas-powered variety stand sentry next to the starter's booth inside the chain-link fence that surrounds the golf course, keeping wildlife in and undesirables out. Across Berg Road a cloud of blue smoke from a worker's lawn mower fills the air as a threesome of elderly black men talk birdies, bogeys and Obama in front of the clubhouse, a rickety relic from the early part of the 20th century.
New Rogell Golf Course is bustling with golfers of all ages and ethnicities, a clear sign that summer and urban golf endure even in the most strained economic times—at a course with a dubious past but a potentially bright future.
There is not much except the signature crowned greens with open fronts to suggest Donald Ross designed the layout set among 120 acres on the northwest side of Detroit. No plaque paying tribute to the great architect. No bust of him in the ancient clubhouse. No archival documents displayed in a trophy case. Nothing.
Just as a Model T passed from one disrespectfully irreverent hand to another would hardly bear the initial imprint of Henry Ford after years of neglect, the course has very little Ross definition. Hard times and even harder financial lines drawn by Motor City politicians have stripped the course of its dignity, tossing it into the same ground-in-need-of-repair category occupied by so many neglected munys in the United States.
Ignoring the yellow crime-scene tape that marks an unplayable area on the 17th hole—one in a laundry list of reasons New Rogell is the antithesis of the South Course at Oakland Hills, where next week the best players in the world will contest the PGA Championship—the atmosphere at New Rogell is one of restoration of that dignity. The confluence of golfing converts is indicative of a revival, led by a holy alliance between a third-generation Pentecostal preacher and a true believer in the unholy word of capitalism: If you rebuild it, they will come.
"I knew it could be a blessing in disguise and definitely a win-win situation," says Lindsey L. Mason III, New Rogell's head professional and general manager, of the city of Detroit's decision to sell the course to a local church. "Being the only black-owned course in the state of Michigan is historic, too."
The course is black-owned courtesy of Bishop Charles H. Ellis III and Greater Grace Temple, a mega-church (6,500 members) whose 20-acre complex called the City of David sits a few blocks from the course up 7 Mile Road. Bishop Ellis, a fledgling golfer, dug into the church's coffers for $2.5 million and purchased Rogell from the city in spring 2007. Last month it celebrated a first anniversary under the auspices of Heavenly Golf, a limited liability corporation that is part of Greater Grace Temple's operations.
During that initial season of ownership, play increased by nearly 5,000 rounds (from about 20,000 before the purchase), according to Mason. A great praise report for a church used to raising roses from seemingly fallow ground.
"Greater Grace Temple is a very blessed church," says Bishop Ellis, detailing the church's litany of accomplishments during 82 years of service in Detroit, 34 of them headed by his father, David Ellis, the past 12 by him. "My father was a man well ahead of his time with out-of-the-box ministries. I appreciate that so much even to this day because it allows me to move in the flow of innovative things without a lot of skepticism from the people that I need to support it—the congregates of this church. The church has a history of doing things outside the walls of this sanctuary."
Examples of Greater Grace Temple's expansive ministry are a daycare center, two K-8 charter schools begun by and still affiliated with the church, eight multi-family residences, a funeral home, an activities center across the street from the course and an 89-unit senior citizens complex adjacent to the church.
The fascinating history of New Rogell and the surrounding community reveals a convergence of forces including immigration, northern migration, urban renewal and white flight. That history belies the postcard image of tranquil tree-lined streets and red brick residences, some in disrepair, others as resplendent as the tall oaks that shade them.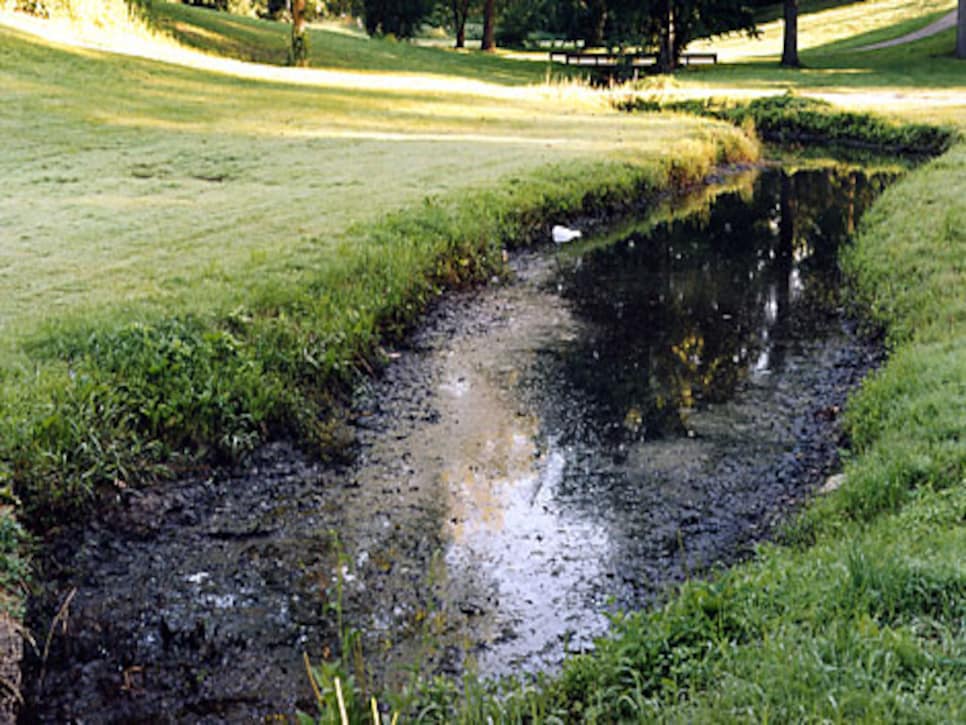 In 1913 leading citizens of Detroit's Jewish community sought a playground of their own and the lush property near Redford Township provided seasonal recreational pursuits: golf in spring, summer and fall; cross country skiing in the winter. They hired prolific Scottish architect Tom Bendelow to design the first nine holes, which had sand greens, and named it Phoenix CC. It opened in 1914 as another symbol of a faith of people rising from the potential of immigration to the spoils of American citizenship.
Seven years later the course was sold to the city of Redford and renamed Redford GCC. Ross, already making a name for himself in Michigan with several stellar designs—notably Detroit GC (1916) and the famed South Course at Oakland Hills (1918)—remodeled the initial nine and completed the project, adding grass greens. He continued his amazing run in the state by designing Bloomfield Hills (1922) and Oakland Hills' North Course (1924). In 1925 he designed Dearborn CC and Rackham GC, where Joe Louis learned the game under the tutelage of longtime head pro Ben Davis, and finished Western GCC two years later.
Oddly enough, the club's short-lived Jewish ownership might explain why there never was a proliferation of Jewish culture and community in the area surrounding the golf course known as "Old Redford." While Jewish synagogues, businesses and residences flourished in other parts of northwest Detroit, Old Redford was virtually devoid of any Jewish presence. That's because the Jews played there but few lived there, according to Robbin L. Andrews, a self-proclaimed historian, golf enthusiast and retired manager of forestry and ground maintenance for the city of Detroit.
"While the well-maintained houses around the course were occupied by white-collar white people—perhaps Jewish, perhaps not—people of European heritage came up from Tennessee and Kentucky and inhabited the poorer part of the community," says Andrews, who worked for the city for 33 years. "As you traveled east, you came upon the dominant Jewish community."
Old Redford developed a blue-collar mentality that fostered separatism. By 1945, when the city of Detroit purchased Redford GCC for $174,000, those attitudes were firmly entrenched and remained so well into the tumultuous 1960s. "Blacks weren't really welcome anywhere in northwest Detroit until the Civil Rights Act in 1964," says Andrews. "The riots of '67 helped, too."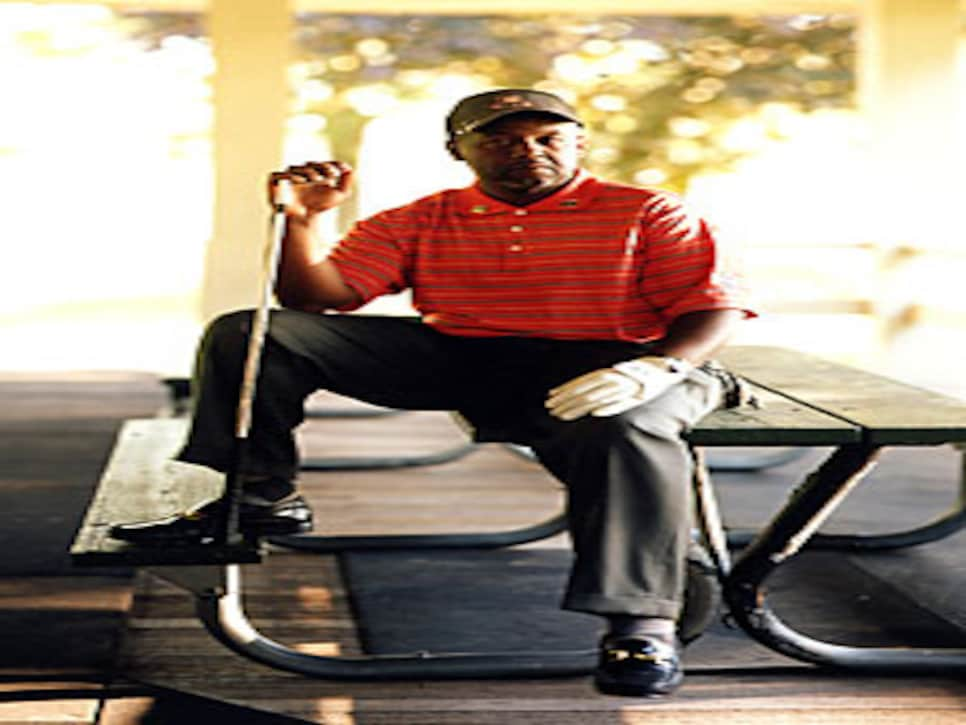 Urban renewal, spearheaded by Mayor Jerome Cavanagh in the '60s and early '70s, and closely monitored, for fair treatment of those most affected, by iconic Mayor Coleman Young after that, ignited the real explosion of blacks moving from the inner city to the northwest part of Detroit. Federal government purchases of land needed for the expansion of several expressways, including I-75, I-94 and Highway 10, put enough money in the pockets of black families to finance the move.
Of course, not everyone was happy about the migration. "My family moved to northwest Detroit in 1964," Andrews says. "I remember being called the 'N-word' many times walking down 7 Mile."
The racial tension had changed little in and around Redford Township by 1989 when members of a hate group burned a cross in the front yard of two white female roommates who had a black son and black boyfriend, respectively.
"How do you like your front lawn?" yelled one of the four young perpetrators from a passing car. "Move!"
Meanwhile, the golf course was in a slow but steady transition, too. In 1979 the city council voted to change its name to Rogell GC in honor of councilman and former Detroit Tigers star shortstop Billy Rogell. His claim to fame, besides leading the Tigers to the 1935 World Series win over the Chicago Cubs, was beaning Cardinals pitcher Dizzy Dean—and knocking him unconscious—in the '34 Series. One of the more creative headline writers wrote of the incident the next day: "X-Rays of Dean's Head Show Nothing."
The name change did about as much to diversify the club's clientele as if it had been named after another Tiger legend, Ty Cobb.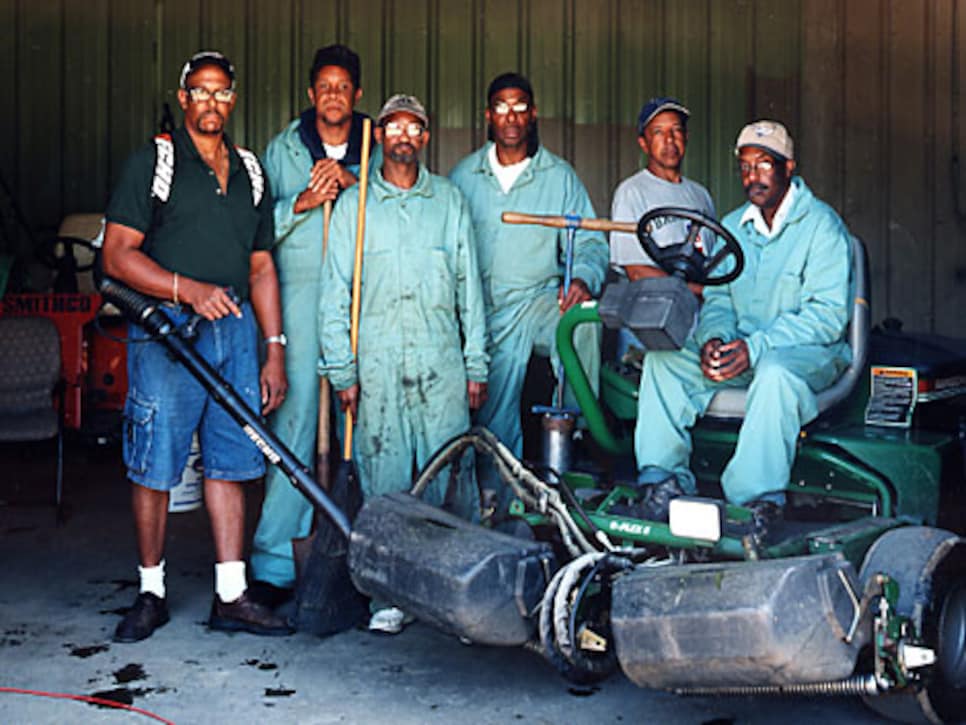 "Rogell and Rackham were both considered white courses," said Carl Collins, representative of the city of Detroit's building authority. "So were Chandler Park and Rouge Park, for that matter. Blacks played Palmer Park and the nine-hole course on Belle Isle. In fact, blacks didn't start playing Rogell in earnest until Tiger came on the scene about 15 years ago."
That urban renewal and inflation have brought diminishing returns to both the community, which has dramatically changed demographically (an estimated 70 percent black currently), and the golf course, which remained under operation by the city even though American Golf was contracted to run most of the other city-owned courses in 1990, is hardly laughable. Putting them both on firm footing was a calling Bishop Ellis couldn't resist.
"My father bought 20 acres of property here in 1988," says Bishop Ellis from his office on the second floor of the immaculate sanctuary. "It was a former amusement park called Edgewater because the Rouge River runs right through the property. He bought the property because he believed in acquiring land—rather have it and not need it than to need it and not have it."
Just like his father, the bishop is a visionary. With a bachelor of science degree in business administration and a major in accounting from Wayne State University, he also is an astute businessman. That's why he knew a good deal when it was pitched to him by Mason, who, as Rogell's head pro for a while, first for the city and later under a lease agreement by the A.G. Housey Company, had witnessed the course's steady decline.
"God has blessed me to have a great business acumen, which serves me well in this position as pastor," says Bishop Ellis. "What I do on Sundays is an hour; what I do on Wednesdays is a couple of hours; what I do the rest of the week takes more than a religious mind."
He oversees more than 300 employees for the church's various enterprises/ministries. "Between the senior citizen complex next door and this sanctuary we have somewhere in the neighborhood of $45 million worth of development, which says we're committed to this community," Bishop Ellis says. "Detroit is suffering probably as badly as any other municipality in Michigan. It's finding itself in a pinch, challenged to do the same with less or make the hard decisions not to maintain properties as they were once maintained. Once you see things start to close up or deteriorate, then you make a decision to allow circumstances to impact you or you can impact circumstances. We've always chosen to define our communities as opposed to being defined by our communities."
With that sermon serving as a mantra, the bishop locked arms with Mason and determined the course was not only worth saving but restoring. At least for now.
"I don't have a vision of it being a housing community, Home Depot, Target or Wal-Mart," says the bishop. "I'm content with it being a golf course and not jeopardizing my financial status at the church. However, if someone comes—say, a Donald Trump—and offers me some millions of dollars, I'd probably listen with a keen ear."
Skepticism within the community made Bishop Ellis put a hard check on the rumor mill before the ink had dried on the sales contract. "There was a little backlash at first because there were all kinds of rumors about the course," says Mason. "People in the community didn't know what the church was going to do with it. They heard some housing or a strip mall was going up. Bishop Ellis met with different community groups and calmed the waters. Now we hold community meetings right here in the clubhouse, so the course has become somewhat of a unifying force."
Thanks to a $140,000 subsidy from the church, most of which went toward improvements and maintenance, New Rogell is beginning to erase the scars from neglect. An improved drainage system temporarily has tamed the ruinous effects of temperamental Rouge River, whose flooding has closed the back nine in the past. By transplanting from the practice green, a diligent superintendent has the bent-grass greens plush and rolling fast. The Kentucky bluegrass fairways are distinguishable from the rough.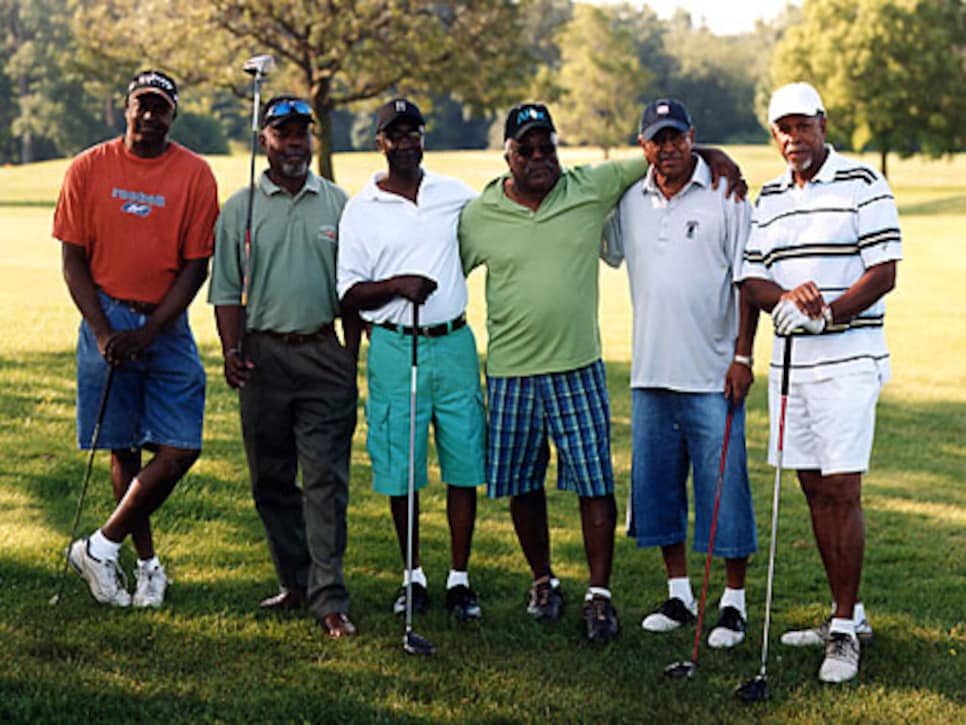 Improvements in the slightly more than 6,000 yards of greenery have not been lost on loyal patrons. "It's getting a lot better," says T.J. Allison, who volunteers as a marshal at New Rogell. "And it's a tough course. A lot of guys don't want to play here cause it's so tough. You gotta use your head here, especially on the greens. Yep, a lot of guys don't come this way cause this ain't no hit-and-run course."
It is a bargain ($17-$34 green fees for riders) by today's standards with some very formidable holes. The fourth hole, a 433-yard par 4, gets your attention after three fairly benign warm-up holes. With trees and the fence on the left, more trees on the right and a deep valley about 100 yards short of an elevated green, No. 4 places a premium on accuracy and power. There's no let up on the sixth hole, a 431-yard par 4 with a severe dogleg left, a pond on the right and an elevated green that slopes from back to front.
Better conditioning and maintenance have brought out the best in the back nine, as well, especially Nos. 12, 13, tough par 4s, and No. 16, a par 5 with the Rouge in play.
"Since Greater Grace purchased Rogell we have seen a major improvement in the quality and atmosphere of the course," says Mark Funston, president of the Malvern Hill Neighborhood Association and a regular at Rogell. "As the adjacent neighborhood, we couldn't be happier with the new owners."
The course rewards loyalty with a free round of golf as the season winds down in early October. That's not the only benefit from church ownership, though. "That's good public relations don't you think?" says Allison. "As a matter of fact, you keep messing around this golf course, you'll get saved around here."
Or, at the very least, a better appreciation of Ross, the reverend and the virtues of restoration.