News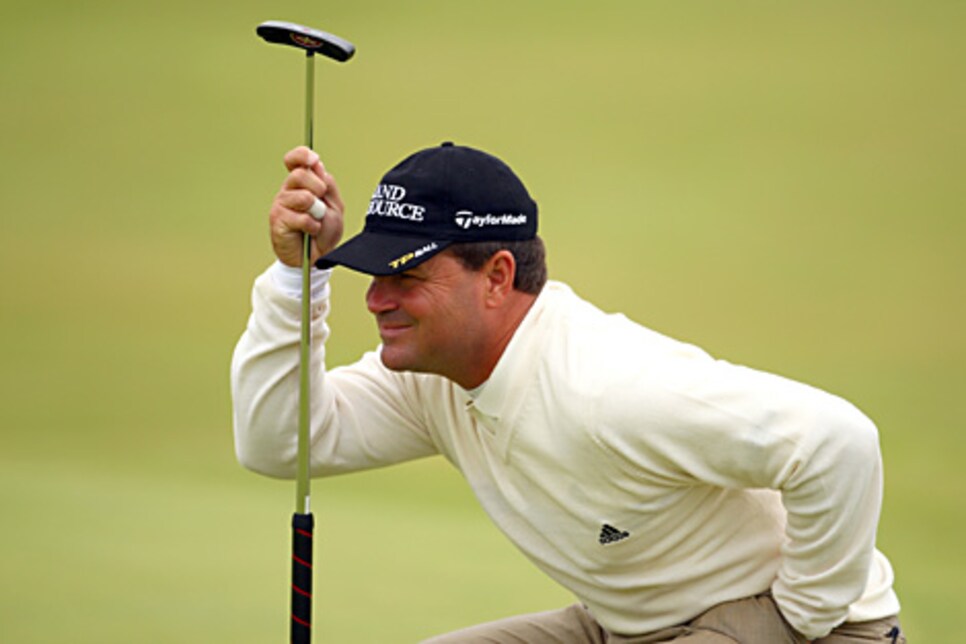 Williamson feels his odds improve when wielding the long putter.
It's an equipment debate that may have more legs than distance's impact on the game: Should long and/or belly putters be allowed?
At last week's RBC Canadian Open two players who used such clubs -- Scott McCarron and Billy Mayfair -- finished in the top five, with McCarron ranking first in putts per GIR and Mayfair third. Long/belly putters may get likened to using "training wheels on the green" by some critics, but for a number of tour pros the thinking is: If you want to use them, knock yourself out.
"I never felt like it was illegal or I was cheating when I used it," said Kenny Perry. "It helped me when I went back to the short putter. The long putter swings and it releases, and I have a tendency to want to stop my stroke. I practice with it at home on my putting green. It's a nice training aid."
A training aid. It is that kind of talk that leaves some players feeling almost guilty about using the long putter, even though they are more successful with it, including Jay Williamson, who has gone on and off with the long putter for nearly 15 years.
"I don't want to use it, but I'm a better player with it, so I can't fight it," said Williamson after losing a playoff at the John Deere Classic. "It just doesn't seem athletic to me. It almost seems like cheating. But it's not. If it was cheating, everyone would be using it. I've stayed awake at night trying to figure out how to putt better. But I know at the end of the day that I have a better chance to make a putt with a long putter than with a short putter."
Interestingly, the stats show that may be true for some but not for others. For Stewart Cink and Tim Clark (ranked 27th and 31st in putts per GIR, respectively), the long putter has paid dividends several times over. But then there are long-putters such as Mayfair, who putted well last week but ranked 180th in putts per GIR coming into the Canadian Open, and Charles Warren, who ranks 169th in the same stat.
"If they're going to let us use it, then yeah, by all means go ahead," said Will MacKenzie. "From five feet it's deadly. But it's almost a disadvantage from 50 feet, and you have a lot of 50-footers."
Such thinking is why players such as Vijay Singh, Sergio Garcia and Tom Lehman have put their broomsticks back in the closet and returned to conventional-length putters.
"Let's face it, it just feels and looks weird," said MacKenzie. "Everybody wants to go conventional and do it the old-fashioned way. But we go through phases, and if you go out there and win a tournament with the long putter or the claw or the belly, you're going to keep doing it." No matter what anyone says.
TaylorMade recently unveiled a new player's iron on tour -- the Tour Preferred -- a cast iron with an undercut cavity and additional weight in the rear heel and toe area. Among the early converts to the club are Tom Lehman and Fred Funk.
Endorsement contracts in golf normally are hammered out in the winter months, but there has been some activity recently as Justin Rose extended his relationship with TaylorMade-Adidas and Tour Edge inked its first LPGA player, Stacy Prammanasudh, who left Ping earlier this year. Prammanasudh has been playing Tour Edge irons since her split with Ping. ...Greg Norman, who backed up his T-3 at the British Open with a T-5 at the Senior British Open, used TaylorMade's TP Red LDP ball in both events -- the tournaments marking the first time he has used the ball in competition.