News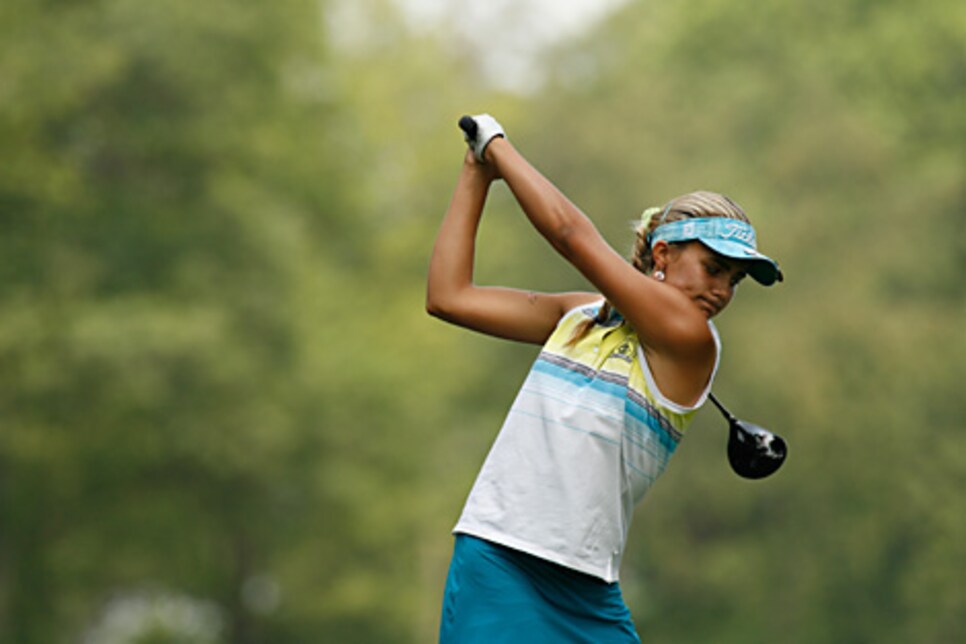 Five inches taller since last year, Thompson also is 40 yards longer.
She was seemingly just another girl with braces and a long blond ponytail when she wandered into golf's consciousness last summer, awe-shucksing her way around Pine Needles as she became the youngest golfer ever to play in a U.S. Women's Open. Of course, to think Alexis Thompson is all grown up now that she has reached the grizzled age of 13 is a bit of a stretch. Then again, so much has happened to the Coral Springs, Fla., native in the ensuing 15 months.
For starters, she has competed in another Women's Open, more comfortable in the spotlight at Interlachen CC last month even if the press wasn't quite as inquisitive the second time around. The soon-to-be eighth grader also has sprouted nearly half a foot, hitting the 5-foot-8 mark. The extra five inches have played tricks on her putting stroke lately, but helped add 40 more yards to her tee ball, a reasonable trade-off for the moment.
However much she has grown physically, you can safely double it to measure the increase in confidence she has on the course, which ultimately provides the best explanation for how easy Thompson made claiming the 60th U.S. Girls' Junior title look last Sunday afternoon at Hartford GC in West Hartford, Conn., defeating Karen Chung, 5 and 4, in the 36-hole final.
"I'm not really nervous when I play, whether it's the Open or a junior tournament," Thompson said early last week. "I just go out there and try to do what I know I'm capable of doing. I'm just trying to have fun."
Too much too soon is what Scott Thompson was trying to avoid a spring ago when the media first descended on the youngest of his three golfing children. But after watching Alexis add a second national junior title to the PGA Junior she earned last August, it's hard not to think her development is proceeding at a reasonable pace. "She's driven and ready for this," said the elder Thompson, "ready to improve and succeed."
Indeed, when Alexis reached the quarterfinals at last year's U.S. Women's Amateur, it suggested her historic Open appearance wasn't a fluke. With a USGA title secured, there is a feeling Thompson's ascent can reach as high as she's willing to take it.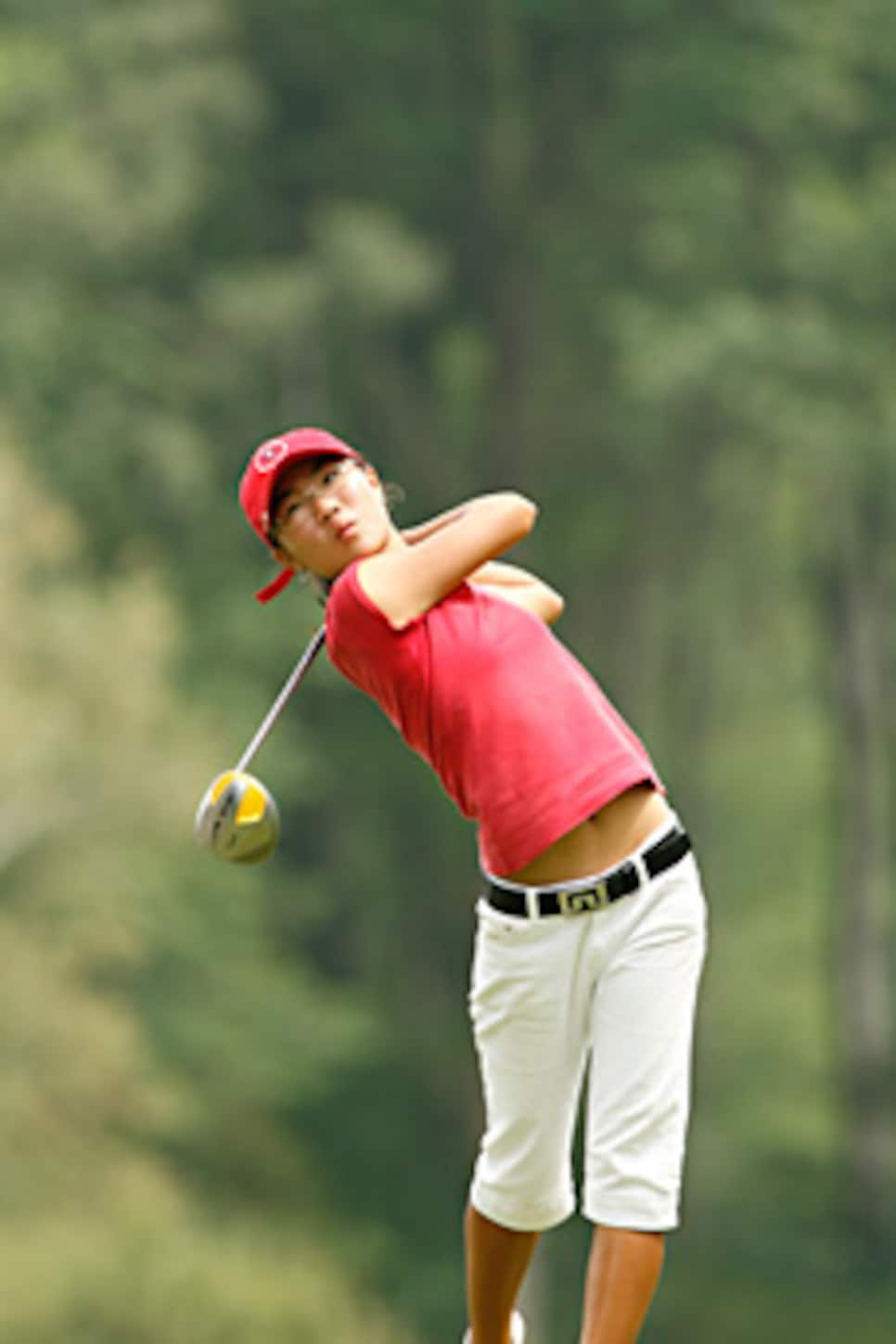 It is interesting how a career that can't begin fast enough collided with a championship that felt as if it might never end. While the stroke-play qualifying rounds on the 6,265-yard, par-71 course went fine -- Lisa McCloskey's second-round 63 earning her medalist honors with an eight-under 134 -- the match-play schedule got all wet when 1½ inches of rain fell in 30-plus hours. USGA officials finished the first round Wednesday between thunderstorms but pitched a shutout Thursday, causing the event to spill over an extra day for the first time.
Perhaps Thompson was destined to still be playing come Sunday. The same couldn't have been said for Chung. The Livingston, N.J., native didn't pursue the game until three summers ago when her father wanted her to add an outdoor pursuit to her indoor hobbies of piano and cello. Not only was the Girls' Junior her first USGA event, it was also the first time the 13-year-old played in any sort of match-play competition.
With each match's conclusion Chung noted in her pixy voice her surprise in getting this far. "She says that because she's very modest, but she's very fierce," said Stephanie Kim, Chung's cousin who also played in the championship. "She's got a lot of heart, and if she wants to, she's going to get it."
Case in point: her semifinal tilt with Kristina Wong. Chung was 2 up with two holes to play, only to three-putt the par-3 17th from 20 feet and hit her approach shot on the par-4 18th out-of-bounds to lose both. Instead of folding in extra holes, though, Chung hung tough, winning on the 26th hole in what became the longest match in Girls' Junior history. (In the 48 hours prior to Sunday's finale, Chung played 80 holes.)
Thompson showed a similar ability to grind out a victory, falling 2 down through eight holes in Saturday morning's quarterfinal versus Kim before shooting six under over the next nine holes for a 3-and-1 win. She then knocked off 2006 champ Jenny Shin, 2 and 1, in the semifinals that afternoon.
While Chung went 1 up during the opening nine holes of the championship match, the "veteran" Thompson (two months Chung's senior) took charge when she won the 10th with a birdie and the 11th and 12th with pars for a 2-up advantage, the same lead she held to conclude the morning 18.
"It was pretty tough out there with all the wind and Alexis hitting it 50 yards past me," said Chung, Thompson's advantage off the tee being noticeable on almost every hole. Meanwhile, nerves had short-circuited the impressive short game Chung displayed in earlier matches.
Thompson's length was an obvious plus, but her ball-striking proved equally impressive, no shot more so than her third at the par-5 10th, the match's 28th hole. After her drive found the right rough, forcing her to punch back to the fairway 207 yards away, Thompson pulled out a 7-wood and carved a picturesque draw to 10 feet. She holed the birdie putt to get back to 3 up with eight holes left. Pars to win the 31st and 32nd holes sealed the victory, Thompson shooting the equivalent of one over compared to Chung's six over.
Unable to help his daughter work out the kinks this spring that accompanied her added height, Scott Thompson let an instructor (Jim McLean) take a look at one of his kids for the first time. Her putting could become more consistent, but the swing looks solid again.
Suffice it to say, it was a busy golfing week for the Thompson family, as older son Nicholas finished T-5 at the PGA Tour's RBC Canadian Open and middle child Curtis missed making match play at the U.S. Junior by one stroke. For the moment, though, Alexis is the Thompson to keep an eye on, the "It" girl who seems to have what it takes to make the label stick.