News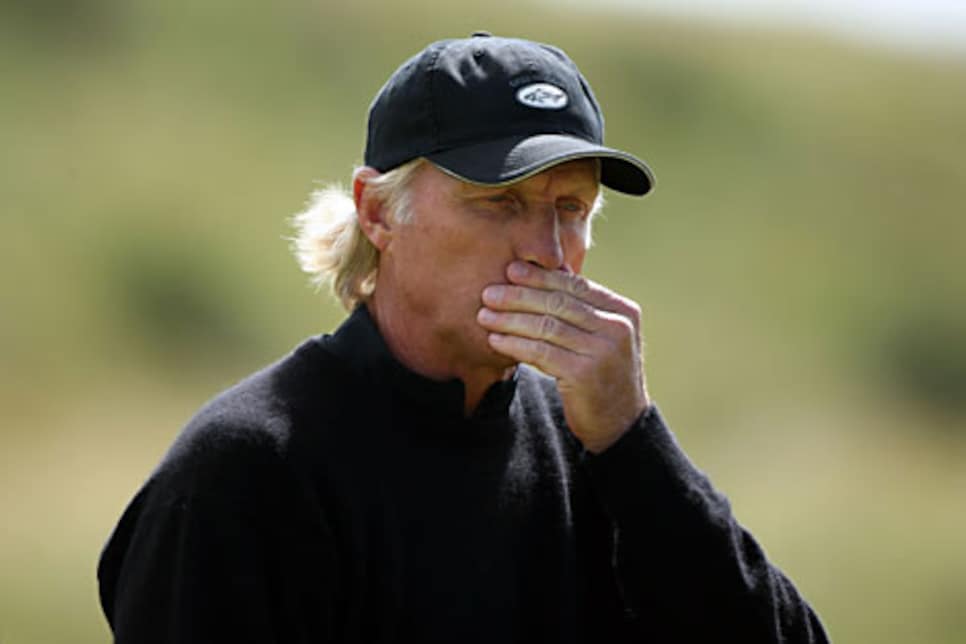 Norman tasted the bittersweet flavor of the past at Royal Birkdale, but didn't leave this major with a bad taste in his mouth.
For the first time all week, his shoulders slumped Sunday afternoon. From the moment Greg Norman arrived at Royal Birkdale, they had remained square atop his athletic build, framing that familiar stride. "The walk," noticed his new wife, Chrissie. "He's still got the walk, you know." The Shark also had his old laugh again, and his appreciation for trading barbs with motley souls whom he has missed, or at least hadn't seen much of lately. Also, he had a surprise. He brought his game with him, too. But on the 13th tee Sunday, Norman's posture crumbled. He knew it was the beginning of the end. With a gale howling at his back from the Irish Sea, Norman used a hybrid to launch a ball high and true toward the fairway below. "Picked up my tee, thinking it was perfect," he recalled. However, a hard bounce or a blast of wind or maybe both took over, and the tiny speck of white in the distance veered right, disappearing into a pot bunker.
Padraig Harrington, Norman's flank in the last twosome, previously wielded an iron to splice the short grass. To get there, Norman had to exit the sand sideways. Then, his approach toward the green was chubby. He would bogey the par 4, and Harrington birdied. Norman was now three strokes behind, and what's worse, he heard roars from up ahead for Ian Poulter, the native peacock. The race for the claret jug had been joined by someone else. It was over for Norman, who mused by his locker at nightfall, "This is disappointing, but not like the disappointments I've had before."
At week's start only irrational minds opined that the 137th British Open would be empty without Tiger Woods or that its champion would wear an asterisk. What no clear thinker could imagine was that Norman, a recreational golfer now at age 53, would sink his pearly whites into a visit he termed a "tuneup" for the Senior British Open--not out of disrespect to this event he so cherishes, but in deference to that dust on his clubs. He had married former tennis star Chris Evert a few weeks and 50 degrees ago in the Bahamas. Birkdale was one of several stops on their honeymoon, as were the pyramids in Egypt and the African bush. "I have no expectations," said Norman, who not for lack of reasons was a 1,000-1 shot to become the oldest player, by five years, to snare a major.
When Norman opened with 70 Thursday, there was a murmur around these links, but he did have the better of the draw, in the afternoon after morning weather unfit for humankind. Friday, Norman made a 20-footer for par on No. 18 and another 70 to lead, however briefly. Now, the buzz stretched from the dunes to the pubs. "No matter what success you have elsewhere," said Norman, a scratch businessman, "there's something about the roar of the crowd. People have been great to me." That's because people remember how often the Shark, one of the most entertaining and charismatic figures in the annals of sport, has been gored at the wire, only to exhibit dignity in defeat. Nobody makes consolation speeches with a dry mouth better than Norman. Critics would say nobody has been summoned more frequently. Whatever, he owns industrial strength resilience, and now he beams about balance in his life. "Golf is second," said Norman, "everything else is first."
He claims his mind wants to play but the body discourages practice, yet Norman's back-nine rally midst small-craft warnings late Saturday afternoon was a flashback. He fixed one item during abbreviated drills--standing taller over the ball, and thus closer--and the 54-hole lead was his, by two. "I told you this Open isn't for anyone because it's for everyone," Norman reminded. "I also told you to watch out for a darkhorse. Did I think it would be me? I'm sure a lot of guys looked at the board and thought, 'What's he doing up there?' But pressure's not on me. Pressure's on Harrington. K.J. Choi. Not me."
Sunday's galleries were massive. Imagine if they held one of these in the summer? With each hole completed, the crowds multiplied around the marquee pair. Aussie flags abounded, on horizontal hold from the wind. Norman dropped three shots the first three holes, but with a par at No. 9, he regained a lead. On to the homestretch, and perhaps history for once the world's No. 1, who ranked 646th at week's start. But Norman bogeyed the 10th, his birdie attempt rimmed the cup at the 11th, and the ball did a horseshoe-and-out for bogey at the 12th. Then, up the hill to the 13th tee.
"Didn't have a lot of luck," said Norman. "But 77 is 77. The components of my game are there. Hopefully, at least I showed youngsters if you take care of yourself, you can play this game for a long time." During a greenside interview, Norman heard Harrington salute him at the award ceremony. The Shark smiled. His shoulders were taut again, and soulmate Chrissie waited to go to dinner. The golf vacation at Royal Birkdale was done, but their honeymoon would continue.