News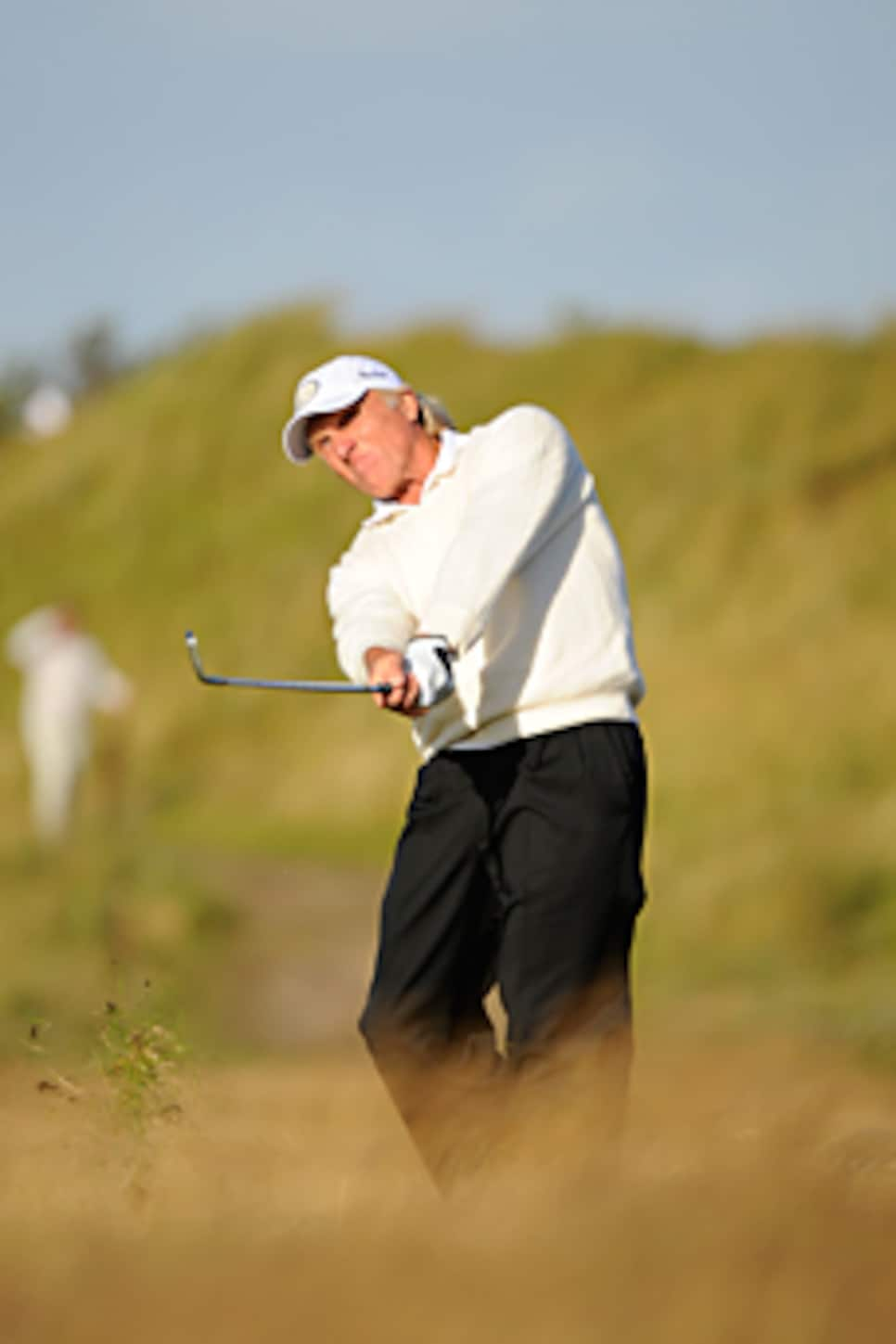 White built Norman's VIP Pros with a wider sole for workability
At last week's British Open, a 14th major was sought -- not by a player, but by club designer Don White, who produced the irons used by Greg Norman. Although Norman came up short, White's résumé includes Norman's two claret jugs and major wins by Jack Nicklaus, Arnold Palmer and Curtis Strange, among others.
He might not be a household name, but White's work is admired by tour pros and golf aficionados. White, 55, has nearly four decades of experience using his grinding wheel, having started at MacGregor in 1971 under the tutelage of Jack Wulkotte, Nicklaus' personal club designer at the time. During White's career he has worked on clubs for more than 200 tour players. His keen eye and skilled hands carefully crafted sticks for the game's best even as mass-manufactured, cookie-cutter clubs increasingly took over store shelves.
White learned his skills from his grandfather, Joe, who showed Don how to build furniture in a work shed at his Leary, Ga., home. Don watched -- and learned -- how a pair of hands could become a person's best tools. Intrigued by how easily his grandfather could shape things, White started working with his hands.
White joined MacGregor at 18, and after just three months he moved into the Albany, Ga., equipment-makers' custom-club department where he has spent the bulk of the past 37 years sculpting, grinding, buffing and polishing tools used by the game's elite.
When Norman acquired a controlling interest in MacGregor nearly two years ago, it put White in the position of building clubs for the boss. White, however, was prepared. He keeps all special grinds he makes for players on file, so he already knew Norman, in the past, preferred irons with no offset and a rounded leading edge, plus a slightly cambered sole that adds workability. Such hands-on work is where White is at his best. For Norman's current irons, a set of MacGregor VIP Pro irons with a diamondback muscle, White lowered the center of gravity to help ballflight while increasing the width of the sole to assist shot-shaping.
White says everyday players would benefit from such attention to detail. "Most players need more rounded soles," he once said. "That prevents digging into the turf. The pros know that, but most amateur players never give the sole on their irons a thought. It's hurting their games."
Not so for Norman last week. Although he wasn't able to give White his 14th major, he proved -- as if it were even necessary -- that this craftsman hasn't lost his touch.
To keep some tee shots lower in Royal Birkdale's howling wind and get the benefit of added roll on the hard fairways, Padraig Harrington had his Wilson Ci7 3-iron bent from 21 to 18 degrees, or the equivalent of a 2-iron. Harrington also used Wilson's prototype Tw9 wedges last week.
Losing clubs on the eve of a major is never good, but for Rod Pampling it was a bit of "been there, done that." TaylorMade van technicians needed to build Pampling all new clubs after his were lost in transit -- something that happened to the Aussie before the Australian Open last December and before the 2003 PGA Championship.