News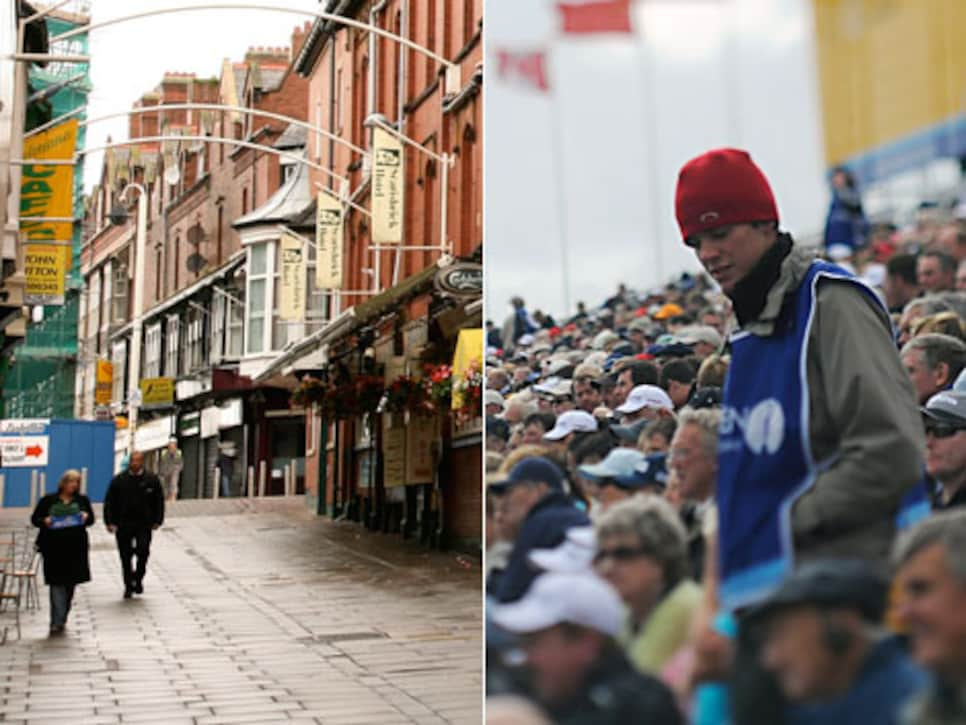 Southport (left) was quiet when fans braved rain, cold and four-club winds to appraise rounds at Royal Birkdale.
If you have come to the British Open on and off for 20 years, you know certain things don't change. The inflections in the voice of first-tee announcer Ivor Robson, chirpy as a finch, are as familiar as a nursery rhyme you heard when you were 4. The BBC's on-course microphones -- built, like a good links golfer, to perform in the wind -- still resemble the bushy tail of a wild animal. A guy with a rake, a bunker butler, accompanies each game. Police officers wear impossible-to-miss iridescent lime jackets, but the terrain for golf is a subdued palette of greens and tans, inconspicuous colors.
The press parking lot last week for the Open at Royal Birkdale GC was the practice ground at neighboring Hillside GC. There were no giant numbers or target greens complete with flagsticks, just two rows of simple white markers, three feet tall. The days I arrived early, I parked near the 50-yard post; when I slept in once, I ended up out around the 100-yard mark. One day, while I walked toward the Hillside pro shop -- past the "No Buggies Beyond This Point," "No Trolleys On Tee Please" and "No Divots To Be Taken Inside the White Ropes" signs -- I heard the clickety-clack of a golfer's metal spikes on pavement, a sound all but extinct in the United States.
But when it comes to the weather -- although wet, windy and cool often do a good job posting up on warm and sunny -- things can change quickly. A couple of days last week on England's west coast, the sky, in short order, went from looking as if it had been punched by Ali to painted by Van Gogh, bruised to beautiful. Pitching wedges became 5-irons or vice versa, and golf balls oscillated on the greens. (By the way, does anything but a golf ball on a windy day ever oscillate?) Greg Norman glowed because he is three weeks into his marriage with Chris Evert and because he came out of semi-retirement to darn near win the British Open at 53 until Padraig Harrington denied him. But for everybody else, save those folks who overdid the beer or the bubbly on offer at the Bollinger tent, it was windburn.
A British Open is great fun with or (this year, because of his knee surgery) without Tiger Woods, with or without weather that tests umbrella engineering, demands innovative shotmaking and brings a dose of luck into the equation. Nae wind, nae golf is not quite right; it is more like nae wind, nae fully creative golf. Players have to hit all the notes to thrive, or even survive, in a four-club wind. They wouldn't want to play in that all the time, and I wouldn't want to watch them try, any more than someone wants four courses at every meal. As a special occasion, however, it is delicious.
From five-time champion Tom Watson, who was playing in his 31st Open, to Heath Slocum, competing in his first, the challenging conditions were something to be embraced. With early/late tee times Thursday and Friday, Watson was among those hurt by the timing of the worst weather, which hit Thursday morning and Friday afternoon, but he always has rolled with the meteorological punches. "I always used to laugh at [Seve] Ballesteros," Watson, who shot 74-76 and missed the cut by a shot, told me. "He would say, 'The draw is so unfair here. Sometimes in the morning you get the best wind, and in the afternoon, you don't.' Well, sure, that's the way it is. You can't change Mother Nature. You can't tee everybody off in a shotgun start."
A Southerner, Slocum wished he had brought some more substantial clothes -- he donned a ski cap over his visor in the worst of it -- but he, too, was invigorated by it all. "It's just a cold, ball-goes-nowhere wind," he said Saturday after his round. "It's amazing that from 127 yards you're between 6- and 7-iron. It's hard to make that choice. But it's a lot of fun. The good thing about links golf is that you can run it up and use some imagination." From start to finish, creativity was essential. "Never once," surmised Colin Montgomerie, "did you hit a shot that you do normally. Not one in a normal way." Peter Dawson, the R&A's chief executive, was queried about the rigors Thursday. "This is links golf," he said plainly, "golf by the seaside."
Not only did Norman thrive in the conditions, knocking down approaches to keep them below the dunes that frame most of the holes -- none better than a 5-iron from 120 yards on the fifth hole Saturday -- but for two days so did David Duval, who came out of nowhere to contend for 36 holes. If a player has the right attitude, these conditions can be a cleanser for the golf soul, freeing him from swing-thought overload. He feels more than he thinks, the way talented kids used to be when they played for Cokes instead of getting checked on launch monitors, and the game becomes a more reactive process than it usually is. For Norman, this made it more like his new favorite sport, tennis, once dominated by his new bride.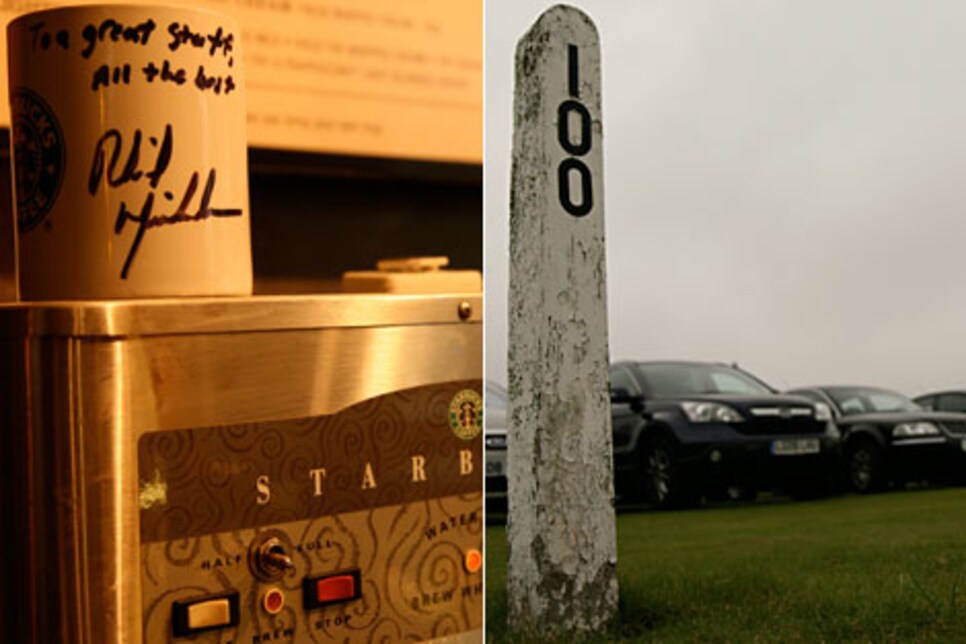 The fans, of course, love it when someone hits an iron no higher than a basketball hoop. There is a sophistication among many British spectators that exceeds that of their American counterparts. Certainly the "You the man" fan exists in the U.K., but they are fewer and far between. In signature-hunting locations, particularly on the practice days, you can see kids with genuine autograph books that haven't been common in America for a long time.
This isn't to say the fans don't have their quirks. Camilo Villegas pushed his drive on the difficult 10th hole Saturday, and as the ball rolled along the tamped-down turf, a marshal backpedaled -- knees flexed, arms extended -- as if he were defending a fast break. Dozens of fans scurried toward the ball as if they had spotted a four-carat diamond unclaimed on a crowded sidewalk. Once the ball stopped, they bent down for a closer look and settled in as close as possible to view the forthcoming recovery shot. The golf at "the golf," as many Brits call the championship, really does matter to a lot of them.
Before they were banned some years ago, stepladders, sometimes sizable ones, were toted around by a noticeable minority of fans for whom nothing impeded their view. I photographed 10 Opens before I began writing about them, and one of my favorite images was taken in the late-1980s. It has about a dozen fans on ladders, looking toward action that can only be imagined, with a cerulean vista in the distance. The golf-as-running-of-the-bulls stampede of people on the final hole isn't allowed anymore, either, and riot-control-type heavy barriers are in place, but the BBC ran a crawl periodically during its final-round broadcast: 72ND HOLE SPECTATOR REQUEST PLEASE STAY OFF THE FAIRWAY AND FOLLOW MARSHALS' INSTRUCTIONS. In an ugly scene at the 2000 Open at St. Andrews, some fans got pushed into the Swilcan Burn.
So many mobile phones were ringing at Opens this century that officials have barred them, but unlike in the States, backpacks are still permitted. Many of them seem loaded with enough provisions for a weekend camping trip. Among the contents I observed in the gallery were a thermos of tea, a flask of something, a peanut butter sandwich, shortbread cookies and a set of watercolor paints. One fellow in Sunday's gallery of 40,000 was sans knapsack but had on his person a shooting stick, a high-tech viewing periscope, a small radio on which to hear the Open broadcast, a pair of binoculars and The Sunday Times. Newspapers, moribund in America, also are having financial troubles in the United Kingdom, but they're not quite on life support. Come Open week, they're alive with copy written in engaging styles and grabby headlines. In The Sunday Telegraph, Mark Reason refuted two-time Birkdale Open champion Peter Thomson's description of the layout as "man-sized but not a monster." Reason wrote, "Yesterday, a combination of wind and the course tossed the golfers around like Godzilla with a handful of popcorn."
In the Sunday Express, one story was teased with the following headline: Aussie colossus defies treacherous conditions to set galleries alight and leave young rivals trailing/NORMAN IN A VINTAGE SHOW/Great Grey Shark is on a title hunt. For one of its pieces, The Sunday Observer asked, "Who needs Tiger when a shark and some minnows do battle?"
Restraint was not one of the properties possessed by a mustachioed, middle-age man who approached me Saturday afternoon as I stood just inside the gallery rope waiting for Duval and Harrington to tee off on No. 9. Best I could tell with his accent he said, "I'm just going for a pee down here." He then walked 40 feet down the rope line and urinated against the green mesh at the back of a large grandstand. There were, I noticed, two other men doing the same thing next to some bushes slightly farther away, all as a row of people looked on from the top row of the stand.
The chilly weather dramatically cut into ice-cream sales, according to one vendor, but from the looks of the traffic from one of the concession stands toward a large area of plastic chairs and tables in front of a huge television screen near the first hole Saturday afternoon, the fish and chips business was good (indeed, one TV report said 20,000 portions were consumed Thursday -- a total sellout). Nearby, a smaller group of fans stood in front of the main leader board watching fortunes rise and fall, the championship's stock ticker.
The numbers were being posted by teens from Giggleswick, a day and boarding school in North Yorkshire. Giggleswickians started manning the Open leader board in 1989 when an R&A committeeman's children were enrolled, and they've been volunteering ever since. "We've stayed in cricket-club changing rooms and church-hall floors. This year we're in a hostel," said Dorothy Lambert, the trip organizer. "We started out with five boys and three staff. This year we have 16 children and four staff."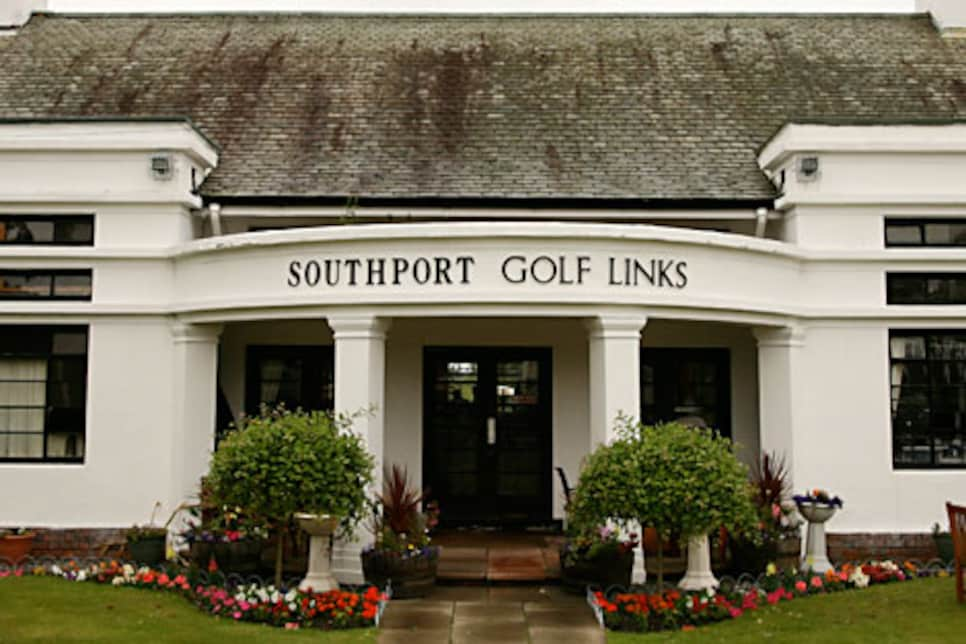 "You see a lot, actually," said one of the students, James Burns. "You notice fathers with their sons and daughters, teaching them about the colors and how the scoring works. And there are bettors who watch very intently. There was one man who stood here for hours, and he was quick to point out when we made an error, which wasn't often. It looks great when all the scores are filled in at the end of the day, and then you have to take them all down." It seemed no different for the men shooting the scores that were posted so meticulously -- it can be easier for an office worker to carry over vacation from one year to the next than a golfer, even a gifted one, to transport a swing secret from one round to the next.
As the wind blew a spitting rain sideways on the course Thursday morning -- Paul Goydos' umbrella broke apart in his hands, and Sandy Lyle's spirit quit after a miserable 10 holes -- some unfamiliar names appeared on the 20-deep projected electronic leader board in the press tent: Kai, Blizard, Blyth, Cunliffe, Sherreard, Horsey, Canete. It was like leading on the first straightaway of the first lap of a long race.
Shintaro Kai has two second-place finishes on the Japan Golf Tour in 2008. Birkdale was the first Open for Kai, and the same was true for 24-year-old Australian Rohan Blizard, 26-year-old Aussie Adam Blyth, 24-year-old Joshua Cunliffe of South Africa, 23-year-old David Horsey from England and Ariel Canete, 33, of Argentina. Of the seven, only Thomas Sherreard, a 20-year-old English amateur, would sustain his play into the weekend, finishing T-19. Given the weather, it made sense that the appropriately named Graeme Storm also was one of the early leaders, eventually finishing T-39.
I had gotten a taste of links golf myself Wednesday afternoon at Southport GL, an 18-hole municipal course on the north side of the city. Harry S. Colt designed the original nine in 1912, of which five holes remain more or less unchanged, pro Cliff Easter told me. After paying the £11.50 green fee, I was about ready to drive off the first as a single when another golfer approached. It was Colin Eveson, a 35-year-old baker who works the 3 a.m.-11 a.m. shift at Tesco, a local grocery store, and a member of Park GC located at the course. He was pleasant company for a few holes before he had to depart. The bunkers were more pans than pots, but most offered two tiny steps to facilitate your entry. I played the last hole of the front nine with two older gentlemen from a nearby village, Pete and Ian. Pete topped his tee shot into a stream. I pointed out where his ball was, and before fishing it out with his ball retriever he thanked me. "Well spotted," he said.
Hearing British expressions always is one of the fun parts of a trip to the Open, whether it's "tailback" for traffic jam or "back marker" for a golfer not scoring very well. The Open's former press officer, David Begg, was known for admonishing reporters, "No scrums" -- which meant no interviews after the formal interview. The area where reporters can ask golfers questions outside the scoring trailer ("recorder's hut") was called "The Mixer," which makes at least as much sense as "Flash areas," what the USGA calls similar spots at its Open.
By whatever terms and in any accent, this turned into a dramatic Open, thanks to Norman's surprisingly strong form and the improvisations forced upon the play by the weather. Nobody was talking anymore about Tiger or the absurd notion that his absence would necessitate a figurative asterisk by the winner's name on the claret jug. At the lounge of the Southport muny Saturday evening, bartender Neil Whalley served customers and listened to a couple of others sing off-key with a karaoke machine. "It's bubbled up quite nicely, hasn't it?" Whalley said of the 54-hole results, which had Norman ahead of Harrington and K.J. Choi by two shots. "We played this morning in the wind. We can appreciate what they went through."
Whalley was as eager to talk about his new putter as an old star's return to glory. "I'm chuffed about my putting," he said. He had gotten it recently in a discount bin for £5.99. It was a big mallet, similar to what Harrington was using down the road at Birkdale. Whalley brought it out and dropped a ball on the carpet. I putted a few times at a chair leg not as effectively as he had used it earlier.
"Neil played some fine golf -- his handicap will be under review next week," Whalley's friend, Tommy Mason, who had played with him, joked. "But all four of us had a pretty good knock today."
Late Sunday morning, PGA Tour media official John Bush e-mailed a press release to golf writers. The subject line: "A few early notes … in the event of a Greg Norman victory." An ellipsis might not ever have carried more weight. Norman was 1 for 7 when holding the 54-hole lead in a major championship -- the last time, notoriously, when he lost a six-shot margin to Nick Faldo over the final 18 at the 1996 Masters.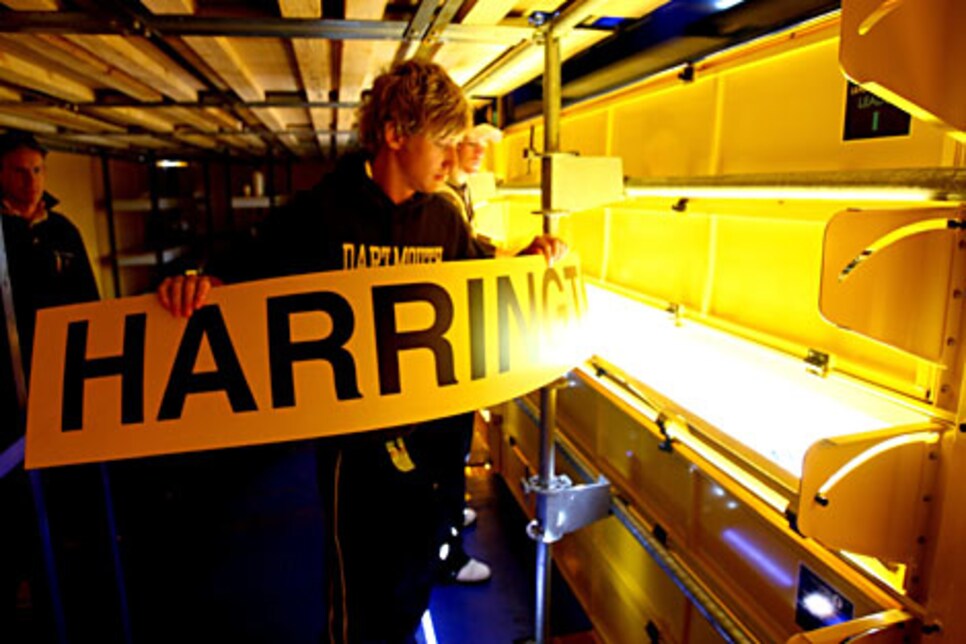 The wind had been forecast to die down some, but as Norman and Harrington got underway, it continued to howl. Norman got off to a rough start, three consecutive bogey 5s placed in his slot on the leader board. The onlookers noticed.
"He's choking already," said one man.
"Blowing it early, he is," said another.
"Sad to see," added a third.
But Harrington finished the front nine as poorly as Norman began it, with three straight bogeys. With nine holes remaining, Norman had a one-shot lead. Either history or heartbreak, one of the two, was about to occur.
Fifty might be the new 30 on the course and off these days, but when it comes to championship golf, the odds against a senior winning a major haven't changed much from the hickory to steel to graphite eras of the game -- they are still immensely high. The hurdles that were too high for 50-year-old Harry Vardon in the 1920 U.S. Open (who led by four shots on the final nine), Julius Boros (who was in front after 62 holes at Oakmont in the 1973 U.S. Open when he was 53) and Jack Nicklaus (58 when he dared to threaten at the 1998 Masters, less than a year away from a hip replacement) remain.
Norman's valiant run and T-3 finish long will be remembered, but it also should cause a tip of a straw hat to Sam Snead -- who enjoyed nine top-10 finishes in majors when he was 50 or older, three of those after his 60th birthday -- and of an Amana cap to Boros, who remains, at 48 in the 1968 PGA Championship, the oldest player to win a major.
Watson had the claret jug on loan so often he came to know how much the thin brass handle of its case pinched one's hand carrying it. It is, as they say, a nice problem to have. Harrington carried a two-stroke lead over Ian Poulter into the par-5 17th hole and departed it with a four-shot bulge. When you strike a 249-yard 5-wood to four feet and make the eagle putt, there is something a lot more magical than luck of the Irish going on. Near the leader board, a group of junior golfers from Spain laughed and talked, and a few of them made practice swings with their umbrellas, but hardly anyone noticed when one of the Giggleswick kids posted the decisive 3.
Harrington gave a gracious speech for the second straight year at the prize-giving ceremony, during which he cradled the trophy easily in his left arm, the spoils of a pretty good knock of his own. He did a long interview, during which his wife, Caroline, presented herself at the press room door. At that moment, three words -- "I'm Padraig's wife" -- worked better than any all-access badge.
As day became night, the wind rippled the canvas big top of the media tent and caused its metal supports to moan in random bursts, muffling the furious tapping on dozens of laptop keyboards. The gusts -- which didn't listen to the weatherman's forecast any better Sunday than the golf gods heard Norman -- seemed to insist on having the last word.