News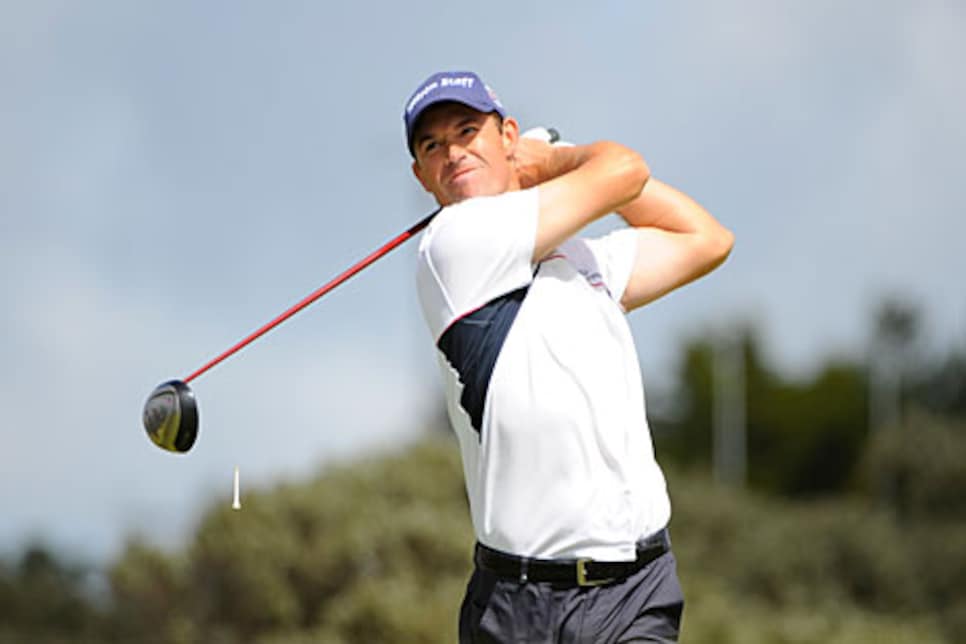 Harrington's career pattern of gradual improvement mirrors that of Ben Hogan.
Padraig Harrington is distinctive among his peers in many ways. There's the jaunty walk that would come off as insufferably cocky if his face weren't so boyish and his smile so open. There's his habit of starting nearly every sentence with a nasal "eh." There's the frequent grace note, which on Sunday at Royal Birkdale included making time to sign dozens of autographs for mostly young fans before ever taking a swing on the practice ground, and offering sincere tribute to his vanquished playing partner, Greg Norman, at the trophy presentation.
"It looked like it was going to be his story that was told today," said Harrington. "It would have been a fantastic story. Yet his response to all my good shots was just tremendous. Greg is somebody you can always look up to."
But Padraig Harrington is distinguished as a golfer principally by what the Japanese call kaizen: the process of constant, gradual improvement.
Ben Hogan remains golf's exemplar of kaizen. When he was in his 60s and years removed from competition, he told an interviewer, "If I didn't think I could still improve, I'd quit." His main disciples have included Lee Trevino, Tom Kite and Vijay Singh—oh, and Tiger Woods, whose stated mantra is, "The greatest thing about tomorrow is I will be better than I am today."
Harrington, in his journey from pudgy junior accountant (210 pounds) to wiry double major winner (190 pounds), has earned a place at their table. "I've got to say if you were to ask me my best trait over the years, it's always been my ability to learn, to look around me, see what's out there, take the best from everything and try to put it together," he said after his greatest victory so far. "I enjoy that end of things."
Which is why the 36-year-old now has plodded past so many others who were presumed to have more talent and potential. It's Harrington who after a couple of skipped generations finally picked up the multiple-major mantle that was the European legacy of Seve Ballesteros, Bernhard Langer, José Maria Olazábal, Sandy Lyle and especially the Ryder Cup captain who will be counting on him in September, Nick Faldo. Harrington is now No. 3 on the World Ranking, and with Tiger Woods out for the year and Phil Mickelson a subdued force in the majors ever since Winged Foot (the left-hander has but one top-10 in his last nine majors), he is arguably the best active player in the world.
It's not what anyone expected from the kid who grew up on a rudimentary course south of Dublin, Stackstown GC, that his late father, Paddy, and fellow Irish policemen dug out of a hillside. There, Harrington learned to chip and putt, but he was so unsure about a professional future that he played on three Walker Cup teams and earned a degree in accounting before finally scratching his way onto the European Tour in 1995.
Because his swing and ball-striking were marginal at best, it was easy to overlook his natural discipline and determination; an unflappable competitive temperament; that he was a natural games player like his father, a famous Gaelic footballer and hurler as well as a late-to-the-game 5-handicapper who his son says was "a genius for scoring;" or that being the youngest of five supportive brothers bred a confidence and positive spirit that gave him an armor against the game's insults.
"I was always a guy who didn't take much notice of my strengths because I was too preoccupied with my deficiencies," Harrington told Golf Digest earlier this year. "I didn't expect to be a star in the game of golf. I was never destined to be a star. I didn't have the swing for it. Everybody said so."
But because, as his wife Caroline says, "Padraig's very averse to ever standing still as he's sure people will pass him," Harrington kept at kaizen.
At first it manifested itself in a disproportionate number of second-place finishes (at the beginning of 2001 he had four European tour wins and 15 seconds). The wins began to come (now 11 regular European Tour events, two regular PGA Tour events and two British Opens), although the disappointments in majors were frequent, especially at Muirfield in the 2002 British, where he finished one shot out of a playoff, and at Winged Foot in the 2006 U.S. Open, where he led on Saturday until a triple bogey on the 18th and lost by two shots when he finished with three straight bogeys Sunday. Harrington got over this last hurdle last year at Carnoustie, but just barely when he shakily went into the water twice on the 72nd hole but dug deep to rescue a double bogey to get into a playoff with Sergio Garcia.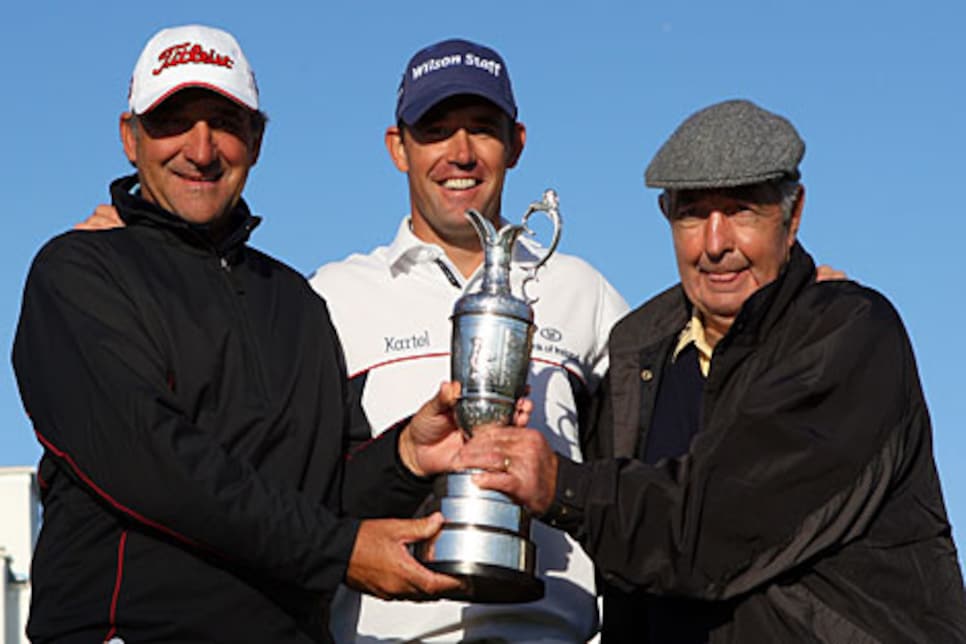 Royal Birkdale was different. Harrington had a chance to crack when he gave the lead back to Norman with another three-bogey streak beginning with a bad tee shot on the seventh and including three missed putts inside 10 feet. But he didn't get down, and when he cross-handed in a five-foot par-save on the 10th, he went on a run of ruthless closing that was Woodsian. With three great approaches through heavy winds from at least 225 yards, Harrington played the 13th, 15th and 17th in birdie, birdie, eagle to come home in four-under 32, tying the best back nine score of the week precisely at winning time.
"This year is more satisfying," said Harrington. "I feel more accomplished this year. I'm really thrilled with the way I felt today on the golf course. I felt really within myself, very comfortable."
It's the product of countless lessons from Harrington's two Bobs, Torrance and Rotella. The 76-year-old Torrance has been Harrington's swing coach for 12 years. The two are tremendously close, to the point that Torrance and his wife, June, keep a room open for Harrington at their home in Scotland, which is called the Ben Hogan Suite. With the dramatic changes Torrance has supervised, and the victory at Royal Birkdale, the pair now rank with the great makeover partnerships of Faldo and David Leadbetter, and Mark O'Meara and Hank Haney.
Torrance knew he had a major project when he first saw Harrington's swing. Among other things, Torrance bluntly told Golf Digest in 2003, "He had no leverage. He hit the ball no distance. He was a poor striker. The flight on his shots had no penetration." But Torrance also said "Padraig is prepared to get worse in order to get better. Not many are."
Indeed, Torrance calls Harrington "an ideal student, a perfect student. He doesn't agree with everything I say, but we don't argue about it. He lets me make my case. When I taught Seve, he would argue. Seve learned very little. Padraig has learned a lot.
"He's extremely intelligent. He understands the big principles I learned from Hogan, but he's careful not to get lost in theory. You know, golf is the hardest and most complicated game man ever invented. Padraig is smart enough to keep the golf swing simple. The main thing is that he will work at a change until he gets it. Now he hits the ball miles longer, with a great strike, and his swing is reliable under pressure. He knows his swing is good enough now, so he lets go." Here the old man leans in. "That's also because he's got b----. Big ones."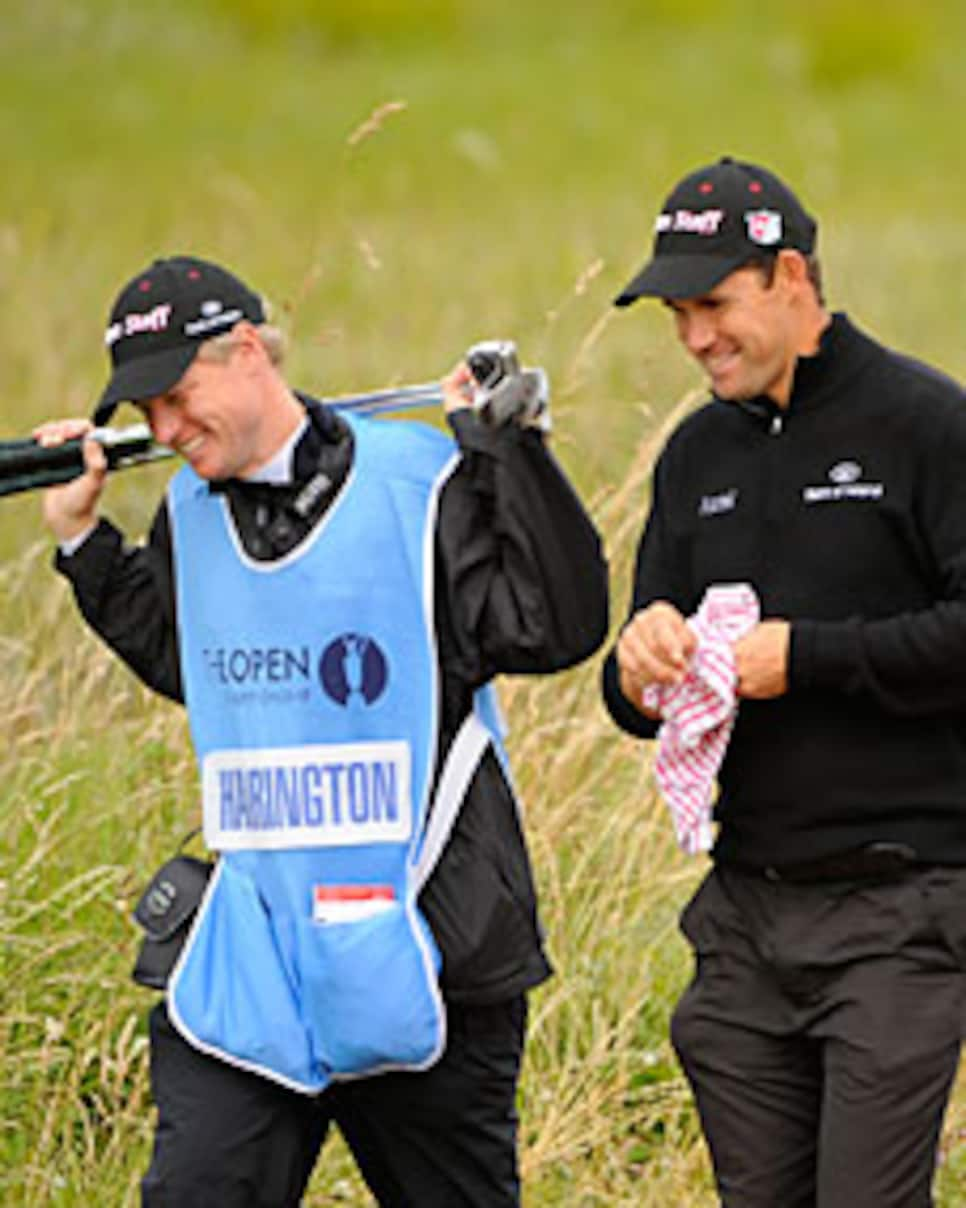 Still, as good as it has become, Harrington's muscular swing will probably always fall into the utilitarian category. It's more mentally that he's proving himself a superstar.
"Padraig is a good learner because he had to learn," says Rotella. "If you want to be a champion and it doesn't come to you readily or easily, you do whatever you have to do. And some people run away from it. They say, 'I don't have the ability, I don't have the talent, I don't have the potential.' And other people say, 'I know it's in there somewhere, and I've just got to get it out.' That's Padraig.
"What he understands so well," says Rotella, "is that you don't have to be the winner to be a winner. And once you come to grips with the concept of 'I'm going to have a clear mind on every shot, and I'm going to accept wherever it goes and go find it and get it in the hole,' when you really decide that's the only thing you have any control over, it starts getting easier to be the winner."
Rotella continued: "It's funny, but Greg Norman said to me at lunch Thursday, 'You know that Harrington, you can just watch him play on television and from the look on his face, you know he's got a great mind.' And I'm sure Greg could sense it even more on Sunday.
"Honestly, I don't think he can do what I want him to do any better than he's doing it right now. Saturday night I told him, 'Padraig, there's nothing more to tell you. You're getting what I want you to get. There's nothing we are going to change or add. You've just got to keep doing this.' And did he do it on those last nine holes."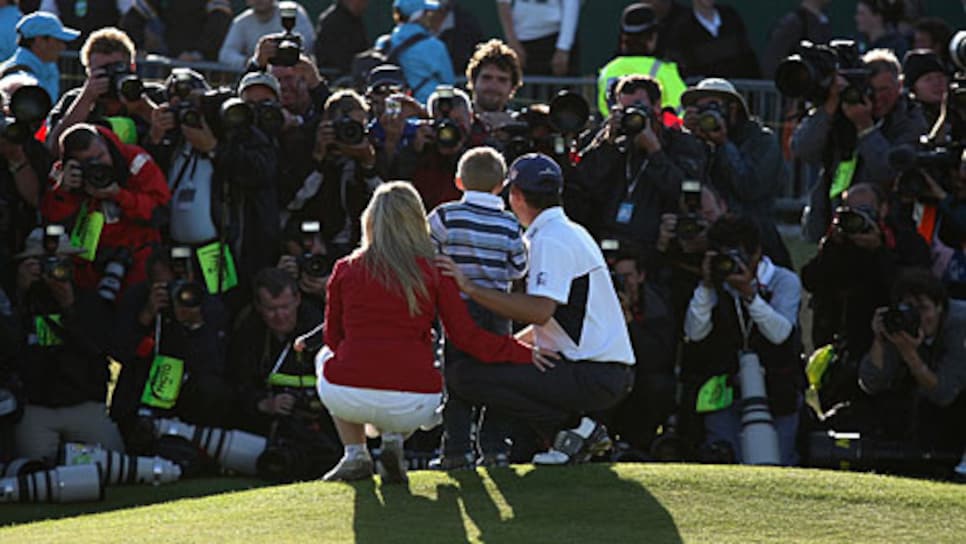 When it was over, Harrington was proud to reveal his inner process. Essentially, he turned every potential negative into a positive. The right wrist he injured the week before the championship by swinging a driver into a training aid called an "impact bag" not only didn't hurt once play started but "was a saver for me, really," by distracting him from the pressure of being the defending champion and allowing him to save energy by playing only nine-hole practice rounds. He said the severe weather "forced me to play one shot at a time and stay with my own game. It definitely was a big help to me." The tough downhill lie he drew for his 5-wood second shot to the 17th in the final round was also a blessing. "I convinced myself, as you could when you're winning tournaments. I felt the downslope was a help to me," said Harrington. "I said, 'Well, this is great. I know its going to come out low so I can't get it in the air.' "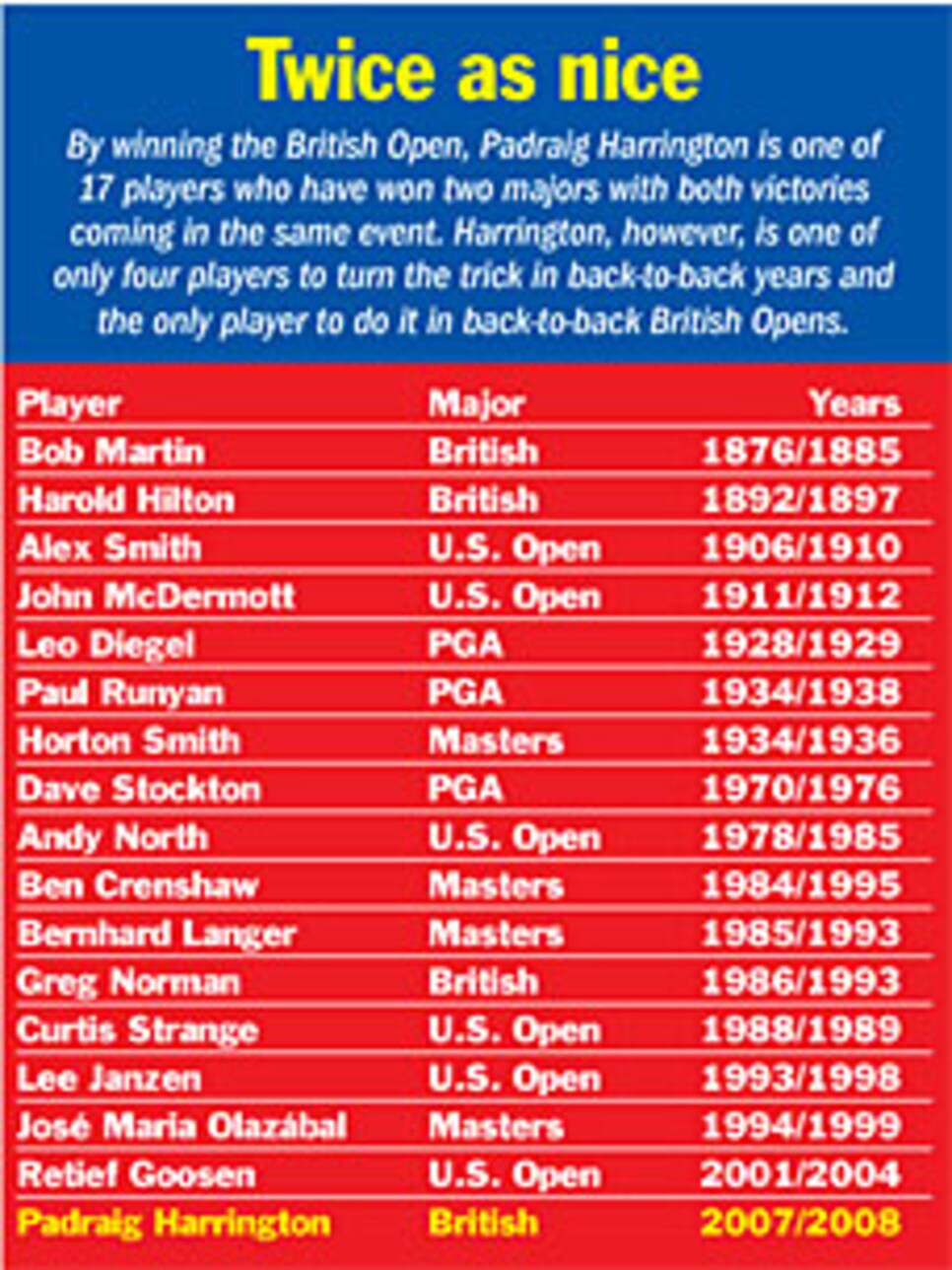 In summary, Harrington issued a zen-style conundrum that Rotella surely loved: "I never thought about the consequences of winning as much as I was convinced I was going to win."
Whatever, the bottom line is that Harrington is now one of only 16 repeaters in the 148-year history of the British Open. And afterward, the "Champion Golfer of the Year"—perhaps a bit jauntily but with an open smile—made it clear he wants more.
"I've always said it was great to win my first major. I never put it as an isolated event," said Harrington. "I felt I was going to win another one. It's come around a little quicker than I thought."
With justification, Harrington appears to have raised his opinion of himself. "Under-the-surface talent is far more important than what's on top," he said. "I got to sixth in the world before, and I wasn't comfortable there. But I'm more comfortable at third than I was at sixth."