News
After An Opening 60, Creamer Survives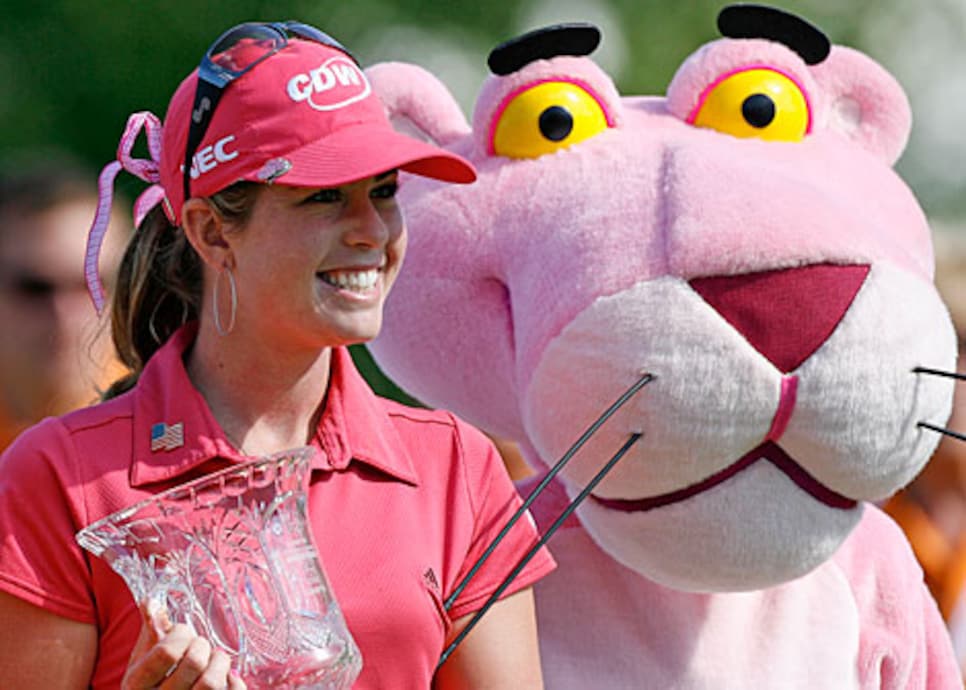 Creamer's lead shrank to one shot but she hung on to beat Castrale by two.
Starting a golf tournament with only the fourth 60 in the history of the LPGA would appear to be a good thing, but it does bring with it the potential embarrassment of shooting the second-lowest round in tour history and still not winning. That sad state of affairs was a very real possibility for Paula Creamer late into Sunday at the Jamie Farr Owens Corning Classic, where her lead shrunk to a single stroke before she held on, with some help from rookie Shanshan Feng, for her third win of the year and seventh of her young career.
The victory gives Creamer an outside chance to break Nancy Lopez's record as the youngest player to reach 10 victories. Creamer, who turns 22 on Aug. 5, needs to win three of the next eight scheduled tournaments, ending with the Samsung World Championship Oct. 5, to better the mark of Lopez, who won her 10th event at 22 years, 2 months and 5 days.
But Sunday was a survival test for Creamer, who played with memories of a final-round 78 while holding the lead in the U.S. Women's Open last month still fresh in her mind. "After you shoot 60, I swear it's the hardest thing to come back out and play," said Creamer, who backed up her 60 with a 65, then closed with rounds of 70-73 on the weekend to finish at 16-under-par 268 at Highland Meadows GC in Sylvania, Ohio, two strokes better than Nicole Castrale, who finished fast with a 64. "I managed to get it done. I hit a lot of good shots today. We made some good saves. It was a struggle."
Eun-Hee Ji, who started the final round in second place, four strokes behind Creamer, made bogey on two of the first four holes and finished third at 271. The closest anyone got to Creamer was the 18-year-old Feng, the first player from China to earn an LPGA card, who pulled within one stroke of the lead after Creamer made a three-putt bogey on the 12th. But the rookie, whose previous best LPGA finish was T-39, faltered with three consecutive bogeys beginning on No. 14 to finish fourth at 272.
The lowest score in LPGA history was the 59 by Annika Sorenstam at the 2001 Standard Register Ping at Moon Valley CC in Phoenix. Meg Mallon, Jung Yeon Lee and Anna Acker-Macosko also shot 60 in LPGA events.