News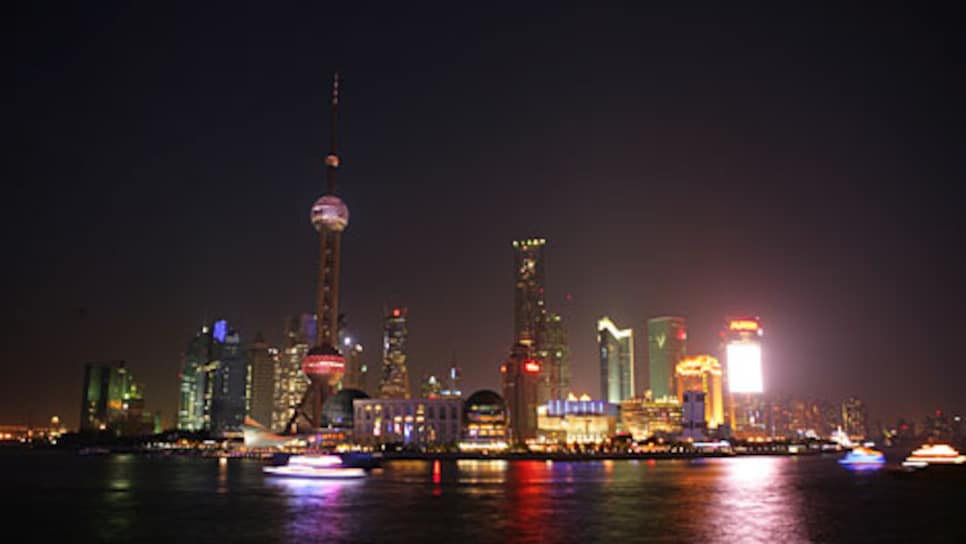 Shanghai nights: China's largest city, much of which has been built within the last decade, represents the transition from the austerity of Communist life to the modernity of a nation on the move.
China has lurked as a defiant mystery for thousands of years. First, as an exotic series of dynasties guiding a creative culture that gave the world paper, movable type and gunpowder—while at the same time holding outsiders at arm's length. More recently, China groaned beneath the weight of a closed society under which that entrepreneurial spirit was suffocated by Communist rule. Of the great ancient empires, China had the least interest in expanding its borders—and even less of a desire to open its doors, the 4,000-mile-long Great Wall serving as both a physical and symbolic barrier. Mao Zedong bolted those doors even tighter in 1949 when his revolution led to the massive and at times brutal task of bringing 25 percent of the Earth's people from feudalism into the 20th Century. There is no part of Chinese history in which golf makes sense—until now.
Things are changing in China. While the government still rules with a firm hand, many chains have been removed from the state-controlled economy, and the nation's massive labor force has been turned toward rebuilding China's infrastructure. The newly opened 14-million-square-foot Terminal 3 at Beijing Capital International Airport is astonishing not just for its size (it's more than two miles long) but because it was built in less than four years—an unthinkable timetable in the West, where it can take that long just to acquire the necessary permits.
Terminal 3 is a shining example of what China can accomplish when it puts its mind—and money—to a task. The imagination boggles when pondering the impact the Chinese could have on golf if the game were elevated from afterthought status—which many insiders say could happen as early as next month, after the conclusion of the Olympic Games in Beijing.
A decade ago basketball was also an afterthought in China. Now, city streets are dotted with Yao Ming's Houston Rockets jersey. Billboards of Xiang Liu, who will defend his gold medal in the 110-meter hurdles at Beijing, are everywhere. In 2002 there were no Chinese in the top 100 of women's tennis. Now there are four in the top 50, including Zheng Jie, who made it to the semifinals at Wimbledon two weeks ago before losing to Serena Williams.
These successes in basketball, track and tennis are perhaps a sports version of Terminal 3—something wonderful happening right away. While it would be a stretch to say China is ready to trade Chairman Mao's Little Red Book for Harvey Penick's version, there are signs China is finessing the political opponents of golf and preparing to make the game a key part of the country's nascent tourist economy as well as developing world-class players.
"The next 10 to 20 years will still be a high-growth period [for golf in China]," says Ziding Han, the CEO of Guangdong Golf Channel Co., Ltd. "The growth rate [of players] right now is 25 to 30 percent per year. The government says it is against [the game], but there are billions of dollars in private money invested in golf right now. No other sport in China has that [level of private investment]." Han says one obstacle is the 24 percent tax imposed on golf clubs, the same as nightclubs, an indication some still see the game as a symbol of "Western decadence."
Like just about all Chinese involved in the business of golf, the 45-year-old Han, an intense man with a drooping mustache and long, stringy whiskers dangling from his chin, is also in love with the game. He started his television venture three years ago, when he did not play. Then he gave up drinking and took up golf.
"I weighed 200 pounds," says Han, who is now 50 pounds lighter. "On April 26 [2005] I played my first round and I have played 700 rounds in three years. At first [getting into golf] was a pure business decision. But then I fell completely in love with the game."
Han's business has been as robust as his passion. Working on a content-licensing arrangement with the American-owned Golf Channel, Guangdong Golf Channel broadcast 37 PGA, European and LPGA tour events in 2006. This year Han says it will televise as many as 86 live events plus highlights from the Asia, Nationwide and Champions tours.
The growth of Guangdong Golf Channel is indicative of the advances the game has made despite the government-imposed moratorium on course construction in 2004 (a moratorium that is enforced quite selectively). Twenty-five years ago there were no golf courses in China. The first was Chung Shan Hot Springs, an Arnold Palmer design opened in Zhongshan in 1984.
Now there are 400 courses, including a dozen 18-hole layouts at the sprawling Mission Hills Resort in Shenzhen, the crown jewel of Chinese golf. And more courses are on the way, especially on Hainan Island in southern China, off the Vietnam coast, which the government is trying to turn into the Hawaii of China—a tropical tourist haven. "There are 18 courses on Hainan Island," Han says. "In five years there will be 100."
No city represents the new China more than Shanghai, with 18.6 million people the country's largest. Signs of growth are everywhere. By day Shanghai's modern skyline appears as if hidden behind a veil of gauze, a blurred silhouette obscured by the smog that shrouds the city, much of which 20 years ago was rice paddies. Blue skies are a rumor—or a memory of when the streets were clogged with bicycles instead of cars.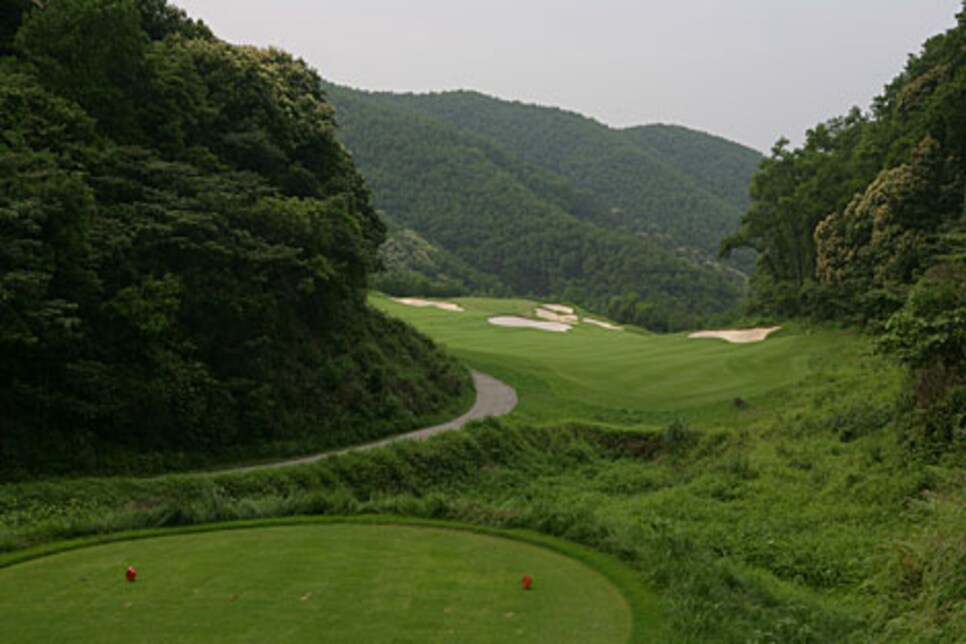 By night the skyline is a ribbon of color that shimmers off the Yangtze River with multicolored luminescence. A TV screen the size of a four-story building floats up and down the river, displaying video advertisements. At times it appears as if Shanghai skipped the 21st century and went right into the 22nd. It appears to be anything but the stereotype of stoic, anti-materialistic Communist China. Armani suits are more common than Mao jackets.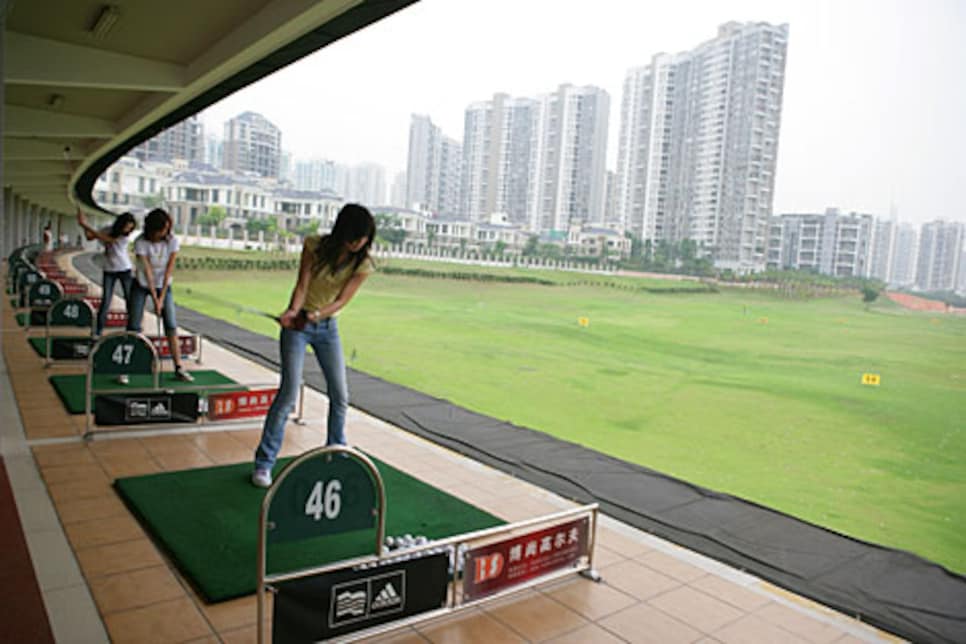 When Tomson Shanghai Pudong GC opened 11 years ago, the faux Mount Fuji built between the ninth and 18th holes was the tallest structure on the skyline. Now the course cowers beneath office towers, power lines and luxury high-rises—including the four 50-story buildings of the Tomson Riviera, where condos top out at $22 million.
The initiation fee at Tomson, which is home to the BMW Asian Open on the European Tour, is $170,000 with $1,800 a year dues. Of the 700 members, 300 are from overseas. The green fee for guests is $125 plus caddie on weekdays, $180 plus caddie on weekends. Guests can play without a member, but a member must make the tee time.
Across town at Sheshan International GC where the HSBC Champions, another European Tour event, is played, the initiation is $230,000 and guests can only play with members. Ten years ago Richard Cheung worked in the Pudong section of Shanghai, and there was a driving range nearby.
"I started hitting balls on that range," says Cheung, who is now president of Sheshan GC, telling a familiar Chinese story. "I learned from golf something that is a good lesson for business: You can be too aggressive." It is a lesson those involved in golf in China employ judiciously as they try to nudge the government gently toward acceptance of the game.
Inside the Tomson Pudong clubhouse Hsiao-Chen Chuang, the director and general manager of Tomson Golf Ltd., adopts a casually commanding pose as he converses from a chair he fills regally, gesturing in a Don Corleone sort of way. Chuang is originally from Taiwan, as are many of the movers and shakers in China because they possess capitalist experience. At one point he opens a closet door to put an envelope in a safe that contains, among other things, five dozen boxes of Titleist Pro V1s.
The challenge...is how golf is positioned in China. We need more public golf courses, more people playing '--Xiaoning Zhang
"If we had someone like Se Ri Pak the game would take off here," says Chuang. "The government perception of golf will determine how fast the game will grow. Basically, they are not supporting it. They see it as an elitist sport and that it takes land away [from farmers]. If not for the moratorium, we could have 5,000 golf courses—maybe 10,000."
The first international tournament in China was the 1995 World Cup at Mission Hills in Guangdong, the first province designated a Special Economic Zone and allowed to liberalize its economy. The team competition, which has been played around the world since 1953, returned last year as the Omega Mission Hills World Cup and will remain there at least through 2018.
China's first regularly scheduled tournament was the 2004 BMW Asian Open, which moved from Taiwan to Tomson, where it remains. The Volvo China Open was added the next year, followed by the HSBC Champions in 2006.
According to sources familiar with the situation, the HSBC Champions—which has a contract with Tiger Woods to play three times in a five-year period—will become a World Golf Championship event by year's end. In October the LPGA will play the first Grand China Air LPGA at West Coast GC in Haikou on Hainan Island. International corporations eager to tap into the Chinese market see golf as an important tool toward that end.
"We think golf is the right match for our brand," says Magnus Wiese, head of BMW golf marketing, which partners with 30 tournaments on a variety of tours. "We set up a liaison office here in the 1980s, and it is now one of our five biggest markets. Our sales in China have grown five or six times in the last 10 years." According to The New York Times, car sales in China have increased eight-fold since 2000.
"Golf is not a mass event [in terms of spectators] like it is on other tours," says Wiese, "but it is a quality audience." In fact, there are not so much galleries at the BMW Asian Open as there are parties surrounding the tournament. Picnic baskets, cell phones, laughter, crying children, loud conversations and people reading outnumber those actually watching golf.
While the number of tournaments in China is growing, the potential on the participatory side barely has been scratched. According to an RA study, there are 250,000 golfers with a registered handicap among China's 1.3 billion people. The United States has 4 million registered golfers, and 32 million total golfers, in a population of 304 million. If China had the same per capita participation as the United States, it would have nearly 17 million registered golfers and the total number of golfers would exceed 130 million.
A key path to this growth involves junior programs, which are in their infancy. The RA, UBS and the Mission Hills resort support the Faldo Series Asia, a 12-tournament circuit with four in China. Last year the China Golf Association, HSBC, the RA and IMG jointly launched the HSBC China Junior Golf Program, the only officially sanctioned junior program. This year the program put golf in physical education classes in 40 schools—sort of a Chinese version of The First Tee.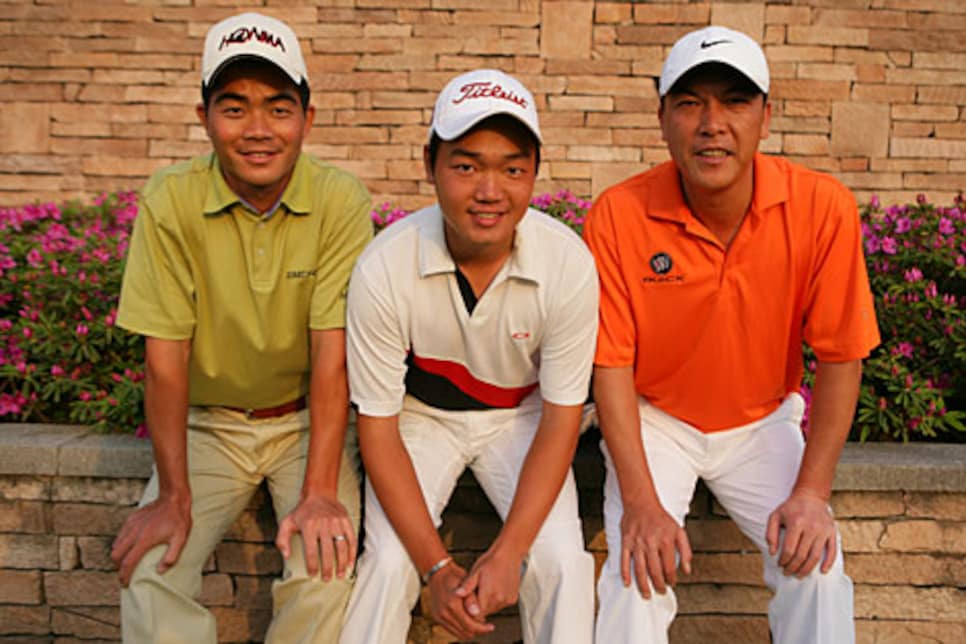 "Helping develop the game of golf in China is one of our key priorities," says Duncan Weir, director of golf development for the RA, which donated £100,000 to the project. Weir says more than 1,200 junior golfers will participate in seven tournaments and two camps this year and that the school classes will expose more than 70,000 children to the game. On July 23-25, the the first China-USA Youth Team Championship, an initative of the CGA and the USGA, will be played Langfang City.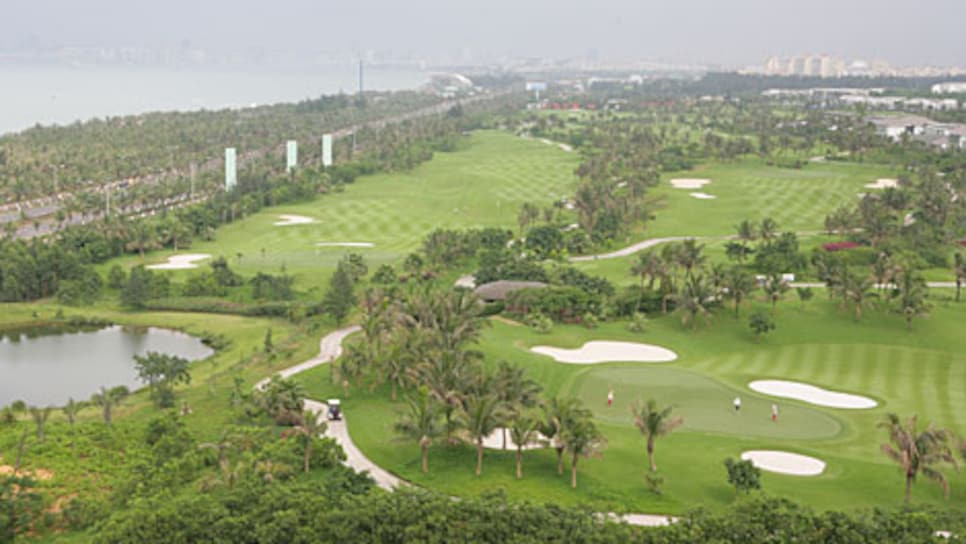 That's a long way from how haphazardly Wen-Chong Liang, who won the 2007 Singapore Open, played in this year's Masters and is in the field in this week's British Open, was introduced to the game 15 years ago. Liang's mother, who picked weeds at Chung Shan Hot Spring, would bring home old golf balls she found and Liang would hit them with sticks of firewood, imitating what he saw on a Japanese cartoon broadcast out of Hong Kong.
"The golf club wanted to get juniors involved so they went to the local school and handed out clubs to all the kids and picked out students based on their swings," Liang says. "I cherished the opportunity and worked hard." Liang, 29, turned pro after he finished fourth in the 1999 Volvo China Open. Today, he is No. 133 in the World Ranking, the best by any Chinese male.
When the golf association was formed in 1985 there were two courses and most players were from Hong Kong and Japan. The CGA functions like the USGA, PGA of America and PGA Tour combined, running every aspect of the game. In fact, Xiaoning Zhang, who heads the CGA, is the Director General of the Multi-ball Games Administrative Center of General Administration of Sport. He oversees golf, rugby, bocce, billiards, squash, cricket, bowling and sepak takraw, a Southeast Asian game that resembles volleyball.
"Getting [tournaments] into China is one of the things we have done [successfully]," Zhang says. "But we have not been as successful developing [world-class golfers]. The challenge we have to overcome is how golf is positioned in China. We need more public golf courses, more people playing." According to Zhang, CGA-sanctioned tournaments have grown from 30 to 80 since 2006 and will top 100 in two years. "The HSBC junior tournaments have grown tenfold in two years," he says.
Wealthy Chinese juniors also have discovered the American path. The Hank Haney International Junior Golf Academy in Hilton Head, which produced Shanshan Feng, the only LPGA player from China, currently has Xin Wang, a 13-year-old girl, and Yifan Liu, 15, who has played 12 IJGT boys' events this year and placed in the top 10 every time, with one victory. There are also about a half-dozen Chinese players at the IMG David Leadbetter Academy in Florida.
"With a population of 1.3 billion and an exploding interest in golf, it won't be long before China makes a huge impact on the game internationally," says Haney. "There's every reason to believe the country will produce great players. It's just a function of numbers and opportunities."
As has been the case with Korean players, the first impact will be on the women's game, Haney predicts. "There is a big gap between the best Chinese men's players and the PGA Tour. On the women's side, it's a smaller gap," he says, his comment buttressed by Feng's fourth-place finish at last week's Jamie Farr Owens Corning Classic. Insiders whisper that the Chinese government has noticed the success of Korean women and that, wounded by regional pride, it will step up its commitment to golf after the Olympics.
One of those who left China for the United States is Mu Hu, an 18-year-old who started playing at age 7 and moved to the IMG Academy in Florida when he was 11. He will play golf for the University of Florida this fall and is No. 7 in the AJGA rankings. Well Americanized, Hu snowboards at Whistler Mountain in Canada, has his iPod close by and says he dieted for 10 days before a recent trip to Los Angeles "so I could eat In-n-Out burgers three meals a day." His father sells Otis elevators, and a lot of elevators have been sold in China the last 10 years.
At a lively meal in which 10 people sat at a round table in a private room and picked from a bevy of delicacies spinning on a lazy Susan, there was a heated discussion about Hu's decision to play college golf. Only Hu, who says he will attend college all four years, and his mother liked the idea. Others thought he should turn pro now.
"That is one path, but not the only path or the correct path for others," Zhang says about college golf, sounding more like Mao than Penick. "His family can afford that route. The CGA has to help those whose families can't afford to travel with them."
Hu, who finished T-35 at the BMW Asian Open in April despite a final-round 79, is well aware that the fully formed future of Chinese golf is still far down the road, which is probably why he wants to finish college. "The kids who are 8 or 9 or 10 are the ones we have to wait for," Hu says in flawless English. "Our generation has about five good [players]."
Shenzhen is a tale of two cities. Mission Hills is the largest golf complex in the world, with a five-star hotel, three clubhouses, two golf academies, several spas and all the other amenities any affluent tourist could hope to find. A drive across the sprawling city of 10 million reveals the real China—open-air markets, people playing cards on sidewalk tables, construction sites teeming with laborers, cars honking constantly and motor scooters weaving in and out of traffic. Shenzhen boasts the largest driving range as well as the only municipal golf course, Longgang Public GC, in China.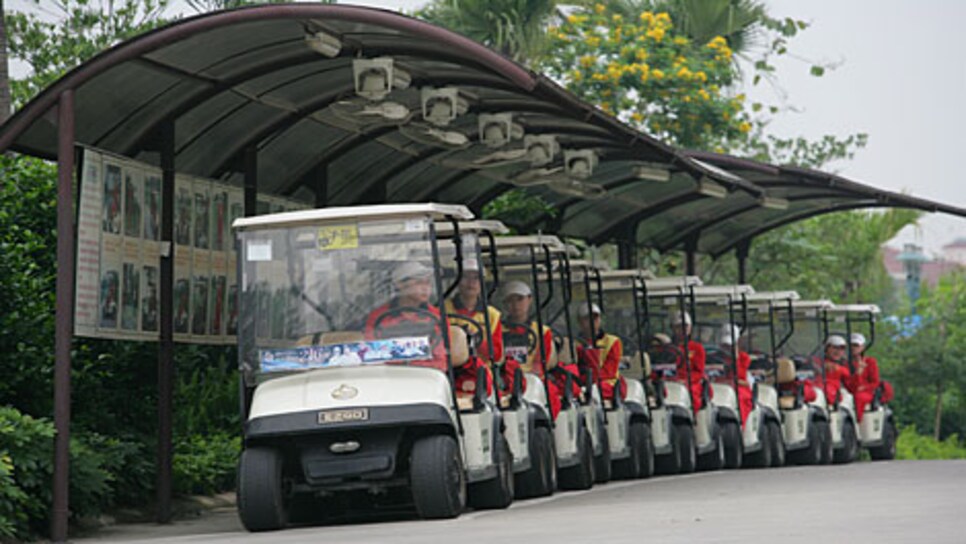 Mission Hills is golf's version of Walt Disney World. It is massive and efficient. The 1:45 p.m. shuttle from the hotel to the outlying courses (the 12 courses are in two areas covering 6,000 acres) pulls in at 1:44 and departs exactly on time for the 20-minute ride to the staging area.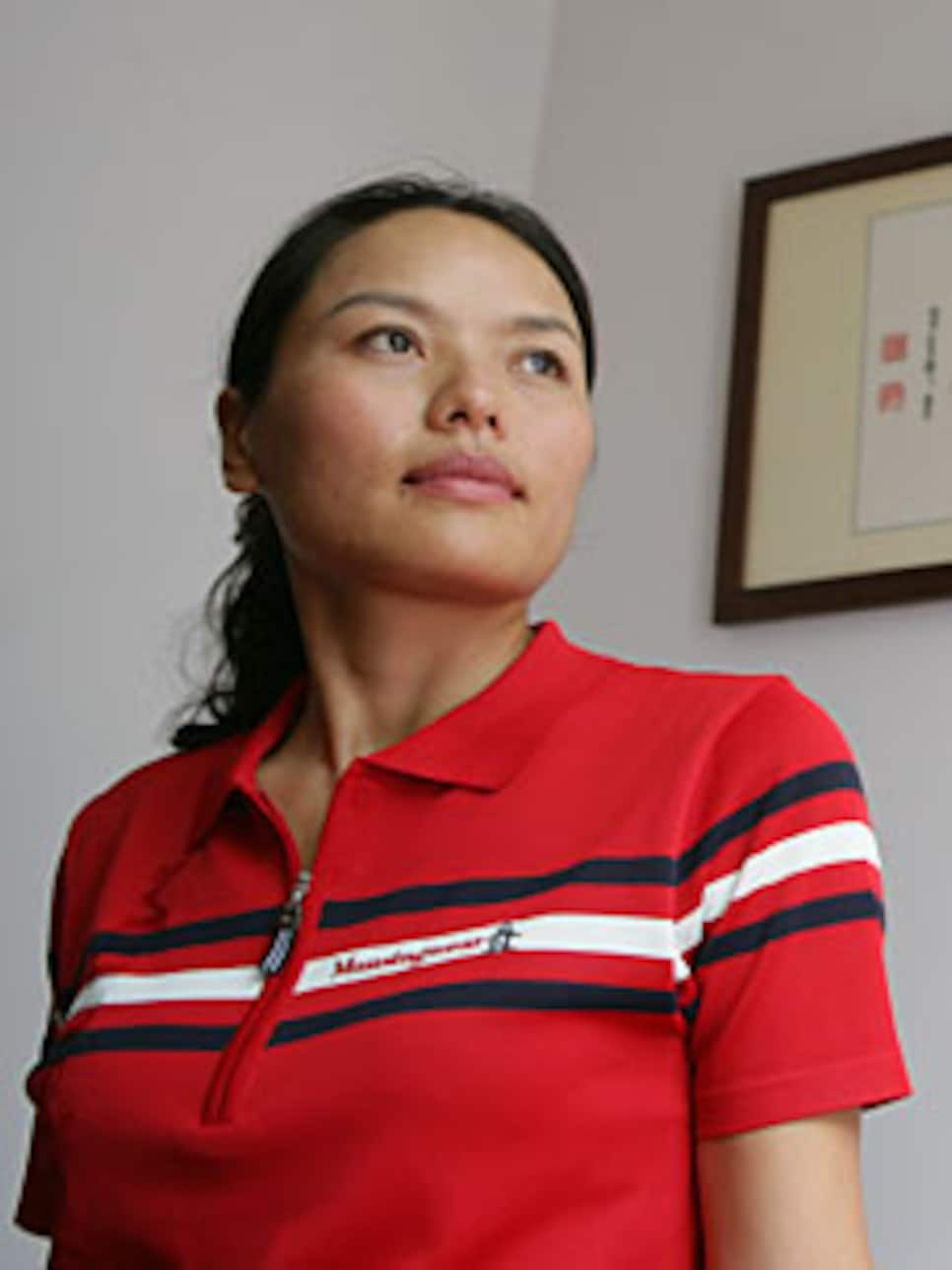 Arriving at the queuing area is like pulling into Grand Central Terminal. The check-in area is a massive parking lot under a roof where carts are lined up for the various courses under signs that read: DUVAL, ANNIKA, OLAZABAL, NORMAN, FALDO, ELS, VIJAY. The World Cup Course is a Jack Nicklaus design. Other courses were done by Pete Dye, David Leadbetter, Jumbo Ozaki and Lian-Wei Zhang, who in 2003 also won the Singapore Masters, becoming the first Chinese to win a co-sanctioned European Tour event.
Hundreds of players, mostly Asian and many from Hong Kong (a half-hour drive away), stop in the pro shop and plunk down $70 for a dozen Pro V1s then mill around waiting to be taken to the first tee of their course in a cart driven by a caddie. The caddie corps at Mission Hills numbers in the hundreds. All are women 25 and younger, all housed in dormitories, and all are dressed in red jump suits. Certain caddies wear yellow vests. These are "Golden Caddies," the experts who have at least two years experience and have passed a field test, written test and undergone an interview.
The vast majority of China's golfers are businessmen who are passionate about the game and love to gamble. At Mission Hills, where many of the members and daily-fee customers are well-off men from Hong Kong, big money games are common. "There is a lot of gambling, and when they are playing for big money, they ask for a golden caddie," says Chuan-Hong Han, 23, who has caddied at Mission Hills for several years and says the biggest money match she saw was for $1,400 a hole. "When you are on the winning side, there is a big tip. When you are on the losing side, you can imagine." She said her biggest tip was $55. Like other caddies, she gets to her home (in Anhui) once a year.
One of the oddities of Mission Hills is playing under the lights on a combination of the Annika and Duval courses. The night I played, vision was surprisingly easy—like batting at Yankee Stadium. The ball was easy to follow, and the biggest adjustment was that the greens were putting at 6.8 on the Stimpmeter. That was the number posted on the first tee. I found it really hard to get the ball to the cup.
After a few holes, when the caddies figured out we were playing giggle golf and not for big money, they start making bets with us. "Mister, 10 yuan [less than $1.50] you don't make putt," one said, and all four caddies laughed delightfully when the ball stayed out of the hole. The most curious thing about night golf were the security guards patrolling the perimeter of the course with dogs.
Among the cultural bumps at Mission Hills that can be disorienting are some that have nothing to do with China. In the hotel bar, a woman in extremely high heels and an extremely short skirt sang "Please Mister Please," a country-western song from the 1970s recorded by Olivia Newton-John. Accents from Australia, Eastern Europe and Scandinavia fill the air. It's easy to forget where you are and what decade you are in. But maybe that's the point.
Instructor Cindy Reid left the TPC Sawgrass after 17 years in 2007 and her golf school at Mission Hills opened last April. Her lessons cost $550 an hour; she employs 15 teachers who make much less. Reid made her Mission Hills connection when Tenniel Chu, son of David Chu (whose fortune made in corrugated boxes paid for Mission Hills), was sent by his father to work at Sawgrass for two years to learn the business.
"They respect teachers like crazy," Reid says about working with Chinese students, who she says absorb the lessons and practice tirelessly. The oversize billboards for the "Mission Hills Golf Academy by Cindy Reid" proclaim she is the "World's No.1 Female Instructor." Her learning center is a three-story, 28,000- square-foot complex with state-of-the-art swing analysis equipment. There is also a David Leadbetter Golf Academy at Mission Hills, run by Leadbetter's son, Andy.
The oversized billboards for the Mission Hills Golf Academy by Cindy Reid' proclaimed she is the World's No. 1 Female Instructor '
While Mission Hills is an unqualified success as a high-end resort, Longgang Public GC offers hope for the real growth of the game in China. Green fees at the 27-hole facility are $60 on weekdays and $85 on weekends with cart, caddie and locker included—less than a quarter of what a round costs at Mission Hills.
"It all starts from the top," says Haibing He, general manager of Longgang, about the future. "If the leader does not like the game, it cannot grow." He explained that 10 years ago the Communist Party secretary for Shenzhen retired and with some other politically connected avid golfers wanted to build the first municipal course in China.
"This was all wasteland," says He, a former bank vice president who was hired in 2000 to ease friction among the groups working with the city government. According to He, the project did not take "even one square meter" of farmland for the facility, which opened in November 2002. "Now the district government is proud of being the first and only public course," he says.
He wears a Southport straw hat, orange shirt, black pants and saddle shoes and could be in San Diego as easily as Shenzhen. His son Zeyu He, 17, who has been as high as No. 33 in the AJGA rankings in '08, plans to play college golf in America and has been at the IMG Academy since '05. Zeyu was the first player from China at the Junior Worlds in San Diego, competing as a 7-year-old in 1998 and carrying a hand-made Chinese flag into the opening ceremony.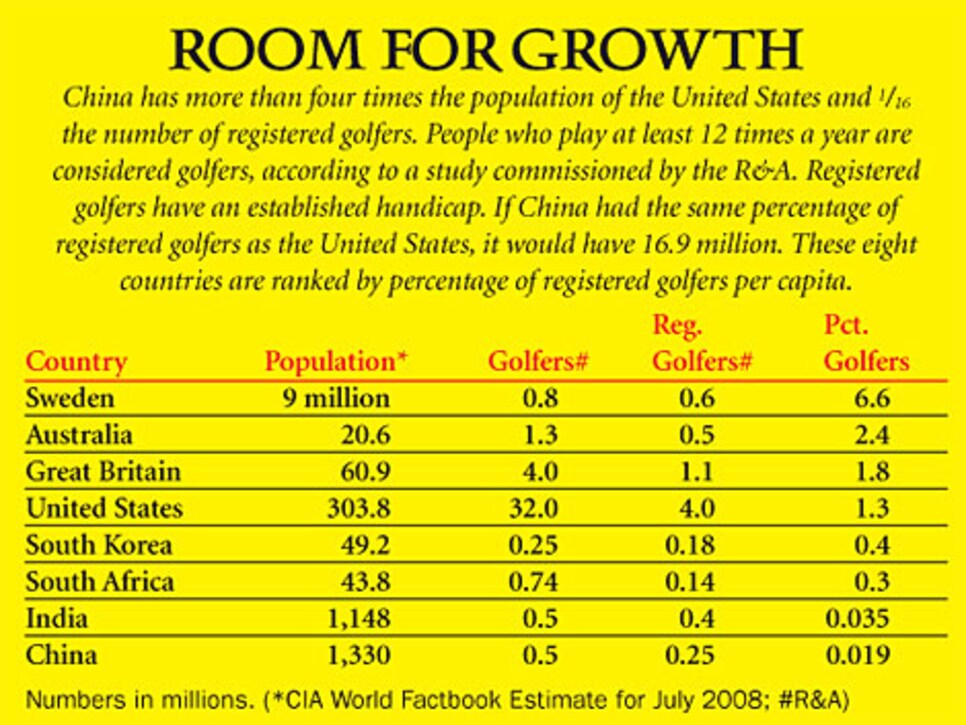 A short drive from Longgang is the driving range at the Honey Lake Sports Center GC. It's a three-deck affair with 135 bays. Another 135 are being built at the other end of the range, which would make it the biggest in China. It costs 75 RMB an hour to hits balls (about $10) and for 5,000 RMB ($700) you can buy 10,000 balls—good for one year.
May 1 is a national holiday in China, International Workers Day, and the parks of Haikou are jammed with people picnicking, flying kites, running and just hanging out. Twenty years ago Hainan Island, the province where Haikou is located, was designated a Special Economic Zone, giving it the freedom to invite foreign investment.
Haikou, the site of the first LPGA tournament in China, is also the current home of one of China's pioneers of women's golf, Hong-Mei Yang, who started playing in 1995 as a caddie in Shenzhen. Two years later she turned pro.
"There were seven women professionals in China when I turned pro," she says. "There are a little over 50 now if you include coaches." Yang, 32, is married to Dong Hua Li, CEO and vice secretary general of Dingshan GC. Their son, Yang Li, will be 2 in September.
Hong-Mei, who teaches golf and plays part time in Japan and China, is full of questions for a visitor: How far does Ai Miyazato hit it? Will Michelle Wie get it back? What is the most important thing to teach a child learning the game? Did you know Tiger Woods' father? What is your handicap?
Yang went to the United States in 2004, helped into the country by Huey Yu and Dr. Ernie Huang at Oak Valley GC in Southern California, the same club that currently sponsors McDonald's LPGA Championship winner Yani Tseng and Teresa Lu, both of Taiwan, on the LPGA. One week after Yang got her California driver's license she was on the road to El Paso, Texas, for her first tournament on the Duramed Futures Tour, which she won.
In two months Yang played nine tournaments, including the 2004 U.S. Women's Open at The Orchards, where she missed the cut after rounds of 76-75. Because of the language barrier, however, it was a lonely life of isolation. One night, hopelessly lost in Michigan where not even her GPS could help, crying in frustration, she decided to return to China.
"If I could do it again, I would have gone to Japan instead of the United States," she says. Yang, her husband and child live in a cozy apartment on the second floor of a building off the main drag in Haikou. One wall of the living room is decorated with her trophies. In front of the shelves stands a child's golf bag. In an office off to the side is a framed sign that says in Chinese, "Tranquility Go Far."
The unanswered question is how far golf can go in China. "Ten years ago I said there would be a Chinese tennis champion, and in 2004 we won the women's doubles in the Athens Olympics," says Zhang of the CGA. "I also think we will produce a world-class Chinese golfer."
There is so much money in Asia right now that golf can continue to grow significantly strictly as a private-club sport for years to come. But for the game to take a great leap forward both in numbers of players and in terms of tapping into the country's enormous talent pool, it will need more affordable public courses. The vast underclass of China—factory workers and farmers—likely will be shut out of the game for financial reasons for many years, however. Caddies at Longgang Public GC make $400 to $500 a month—about twice what a factory worker gets.
And still to be worked out is the tricky political situation in which the government publicly opposes golf, but at the same time sees its value as a tourist revenue stream and privately yearns to produce players who can compete with the Japanese, Koreans and even Americans.
China's success in other sports has been impressive, but it could very well be surpassed by golf. There is something about the nature of the game that connects with the Chinese mindset—a solitary pursuit of perfection in which gambling plays an important part. Those who play are extremely passionate. "I really love golf so I am a happy person," says Haibing He of Longgang Public GC. Then he adds wistfully: "In China, golf needs friends in high places."
There was a time it had one. Ziyang Zhao was general secretary of the Communist Party and a leading economic reformer before being ousted because he supported the student protests in Tiananmen Square that led to hundreds of deaths on June 4, 1989. Zhao lived under house arrest until his death in 2005 and rarely was seen in public—except on a golf course in Beijing.
It was the economic reforms supported by Zhao that made golf possible in China. And now the game is very close to breaking through its final barrier—changing the public perception. "We need to show that golf is for everyone," says Zhang. And in China, that is a lot of people.