News
First Prize, Second Thoughts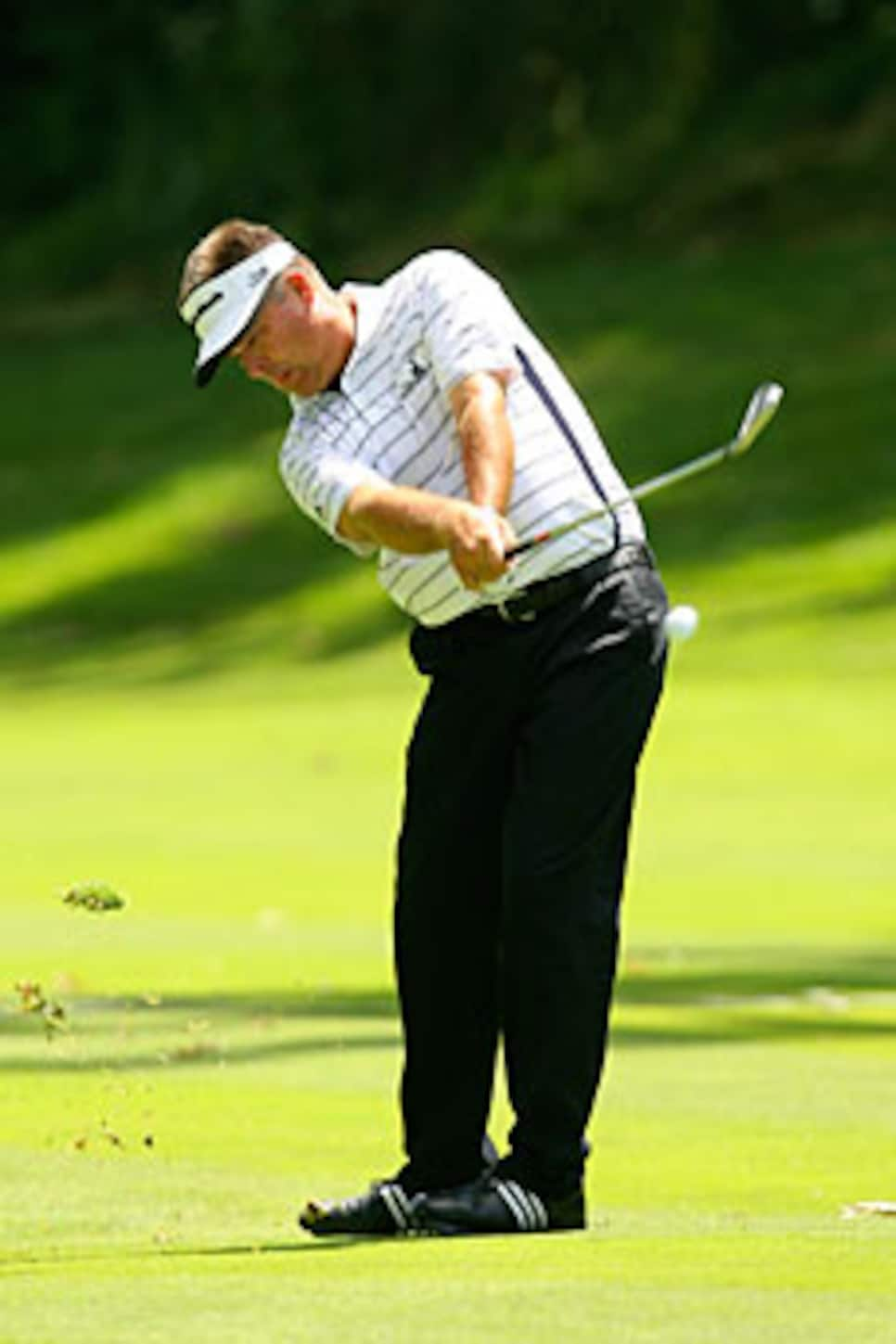 Aging gracefully: Perry surpassed Julius Boros (1967) as the oldest player to win three times in one season.
Kenny Perry has never set high goals. In his younger years he told his father he was going to make the tour and win but once. Even now, as he stands in the midst of the greatest stretch of golf in his career at age 47, he prefers things low-key. "I don't want to live in a fishbowl," Perry said after being handed the John Deere Classic on the first playoff hole when Brad Adamonis and Jay Williamson both dunked approach shots into the pond left of TPC Deere Run's 18th green. "I don't want Tiger status. There is no way I want any of that. My goals were never to be a superstar. I just wanted to make a living, that's all I want to do—make a living and provide for my wife and kids."
Perry has made a pretty good living over his career, his win pushing him close to $26 million to rank ninth on the all-time earnings list. But the man who heretofore eschewed goals raised the bar this year and lifted his play to new heights as a result. "I think it's due to being focused on the Ryder Cup," said Perry. "That goal of mine to make the team really lit a fire under me. It taught me a lesson. I need to set for goals for myself."
Asked what his goals were after his win, Perry said, "I have to re-think them now."
It didn't take long to come up with some answers. Perry talked about becoming a 20-time tour winner, despite the fact he needs eight more wins to achieve that. The Hall of Fame? Possibly.
"My son introduced me into the Western [GA] Hall of Fame and the Kentucky Golf Hall of Fame," said Perry. "He's told me, 'One day I hope to introduce you into the [World] Golf Hall of Fame.' That little thought has stuck in my head. I would like for him to introduce me to that one day. It is going to take a major."
A major would be nice, but to Perry it is simply not a must. He has his priorities and if they don't jibe with others' expectations for him, so be it. His decision to play in Milwaukee (at this week's U.S. Bank Championship) rather than the British Open has drawn fire, but Perry addressed the matter early last week, saying, "I've been getting hammered for it. [But] I'm proud of myself for being able to push that aside and go out there and shoot some good scores."
For the even-keeled Adamonis, a 35-year-old tour rookie, the experience of playing for a tour title was a time to keep his emotions at bay. "When you add all this emotional stuff to the game, it takes away your mental energy," said Adamonis, who suffers from vertigo. "So I try not to think about it."
Throughout the week Adamonis did that well, playing the first three rounds in 66 each day. His father, Dave, is golf coach at NAIA Johnson Wales in North Miami, and one who constantly preaches "patience pays off." It is a style of play the younger Adamonis has adopted, although on Sunday patience may have cost him.
With winds topping 20 miles per hour at times, the final round produced a different Deere Run from the first three days. Birdie-ball was replaced by a tractor pull. The conditions seemed to favor Adamonis' shot-at-a-time approach, and he had a one-shot lead over Perry through nine. Tied with Perry as he reached the tee of the downwind, dogleg 361-yard par-4 14th—a hole where Perry, playing in the group ahead, had reached the green with a 3-wood—Adamonis went with an iron off the tee. The safe play backfired when he landed in the right fairway bunker and bogeyed a hole that played more than half a stroke under par Sunday, making it the easiest on the course. A birdie after a sporty pitch from the collection area right of the green on the par-5 17th gave Adamonis another chance, but his bid to win came up short on 18 and he settled for a 70 that put him at 16-under 268.
In contrast to Adamonis, Williamson can't help but show his emotions. Playing the Deere without benefit of a practice round due to an injured hand suffered in a fall at his St. Louis home Monday, Williamson had time for some reading early in the week, and he didn't like what he saw. "I made the mistake of looking at the money list, and it took me an hour to come to grips with where I am on it," said Williamson, who climbed from 161st to 108th with his T-2 at Deere Run. "I'm like, 'There aren't that many guys behind me.' "
A tournament-low 62 in the third round got things headed in the right direction as putts finally started to fall from the long putter Williamson returned to a fortnight ago at the suggestion of his wife, Marnie. It was an important step as Williamson attempts to solve "the puzzle" of tour life without having a sport psychologist or swing guru on speed dial.
"There's that whole other world out there that no one really understands," says Williamson, a 41-year-old who has never finished inside the top 100 on the money list in 12 years on tour. "Making sure I see my children, making sure my wife knows who I am. It's not as glamorous as it seems. It's a difficult grind, trying to make all the pieces fit together."
Williamson almost completed the puzzle last year at the Travelers Championship, only to lose a playoff to Hunter Mahan—a loss that Williamson admits "stung more as the days passed."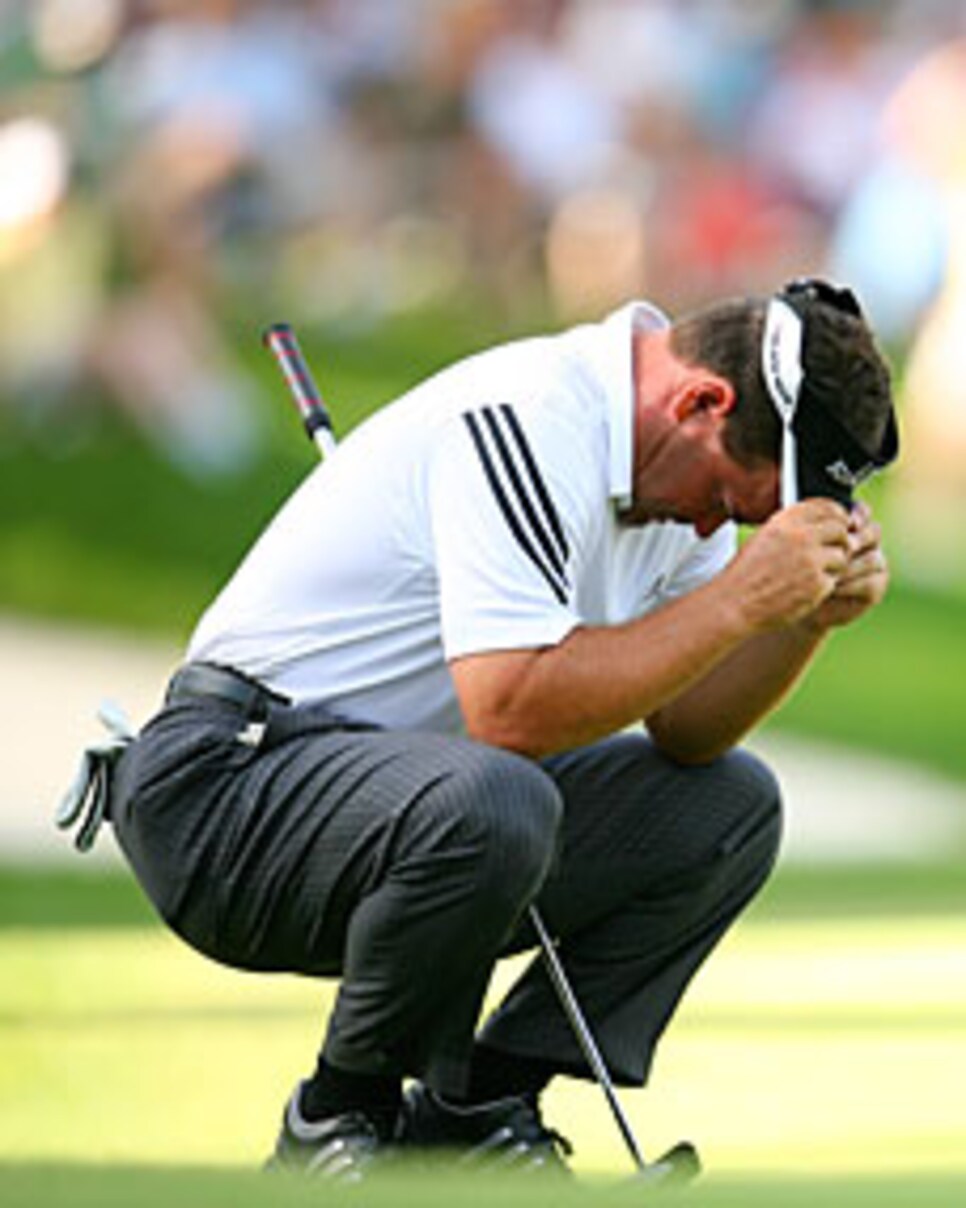 Presented with another opportunity to lessen that pain, Williamson showed plenty of resolve—and game—Sunday. After back-to-back bogeys from the fairway on Nos. 4 and 5, he birdied seven and eight, before being slowed again by a bogey on the par-5 10th after missing a short putt. Another miss from close range prevented a birdie on 12, but he got two others coming in. When Perry, his playing companion, skulled one chip across the green on 18 and flubbed his next, all of a sudden Williamson had a putt potentially to win the tournament but missed it badly short and to the left. When Perry made his five-footer for bogey (and a final-round 70) and Adamonis failed to birdie in the next group, the trio headed back to 18 for the Deere's first playoff since 2004.
It didn't last long. Off the tee Perry and Williamson found fairway while Adamonis landed in the right rough. Adamonis, against his caddie's advice, opted to gamble, aiming for a small opening through the trees from 211 yards with a 6-iron. But Adamonis hooked the shot into the water. Williamson was next, also using a 6-iron from 192 yards. His shot soared left, landing in the water and handing Perry the win provided the latter could keep his ball dry. He did, leaving it 24 feet right of the hole. An uneventful two-putt secured Perry's third win of the year, making him the oldest tour player to win three times in a season, eclipsing Julius Boros' mark set in 1967.
While Adamonis was somewhat stoic about the loss ("It is my best experience as a golfer," he said), Williamson was left to reflect on another playoff defeat when a win could have changed his career. "I really thought it was my time, and I did as much as I could do and it just wasn't quite enough," he said. "Unfortunately that is what I am going to remember for a while."
Williamson did receive a consolation prize, however—a trip to the British Open as the highest Deere finisher not otherwise qualified. But despite a seat in the front row of a chartered 767, even that bit of good news brought some problems. "I need to cancel my reservation at the Great Wolf Lodge," said Williamson, who happened to have his passport with him because he needed it for next week's Canadian Open. "That is where we were going tonight. I don't have any long-sleeve shirts. I don't have a caddie [because my regular one] doesn't have a passport. I've got a lot of issues right now." Not so for Perry, who headed to Rockford, Ill., for a pro-am then to Milwaukee to work on those goals he has re-set for himself. Not that his aspirations on the course really matter all that much to him anyway.
"I hope I am known more for what I do outside of golf than what I do in golf," Perry said. "I hope I am not remembered for being a golfer. That is the last thing I want to be remembered for. I hope it's for my contributions to the game, Lipscomb University, the Boys and Girls Club, Potters Children's Christian Club in Bowling Green, Ky., that I am helping with. This is my job, this is what I do. I make a great living at it. I hope I can help a lot of people along the way. This is going to give me a lot of opportunities."
Sounds like a lofty goal after all.