News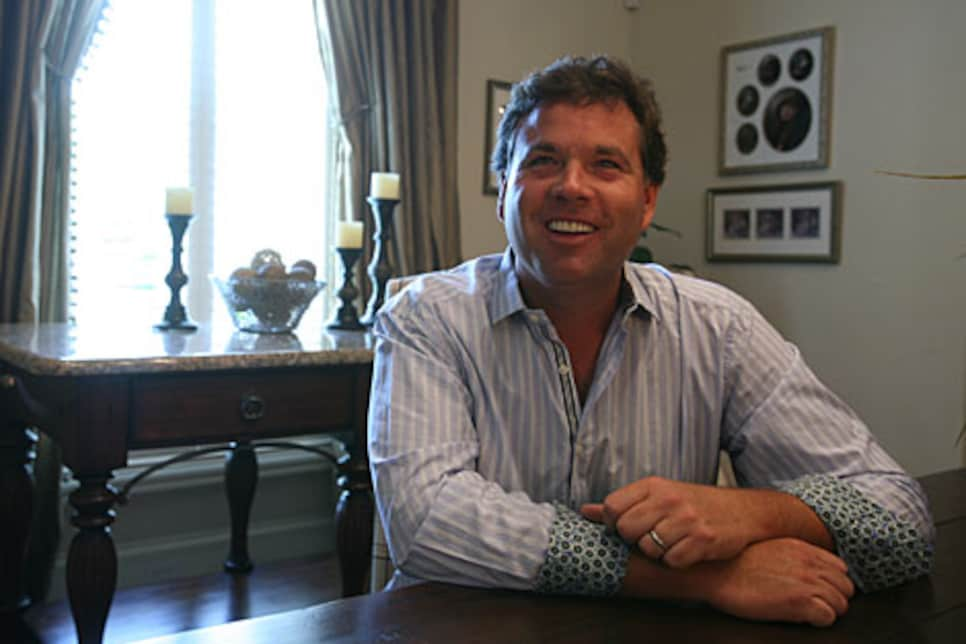 Watts secured a playoff berth with a gritty par-save at Birkdale. He is upbeat after years of battling injuries.
There was a moment, 10 years ago, when all the golf world knew of Brian Watts. Then 32, Watts had just hit a remarkable bunker shot on the 72nd hole of the 1998 British Open at Royal Birkdale GC. The shot got him into a playoff with eventual winner Mark O'Meara, that year's Masters champion. Watts became a footnote to the championship, but even footnotes are human beings with dreams. Ten years later, his promising career derailed and nearly ended by injury, Watts is playing again. He's not playing at Birkdale. He's just playing, with every intention of finding the magic that brought him to that memorable moment in England.
Watts was in the final group that Sunday, and he had to par the last hole to tie O'Meara. He had arrived at this juncture in his career by an unconventional route for an American player. A first-team All-American at Oklahoma State and the medalist at the 1987 NCAA Championship, Watts played the PGA Tour in 1991 but won only $40,199 for 184th on the money list and didn't keep his card. He tried to earn his tour card a couple more times, failed to get it and decided to play in Japan. Watts won 12 tournaments there between 1994 and 1998, and more than $5 million. He had competed against Nick Price while he was the No. 1 player in the world and also played against Mark Calcavecchia and Greg Norman. "Japan wasn't the PGA Tour," says Watts, "but I was competing against guys in their prime."
At Birkdale Watts shot a final-round 68, but it was a 69 in the second round, in brutal, windy conditions, that propelled him to a one-shot lead. The third round was played in similar weather, not that Watts minded. He figured he could handle the weather because of the way Oklahoma State coach Mike Holder trained his players. "He wanted us to qualify only on the worst days," Watts says at home in Dallas, where he lives with his wife, Debbye, and their two children. "See what you can do. That was the idea."
Watts bogeyed the first hole Saturday, but a 6-iron to three feet on the third hole settled him down. He shot 73 to take a two-shot lead into Sunday. "I was nervous inside, but not about being in the lead," Watts says. "I wanted to succeed on the world stage." At his side was caddie Andy Fuller, who had been with him through many of his wins in Japan. "Brian was in contention every week," Fuller says.
Watts had a family connection to the U.K., on his paternal grandparents' side. It was on a television set in their London home in July 1975 that he watched Tom Watson defeat Jack Newton at Carnoustie. Years later as a professional, Watts had turned himself into an international player. Now, playing in his sixth Open, he was on the cusp of winning the championship.
On the 72nd hole at Birkdale, Watts drove just into the left rough and hit his second into the bunker left of the green. His ball settled into an awkward spot near the left lip, so that he could play the shot only by planting his left foot inside the bunker, with his right leg bent and outside the bunker. There was very little margin for error.
"I thought about three things on that bunker shot," Watts says. "I'd won the 1994 Mizuno Open in a four-way playoff by holing a bunker shot. Then I pictured Bob Tway [a friend who had attended Oklahoma State before Watts] holing his bunker shot on the last hole to win the [1986] PGA Championship. The third thing was that I made sure to quickly pick up my sand wedge, so that I wouldn't hit the bunker lip, and to drop it down so that the ball would pop out."
O'Meara was watching from the hillside left of the 18th green. "I was sitting there with my wife Alicia, my daughter Michelle, and my son Shaun," O'Meara says. "I remember Shaun saying to me after Brian hit his second shot in the bunker, 'Dad, you're going to win.' I said, 'Well, what do you mean?' Shaun's like, 'He's in the bunker, he's got a tough shot.' I said—and I remember this as if it's happening right now—'There's one thing in golf, Shaun, you can never underestimate your opponent. You always have to think he's going to do well, or something spectacular. That way you never let your guard down.' "
The ball cleared the lip of the bunker by a couple of inches and took the slope of the green. "I couldn't tell from my angle how close it was," Watts says. "But I heard the crowd as the ball got over the bunker lip and started rolling to the hole. I couldn't tell if it was an inch or three feet. It was less than a foot."
Says O'Meara: "He hit an amazing shot. Shaun looked up at me and I could see what he was thinking. It was, 'Are you kidding me? How did you know?' I told him I didn't know."
O'Meara birdied the par-5 15th hole, the first of the four-hole playoff, while Watts made par. O'Meara maintained that one-shot lead to the 18th hole, where Watts found the same bunker from which he nearly had holed out an hour earlier. He needed to hole out to continue the playoff. But there was no more magic. Watts won $309,260, official money on the PGA Tour that boosted him to 90th place on that year's money list and gave him his 1999 PGA Tour card.
Watts and his wife never purchased a home in Japan. His routine was to play a few weeks in Japan and then return home to the U.S. for a couple of weeks. Still, Watts valued the experience and confidence he gained in the Far East. "I played the same way at Birkdale as I did in Japan," he said.
It was written that Watts was the "feel-good story" of the 1998 Open, "the story of a golfing gypsy with a chance, at least, to make his way back home." He played the 1999 PGA Tour, winning $767,409 to finish 57th on the money list, while returning to Japan to play occasionally. But he had endured lower-back problems for a while, and early in 2000 he started having pain in his left hip, causing him to slip to 133rd on the money list. He underwent hip surgery in January 2001 and rehabbed for eight weeks before returning to the tour in the spring and going on a nice run to finish 112th and keep his card for 2002.
"But I wasn't feeling the same as before my left hip started hurting," Watts says. "Looking back, I hadn't realized that the rehab for my hip would be lifelong. There were some underlying things I didn't know about." He played sparingly in the U.S. and Japan through 2005, with relatively little success. Still, he persisted, entering qualifying school in fall 2005. There, however, he couldn't bend over to put a tee in the ground.
"Driving back to my home in Dallas," Watts remembers, "I said, 'I'm never playing again until I'm healthy enough to play.' "
Watts previously had talked with his long-time friend and PGA Tour colleague Paul Stankowski, who had taken a year off because of injuries. "I told Paul I was as down as I could be, and that I needed help," said Watts. Stankowski reminded Watts of that conversation. This time Watts listened to Stankowski, who led him to Troy Van Biezen, a former pro hockey player who had become a prominent chiropractor and specialist in Active Release Technique (ART), which breaks up scar tissue. Stankowski credits Van Biezen with saving his career.
Watts met Van Biezen in January 2006, "a big date for me," he says. Van Biezen arranged for Watts to call Wally Uihlein, the chairman and CEO of Titleist. Uihlein in turn arranged for Watts to go to the Titleist Performance Institute in Oceanside, Calif., to meet Greg Rose, TPI's co-founder and renowned chiropractor and athletic therapist. Van Biezen and Watts visited Rose in April 2006.
There Watts learned that he had been playing with a torn meniscus in his left knee for six years. He also had a herniated disk in his lower back. He was informed that his problems came from his dysfunctional left hip, which overworked the joints below the hip.
Rose and Van Biezen provided Watts with an exercise program that he follows religiously to this day. Van Biezen and Rose, along with Roland Denault, a muscle activation therapist, comprise Watts' therapy team. His program includes ART, muscle activation therapy, isometric and ballistic stretching, and resistance training. To ease the stress on his left hip at impact and through the ball, Watts learned to play with his left foot turned out 30 degrees at address. "If not for these three gentlemen, I wouldn't be able to play," Watts says of his team. "I'd be grilled, well-done, and cooked."
"The big thing with Brian in my opinion is that he was misdiagnosed," Van Biezen says. "Everybody jumps on disk herniation as the problem. I said I don't think so, that the problem stems from the left hip. If you lose mobility in the hip, the load goes into your lower spine. I measured Brian's internal hip rotation, and it was five degrees. The average tour pro rotates 35-40 degrees."
Watts played no competitive golf, and very little golf at all, while rehabbing the last couple of years. He started to play regularly this past spring, with friends, and in a cart. He then played alone while walking, with a caddie. "I forced myself not to play with my friends, and to go out as if I was playing my own mini-tournament," he recalls.
The wind was howling one day when Watts played. He pretended he was in a major, hitting every shot with purpose. "I still have a lot of work to do," he said after that round in early May, "but I'm upbeat about it." He had received an invitation to play the Mizuno Open last month, the tournament he won three times in his heyday. The top four players would qualify for the Open at Birkdale. Watts referred to the tournament as his qualifying round for the Open.
Watts opened with a 69 in the first round at the Yomiuri CC in Tokyo. But he shot 75 in the second round to miss the cut by a shot. Still, he is competing again. "I'm pulling for Brian. I'd love to walk down the fairways with him again," Stankowski says. Watts puts it this way: "It's been a struggle, but I have a chance now. That's all I can ask for."
A decade after nearly winning a major, he is effectively starting over. It is a start he embraces, a start he cherishes.