News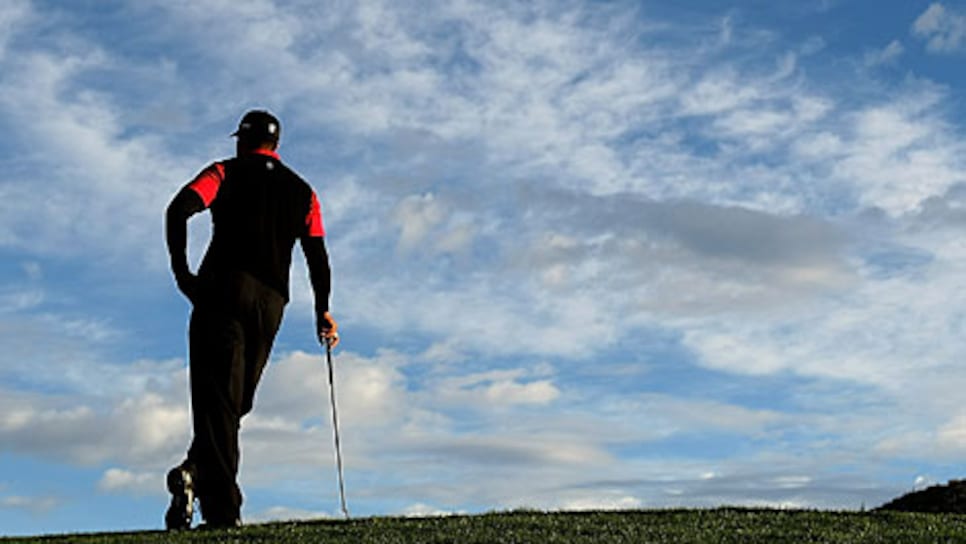 Opportunity awaits: One pro says Woods' absence means an 18-percent purse hike.
The best player in the world won't be there. Neither will the hottest player in the world, although Kenny Perry's reason for not playing in next week's British Open may have less to do with piling up Ryder Cup points and more with avoiding frequent-flyer miles. Regardless, those who identify the year's third major simply as the "Open Championship" should be delighted. This year, it really is an open championship.
Ernie Els, who hasn't won a premium-field event anywhere in almost four years, has been declared the co-favorite with Sergio Garcia. Defending champion Padraig Harrington and Phil Mickelson offer slightly better payoffs, but without Tiger Woods around to leave mouths agape and winning bets skimpy, it may seem to be a different ballgame at Royal Birkdale.
Even Woods can't win tournaments he doesn't enter. "An 18-percent increase in purses," is how veteran Lee Janzen describes Tiger's absence, referring to the standard share awarded for a PGA Tour victory. "Some people think it's bad for [pro golf], but I think it's terrific. I think everybody out here sees a chance to do some things that usually aren't available."
Lifting trophies would make that list. Woods' dominance in each of the last two summers registered as somewhere between astounding and hilarious: a combined 10 victories in 12 starts from the British Open to the end of the season. His commanding performance at Royal Liverpool in 2006 earned him a third claret jug and seemed to trigger a new-and-improved stage of the Tiger Dynasty, ending once and for all any lingering questions about his allegiance to swing coach Hank Haney.
Woods' lengthy sabbatical while he recovers from knee surgery obviously alters the landscape, but it's not as if everyone else will be getting out of bed 15 minutes earlier because a handful of elite tournaments are suddenly more attainable. "That's like asking someone if he plays harder at the British than he would here," Charles Howell III said last week at Congressional, where he was playing in the AT&T National. "You do the best you can to prepare for every event."
Howell's point is a fair one, but after brief contemplation, he also could see how life without Eldrick could have its advantages for the coach class. "Phil Mickelson or Ernie Els, guys who have had majors snatched out of their hands by Tiger, guys who have been there time and time again, I could see them having additional motivation," Howell added. "I'm just trying to get there."
Jim Furyk has been there and done that. Eighteen starts into a year that began with him ranked third in the world, Furyk has since fallen to 12th, leaving him behind a fleet of younger players, including Adam Scott, Geoff Ogilvy, Garcia and Justin Rose. Neither the emergence of youth nor the prospects of a Tiger-free universe, however, have grabbed Furyk's attention more than the tiny nick he discovered on the top of his 3-wood clubhead during the Congressional pro-am.
You basically needed a magnifying glass to see it. Some dents are easier to make than others. "If you're asking me whether I look at things differently now that Tiger's out, that sounds pretty much like chicken[bleep] to me," Furyk says of shrinking the gap. "I spend 99 percent of my time and energy trying to get the ball in the hole."
What's interesting is that fading veterans such as Janzen and Jesper Parnevik have a hard time wondering how Woods' lead rivals could not feel a sense of urgency to seize opportunity while he rehabs his knee. "We're only talking about two majors," Parnevik says. "It's not like guys are thinking, 'Oh, shoot, he's not here this week, so this is the best chance I'll ever have,' but even when Tiger doesn't win, he's right there every time.
"He has a tremendous impact every time he plays," Parnevik adds. "I don't know how you cannot feel [additional incentive]."
The weak turnout among top-tier types at Woods' own AT&T National suggests that when the cat's away, the mice won't necessarily play. Steve Stricker (seventh) was the highest-ranked guy in the field. When the Booz Allen Classic was played at this same venue in 2005, Garcia beat Scott in a thrilling duel to the finish. Neither was in D.C. last week, although Sergio did play in the European Open, where he finished a distant second to Ross Fisher.
Scott hasn't played since the U.S. Open, presumably so a broken bone in his hand has time to heal, which takes us to Perry. His victories at the Memorial and Buick Open have earned him a pair of big paychecks and a spot on the U.S. Ryder Cup team, but Perry's still not buying a plane ticket to England. A source who has known him for years says the 11-time tour winner may be reluctant to travel overseas because of a fear of flying.
"At this part of my career, my goals and values have changed," Perry told Golf World, noting that between now and the Ryder Cup he only has two other scheduled weeks off. "Family is very important to me, the majors are not near as important as they used to be, I'm not a good traveler, and I have a high stroke average in the British Open. I'm just an old country boy who likes to play American golf courses. I haven't traveled a lot to other countries to play and when I have, I haven't had much success. I'm going to stick to my guns and play Milwaukee."
Too bad. Of all the British Open venues, Birkdale would seem to suit Perry the best. It is a driver's ballpark, and few players employ a better combination of length and accuracy than the big fella from Kentucky. The same could be said of Garcia, who ranks 26th on tour in total driving after falling to 164th in 2007, his second consecutive year without a victory on either side of the Atlantic.
It has become common practice to blame Sergio's putting for his stretches of poor play, but the numbers can't lie. He was 15th in strokes per green in regulation in 2007 despite his well-documented struggles inside six feet. This year, he's 134th in the same category but is playing his best golf in forever because he's hitting fairways. In awful weather last Sunday, Garcia shot a 66 and needed just 21 putts, prompting him to chirp, "Now I know how Tiger Woods feels 98 percent of the time."
Call it an interesting choice of words. More than any of Woods' frequently deposed foes, Garcia's preoccupation with Tiger has dogged him since his ballyhooed U.S. debut in the spring of 1999. There have been two instances when they were paired together in the final group of the final round at a major -- the 2002 U.S. Open and 2006 British. Both times, Garcia took himself out of the hunt early by missing multiple putts from four feet or less.
Woods coasted to victory on each occasion, tossing yet another oversize suitcase into Garcia's overhead compartment, which is exactly where the Spaniard stores his emotional baggage. A considerable measure of redemption seemed imminent last July at Carnoustie. Sergio led everyone by three strokes after 54 holes and had Tiger by eight, but on a calm afternoon when Andres Romero would pile up an amazing 10 birdies and several players shot in the mid 60s, Garcia remained ultraconservative to the bitter end.
He hit nothing but irons off the tee, perhaps as an awkward mimic of Tiger's game plan at Liverpool a year earlier. Padraig Harrington would chase down Sergio, find a back door to a playoff and grab his own first major title, leaving Garcia disconsolate and disillusioned. It was a tough way to lose, and while the Spaniard handled it terribly during the awards ceremony and news conference, he has rallied admirably.
As for the other favorite, Els has been more conspicuous for the personnel changes made to his inner circle than his golf. His alliance with swing coach Butch Harmon has, in Harmon's words, yielded inconsistent results. Late last month, Els brought back longtime caddie Ricci Roberts, who was on the bag for all three of Ernie's major titles, and rehired sport psychologist Jos Vanstiphout. The Big Easy is ranked sixth in the world, still capable of winning any tournament where pars have value, but he hasn't been in serious contention at a major since returning from his own knee surgery in the summer of 2005.
In launching his latest salvo at commissioner Tim Finchem last week, veteran Tom Pernice Jr. revived one of his favorite gripes: the need for a rule that would require all tour pros to play in every event on the schedule over a four- or five-year period. It's an edict thinly disguised as an attempt to make Woods enter tournaments against his will, ostensibly to bail out title sponsors of lesser events.
"Maybe we need to play more than 15 events [the required minimum]," Pernice said. "Maybe we need to play 20. It's not Tiger's fault or [Mickelson's] fault. It's the tour's fault, the way the regulations are. You only have to play 15 events and there are 30 or 35 sponsors out here. There has to be something the tour can do to help those [non-elite] sponsors."
Talk about timing. Pernice made his comments at a tournament hosted by Woods, and very few, if any, of the big names showed up. Go figure. While the cat's away, the mice won't play, either, but once 23-year-old Anthony Kim had applied the finishing polish to his second impressive victory in two months, one easily could see the kid becoming a star, perhaps even a rival to his boyhood hero.
While the cat's away, some mice become men, you might say.