News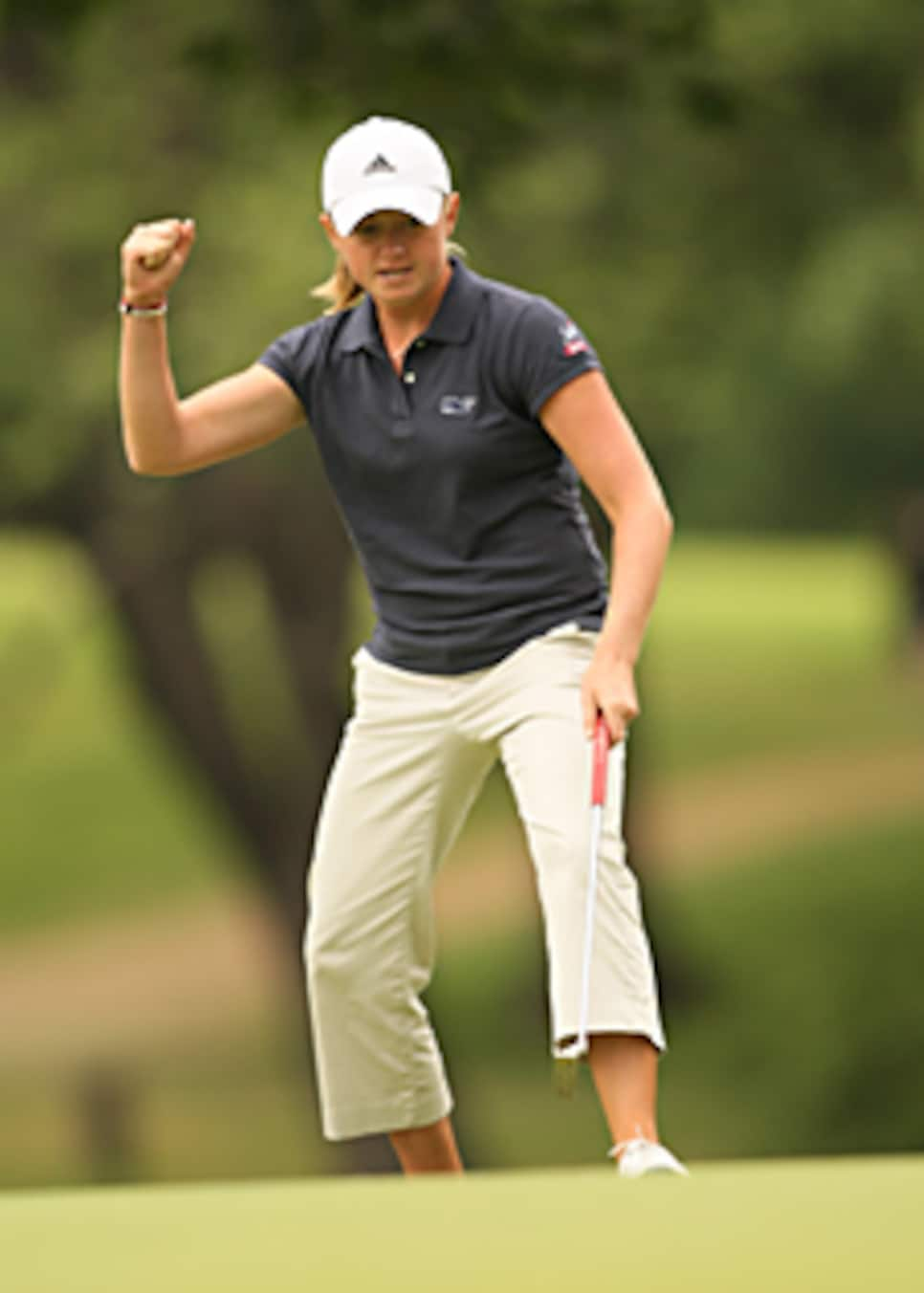 Lewis, who had to have surgery as a teen to straighten her spine, shot a 67 to take the 54-hole lead.
To most people, the decidedly odd start Stacy Lewis has had to her LPGA career would be utterly frustrating. But the 23-year-old Lewis is a decidedly glass-half-full kind of person. After taking a one-stroke lead into the final round of the U.S. Women's Open and finishing at four-under 288, five strokes behind winner Inbee Park after a five-over 78 Sunday, Lewis was anything but disappointed. "I felt like I didn't really play that poorly," she said. "I got above some of the holes, and you just can't be there. It's hard to be upset. I finished third at the U.S. Open, my first pro event."
Lewis, whose father Dale was her caddie, bounced back from a double bogey on the relatively easy par-5 second hole with five consecutive pars and was still very much in the hunt until a three-putt bogey on No. 8, a bogey on No. 9 after a mis-clubbed second shot and another three-putt bogey on No. 12. "[Saturday] my speed was perfect [on the greens]," she said. "Today I was short, I was long, it was never consistent at all. That was mainly the cause of it."
Lewis' path to the U.S. Open -- in fact her path to golf -- has been anything but easy. Diagnosed with scoliosis when she was 11, Lewis wore a back brace for 7½ years only to find out the procedure failed to realign her curved spine and that she needed surgery.
When stricken with the condition as a child, and while the bones are still growing, a brace is worn to try to coax the spine into its proper position and avoid corrective surgery. The corset-like device fits from the armpits to the hips. Lewis wore her brace 18 or more hours a day, usually only removing it to play golf. It was anything but comfortable.
At the end of her senior year in high school, The Woodlands, Texas, native had a rod and five screws placed in her back to straighten the spine. Following surgery, she was in a brace for another three months and then endured six more months during which she couldn't bend over or lift anything weighing more than five pounds.
After red-shirting her freshman year at the University of Arkansas, Lewis joined the Razorbacks golf team in the fall of 2004 -- she trampled her peers in her first team qualifer by 20 shots -- and eventually went on to win the 2007 NCAA individual title. She concluded her amateur career last month by becoming the first player to go 5-0 in the Curtis Cup as she led the United States to a 13-7 victory over Great Britain and Ireland.
Lewis turned pro June 9, the day of the U.S. Women's Open qualifier at Eastern Hills CC in Garland, Texas, which she won by four strokes.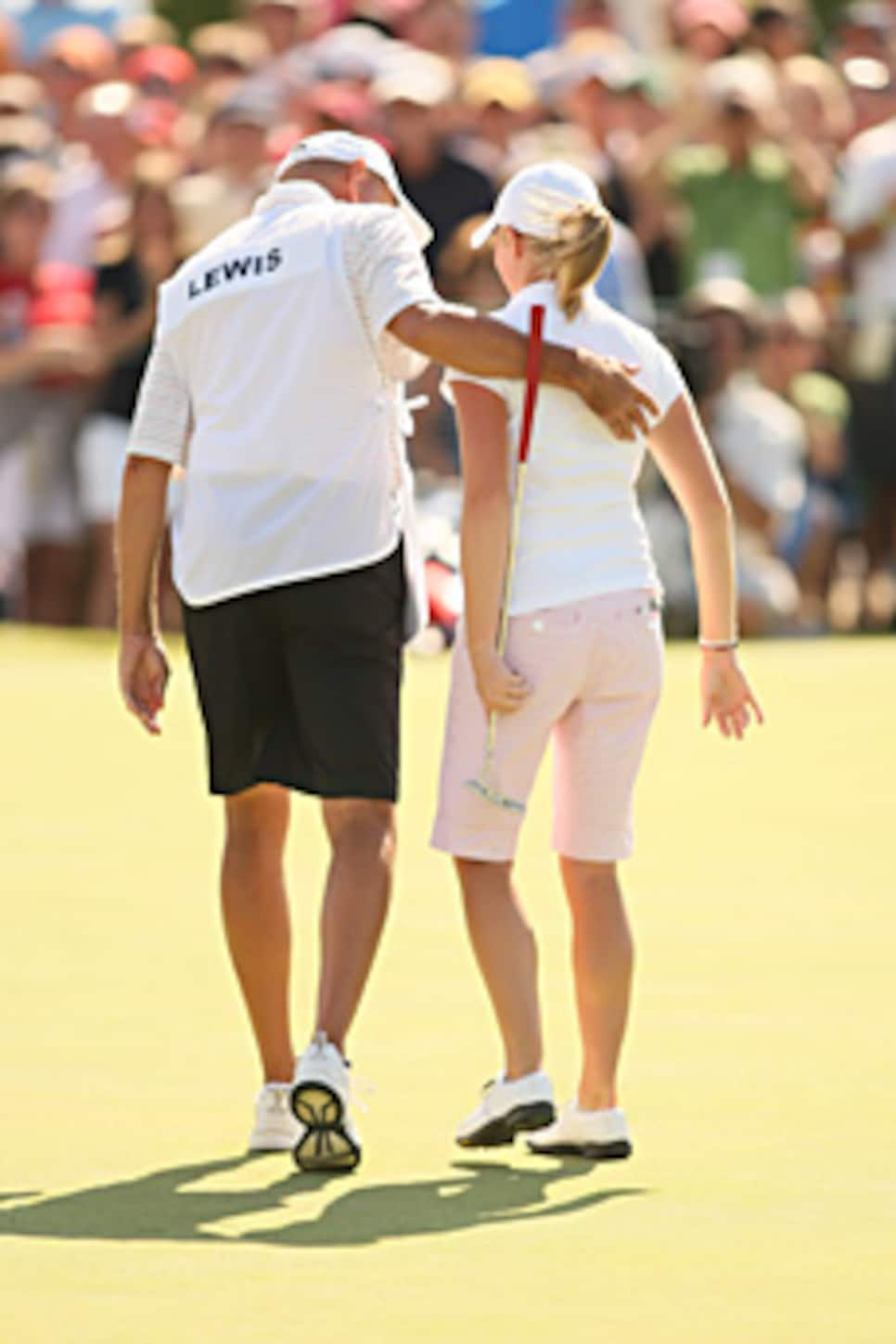 Last Sunday, while displaying some frustration and even a little anger, Lewis was mostly in control during the final round. "I wasn't that nervous at all," Lewis said. "It was just a cool experience. The whole day was just awesome. The fans are great. Everyone -- I mean everybody -- is yelling your name as you're walking down the fairway."
Lewis has the odd distinction of winning an LPGA event the record book says never was played. "It was wiped off the books," she said good-naturedly, referring to the NW Arkansas Championship last year that she led after a first-round 65, but was declared unofficial when the rest of the tournament was rained out. "That was hard to take at first because it was the round of my life. But I just look at it that I beat 143 of the best players in the world on that one day." The LPGA returns to Arkansas this week for this year's P&G Beauty NW Arkansas Championship.
"I got some momentum here today," Lewis said. "Even though I didn't play well, I'm looking forward to next week. I get to kind of defend, to be the non-defending champion, I guess."
Lewis needs to earn about $120,000 in the six sponsor's exemptions she has left to finish in the top 80 on the money list and earn an LPGA playing card for next year. You might think the $162,487 she won for finishing T-3 at Interlachen would take care of that, but it doesn't. That's because the LPGA does not count money won in the U.S. Women's Open toward that goal since the $3.25 million purse is so much larger than regular tour events. This week in Arkansas, for example, the purse is $1.7 million.
"The only thing that could have helped me [get a card] was to win," Lewis said about the automatic spot that goes to winners of LPGA events. But based on the way she played at Interlachen, Lewis will have no trouble getting a card, and no trouble keeping it. Adversity has taught her to make the most of her opportunities.