News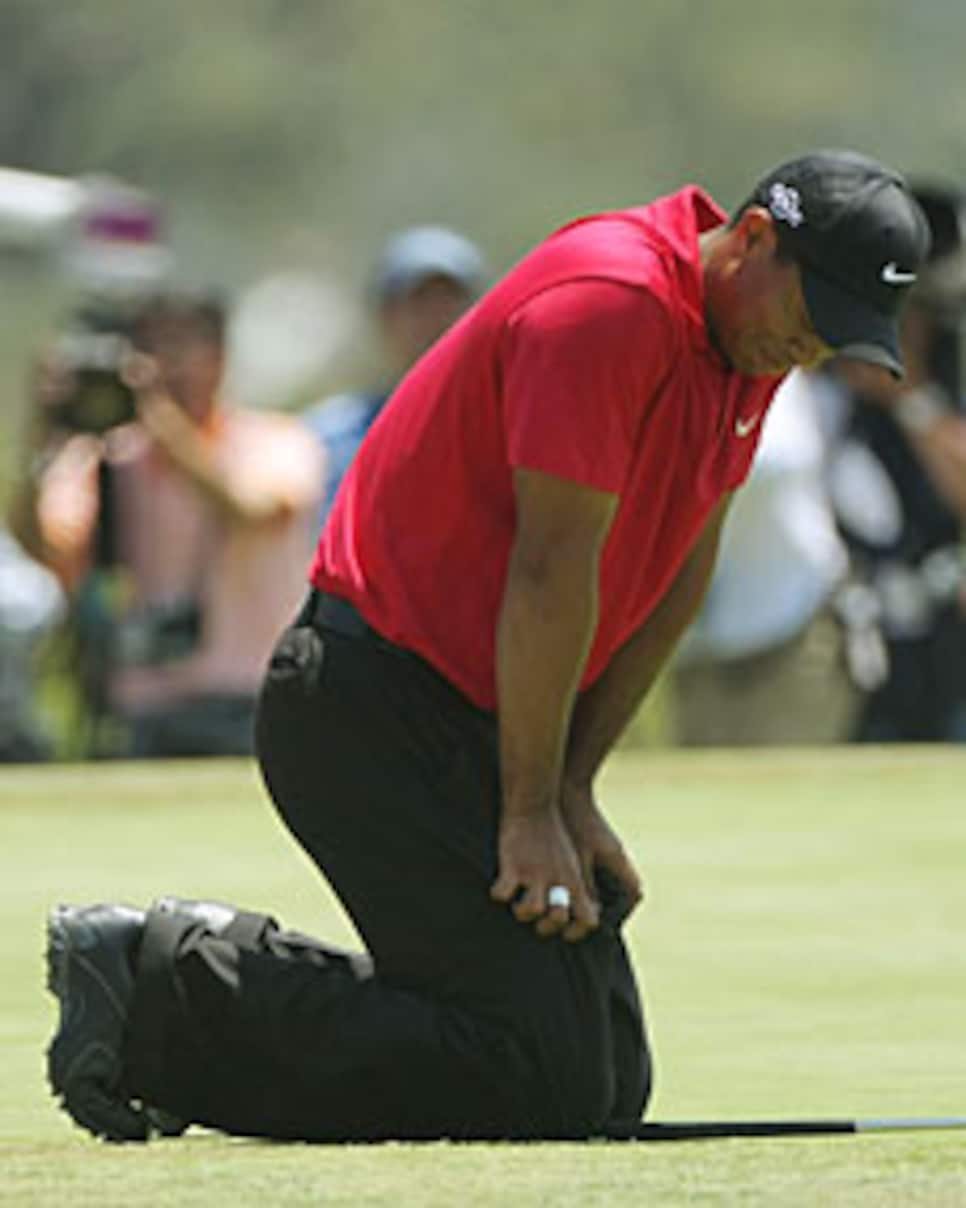 The financial impact of Woods' absence will be a heavy blow to golf's economics.
After the news broke that Tiger Woods would require reconstructive surgery on his left knee and miss the rest of the 2008 season, Don Padgett, executive director of the WGC-Bridgestone Invitational—which Woods has won six times in 11 appearances—let his staff have the afternoon off "to give it some thought." The next morning, Padgett gathered his troops. "I told everybody we are going to have a great event," Padgett said, "to look at the great players who are coming, to look at it in a positive light."
Putting on a brave face was all anyone in golf could do, but the reality of the forthcoming void hit like a raw gust of wind on someone caught without a sweater. "His absence the rest of the year will be an immense loss to the game. The effects of a more prolonged absence are unpleasant to contemplate," wrote Lorne Rubenstein in the Globe and Mail, neatly summing up the thoughts of many—even Woods' competitors, who have seen PGA Tour purses nearly quadruple since he turned pro thanks to Tiger-sweetened television money, jumping from $70.7 million in 1996 to $278.9 million this year.
The length of Woods' expected absence was enough to apply plenty of hurt to a man who in March bet $252,300 with Sportingbet Australia that Woods would win three major championships in 2008. Woods will miss the British Open (British betting house William Hill saw Sergio Garcia and Ernie Els become co-favorites at 12-1 after the season-ending announcement from Woods, who had been a 13-8 choice), PGA Championship, Ryder Cup and several other tournaments that usually are on his annual schedule of 16 to 18 events.
John Kaczkowski, vice president of tournaments for the Western Golf Association, whose flagship event, the BMW Championship, will be held Sept. 4-7 at Bellerive CC in St. Louis as the third tournament in the FedEx Cup playoffs, said "it's not doomsday," but the effects of a Tiger-less event run deep. "A rough estimate is that [Woods' absence] will cost us $500,000 in ticket sales, concessions and merchandise," Kaczkowski said. "Not only does it hurt ticket sales, but the buzz factor is gone a little bit. Anybody who says it's not a big loss, they're looking at it with too much of a glass-half-full' mentality. He's the greatest player maybe in history and the most recognizable athlete in the world."
Kaczkowski was busy getting ready to retool local television commercials that had featured Woods prominently. The PGA Tour was doing the same with its FedEx Cup TV spots. "I'm not going to sugarcoat it," said Ty Votaw, PGA Tour executive vice president of communications and international affairs. "It's a negative that he's not going to be around. But if there is a silver lining anywhere, when Tiger is in fields, he gets a disproportionate amount of coverage and now that is going to go to somebody else. There is a huge opportunity for us to make new stars."
But it is a supernova that is going on an unplanned hiatus. When Woods was battling Rocco Mediate June 16 in the U.S. Open playoff, Internet service providers saw such a spike in usage—a 15 to 25 percent increase, according to Arbor Networks—they at first thought some kind of cyber attack was underway. TV ratings, which are 29 percent greater when Woods is in contention and were 58 percent higher on weekend broadcasts in the 2007 tournaments he played, took a predictable leap for the 2008 U.S. Open. NBC's 8.5 rating (including a 7.6 for the Monday playoff) trailed only the 8.9 rating for Woods' 2002 U.S. Open triumph and was slightly better than the 8.1 for his runaway 2000 win.
"In terms of column inches of coverage and the casual fan who would come out to Oakland Hills [for the PGA Championship], we'll lose some of that," said Joe Steranka, chief executive of the PGA of America. "But we've had some pretty good moments in PGA Championship history, and Tiger has not been involved in every one of those."
True enough. Opportunity beckons for those who will try to reign while Woods is recuperating from an injury that plagued him much longer than most knew. His absence, though, will be easier to see than the outline of a brace under a pants leg, and for the game, his next win will be his best win.