News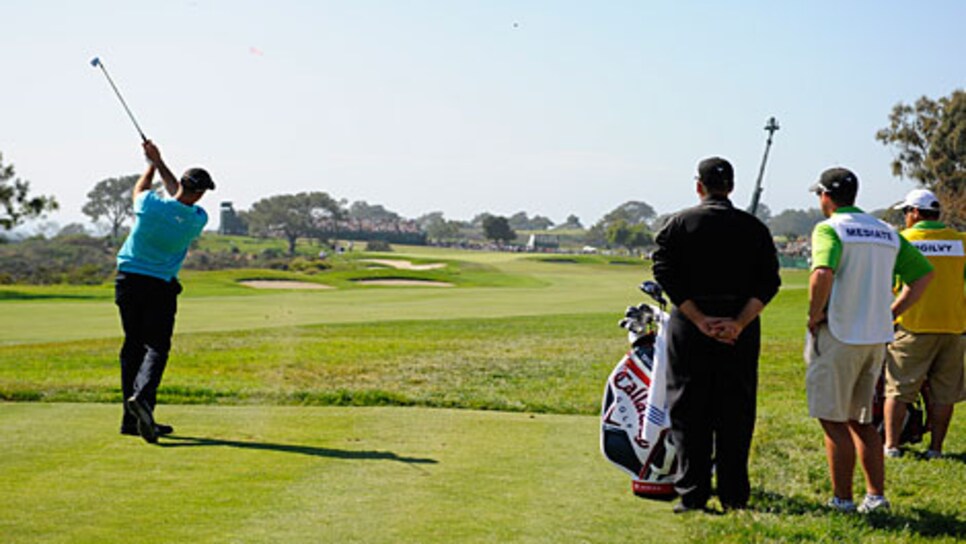 After some Sunday banter with his caddie, Mediate (in black) took the gamble on 14 and made 3 from a bunker.
David Fay awoke early saturday, a day after Tiger Woods' back-nine 30 and a record crowd of 53,000 saw what he deemed the "greatest second round in U.S. Open history." The USGA executive director tapped out a 4:30 a.m. e-mail to the association's senior director of rules and competitions, Mike Davis.
"I'm having some concerns about the 14th hole; just take me through this one more time," Fay wrote, concerned about the idea of "taking a strong hole and changing it."
Up early preparing for a round that would top the previous day in excitement, Davis picked up this cell phone and dialed Fay.
Davis and Jim Hyler, chairman of the USGA's championship committee, were "contemplating" taking the 435-yard par-4 14th and shortening it to a 267-yard, risk-reward gem (the shortest par 4 in the U.S. Open since 1955, when the seventh at Olympic played a yard shorter) for Sunday's final round in hopes of replicating the strategic intrigue seen the previous two championships at Winged Foot and Oakmont. The move, coupled with a week of fascinating day-to-day variety, would help redefine a USGA associated with stubborn, monotonous and over-the-top course setups.
Someone had been bending Fay's ear that shortening No. 14 was a terrible idea, even though Rees Jones, Fay's good friend who remodeled Torrey Pines' South Course, had given the idea his blessing. (Most likely it was NBC guest commentator and two-time U.S. Open champion Curtis Strange, who had been overheard criticizing the plan.)
Fay said Davis took him through the reasons again and came away convinced it was the right thing to do on several levels.
"Mike does a very good job of jumping into the player's skin," Fay said. "While this is an elite athletic competition, it's also entertainment and I applaud the effort because it gives fans and players something to talk about."
Fay was further convinced by Davis' firm belief that such a radical shift in tee placement tells "us something about the player" because they are put in a position of not necessarily knowing what to do. "They are essentially naked out there," said Fay.
Or at least partially undressed. When Jarrod Lyle stepped on the 14th tee early in Sunday's round, caddie John Rawlings asked, "What do you like?" Lyle never answered. After a minute of mulling, Lyle pulled out an iron to the chagrin of a devoted crowd—the 267-yard teeing ground at 14 was just 15 feet from the ropes, easily the most fan-friendly on the course.
And the fans had fun. Bob Jones, a retired Navy veteran visiting from Chapel Hill, N.C., was given U.S. Open tickets for Father's Day by his two sons and heard the 14th tee might be moved up. So he planted himself in his medical mobility scooter next to the markers, and used a pen and pairing sheet to track every tee-shot decision and score. When third-round 80-shooter Rich Beem arrived in the first pairing out with playing partner Andrew Dresser, Jones quipped, "When you shoot 80, they let you play the ladies' tees."
Beem, mildly amused, shot back, "You sound like my wife."
The marshals gently scolded Jones for talking to the players, but as the day progressed such light banter would have been welcomed as the inevitable over-served, "you da man" types arrived to heckle players who chose to take the sage-scrub canyon out of play with a 5- or 6-iron tee shot.
New fan favorite Boo Weekley heard the gallery advice that "driver is perfect," to which caddie Joe Pyland mumbled, "And that's why you're standing back there." Boo used one of the day's few waits to sign balls for his group's volunteers before pulling 3-wood and struggling to make par.
Stuart Appleby arrived at the 14th at four over for the round and his playing partner, Ryuji Imada, was at one under. Imada played safe and made birdie; Appleby hit 3-wood that led to a par.
"The guys with good rounds going don't go for it," one fan noted.
The day crescendoed when the final pairings made the 125-yard march from the 13th green. Rocco Mediate and Geoff Ogilvy arrived with Mediate one under and trailing leader Tiger Woods. Dressed in black with a peace-sign belt buckle, Rocco stomped up to the tee, let out a sigh and was greeted by the day's biggest ovation. Waiting on Hunter Mahan and D.J. Trahan, Rocco and caddie Matt Achatz immediately began debating the options.
"If you work it right-to-left, it's a 3-wood," said Achatz. "Left-to-right, it's driver."
"Really? No [bleep]," Rocco shot back with a sarcastic smile, getting a big laugh from the crowd.
"I think I can do it with a 3-wood," Mediate announced. Achatz agreed. "I like the look."
Spending the next two minutes chewing on a wooden tee and pacing while Ogilvy and caddie Alistair Matheson engaged in a quiet but spirited debate that led to a short-iron lay up for the 2006 U.S. Open champion, Mediate stepped up and drew his 3-wood into the northwest wind, the ball bouncing a few times before kicking into the front left bunker, where he got up and down for birdie.
"It was close," he said to Achatz.
One group later, Woods stepped to the tee having bogeyed the par-5 13th after a "complete double-cross" second shot that might have influenced his reasoning during the 66-second deliberation with Steve Williams (he also might have been remembering the two balls he hit into the canyon left of the green during practice rounds, using a 3-wood). Tiger finally pulled what looked like a 7-iron and laid up, to the disappointment of the crowd.
"You couldn't have picked a worse [yardage] for me," said Woods, who made par. "Because 5-wood is my number to the front, but it's into the wind so I can't get there. [And] 3-wood is too much. I've got to hit it out over the barranca and cut it. And if I over-cut it, I'm in the right bunker and I've got no shot. … I'm caught right between clubs."
Woods claimed that if the tee was back just a few yards he would have played 3-wood and gone for it. He got his wish in the playoff, with the committee moving the markers back five paces. After Mediate struck a perfect 3-wood just short of the green, setting up what would be an easy birdie, Woods paused, pulled his 3-wood, and stopped midway into his pre-shot routine to ask Steve Williams a question: "What do you get for wind?"
He struck a solid 3-wood into the first cut, but just as he had the day prior, Woods made par. Davis was standing just off the tee both days, eyes and ears glued to the best player in the world contemplating the strategic possibilities. He couldn't help but savor the moment.
"Easily the highlight of my week."