News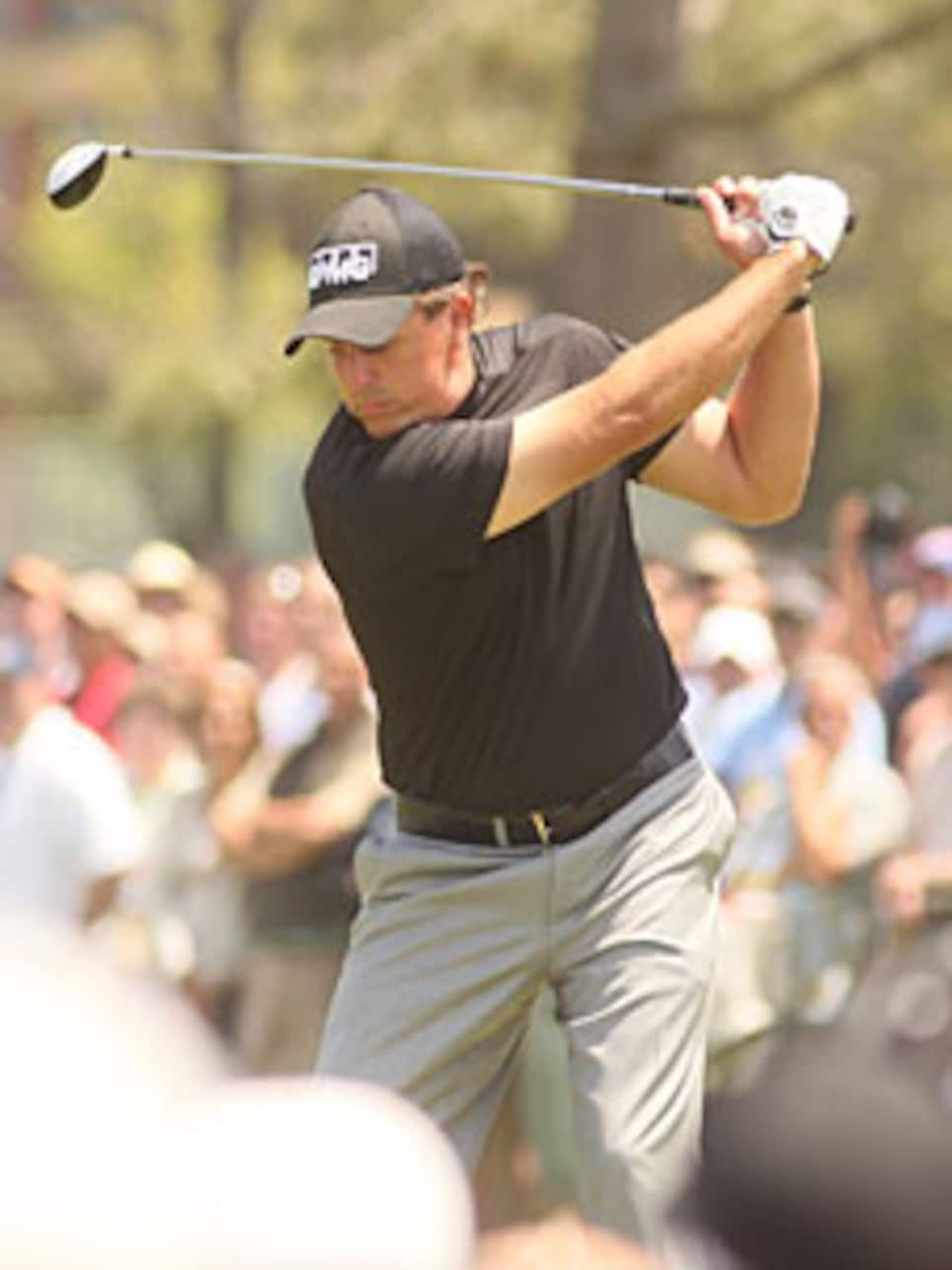 Mickelson went with a driverless strategy for the first two rounds.
Although it produced the same winner, Torrey Pines was a much different course than the one players encountered during the Buick Invitational in January. Consequently, many adjusted their clubs to better match the firm, fast conditions.
In all, 61 players who played the Buick also qualified for the U.S. Open. About one-third of those made an equipment change from the Buick, and no one made bigger news with his equipment than Phil Mickelson.
On the longest course in U.S. Open history, Mickelson went with no driver, opting for a Callaway FT Tour 3-wood the first two rounds. He used a 13-degree version bent to 11.5 degrees (the same loft as Nick Watney's driver) as his primary club off the tee Thursday and Friday.
Mickelson's rationale was that his driver would go too far and, quite possibly, land him in trouble. "The 3-wood carries 275 [yards]," he said. "So it's running 300 here. And it's just easier to hit fairways at 300 than 320. It just felt more comfortable."
Unfortunately for Mickelson, who also added a 3-iron that he didn't have during the Buick, the plan backfired: He had trouble finding the fairway with the shorter club, forcing him to return to the driver Saturday.
For many players, the Torrey story was higher-lofted wedges, not woods. Ten golfers added wedges with lofts of 60 degrees or more, including J.B. Holmes, who replaced his 3-iron with a 64-degree wedge. The grinding wheel also received a workout last week. The turf at Torrey Pines in January is noticeably lusher, meaning wedges with more bounce were required. On the harder fairways of a U.S. Open, greater heel-toe relief was needed, which is why Dustin Johnson, Retief Goosen and Eric Axley all had work done on their TaylorMade Z TP wedges.
Long irons and hybrids also made a return to some sets. Rich Beem added a 2-iron and a 4-wood; his 3- and 5-woods came out. Mike Weir, meanwhile, used a hybrid with 1½ degrees more loft than he had used at the Buick. He used the club off the tee on several holes. "It just got the ball running a little more," he said.
Some players, however, made changes that allowed them to replicate the sets they had in January. K.J. Choi went back to the Nike Sumo 5000 driver he used at the Buick, and Stewart Cink added a Nike 5-wood last week, a move identical to what he did at Torrey five months ago.
And what about Tiger Woods? He, too, matched the set he played at the Buick, putting the 5-wood back in his bag. It might have been a different course, but for Woods, using the same set brought the same result—a win.
A pair of Ryder Cuppers returned to familiar putters last week at Torrey Pines. Stewart Cink went back to his Never Compromise Sub 30M3 after experimenting with a different mallet, and Padraig Harrington reunited with his Odyssey White Hot 2-Ball after a one-week trial with a SeeMore putter at the FedEx St. Jude Championship.
How would you like to come to the U.S. Open without your driver? That's the situation Rocco Mediate faced when his Callaway FT-5 big stick was damaged in transit. Callaway made Mediate three replacements the Saturday before the Open and got them to him before the start of practice on Monday. … Although the U.S. Open might seem like a strange place to introduce prototypes, there were two sightings last week of not-yet-ready-for-market products. K.J. Choi added a Nike VR 60-degree wedge, and Robert Gaus and Jon Turcott had Titleist's latest driver, the 909 D3—a deep-face 440cc driver without the hallmark Titleist bore-thru hosel. A shallower, 460cc 909 D2 also was at Torrey Pines and a composite-crowned version is also in the works. … Richard Sterne's week got busier when his clubs failed to arrive, necessitating a new set be built for him. His regular sticks arrived in time for Thursday's opening round. … D.J. Trahan had his best finish in a major (T-4) after making a change to a Scotty Cameron by Titleist Newport 2 putter.