News
Woods rated his performance at Torrey Pines with his 1997 Masters victory.
He broke out another new monster-putt celebration last Sunday night, a far cry and 2,500 miles from Bay Hill, where he tore off his cap and hurled it at the ground, then turned to a jam-packed grandstand and hollered until the veins popped from his neck. Happiness with a splash of rage, perhaps, although the requisite high-fives with caddie Steve Williams always have been a bit sloppy. How can anyone hole a 25-footer to win a golf tournament, then whiff on an open hand from four inches?
Joy wore a different outfit to Torrey Pines GC, scene of the superhero's latest good deed, a place where dress is casual and success is not. Another 18th green, only this time, there was a much bigger title on the line, and if he misses, everybody goes home. "Well, does he make it?" Rocco Mediate asked a cart barn full of nervous accomplices. "Anyone want to bet?" Talk about sucker pins -- who in their right mind accepts either side of such a wager from a 45-year-old man who stands one lipout away from his first major championship? So there were no takers. Just a million short breaths and the usual hush, a white ball tumbling inside the right edge and an emotional avalanche from the Dude in the Red Shirt. He arched his back like a powerlifter and looked up at the sky, then uncorked a series of rapid-fire baby fist pumps, none of which packed the punch of those Joe Frazier uppercuts of heroic moments past.
"How'd I look?" Tiger Woods wanted to know before the smoke had begun to clear. Honestly? He looked relieved. Maybe a little thankful the putt wasn't moving any faster, lest it spin around the hole and roll away, which would have strapped an agonizing end to a week already full of pain. Most of all, Woods' 72nd-hole histrionics seemed to contain traces of unfinished business. Although this reaction wasn't exactly dipped in restraint, his pursuit of a 14th major title would require 19 additional holes against an unburdened veteran with no business being there and much less to lose.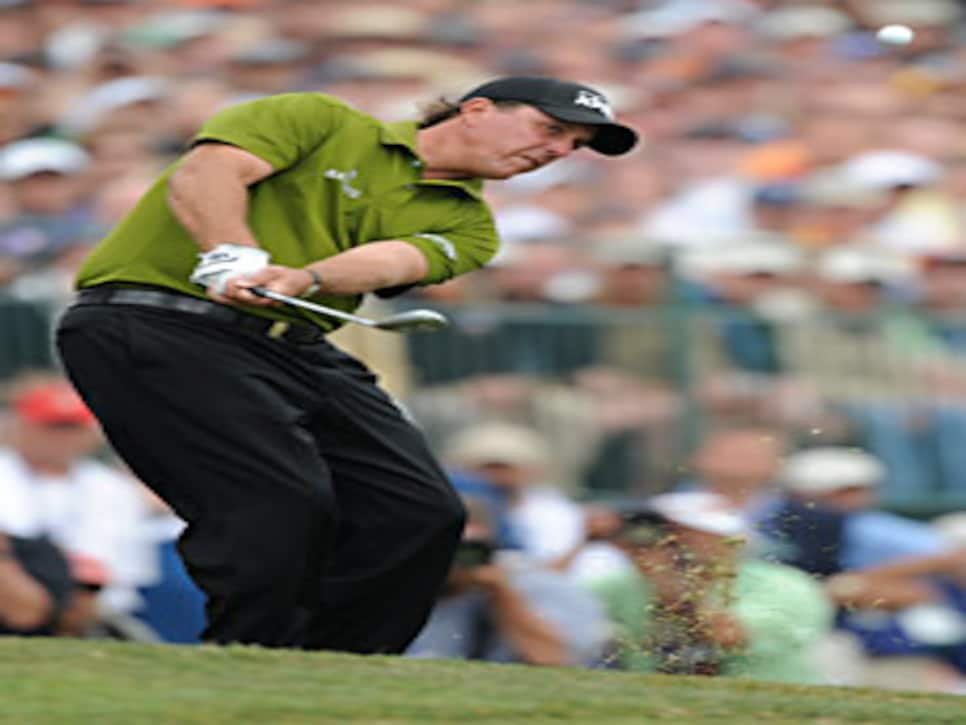 Lose he did, although Mediate's finest Bob May impersonation was nothing short of oversized, lasting long into overtime, as he forced Woods not only to make that 12-foot birdie putt Sunday evening, but at least a couple more the next day. "He's just so hard to beat," Rocco announced, taking ownership of the week's most relevant understatement. "It's like I told Matt [Achatz, his caddie], 'This guy is impossible.' He is who he is. There's nothing else to say."
A tap-in par on the first hole of sudden-death was all it took for Tiger to claim his third U.S. Open championship, his first since Bethpage in 2002, and move to within four big trophies from reaching the summit of Mount Nicklaus. To say the best player won this tournament, however, would be to view it exclusively through a wide-angle lens. Mediate, the world-class journeyman with five career victories and $13.7 million in PGA Tour-issued credit, rallied from three strokes down with eight holes to play Monday afternoon. If not for a small truckload of four-footers planted like landmines across the final two days, Rocco would have won this bout going away.
He traded blows with Eldrick Almighty in a 4½-hour encore far better than anyone could have expected, certainly the best in this particular format since Hale Irwin submerged Mike Donald in 1990. Woods and Mediate both finished the tiebreaker at even-par 71, necessitating an extra hole after the extra holes and validating the notion that nobody really lost this U.S. Open, although someone had to win it.
It might as well be You Know Who, and since he is who he is, we need not wonder why because he will. "This week had a lot of doubt to it," Tiger admitted, referring to the mid-April knee surgery that sent him to Torrey Pines with a lot less cartilage and a fresh coat of rust. "All things considered, I don't know how I ended up in this position."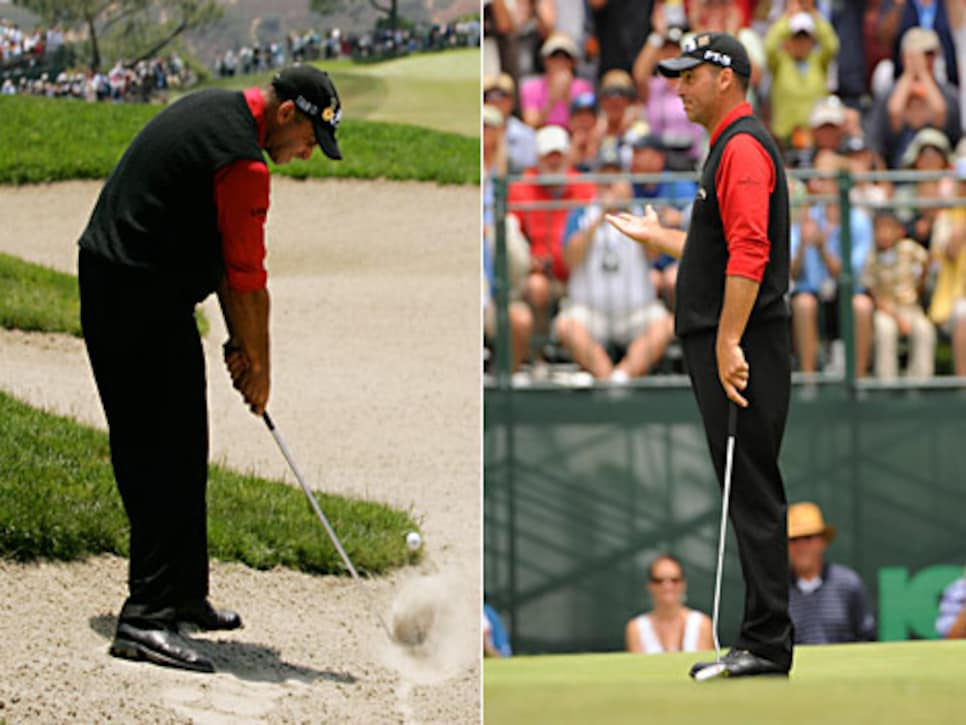 Funny he should say that. Because the hit-ball, drag-leg, beat-everyone drill was anything but routine, Woods compared this triumph to the 1997 Masters in terms of the difficulty of the accomplishment. It must be nice to win this same tournament by 15 strokes, as Tiger did in 2000, and relegate it to bronze-medal status, but if that blowout was nuts, this squeaker was all guts.
"It's about dealing with things and getting out there and giving it your best shot," the champ added. "There's never any excuses. You just go play. That's the beauty of it -- enjoying the opportunity to compete whether you're 100 percent or not."
As U.S. Opens go, you would need a superior memory or a chipped shoulder to recall a more likable one than the 108th gathering at Torrey Pines, the first since 1948 to be held in Southern California, ending a drought during which so many national championships became famous for the wrong reasons. USGA setup man Mike Davis wanted to present the South Course as punishing but not paralyzing, which led to his decision to trim the rough from five to 3½ inches in the six weeks leading up the event.
Tee markers were moved all over the place -- six holes played to significantly different lengths during the week. For Sunday's final round, the 7,643-yard behemoth was shortened by a whopping 361 yards. Davis' makeshift drivable par 4, the 14th, had a subtle effect on the outcome: five of the top-eight finishers birdied it. The greens might have been a bit soft and the breeze somewhat feeble, but after back-to-back winning scores of five over, a playoff at one under was easy on the eyes and even nicer to the ears.
"The best and fairest we've seen," was how Phil Mickelson assessed Davis' work. "It gave the best players a chance to separate themselves. It rewarded great shotmaking and the ability to recover."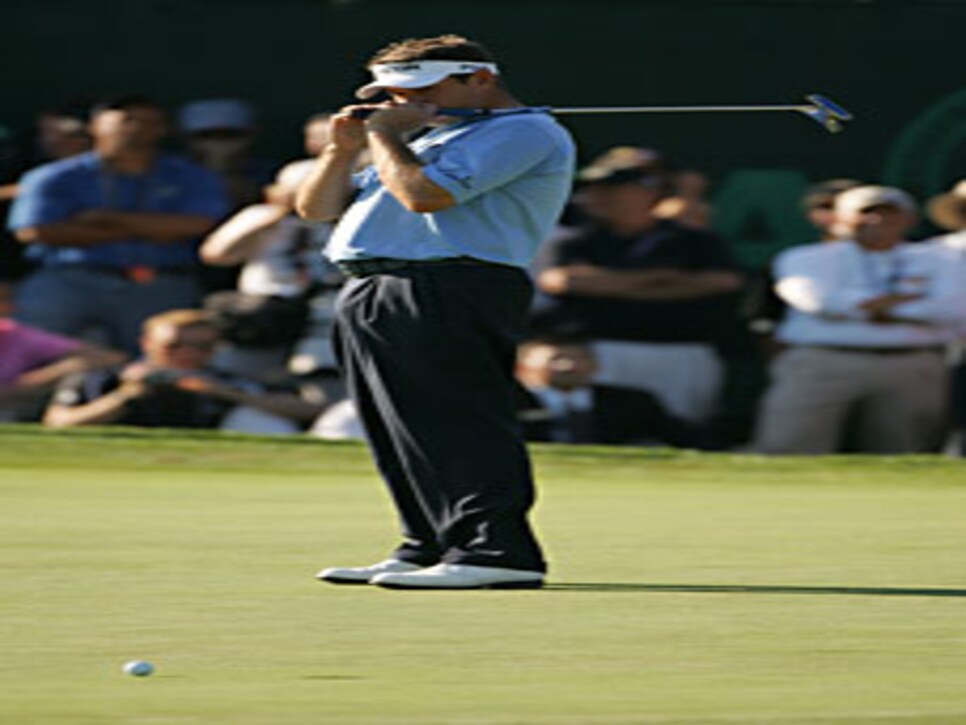 It was an accurate but interesting choice of words from the world's No. 2 player, a native San Diegan whose U.S. Open chances, at least on paper, were never better. Lingering questions about Woods' surgically repaired knee and a victory last month at the Colonial had a lot of people thinking this would be Mickelson's year. When it came to separation, however, Philly Mick managed to distinguish himself only by deciding not to carry a driver in the first two rounds.
Talk about storylines that wouldn't die. Thirty-six holes and 12 of 28 fairways later, Mickelson's sacrifice of premium length had backfired. Seven shots off the lead heading into Saturday, he had proven no more precise with his 3-wood, and when he did put himself in scoring positions, birdies were hard to find -- just one on the front nine over the first two rounds and just 39 greens in regulation all week, which ranked Mickelson in the bottom third among the 80 players who made the cut.
A quadruple-bogey 9 at the par-5 13th Saturday relegated Lefty to warmup-act status for the rest of the weekend. His ditching of the driver gave this tournament a sexy early hook, an element of softcore controversy, but in the final analysis, the math was both cut and dried. Less thinking + less dinking = less stinking. "On Tuesday, my energy level was up," Mickelson said. "I felt like my game was there, felt like I was ready. I just didn't score. I didn't perform."
In tweaking the dials on the dynamics of the competition, Davis' top priority was to create hearty scoring swings as opposed to the par-bogey rut that had become this event's trademark. Woods' scorecards served as a collective tribute to that mentality -- he made 13 birdies and three eagles in 72 holes of regulation, barely offsetting 10 bogeys and four doubles, three of which he managed at the par-4 first.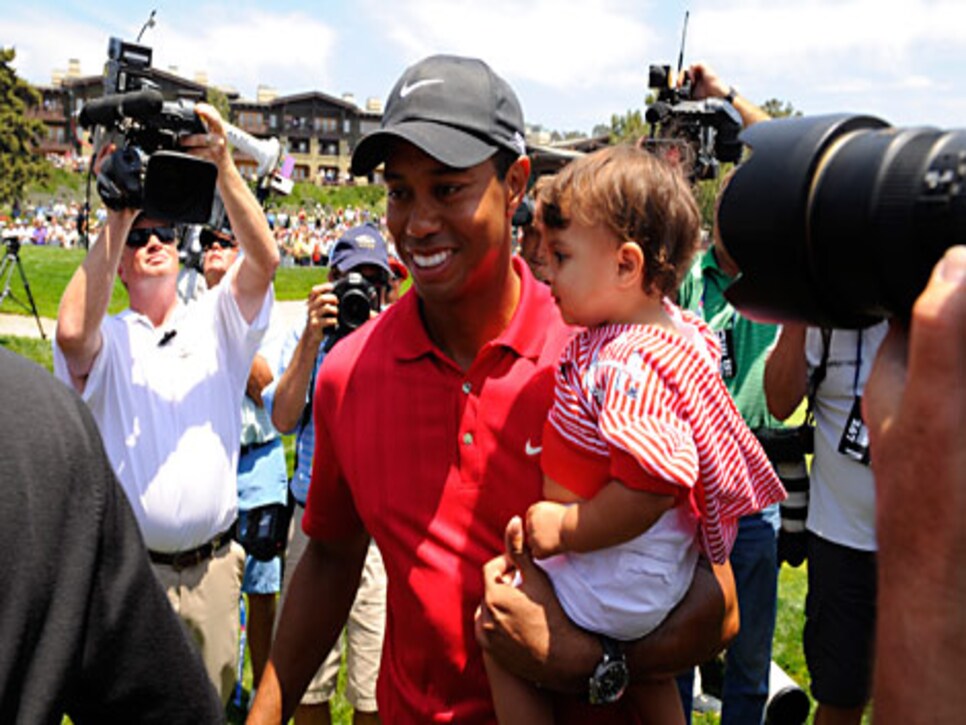 "Got off to such a quick start again," Tiger cracked moments after forcing the playoff. By then, it was OK to laugh.
Before Monday's duel, the third and sixth had been the only holes Tiger parred every day (he bogeyed the third and birdied the sixth against Mediate). A nebulous statistic, it nonetheless signified the never-a-dull-moment scenario that made this performance unforgettable long before Sunday's birdie at the buzzer. It's easy now to overlook the opening 72, Woods' first official round since his mid-April surgery, but at the very least, it was an omen.
On a day of lengthy par-saves and moment-of-contact pain, Tiger didn't look like a contender. Nine holes into Friday, he was still plodding along at three over, his every move scrutinized, and not because he was the centerpiece of the USGA's inaugural supergroup threesome with Mickelson and Adam Scott. Even after a center-cut, 350-yard bomb off the 18th tee Thursday, Woods could not hide the discomfort coming from his surgically repaired limb.
In a manner of speaking, it hurt him more than it hurt his game. "He was hitting it 30 yards past Adam the first two days," said Woods' swing coach, Hank Haney. "I couldn't believe it. I think he got better at dealing with it later in the week, and we don't want to make excuses, but how could [the surgery] not affect him?"
With virtually no advance warning, Woods grabbed this U.S. Open by the neck, bum leg and all. His drive at the first hole of the second round, which he began on the 10th tee, came within inches of parking behind a tree. Standing on a cement cart path, Tiger's knee appeared to buckle as he whipped a low 8-iron to 18 feet right of the flag. The ensuing birdie launched perhaps his tidiest stretch of major-championship golf in recent years: five consecutive 3s, four of them birdies, and a front-side 30 that left him one behind Stuart Appleby.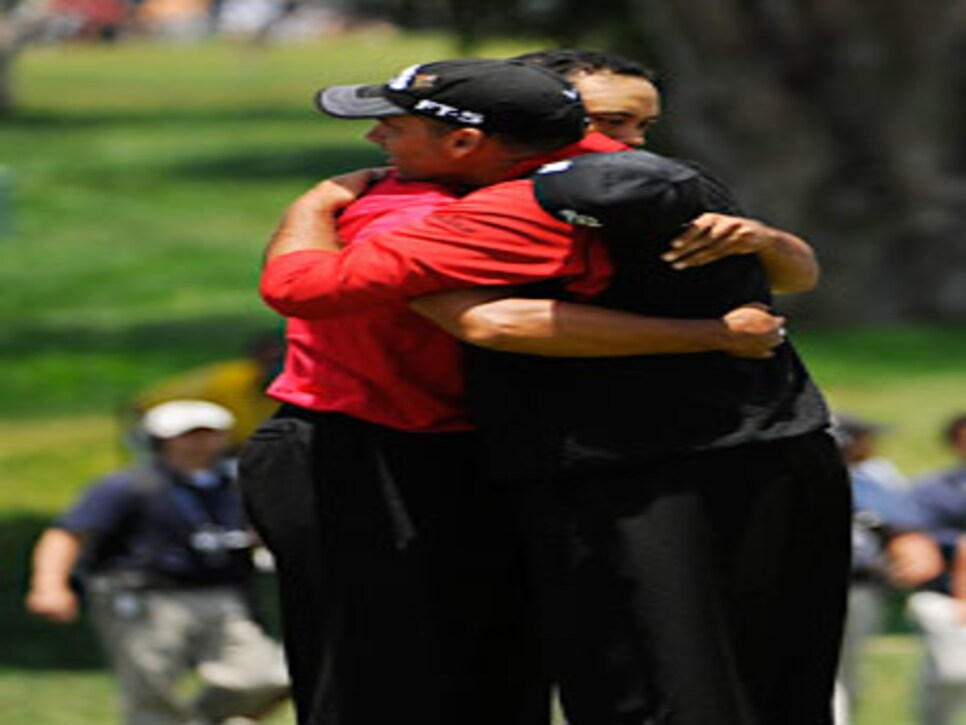 An inch here, a foot there, and Woods could have been anywhere. Asked about the danger of playing a shot while standing on concrete in metal spikes with a gimpy leg, his answer was more commercial than the 8-iron. "That's part of the deal," he said. "It is what it is. I would much rather have the [clean] lie."
If it is what it is, Tiger's back nine Saturday was Picasso with a swoosh on his hat. It featured not one, not two, but three shots for the career highlight reel: After a towering 5-iron from dry grass right of the 13th fairway stopped on the back edge of the green, Woods dunked the 66-footer for eagle. "We're just trying to hit [the second shot] into the back bunker," Williams would say. "That's all you want, but it landed unbelievably soft."
You don't tug on Superman's cape. You don't spit into the wind. "The putt was one of those things I can't explain," Williams added. "For some reason, I just had a [good] feeling about that one." As it curled left and made a beeline for the cup, the murmurs became roars, the roars delirium. To call it the greatest putt of his career is like picking a flavor of ice cream, and not a bit less fun.
Mr. Woods, any thoughts? "I was thinking that if I got the speed right, I might be able to get it inside three feet," he surmised, and from there, the fireworks would not stop. Lucky not to be in a greenside bunker at the 17th, Tiger's uphill chip came off his club hot but one-hopped into the hole, a dash of luck he played to full effect. At the par-5 18th, he wiggled a shortish drive to the center of the fairway but faced an approach perhaps 30 to 40 yards longer than his usual poke.
The subsequent 5-wood had dinner with the clouds, then returned to earth 40 feet above the flag. Woods holed the eagle putt, a cherry atop his Saturday, to grab a one-stroke lead and see if he could extend that streak of 13 consecutive major victories when leading after 54 holes.
An excellent golfer on two healthy legs, Woods seemed to be making yet another statement with one of them malfunctioning, which is, uh, really saying something. Should he play in next month's British Open with an arm tied behind his back? It's easy to see how Tiger's dominance might function as a depressant for all upper-level tour pros, but on this particular occasion, a weak knee scribbled a few loopholes into the Sunday guarantee. "I haven't talked to him, so it's not like I know something, but that's a pretty big intangible," said Lee Janzen, who is friendly with Tiger and a longtime pal of Mediate's.
Ah. Sunday. For all the great stuff produced on Stupefying Saturday, it was as if this U.S. Open woke up the next morning and remembered it was a U.S. Open. There were long stretches when the leader board seemed frozen -- very little shuffling and a slow leak back toward over par. Woods did his part by making another mess of the first, but the triple-tree double bogey still left him just a stroke behind Mediate. As insurmountable deficits go, this didn't rank.
Five hours later, the same small cast of characters was doing its best to tread water, although some eventually fled for shore. Geoff Ogilvy's bid ended with bogeys at the ninth and 10th, two of the easier holes on the grounds. Lee Westwood had shares of the lead early and hung around as long as a man could without needing to extend his hotel reservation. On a 20-footer for birdie and a spot in the playoff, however, Westwood came up short and low.
Cue Tiger, who buried the 12-footer to once again prove he's 10 feet tall. The next afternoon, having finally disposed of Mediate, the champ joined the rest of the VIPs on that same 18th green for the USGA's awards presentation. But of the thousand people to gather on that oval, none would be more conspicuous than Sam Woods, who would celebrate her first birthday on Wednesday.
She may not have the baby fist-pump down just yet, but when Tiger tried passing Sam to his wife, Elin, in order to free up his arms for the big silver chalice, the young lady wanted no one but her daddy. Father's Day had come and gone. Sam's old man apparently hasn't.
Tiger Woods has a knack for the dramatic on the greens, making his 12-footer on the 72nd hole Sunday (along with the 66- and 40-footers for eagle Saturday) additions to an already lengthy list of clutch putts in his career.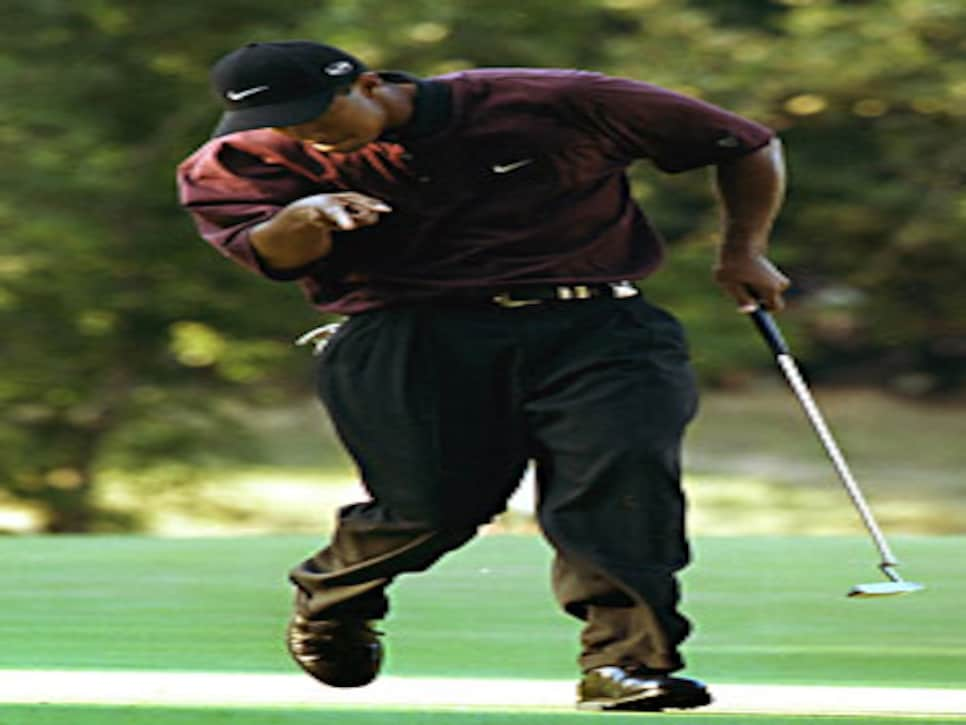 1994 U.S. Amateur Woods knocked in a 20-footer on TPC Sawgrass's 17th hole to go 1 up on Trip Kuehne, and won his first Amateur one hole later.
1996 U.S. Amateur One down to Steve Scott on the 35th hole in the final, Woods holed a 30-foot birdie putt to square the match, and went on to win on the 38th hole.
1999 PGA Championship A seven-footer for par on the 71st hole, a tricky left-to-right slider, kept Woods in the lead and he went on to win his first major since the 1997 Masters.
2000 Mercedes Woods drained a 45-footer for birdie on the second hole of sudden death to beat Ernie Els.
2000 PGA Championship Woods made a six-footer on the 72nd hole to tie Bob May, then took control of their three-hole playoff with a 25-foot birdie putt on Valhalla's 16th, chasing the ball to the hole and pointing his finger at it as it dropped.
2001 Players Woods' curling, downhill 60-footer for birdie on the 17th hole in the third round has become a staple of highlight reels.
2005 Masters Woods made short work of his playoff with Chris DiMarco, sinking a 15-footer for birdie on the first hole to clinch his fourth Masters title.
2008 Arnold Palmer Invitational Woods slammed the door -- and his cap -- with a 25-footer on the last hole to beat Bart Bryant.