News
Thoughts From Torrey Pines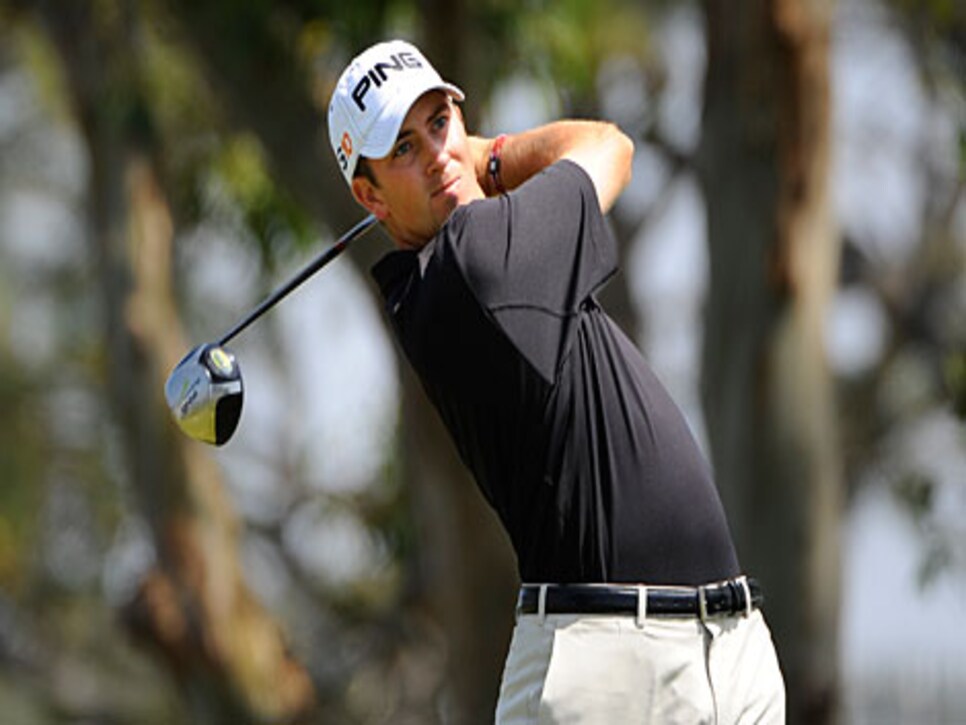 Thompson, who played for Tulane and Alabama, won the gold medal for his T-29, tops among the three amateurs who made the cut.
There might not be a more romantic idea in golf than that of an amateur winning the U.S. Open. It has only happened eight times, and four of those titles were seized by one of the game's iconic figures, Bobby Jones, from 1923-1930, the final one constituting a leg in Jones' historic Grand Slam. Perhaps only Jones' last U.S. Open triumph resonated as far and wide as Francis Ouimet's in 1913, when the 20-year-old former caddie defeated British titan professionals Harry Vardon and Ted Ray in a playoff at The Country Club in Massachusetts. Between Ouimet and Jones there was Jerry Travers in 1915 at Baltusrol and Chick Evans in 1916 at Minikahda Club in Minneapolis.
The fifth and final amateur to claim the championship was Johnny Goodman at North Shore CC in Glenview, Ill., in 1933. The clock is at 75 years and counting; the notion of an amateur Open champion not only is fanciful, it is as antique as anything in the game, right up there with shirts without logos and tournament golfers without yardage books.
Of the 11 amateurs in the field at last week's U.S. Open at Torrey Pines' South course in La Jolla, Calif., a couple of the fresh-faced collegians and those who had recently departed campus said they were in it to win it, but the words had the hollow ring of a politician trying to keep up appearances on a night when most of the precincts aren't going his way. There is no shame in setting one's sights high, but reality usually sets in early for amateurs at the Open, especially if they had bothered to study the recent results of their brethren.
In the last two decades only three amateurs (Billy Mayfair, T-25, 1988; Matt Kuchar, T-14, 1998; Spencer Levin, T-13, 2004) have finished in the top 25 at an Open. At Winged Foot in 2006 and Oakmont last year, not a single amateur survived the 36-hole cut. The drought made Kuchar's run at the Olympic Club—which followed a stirring challenge at the '98 Masters—seem as if it was tucked away deep in a time capsule. Kuchar competed at Torrey Pines, but the memory of his week in the sun in San Francisco, with his father, Peter, as his caddie, is still fresh.
"We have some photos back at my mom and dad's house that are some of my favorites," said Kuchar, not looking much older than he did a decade ago. "In one of the pictures, I'm playing a shot to the 18th hole, and there are thousands of fans on the hillside. I had a pretty magical ride there. That final Sunday was my 20th birthday. With it being Father's Day and having my dad on the bag, it was like a fairy-tale story for me."
Just a few years before Kuchar's captivating performance, a player with glossier credentials didn't fare so well in his two U.S. Open appearances as an amateur. Tiger Woods withdrew during the 1995 championship at Shinnecock Hills after spraining his wrist hitting a shot out of deep rough, and he was T-82 the next year at Oakland Hills. It is the only place, in fact, where Woods comes up short to Jack Nicklaus at a comparable juncture in their competitive chronologies. In an intersection of stars past, present and future at Cherry Hills in 1960 (Arnold Palmer won and Ben Hogan was T-9), Nicklaus finished second while paired with Hogan for the double-round final day.
"I played 36 holes today with a kid who should have won this thing by 10 strokes," Hogan said of Nicklaus, who played similarly strong during a T-4 at Oakland Hills in the 1961 Open before winning his first U.S. Open as a rookie professional in 1962.
"I think it could happen, but they'd have to play pretty darn good," said 23-year-old Michael Thompson, who won low-amateur honors last week with a T-29 finish at eight-over 292, nine strokes out of the Woods-Rocco Mediate playoff. "If anybody was going to do it as an amateur, it would've been Tiger. Maybe some day it will happen, but I don't know about in my lifetime."
The last amateur to win the U.S. Open, to do what even Woods could not, was not on anybody's short list of favorites heading into the 1933 championship despite his runner-up finish in the 1932 U.S. Amateur and T-14 in the 1932 U.S. Open. It was a miracle Goodman even became interested in golf, much less good enough to contend on the national stage. He was the eighth of 12 children from a poor Lithuanian family in Omaha, and many of his relatives scraped out a living in the grim environment of the city's slaughterhouses. Goodman's mother, Rose, died when he was 14, and his father, William, soon left the family, orphaning the large brood.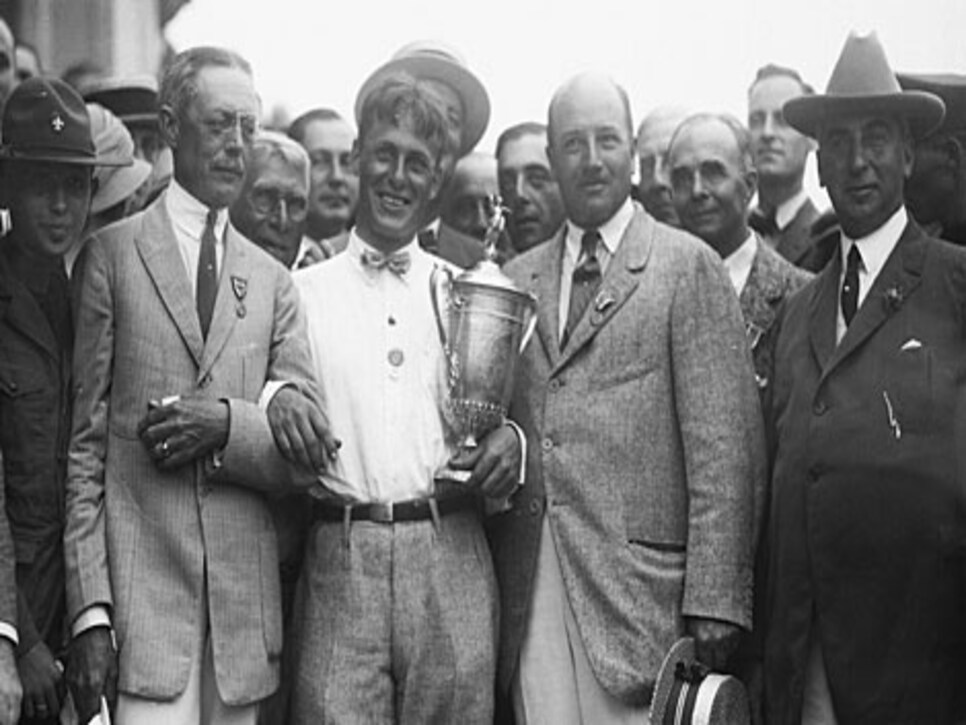 As author Michael Blaine explained in his fine 2006 biography of Goodman, The King of Swings, the teenager was left to fend for himself. "There was little social welfare at the time, and Johnny might easily have ended up unemployed and wandering the streets," Blaine writes. "Instead, despite taking the worst possible emotional blows, he had managed to find work and put a roof over his head."
Goodman embraced golf, which he had discovered as a caddie at the city's prestigious Field Club, and despite his difficult circumstances he set his sights on being an amateur golfer/gentleman golfer in the mold of Jones. "Bobby Jones was seducing an entire country," Blaine writes. "How could the young Johnny Goodman, already under golf's spell, resist his allure?"
A victory at the Omaha city championship when he was 15 powered Goodman toward more golf accomplishments. He won the 1927 Trans-Mississippi Amateur and, in the first round of the 1929 U.S. Amateur at Pebble Beach, Goodman won a shocking victory over his hero, Jones. Four years later he shot an uninspiring 75 in the first round of the U.S. Open outside Chicago, but he roared back with a second-round 66 that tied Gene Sarazen's championship record. Goodman shot a third-round 70 to increase his lead to six strokes over Ralph Guldahl.
Goodman's final round started no less successfully. He began with a par, eagle and birdie to increase his lead to nine shots. Perhaps typifying how hard it is for anyone to corral an Open—especially an amateur—Goodman then got into trouble after changing his mind-set. "I decided to go on the defensive," he recalled. "I knew I had a lot of strokes in hand, so I thought, 'Now I won't go out after anything more. I will just play carefully and easily and hang onto this lead, or as much of it as I can. It ought to be enough.' "
But he lost six strokes over the next six holes, and with nine holes left he led Guldhal by only two strokes. By the 14th hole Guldahl had gotten them all back. Goodman, perhaps steeled by his difficult upbringing, didn't wilt in the stifling heat despite his horrendous stretch. "So outstanding credit is due Johnny Goodman for the brave rally that followed his sinking spell," Grantland Rice wrote in The American Golfer. "He was sinking fast. His game was breaking up. It is a terrific burden to know that you have had a big lead shot away, a sure, wide margin blown apart. Few can come back against such a hostile surf. Panic usually sets in. But under this strain Goodman played the last four holes in par, and he got his 4 where he needed it most, on the final green."
That closing par gave Goodman a 76 for 287, and he waited to see if Guldahl could catch him. Playing the 18th Guldahl needed par to tie Goodman. He hit his approach into a greenside bunker but hit a superb recovery shot four feet from the cup. He missed it on the left. Goodman was sitting in the locker room when he found out he had won. "It was his cool, comfortable, confident manner of chipping and putting that turned the trick," Jones later wrote in praise of the new champion, who would further emulate his idol by winning the 1937 U.S. Amateur. "He did a fine and workmanlike job in winning."
Although no amateur would claim the ultimate prize in the years after World War II, the post-war years were golden times for golfers for whom the sport was an avocation—amateurs had 27 top-25 finishes from 1948-1967. Starting with Frank Souchak's T-9 at Oakmont in 1953, an amateur finished in the top 10 of the Open for five straight years. North Carolina lumber salesman Billy Joe Patton was T-6 at Baltusrol and T-8 at Inverness in 1957; Harvie Ward was T-7 at Olympic Club in 1955; Ken Venturi was eighth at Oak Hill in 1956.
Patton, who might have won the 1954 Masters if he hadn't hit into the water on Nos. 13 and 15 in the last round, was a dynamic player not lacking in confidence or recovery shots, his tee shots often putting him in positions where he had to improvise like a jazz great. Patton was paired with Hogan for the final 36 holes of the '54 Open after having led the first round with a 69. William C. (Bill) Campbell recalled longtime USGA official Ike Grainger's memory of a conversation at the first tee that day. "Ike said, 'Joe, you got a pretty good pairing, didn't you?' " Campbell said. "And Patton said, 'Yes sir, and everybody I've played with this year [meaning the Masters and Open] I've beaten.' Ike could see past him to Hogan. Cigarette in his mouth and his eyes like slits. He didn't like that."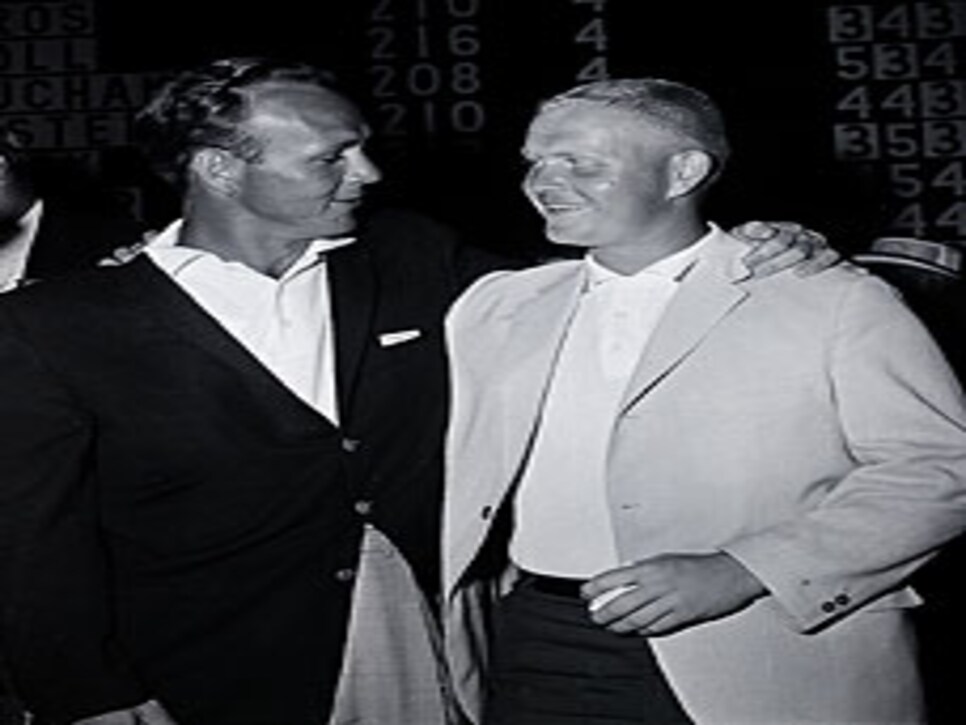 Not far into the round, Patton sprayed a drive into very tall grass but slashed an 8-iron approach tight to the pin, much to the chagrin of the businesslike, fairways-and-greens Hogan. "I can't stand this," Hogan said as Patton's recovery sailed out of trouble and into close birdie range.
Patton had a home-brewed swing, jitterbug quick with an aggressive downswing. "He was really long," Campbell recalled of his old friend. "He had a funny action if you looked at it in slow motion. Billy Joe didn't go through the shot with his body. He pulled his left hip out of the way very quickly. I've never seen anybody do it exactly that way. He generated great power as a result. He wasn't a big man, but he was built like Palmer, like a halfback."
Campbell, who qualified for 15 U.S. Opens between 1949 and 1975, uses his career highlight as a way to note how the upper echelon of golf has evolved. "Guys are ready to turn pro when they finish college," said Campbell. "There is no loss of respect now if someone doesn't make it as a pro and they can become reinstated amateurs. Since I won the U.S. Amateur in 1964, there have been only two people who have won the U.S. Amateur and not turned pro—Vinny Giles and Fred Ridley. That's a long period of time to only have two guys [remain amateur]. I think it would be wonderful if an amateur could win the Open, but I don't think it is likely."
In addition to Nicklaus' U.S. Open brilliance in 1960-61, Deane Beman had three top-15 finishes as an amateur (T-12, 1961; T-14, 1962; T-11, 1965). Johnny Miller played his way to a T-8 as a 19-year-old in 1966 when the national championship was at his home course, the Olympic Club. In 1967 Marty Fleckman led at Baltusrol through 54 holes before skying to a final-round 80 to finish T-18. None of these golfers, though, acquitted themselves as well as 21-year-old Jim Simons in the 1971 Open at Merion.
Having already played in two Opens (1967 and '68), the methodical Simons shot a third-round 65 at Merion to take a two-stroke lead over Nicklaus. As self-assured as Simons was, however, he still said after his fantastic round, "It's hard for me to imagine winning the United States Open at this stage." The next morning the weight of the moment began to settle in. His roommate at Wake Forest, Lanny Wadkins, noticed Simons put his shirt on backward. Loaded up with his golf bag, suitcase and a carry-on, Simons took about 10 minutes to locate his car in the hotel parking lot, giving his body an unexpected and unwanted strain. "It was on the drive [to Merion] that I started to notice that this little walk around the lot had turned into quite a workout for me," Simons told Golf World in 2000, five years before his untimely death at 55. "When I got to the course, my muscles were shaking. 'Oh, no, what have I done?' I thought. Like most players, I wasn't doing any conditioning at the time, so it wasn't like I'd have a way to recover. A bigger problem was my mental outlook. For the first time all week, I began to have doubts about whether I was completely in command."
Simons put aside the awkward start to his day to play commendably well while paired with Nicklaus. He didn't lose the lead until a bogey at No. 10. Third-round leaders don't tend to win U.S. Opens, and Simons wouldn't either, although he was on top as late as the 14th hole and trailed by only one shot going to the 18th. A poor drive on 18 was followed by a bold attempt with a fairway wood from a tough lie. Simons shot 76 to finish T-5 at 283, three shots behind Nicklaus and Lee Trevino with the second-best 72-hole score by an amateur in U.S. Open history (after Nicklaus' 282 in 1960). Simons walked away with the gold medal and praise from Nicklaus for the calm way he had performed under pressure. "I'll never forget what Nicklaus said to me when we walked off the final green," Simons said in 2000. "[He said] 'You played a lot better than 76. You didn't make a nervous stroke all day.' "
This year's U.S. Open amateur contingent ranged from 19-year-old Oklahoma State teammates Rickie Fowler and Kevin Tway to 47-year-old Brit Gary Wolstenholme, an alternate who didn't get into the tournament until Wednesday afternoon and scurried to get in one practice round. (The USGA's prohibition against alternates using the course seems like an unnecessary rule; if some would-be participants travel to the site, it would seem fair to let them play a practice round in anticipation that they might get in the field.) Wolstenholme didn't blame his 83-82 on a lack of preparation but did wonder how worthwhile his trip had been. "On reflection it's been a great experience," he said, "but I'd probably been better off staying home to be honest."
None of the other amateurs had any such qualms, regardless of their scores. New Yorker Michael Quagliano, a 21-year-old Duke golfer, shot 86-81 but relished the experience—even the practice rounds—in part because a back malady had taken him away from the game for months. "People are asking me for my autograph," he said with a measure of satisfaction as he walked off the 18th green last Wednesday afternoon. "I wish I had more days like this."
Jimmy Henderson (81-82), a 34-year-old reinstated amateur from Ohio who sells AstroTurf after a number of years in the pro golf wilderness, savored every precious par (and especially the four birdies) he carded. "I made a big, long putt on No. 11, and the crowd exploded," he said Friday afternoon. "I've never experienced anything like that in my life." Come Monday, it was back to work, making phone calls and visits to clients in Ohio and West Virginia.
The soft-spoken Tway (75-78), whose father, Bob, the 1986 PGA Championship winner, caddied for him, had a rough start to the second round, going seven over through seven holes before settling down. He missed the cut by four strokes, which wasn't as close a call as the one endured by Clemson's Kyle Stanley. The Tiger birdied his 18th hole Friday to finish at eight-over 150, but when 36-hole leader Stuart Appleby birdied his final hole to get to three-under 139, the cut (10-shot rule) bumped out 11 golfers at 150.
Bob Tway said having an active role in Kevin's experience was easier than if he had been a spectator ("For me, that's very, very nerve-racking," he said). He thought the week was about his son's learning to play smart and handle pressure. "You have to minimize the damage, and I think they get a little flustered," Bob said of young players such as Kevin. "When they get the ball in trouble, they're not able to think clearly enough to get their bogey and move on to the next hole. Even when you've got your dad-buddy-caddie out there, you have to do it yourself. It's tough. That's why it's such a wonderful thing to be in this championship at an early age."
The younger Tway, whose height and slim build mimic his father's, has a textbook-style swing, but that isn't the case with his good pal Fowler. A member of the 2007 U.S. Walker Cup team and a first-team All-America as a college freshman, the Californian has an individualistic, fast swing that he prefers to keep sharp by playing a lot (instead of hitting buckets of practice balls like many in his generation). "I'm not a person to go out and hit balls on the range for three hours," Fowler said. "I'd rather go out and play some guy for $10 in a friendly match." Often that guy is Kevin Tway, whose father encouraged him to play as much against Fowler as he could to get battle tough.
Fowler takes the club back in an instinctive whirl, a bit outside, before re-routing it on the downswing, which features an aggressive left-hip snap through the ball that is not unlike the way Patton swung the club. "It's my own thing," Fowler said of his action. "I get the job done my own way. It doesn't have to look pretty to be good. It hasn't failed me yet."
Oklahoma State men's golf coach Mike McGraw, who was hustling about Torrey Pines trying to see as much of both his stars as he could before returning to his golf camp in Stillwater, agrees that Fowler's way is right for him. "He's more of a feel player, and you don't see as many of them nowadays," said McGraw. "He plays golf with a lot of charisma and flair, a lot like the way he used to ride motorcycles—just goes for it. He is a throwback, definitely not your prototypical 2008 college golfer. I'm not going to touch his swing. I think that would be the wrong thing to do. He can figure things out himself. He doesn't have to have somebody else jump in and figure it out."
The self-sufficient Fowler, whose longish hair and demeanor project a California cool, shot a smooth 70 in the first round to get on the leader board and trail Kevin Streelman and Justin Hicks by only two shots, but he wasn't as successful Friday, shooting a 79. Still, along with Derek Fathauer (73-73) and Thompson (74-73), it was the third-largest number of amateurs to make an Open cut since 1980 (four played 72 holes in 1996 and 2004).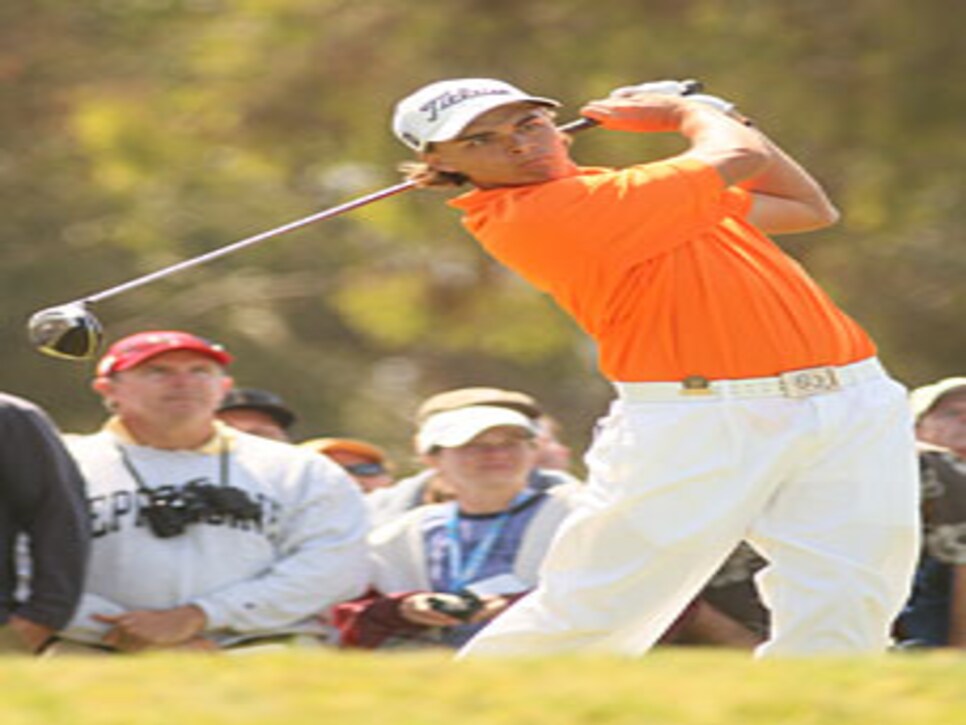 "It's been an awesome week," Fowler said Sunday, when he wore Oklahoma State-orange slacks visible through the most dense marine layer. "I'll probably remember the 18th hole. I had 230 to the front edge of the green. Wind was slightly into us. Normally, I hit my hybrid 230 total in this air. It was kind of gutsy taking a hybird and trying to get it there [over water], but I just swung as hard as I could and hit it as good as I could to pull it off." Fowler two-putted from 25 feet for a closing 72—297 that edged Fathauer (75—299) for the silver medal.
Aside from the gold medal he got for being low amateur, Thompson—who had his longtime golf instructor Susie Meyers caddieing for him—will benefit from a PGA Tour stipulation that allows any golfer who completes 72 holes in a major or the Players championship to bypass the first stage of that year's Q school. "I learned that I have a lot more composure than I thought I did," Thompson said. "I never gave up this week, and I'm very proud of that. The last couple of days I've gotten off to some pretty bad starts and played one under from there on in. And that speaks more than if I would have finished second. I was hitting the ball pretty decent, but not my best, so I think the way I played, I've got some good things to look forward to."
Another Open as an amateur is not among them. Thompson will compete in this week's Travelers Championship and then conclude his amateur career as a member of the U.S. Palmer Cup team in two weeks. "I feel like I belong out here," said the Tucson native who went to Alabama after Hurricane Katrina aborted his enrollment at Tulane. "This is fun. I don't feel any different than the rest of the pros out here. I will miss Alabama. I'm going to miss being in that atmosphere and playing for a team. But at the same time, I'm ready to start my life."
As Thompson walked up the 18th fairway Sunday afternoon, a spectator who noticed his score said to no one in particular, "Pretty damn good for an amateur."
Yes, indeed it was a fine showing by an amateur, but it was a long way from winning, a far cry from what Goodman achieved in 1933 or even what Patton, Nicklaus and Simons nearly accomplished. Goodman was only 60 years old when he died of a heart attack in 1970, but his distinction as the last man playing for fun to conquer the serious business of a U.S. Open most likely will never change. For amateurs in the Open, fairy tales have to be graded on a curve.