News
Patience first: Leonard put lessons learned to use on a tough course.
Upstaged by pairings for this week's U.S. Open, a guy with a bad wheel in a golf cart, four stiffs in golf's version of "Lost" and a losing horse, Justin Leonard took another step back from the chaos that was his career just over a year ago by winning his second Stanford St. Jude Championship, in a playoff against Masters champion Trevor Immelman and another guy who hadn't lost a playoff since, like, the day he was born, Robert Allenby.
While most everyone may have been focusing on Big Brown, the Big Kikuyu Challenge, the impending return of Mr. Big and the Big Traffic Jam that no doubt will swirl around Tiger Woods and Phil Mickelson at Torrey Pines, Leonard focused instead on the task at hand, preparing for the Open by practicing the patience he has learned, at least in part, from sport psychologist Dick Coop.
Three years ago Leonard won his first tournament in Memphis, going into the final round with a Tiger-like insurmountable eight-shot lead that very nearly got surmounted by David Toms. That time Leonard managed to crawl out the back door with a one-stroke win. Last year the '97 British Open champion began the season by missing six straight cuts and looking more than a little Lost himself. He went back to his longtime swing instructor, Randy Smith, and turned to Coop for help.
"All the credit goes to [Justin]," Coop says. "In some ways, he was trying too hard. Sometimes you try to grab a course and squeeze a score out of it and that doesn't work. He's learned a lot of patience." In fact, that was the topic of their dinner conversation Saturday night. Coop had walked the course with Leonard for three days and said watching him play was like watching, "a sailboat captain work his way around."
And, while TPC Southwind is more likely to be mistaken for Tunica Pines than Torrey Pines, as Leonard pointed out, "Par is a good score. And you got to come here this week and grind out a lot of pars, and that's certainly going to be part of the task next week."
This is not Leonard's first victory since the depths of his slump but, with all due respect to the Valero Texas Open, this leader board offered an impressive collection of ball-strikers. Immelman and Allenby tied Leonard at four-under 276, but Sergio Garcia, the recent king of the Players, and the reigning British Open champion, Padraig Harrington, were just a shot out of the playoff, along with Boo Weekley and a guy who escaped from Communist Czechoslovakia by swimming across a river, Alex Cjeka. Even Vijay Singh was in the hunt until he pulled a tee shot out-of-bounds on the 12th. "It was a milestone," Coop said of the victory. "If you can beat the guys he beat [today], you can beat anybody." See Tiger & Phil, above.
At various points Sunday, it seemed as if anyone who ate ribs at the Rendezvous had a chance to win. Tom Pernice Jr. shot the week's lowest round, a 63, to post at two under and couldn't leave town until Garcia finished one better. Allenby, who was the Elvis of playoffs with a 10-0 record until this trip to Memphis, finished birdie-par-birdie (lipping out on the 17th and hitting it to two feet at the last) to close with a 65 and make four under the mark. Weekley's bunker shot on the 17th landed in the cup and bounced out, and he finished at three under. Harrington burned the right edge of the cup on the 18th to wind up tied with Weekley and Garcia. Gavin Coles teed off on 18 at four under, hit his 3-wood in the right rough, his 5-iron in the greenside bunker and made double bogey.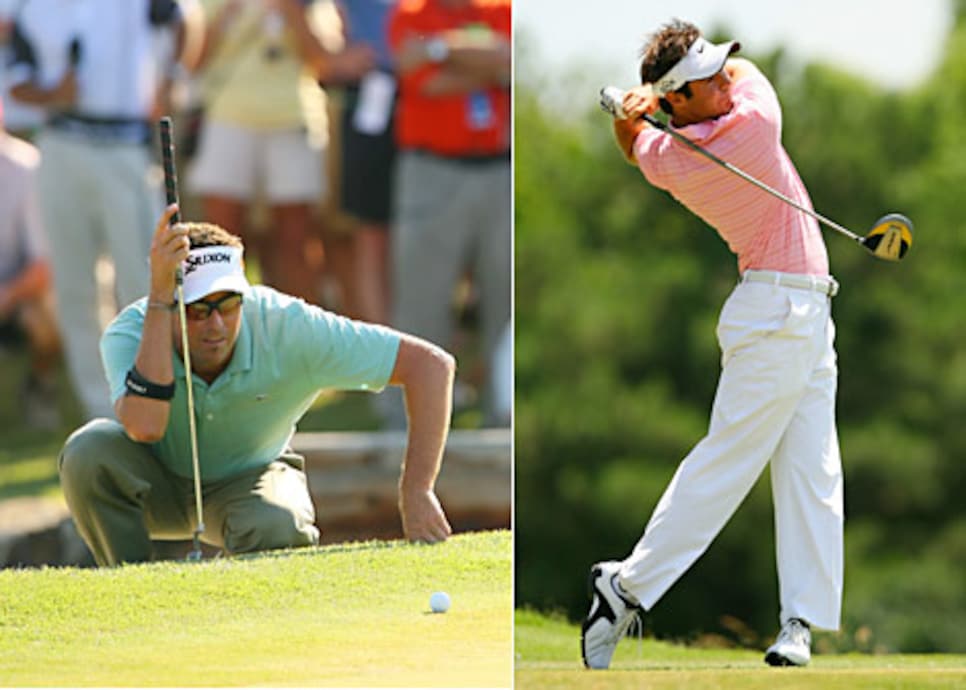 Leonard seized the lead at five under par when he hit a sand wedge out of the left rough on the 15th to a foot. He failed to birdie the par-5 16th, however, to give himself a little margin for error, then drove it behind the trees on the right of the 17th fairway. He had to pitch the ball out from a thick lie, then knocked his approach to 15 feet but missed. Almost as much as the victory, the 18th was a sign of how far Leonard has come back. After losing his momentum on the 16th and 17th, he played a solid 4-wood off the tee, hit a 6-iron to 13 feet and burned the left edge with a potentially winning putt that looked like it was in all the way. "The ball did everything but go in," Leonard said.
Masters champ Immelman tuned up for U.S. Open week by finishing regulation birdie-birdie-birdie, getting up and down from beside the TV tower behind the 16th, knocking a 6-iron 15 feet from the hole on the 17th and then holing a 23-footer at the last to make it a three-way tie.
All of the playoff competitors parred the 18th, then went to the par-3 11th, making it the second island green of the year to close out a match (remember the Players?). All hit excellent shots at a tightly tucked pin. Allenby's 9-iron stopped 22 feet away, Leonard's 8-iron was 19 feet and Immelman, also with an 8-iron, was the closest at 11. Miss. Make. Miss.
Wooly worms crawl faster than Leonard's putt was going when it fell over the edge. Even so, it was a stroke capable of setting dreams of Ryder Cups dancing across other greens. "This puts me in great position to make the Ryder Cup team. For the last nine years, I've been looking forward to one," Leonard said. "After you get drummed enough times, it's time to get it turned around, and I look forward to being a part of that."
Of course, your basic Boo Weekley interview is the best off-Broadway show in all of golf, and Memphis is about as off-Broadway as you can get. In fact, why not Boo the Musical? Beauty and the Boo. Oh! Boo! Phantom of the Boo. Maybe Cirque de Boo. The biggest celebrity in Scratch Ankle, Fla., grabbed the first-round lead at five-under 65, a shot ahead of Tommy Armour III. With an Armour and a Turnesa (Marc) among the top four places, you half-expected to turn around and see Doc Middlecoff sitting in the lounge with a Chesterfield and a see-through.
Boo won't be doing much between the two Open championships, what with Mrs. Boo (Karyn) expecting a little Boolet on the 26th. "But when she's gonna have it, is when she's gonna have it," says Boo, who was equally philosophical about his Ryder Cup future: "If I get elected, I get elected."
Boo, however, didn't get elected to lead after his 75 the second day at Southwindy, which was a pretty good place to be a sailboat captain all week. The first two rounds, in particular, were cursed with a bedeviling breeze, oscillating unpredictably from 15 to 30 miles per hour, wreaking havoc and just generally doling out thinking-too-much headaches. After a double bogey at the last dropped Armour out of a lead he had held much of the day, it looked like about half the Nationwide Tour was tied at three under par. Vijay Singh and Davis Love III were the names a shot behind Michael Bradley, Jason Dufner, Wilson, Armour, Coles and Turnesa.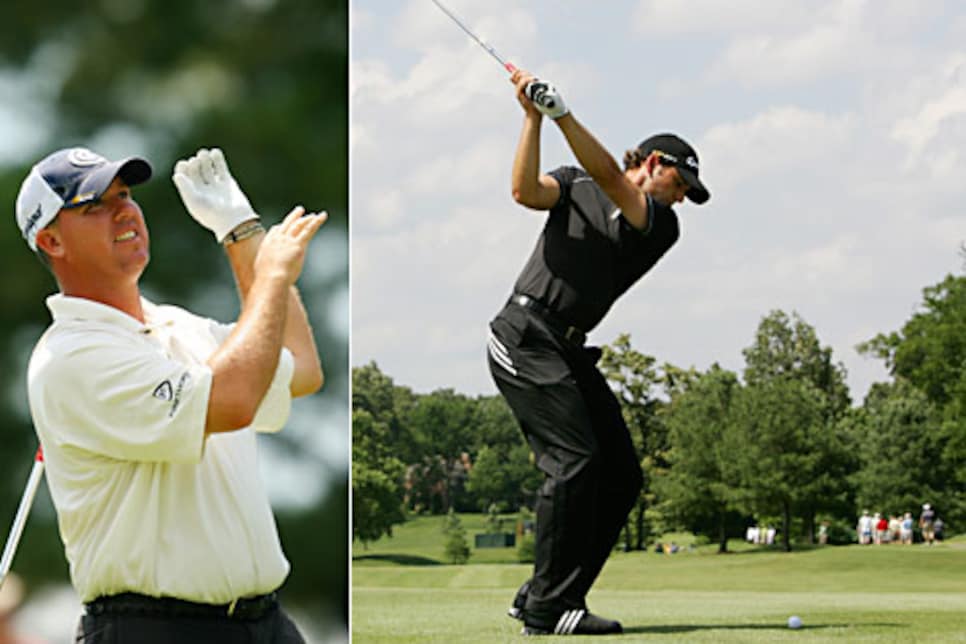 Tim Clark played his last five holes birdie, birdie, eagle, par, birdie to take the 54-hole lead as his pursuers stumbled. Turnesa bogeyed 16th and 18th. Wilson doubled the 17th. Stephen Ames bogeyed the last, as did Immelman, who was the marquee name among the five guys two shots behind Clark going into Sunday with Leonard, Ames, Singh and Wilson one further back.
Clark's first official act of the final round was to drive it out-of-bounds, which is a little like walking out your front door and having someone hit you in the forehead with a lead pipe. He was never the same. It quickly became anyone's game. Leonard was the one who stepped up in the end, but in his case it had been a pretty tough climb.