News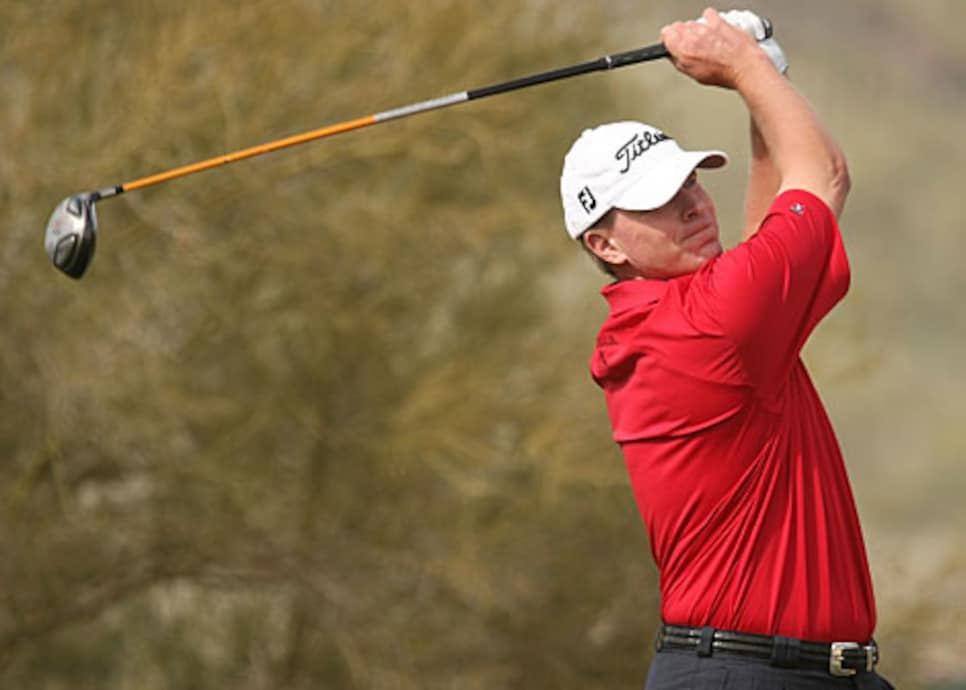 Consistent feel is why Stricker opts for heavier driver shafts.
One of the big benefits to PGA Tour players in the quest for greater distance has been the arrival of lightweight graphite shafts that can withstand the stress delivered by their powerful swings. It's a simple equation: The lighter the shaft, the faster the club can be swung. The faster the club is moving, the farther the ball goes. Such thinking has led brawny players such as Camilo Villegas to use a shaft as light as 60 grams—unheard of for tour players just a few years ago.
Some players, however, have decided to buck the trend, opting instead to use driver shafts decidedly heavier than most of their brethren. With distance considered such a precious commodity on tour, why would golfers consciously make the decision to leave yards on the table?
For Steve Stricker it's a matter of simply sticking with what has worked. "I've always used heavier shafts," said Stricker, who uses an 86-gram shaft. "I need to feel that weight during my swing. I've struggled with light. I've tried clubs with lightweight shafts, and it didn't work out too well for me."
Jim McIntosh, PGA Tour rep for shaftmaker UST, sees a couple of reasons some players have opted for meatier shafts. Fitness is one. McIntosh says players who regularly hit the fitness trailer can more easily handle the heavier shafts. The other reason is the number of tour pros using hybrids as fairway-wood replacements. "So many of the hybrids are heavy—about 230 grams, or about 15 percent heavier than most drivers—and the players don't like such a big difference in feel between the hybrid and the driver, especially those players who use all hybrids and no fairway woods."
As does Stricker, Brian Bateman wields a driver shaft weighing 86 grams. He does so because it gives him consistent weighting among his woods. "I've always used heavy shafts in my 3- and 5-woods," said Bateman. "Going heavier with the driver shaft keeps the feel similar. My swing speed is a little above average so I've always felt comfortable using heavier shafts. But you have to watch the stiffness of them, too. It can make the shaft feel lighter or heavier depending on how much play they have in them."
Although those using heavy driver shafts remain a small minority, fact is, if a player is struggling with a lightweight shaft in the driver, it is not a bad idea to swap it out for a beefier version. True, swing speed will diminish somewhat, but quite possibly accuracy will receive a boost. No matter how much you hear about the Bomb 'n Gouge style of play, anyone's game will benefit more from playing in the short grass than a couple of extra yards.
The reigning British Open champion, Padraig Harrington, has forsaken his long-time ally on the greens a week before the U.S. Open. At the Stanford St. Jude Championship, Harrington plied his trade with a SeeMore FGP putter after going with an Odyssey White Hot 2-Ball for more than five years.
Some players in Memphis relied on old friends, not the latest in high tech. David Toms, searching for a set of irons since March (he has tried both Cleveland's CG2 model and Mizunos he bought at a Florida retailer during the Tampa stop), returned to the Cleveland Tour Action irons he used to win at TPC Southwind in '04. … Ex-Memphis champ Bob Estes went back to the Bulls Eye putter he has used from time to time throughout his career. … John Daly got VIP treatment last week. He used a MacGregor VIP Tour putter and opened with a 72. Friday was another story. He did some putting with a wedge, shot 81 and missed the cut.