News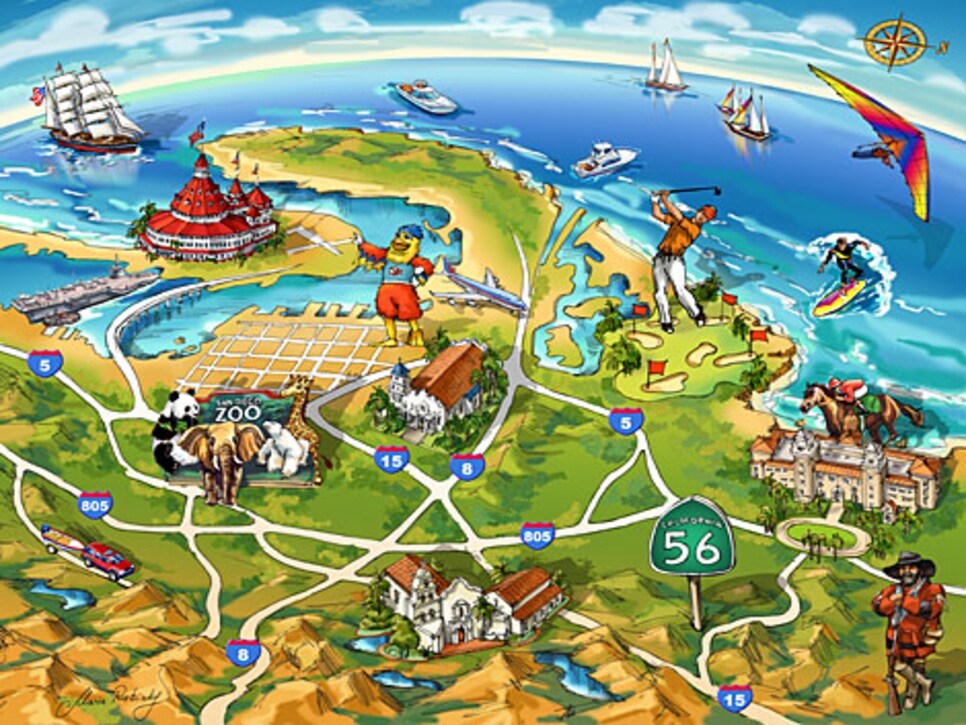 Outsiders often consider San Diego the shallow end of California, accusing its Coppertone culture of squeezing out more intellectual pursuits. Pallid critics further note that there are no seasons, as though character is a construct of autumn leaves and winter snow.
Insiders would argue that their scorn is actually envy in disguise. San Diego's sunny disposition hasn't shuttered its museums and galleries and libraries, but neither is it a fair fight. When the average daily high is 70.5 degrees, forget Keats.
Get kites. Outdoors usually prevails.
San Diego has its own poet laureate anyway, Theodore Geisel, who perhaps was glumly recalling his Massachusetts childhood when he wrote this verse:
"The sun did not shine. It was too wet to play. So we sat in the house all that cold, cold wet day."
When Geisel reached adulthood, he fled to warmer climes. He settled in San Diego's tranquil seaside community of La Jolla, home to Torrey Pines GC, site of the U.S. Open, and began writing under the pen name of Dr. Seuss. The aforementioned passage was written in San Diego (though obviously wasn't set there) and is the opening verse in The Cat in the Hat.
Who says San Diego lacks gravitas?
Labeling large cities, at any rate, would seem an exercise in futility, though it does not discourage attempts. Berkeley, Calif.-based writer David Reid has derisively identified San Diego as nothing more than "a sunny congeries of tourist attractions," inhabited by those dedicated to "bronzed outdoor living."
It is guilty of said congeries, which include SeaWorld, the San Diego Zoo, the Wild Animal Park, Legoland, and 70 miles of crowded beach that prove that oil (SPF-30 or higher recommended) and water do mix. Does that render it less urbane than, say, San Francisco, which decided that pets don't have owners, they have guardians and that an ordinance ought to stipulate so? Apparently cold summers addle the brain the same as warm summers do.
Yes, San Diego gave the world the Famous Chicken, next to Ted Williams its most significant contribution (for better or worse) to the sports world, the fowl that hatched the mascot industry. But it also is home to the Salk Institute, founded by Jonas Salk, the developer of the polio vaccine. It is among the leading research institutes in the world, four Nobel laureates anchoring its faculty, none of them skateboard maestros and therefore consigned to working in obscurity.
So it goes in a pop-culture world. San Diego's history in fact predates Tony Hawk, the skateboard king (and a Torrey Pines High graduate), by nearly half a millennium. More recently, in 1769, Father Junipero Serra, the original San Diego padre, established the first of California's 21 missions in what is now known as Old Town.
San Diego has a rich Mexican heritage and was a battlefront in the Mexican-American War; in 1846 the Battle of San Pasqual (in what is now Escondido, in eastern San Diego County) became a turning point in the war, and it starred a barefoot Kit Carson, the renowned Indian scout, who stole away to San Diego in the dead of night to seek reinforcements, 120 sailors and 80 Marines answering the call.
San Diego has been a prominent Navy town since (its port is home to the largest naval fleet in the world), though for a time it was renowned more for its pilots than its sailors. It once housed the Navy Fighter Weapons School program known as Top Gun, which was introduced to the world at large by the movie starring Tom Cruise.
A Hollywood assist was not required to secure the city's place in the history of flight, its air already having been rarified by Charles Lindbergh. In 1927 Lindbergh took delivery of his airplane, the Spirit of St. Louis, which was manufactured in San Diego by the Ryan Aeronautical Company.
The plane, alas, was Lindy's ticket out of town. He flew it to Paris, which might have puzzled a 19th century San Diego Union columnist, who with more passion than poetic agility wrote:
"Say the French, See Paris and die!' Make your home at La Jolla and live, say I."
Paris, incidentally, has its own congeries of tourist attractions. Among them, it is noted with an ironic measure of haughtiness, is Disneyland Resort Paris. It also has the Louvre, but wouldn't the Mona Lisa's smile be broader were it perpetually sunny outside?
As for the revered French cuisine, where in Paris can you get green eggs and ham, Dr. Seuss' literary contribution to the culinary arts, or San Diego's signature dish, the fish taco, a popular menu offering even at Padres games?
Alas, fish tacos too often were the only reason to venture over to Jack Murphy Stadium (now Qualcomm Stadium). Over the years the Padres generally were better heard than seen, particularly with Hall of Fame broadcaster Jerry Coleman behind the mic: "Winfield goes back to the wall. He hits his head on the wall and it rolls off! It's rolling all the way back to second base!"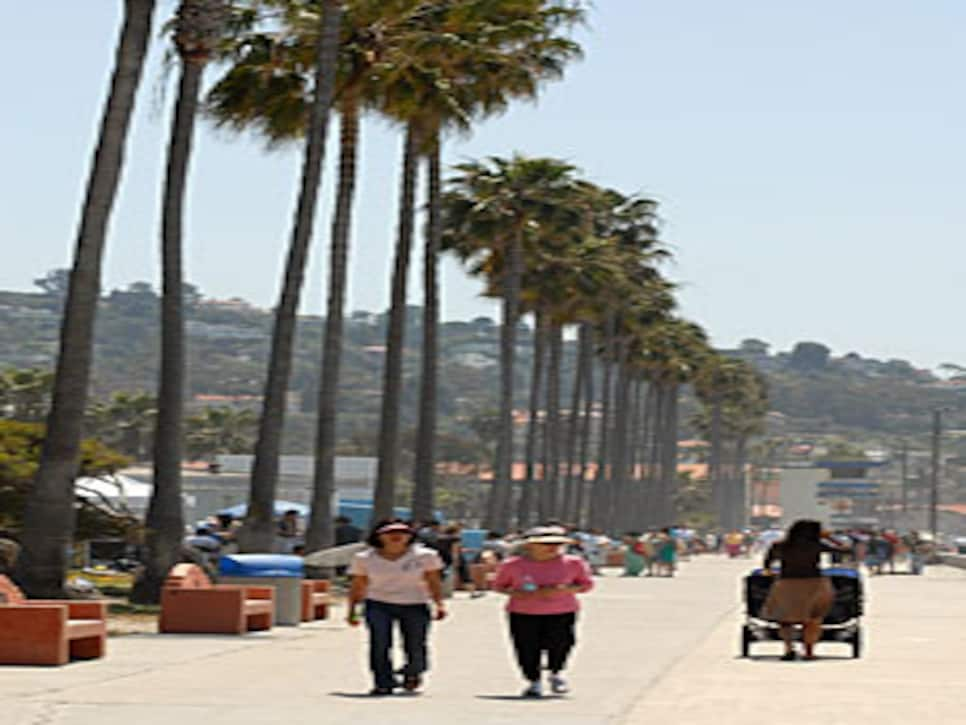 Blame it on the weather. It's tough to keep your head in the game in a town where leisure is mandated by a mild climate regarded as the finest in the country. Could this explain why the Chargers have never won a Super Bowl, why the Padres have never won a World Series? The Chargers are 0 for 42, the Padres 0 for 39—collective incompetence that even Chicago sports fans have to admire.
The weather, joking aside, conceivably is a factor, according to one authority, Dr. Alan Stewart, a University of Georgia professor who is researching climate's effect on behavior. "I lived in Florida for five years," he says, "and for the first year or so every day was like a spring or summer holiday. It was Christmastime and it was sunny and 75 degrees and people were cooking out and boating. After awhile I felt I was kind of out of synch. There was a mismatch between what my inner clock was saying and the weather conditions. A similar thing might play itself out for a baseball player."
This is only conjecture, Stewart cautioned, but let it be known that once again the weather of late has been as good as the Padres have been bad. Hold the tickertape.
And the sympathy cards. Let other cities enjoy their day in the sun. In San Diego every day is a sun day; the average annual rainfall is less than 12 inches. Rain is such an anomaly that when it inconceivably rained one summer day in 1982, the Padres' grounds crew did not know how to unroll the tarp, resulting in a rainout, one of only 16 in 39-plus seasons in San Diego.
Usually there is no more need for an infield tarp than there is for a weatherman. Is there an easier job in San Diego? The weatherman's greatest challenge is finding a new way to say sunny and warm, a pattern interrupted only in May and June (so it would seem), when a marine layer often blankets the coastal towns in the mornings. The marine layer, a phenomenon known as May gray and June gloom, typically burns off by noon, leaving sunny and warm in its wake.
Even San Diego's cold months are warm; the average high in the dead of winter is 66 degrees. Its average for the warmest months, meanwhile, tops out at 78.
"When Adam and Eve were evicted and sent to dwell somewhere east of Eden," New York columnist James Brady wrote of San Diego during the Republican National Convention there in the summer of '96, "God whipped up a second garden that fell just short of the original, but not by much."
If San Diegans are in fact devoted to sun worship, that would suggest that serious work is not being done. The cynic would note that although San Diego is the eighth-largest city in the U.S., it is home to only three Fortune 500 companies (Qualcomm, Sempra Energy and Science Applications International Corp.).
"Whatever," its bronzed denizens might say in response. San Diego is unapologetically laid back; even its police have been known to patrol the beach in short pants.
Sophisticates also would no doubt find it objectionable that San Diego considers itself a cosmopolitan city when its international airport has only a single runway. San Diego's rejoinder: Why would anyone want to leave?
Dr. Seuss, incidentally, was not San Diego's only literary association. The crime novelist Raymond Chandler spent the latter part of his life in La Jolla, which he described as "a nice place … for old people and their parents."
His flippancy notwithstanding, there is an element of logic there. San Diego has a timeless quality that lies at the root of its appeal across a spectrum of ages, something of an endless summer.
Its perfect climate may or may not discourage weightier pursuits, but in the event it does, that doesn't warrant an indictment against an entire city. San Diegans are no more or less learned than anyone else, though they have one advantage in the subject of science.
Inherently they understand that the sun is a star.