News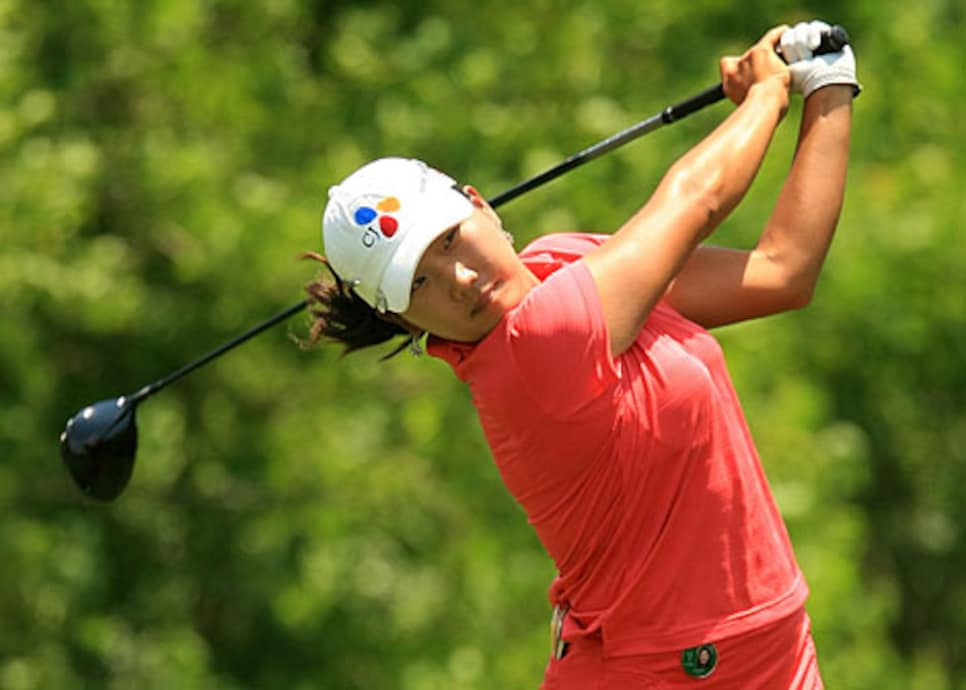 Lee closed with a 67 to vault into the picture.
Perhaps Seon Hwa Lee should be known as "The Terminator." Or maybe LPGA tournament directors should simply run the other way when they see her coming. Sunday, Lee rallied from nine strokes down at the Ginn Tribute—one short of the tour's comeback record—and then was handed her third victory in three years on tour when Karrie Webb missed a 30-inch putt on the first playoff hole. Hopefully, this time Lee will get a chance to defend a title.
First, Lee won the ShopRite LPGA Classic in 2006, the last of its 21 years on the LPGA schedule. Then, in 2007, she took the HSBC Women's World Match Play Championship—right before the sponsor changed the format to stroke play and moved it to Singapore. Now Lee, 22, claims the Ginn Tribute at RiverTowne CC near Charleston with pretty much everyone in South Carolina uncertain about the future of the $2.6 million-purse tournament—tied for third-highest on tour with the Ginn Open.
Bobby Ginn, you see, sells real estate and—as they say up north—that's tough sledding these days. Earlier this year Ginn, who kept a very low profile last week, told Golf World he is searching for title sponsors for both the Ginn Tribute and the Ginn Open at his Reunion Resort near Orlando. He said that short of someone with whom to share the financial burden, the future of both his LPGA events are in doubt. A spokesman for Ginn said Sunday there was nothing new to add to that honest assessment.
There are several players who left RiverTowne licking wounds so severe they likely wouldn't mind not returning. Webb, who struck the ball magnificently all week, missed four putts inside five feet in her final-round 70, as she tied with Lee at 14-under-par 274, one stroke head of Song-Hee Kim. "That's how I've putted all year," Webb said.
Sophie Gustafson took a six-stroke lead into the final round, birdied No. 1 to stretch it to seven and got to 20 under par with a birdie on No. 3. Then she pull-hooked her drive on No. 4, her confidence rushed out like the tide and she spent the rest of the day exploring the left rough, hitting only four fairways on her way to a 79—42 painful strokes coming on the back nine as she tied for fourth with Jane Park at 277.
"If I would have come from behind and shot 66 the final day and finished fourth, I would have been happy," said Gustafson. "But having a sixshot lead going into the last round and finishing fourth, it can't be much else than a disappointment."
And then there was Na Yeon Choi, a 20-year-old rookie who is playing lights out (Tour Talk, May 23) and was in the final group with Webb and Gustafson. Through 12 holes, she was one stroke off the lead, then went bogey, double bogey, bogey, en route to a 74 to finish T-6, her fifth top-10 this year. "I'm a rookie," Choi said. "I'm learning."
Lee, however, conducted a master class. Her 67 on a sizzling Sunday in which the mercury climbed past 90 degrees tied for the low round and was by far the day's best among the contenders. The keys were a 40-yard hole-out on No. 13 for birdie and a 25-foot putt on the 72nd hole to finish at 14 under par minutes before Webb rolled in a hard-breaking right-to-left 12-footer on the last turn of the ball to force extra holes as Lee watched.
The playoff began on No. 18 and both players hit the green, with Lee tapping in for par after she rolled her 40-footer to less than 12 inches. Webb then left her uphill, 25-footer 30 inches short and, with people wondering how to get to No. 17 where the playoff would continue, she missed, eliciting a shocked gasp from the gallery.
"I didn't expect … to win because the leader was [nine stokes ahead]," said Lee, who added that she didn't think she had a chance until she holed the shot on No. 13. "That was really big for me," she said. "I think [I had] a lot of luck this week."
The record for the largest deficit made up going into the final-round of an LPGA tournament is 10 strokes, shared by Annika Sorenstam and Mickey Wright (see sidebar). Lee actually fell 10 back with 17 holes to play when Gustafson birdied the first hole.
The Ginn Tribute started under a sad cloud when Lorena Ochoa withdrew Tuesday because of the illness of her uncle, Pedro Ochoa, 73. (He died Thursday.) Ochoa said she would return this week at the McDonald's LPGA Championship.
Webb and In-Kyung Kim shared the first-round lead at 65 with Gustafson one stroke back and Lee fashioning a 68. Webb and Gustafson moved four clear of Teresa Lu and Inbee Park going into the weekend at 131 while Lee was seven back at 138.
Gustafson appeared as if she would run away with her fifth LPGA victory and 23rd worldwide when a Saturday 67 moved her six ahead of Choi and Webb, who slipped with a third-round 73. Sorenstam, the tournament host, rallied with a 66 Friday but eliminated herself with a 75 Saturday and finished T-32.
Lee was an afterthought—if that—until she drove right of the cart path on No. 13, pitched back to the fairway and then holed out to get to 14 under. And she would never have been a factor if not for help from Gustafson, who bogeyed Nos. 8 and 9 and double-bogeyed 10 to let Lee back in the mix.
Webb, whose putter seemed to eliminate her several times—a three-foot miss on No. 7, a five-footer that stayed out on the next hole and another three-foot miss on No. 12—fought gamely on. She made five consecutive pars before the dramatic birdie to force the playoff—which she gave away with yet another short miss.
While Gustafson should have won the Ginn Tribute, and Webb and perhaps even Choi could have won it, Lee is the one who did take home the title—and with a stellar final round. All that's left now is to see if she gets a chance to defend her title.