News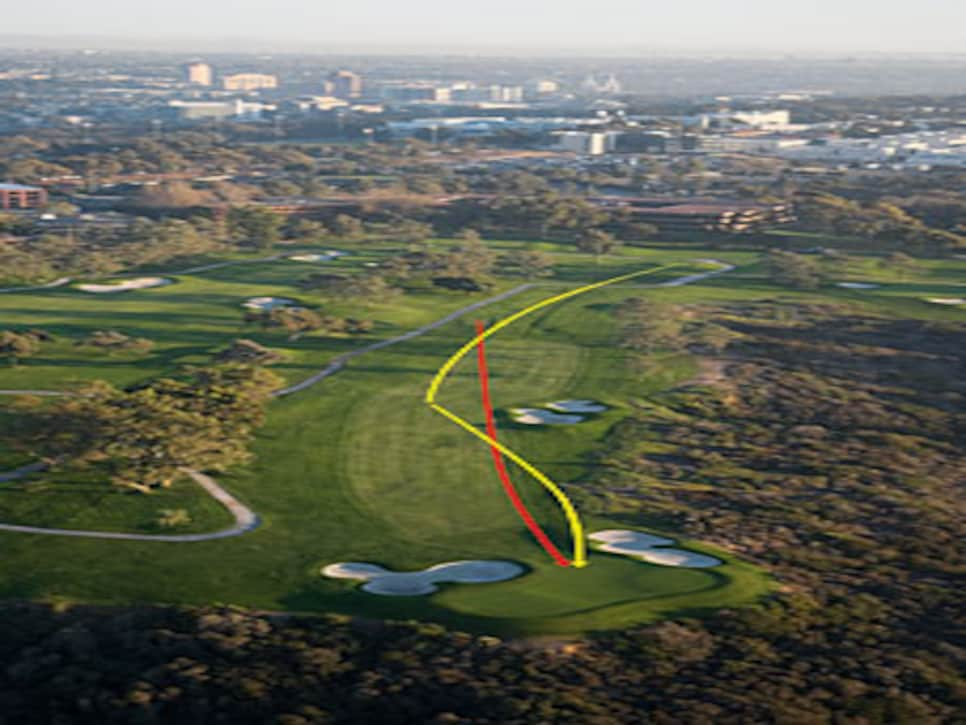 After setting up the 14th hole as a 435-yarder for two days, the USGA is expected to turn it into a drivable par 4 by using a forward tee for one of the weekend rounds.
Mike Davis wants U.S. Open contestants to think more. In an era dominated by over-programmed players who balk at the slightest course-setup wrinkle, the USGA's senior director of rules and competitions may find that such a simple desire will be viewed as teetering on the edge of reason. In this case, the canyon edges of Torrey Pines South.
Since replacing Tom Meeks in 2006, Davis has unveiled tiered rough cuts, flexible tee placement and setups while maintaining consistent conditions from Monday morning to Sunday night. However, when the 2008 U.S. Open arrives at Torrey Pines just five months after the Buick Invitational, Davis will introduce risk-reward wrinkles guaranteed to shock players reared on monotonous setups while delighting fans who relish the spontaneous decision-making usually reserved for links golf.
Davis is insistent that the "incredible difficulty" of the U.S. Open will be maintained via super-firm greens, menacing rough, fluffy bunker sand and intimidating length. Still, to offset the democratic rough layering and the noticeably wider fairways, Davis intends to vary tee locations and hole yardages each day, with shifts on more than half the holes ranging from 10 to almost 160 yards depending on weather conditions.
That's right, 160 yards. On one hole. This is not your father's or even your older brother's USGA. "It was drilled into my head that you set your tee sign and you go off that," says the 43-year-old Davis, who has the credibility of having survived without embarrassing incident at two of the toughest Open venues to set up—Winged Foot and Oakmont. "We're definitely mixing it up more this year and doing even more of this in the future."
With championship committee chair Jim Hyler's supportive tenure starting in 2006, yardages were varied on select holes at Winged Foot and at Oakmont in 2007. With 10 holes this year in line for significant yardage variations, a course design deemed "straightforward" by Davis is likely to be taken up a notch in the sophistication department.
Well chronicled has been Davis' desire to play the 195-yard downhill par-3 third hole from a forward tee at least twice, shortening the hole by 50 yards. Davis thinks it will be "neat" to see players hit a knockdown wedge to an upper left-hand green quadrant with a sage scrub-filled canyon lurking left.
It was Davis who asked for and got a pair of new tees built to stretch the par-5 13th to 614 yards. He figures to play at least three different tees there while also utilizing a never-before-used left-side teeing ground on the par-3 16th. Those decisions followed Davis' bold call to restore the par-5 18th into a gambler's paradise after his predecessor announced the USGA would transform the finishing hole to a long par 4. Davis has said nothing would make him happier than to see the outcome influenced by a final-hole eagle.
If that notion is not stunning enough, Davis and Hyler say they are "contemplating" moving the 14th-hole tees up one day in hopes of introducing a drivable, eagle-prone hole similar to Winged Foot's sixth or Oakmont's 17th. Expected to play as a stout 435-yarder Thursday and Friday, look for the 277-yard forward tee to be used one of the final two rounds when the field is smaller and play will be less likely to bog down. They hope the shift forward will create a "wider scoring differential"—USGA-speak for more eagles and double bogeys.
Before making such a bold move, Davis, Hyler and Jeff Hall, managing director of rules and competitions, who finalizes the front-nine setup, intend to closely watch practice rounds, monitor the weather forecast and even ask players how tempting they might find a drivable option. "Our motivation is to have players step up to a teeing ground and ask, 'What does this mean?' " says Davis.
Hyler, an executive committee member for five years who appears to be in line for the presidency after Jim Vernon's term, could be seen as taking a chance by supporting Davis' desire to produce more fun and excitement. "Mike has a great feel for visualizing how things will impact play," says Hyler, who will gladly answer critics should players be irked by what he sees as maintaining a "hard, fair championship" with "more risk-reward opportunities."
Architect Rees Jones remodeled the South Course and says the shift in setup approach is a "great idea" that will accomplish Davis' goal of inducing decision-making under pressure. "The USGA [doesn't] want to take the driver out of anyone's hand, but instead, they want the player to take it out of his own hand," says Jones.
Hyler is confident players will appreciate the attempts to maintain difficulty in a more intelligent way and points to the lack of complaining at the last two Opens. Still, some of the ideas being discussed for Torrey Pines will differ so much from what players are used to that there may be cries of trickery.
Veteran caddie Mark Long has put together the official U.S. Open yardage book since 1999 and believes the timing is right for Davis' approach, particularly with the championship being played at the home of a regular PGA Tour event. He notes that in preparation for the recent Players championship, his boss, Fred Funk, spent 45 minutes putting to each of the four likely hole locations at the Stadium Course at TPC Sawgrass.
"That's one of the things that can be a bit boring about the tour," Long says. "Something isn't quite right when you pretty much know three of the four holes will be almost identical to the previous year, and the tees will be in the same spots, too."
Davis does not "dot" the next day's hole location or tee placement, but he does believe afternoon players who check out the morning television coverage—as Tiger Woods suggested he did in 2007—will be helped out "big time." Factor in practice round word-of-mouth, Long's information loaded yardage-book and the opportunity to hear television announcers dish, and there should be plenty of opportunity to prepare.
Still, as Long points out, if Davis throws a curve in the way of a drivable par 4 where the players least expect it, this will "be his first big risk as a set-up guy."
To Davis, the reward of a more cerebral and exciting U.S. Open is worth it.