News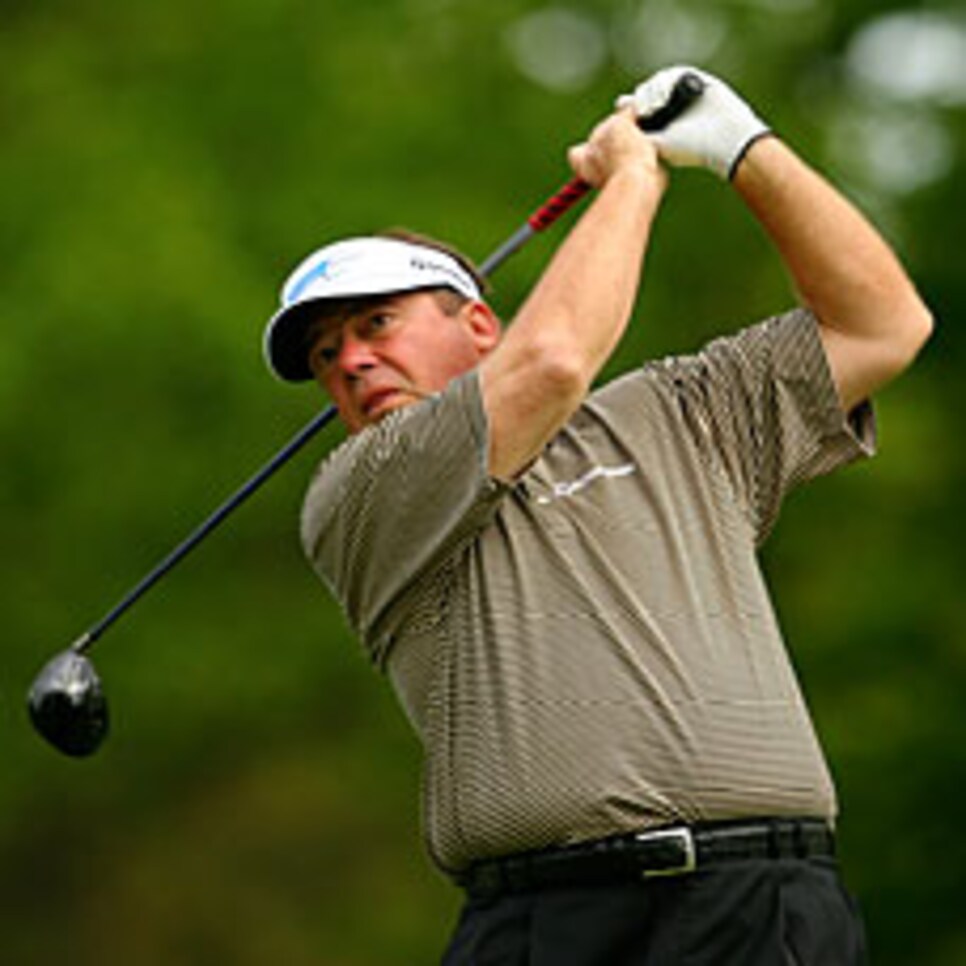 An old driver, old ball combination gives Sindelar the control he wants.
Should golf's governing bodies ever roll back equipment standards, some Champions Tour players might not notice the difference: They use clubs that will likely conform to any new standard. Although they may not have the hottest faces, highest moments of inertia, adjustable-shafts or movable weights, these (relatively) low-tech sticks still work.
Joey Sindelar, a Champions Tour rookie, fits right in with the "old-is-still-good" mindset. "I've got an old bag," he said. "I've got a TaylorMade R510 driver, which is about 18 generations old. I have TaylorMade 360 irons [introduced in 2000]. And my 1-iron is from about 1988."
Sindelar's approach to his equipment stems from an aversion to experimentation. "I've seen so many shipwrecks from guys experimenting with stuff," said Sindelar. "That doesn't mean there isn't great equipment coming out. There is. But I see so many guys jumping around they don't know where home base is any more—and they're not around to tell their stories. I have clubs that I know if I make my golf swing they're going to work. That's what I'm looking for."
That kind of confidence helps explain why Mark Johnson still uses Callaway's X-12 irons—a model that is more than 10 years old. Familiarity also accounts for Mike Reid's Mizuno's MP 33 blade irons and Titleist 983K driver—a 365cc model in a world of 460cc behemoths.
Another player using sticks rarely seen outside of used-club bins is Keith Fergus, whose worn faces on his 14-year-old Mizuno T-Zoid Comp EZ irons reflect their vintage.Fergus also has stockpiled some inventory.
"I have 10 sets," said Fergus. As for trying modern equipment, Fergus is akin to the guy who puts his fingers up in a hex-preventing cross. "I don't try new stuff—I don't want to tempt myself," he said.
These are not simply stodgy old-timers stuck in their ways, however. They understand the advances in technology and realize they are leaving something on the table by sticking with the status quo. They have calculated the risks of not going modern with the rewards of staying with equipment they feel still best suits their game.
Take the golf ball. Sindelar (along with Jeff Sluman) still plays the 2003 version of Titleist's Pro V1. "It's just a spin-rate thing," said Sindelar. "Titleist has been very fair keeping this ball around for us. Look, I'm giving up distance to play this ball. This is a spinnier ball and the R510 is a spinnier driver. But the ball is very true to my irons, which is where I think a tour player should build his game."
Even if the clubs and balls were built years ago.
The number of PGA Tour players adding a fourth wedge is on the upswing. At last year's Memorial, for example, only 12 players had a quartet of wedges. This year the number was 20, including Steve Flesch,Jim Furyk and J.B. Holmes.
K.J. Choi, the 2007 Memorial champ, returned to the irons—Nike's Ignite—that brought him success last year at Muirfield Village GC. This year Choi had to settle for a T-53 finish. … One wouldn't think Bubba Watson would need any more length, but he took his hybrid club out of the bag and replaced it with a Ping G10 4-wood to get a little more distance off the tee. … After using TaylorMade's original r7 Quad several years, Justin Rose upgraded to the company's r7 SuperQuad driver at Memorial.