News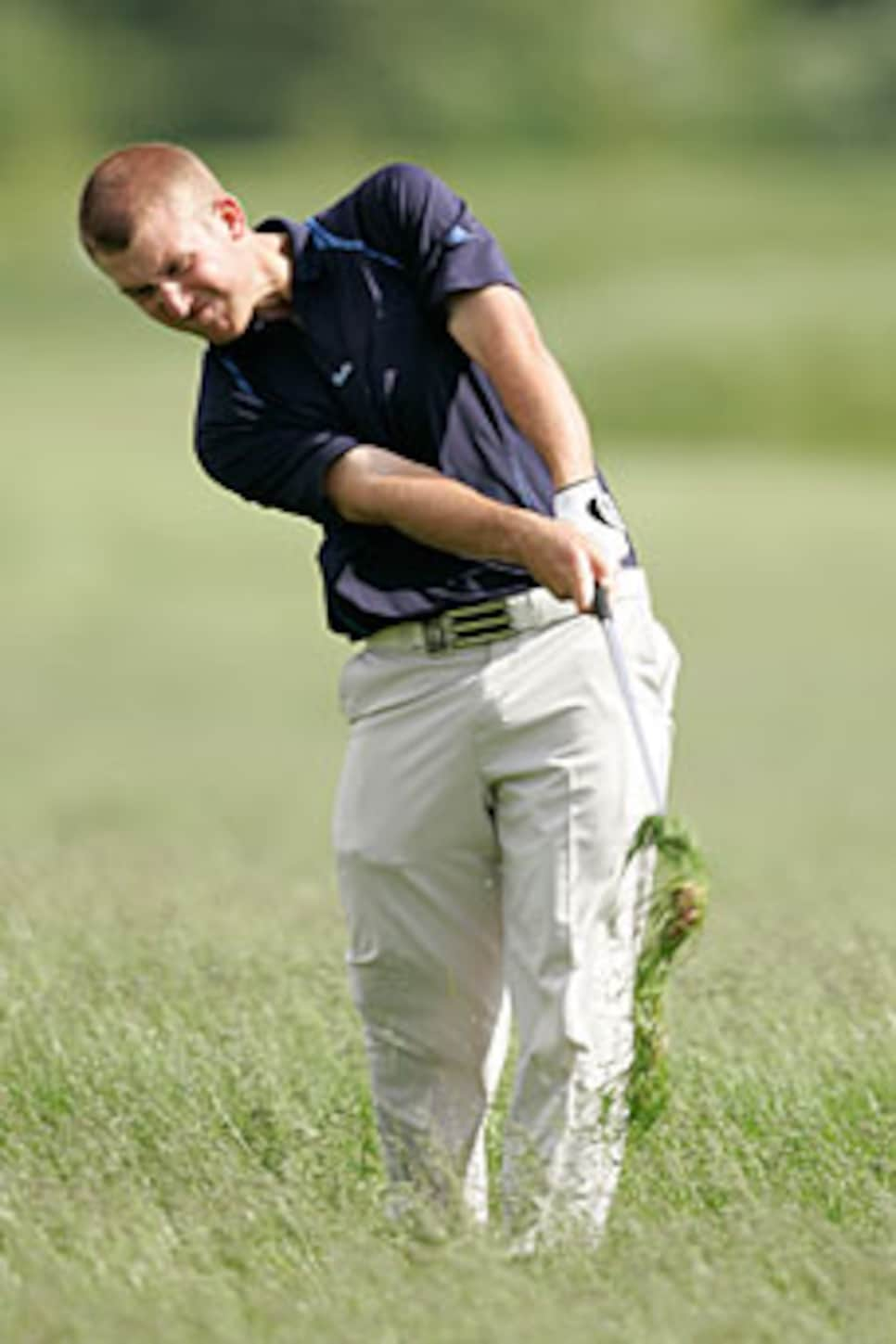 Up to the task: Nothing about Chappell's gritty final-round effort on the tough Kampen Course surprised Freeman.
Divine intervention, gritty determination or just dumb luck. The explanation for how Kevin Chappell's fourth shot on the Kampen Course's treacherous par-3 17th found its way into the hole during the final round of the 111th NCAA Championship—instantly becoming among the most thrilling bogeys in tournament history—may never be known. It wouldn't have surprised anyone to see the UCLA senior come up short with his 35-foot chip, given his prickly position in the rough, or race it past the hole and into the lake to the right of the green, joining the ball Chappell submerged moments earlier with his 5-iron off the tee.
Both images crossed UCLA rookie coach Derek Freeman's mind as his team's best player stood over the shot, the Bruins seemingly about to give away a national title as their eight-stroke back-nine lead was down to one shot. It was at that moment, though, that Freeman remembered just who he was watching.
"The impressive thing about Kevin is that he never, ever gives up," Freeman said afterward. "It's just not in his nature."
Had it been, there were any number of times in the last nine months he might have done so. Last October, less than a week into Chappell's final year of college classes, his older brother, Casey, died unexpectedly at age 24 of complications from diabetes. The two had always been close, Kevin tagging along in elementary school when Casey went with their father, Steve, to Fort Washington GCC in their hometown of Fresno, Calif. It was during those trips when Kevin, employing a cut-down persimmon wood, saw his passion for the game take root.
With his heart still healing, Chappell was blindsided with more tragedy two months ago: His best friend from high school, Joey Eischen, passed away in his sleep. Chappell again turned to golf for refuge, a place to escape his daily pain if only for a few hours. Now, even his safe haven had been exposed until Chappell took control of his destiny. When the ball trundled into the hole on 17, Kevin's roar was loud enough for everyone—Casey and Joey included—to hear.
He followed the clutch bogey with a sublime par on the 484-yard, par-4 18th (driver center cut, 7-iron from 189 yards to 20 feet, two putts). It gave UCLA a one-shot victory over Stanford and a two-shot triumph over Southern California, earned Chappell the individual title and a national player-of-the-year honor and provided those watching comfort that good things happen to good people, too.
"I'm not sure I could have gone through everything he has and still been so positive," reflected teammate Erik Flores early Saturday evening. "He's preached to us all year, 'We're going to go to nationals and play our asses off and win.' He always believed, and he had more reason than anyone not to."
Said Chappell: "To be honest I don't know how I've done it. I've gotten great support from my teammates. My parents and I stuck together. It really hasn't all sunk in yet."
What's the saying? It's not how, but how many? Even though the Bruins' 42-over 1,194 was the highest winning score since 1977 and the third highest in the 40 years the event has been contested over 72 holes—a tradition that ended last week as the NCAA embarks on a new tournament format in 2009 (see page 113)—the title and trophy were theirs to bring back to Westwood and display beside the school's other NCAA golf championship from 1988.
As the Bruins departed West Lafayette, Ind., they could only wonder if the maintenance crew at the Kampen Course ever found the keys to the riding mowers. Certainly, they had to have been missing for a while seeing how the maniacal rough—ranging in height from 3½ inches just off the fairway to tall enough to ride a roller coaster in some spots—seemingly hadn't been cut in weeks.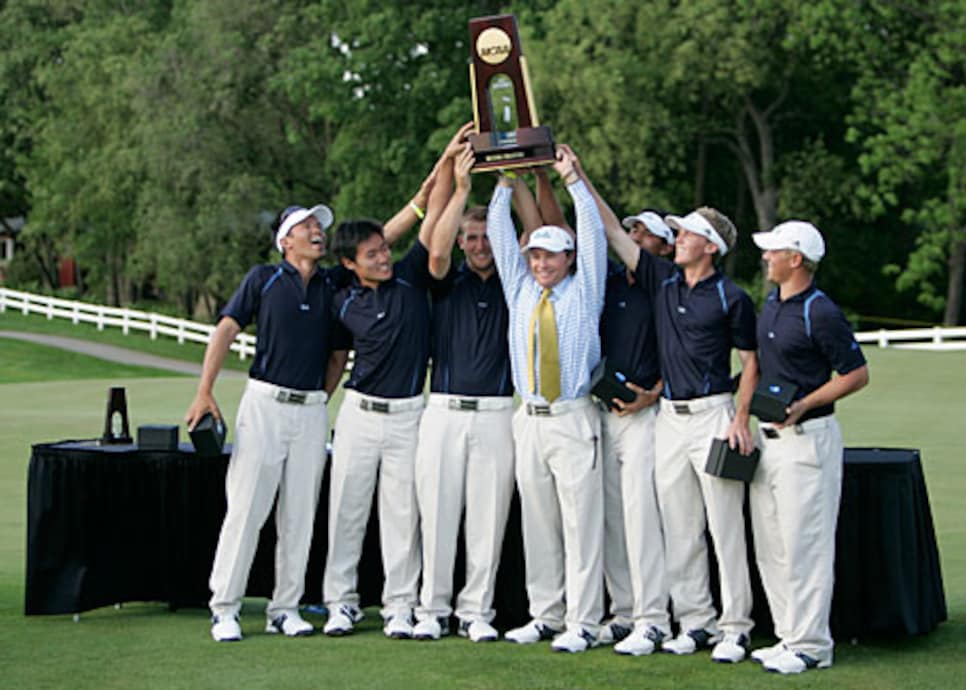 The ball-swallowing bluegrass greeting players was exacerbated by swirling gusts that buffeted Pete Dye's 7,450-yard homage to links golf. Winds clocking about 15 miles per hour for most of the week explained the sizable 77.35 stroke average posted by college golf's best and brightest.
In theory, difficult conditions allow the cream to rise to the top, presumably by creaming weaker opponents. That wasn't necessarily the case last week. Top-ranked Alabama, a senior-laden squad with six tournament titles in 2007-08, couldn't find its way, opening with a 21-over 309, closing with a 27-over 315 and finishing 24 shots back in 13th. Second-ranked Georgia and sixth-ranked Charlotte never got comfortable with the environs, either, the two sharing eighth place. Conversely, lower-profile schools such as Kent State (sixth), Louisville (10th) and Middle Tennessee State (15th) exceeded expectations.
It wasn't just marquee teams but individuals who struggled. Freshman phenom Rickie Fowler of Oklahoma State had finished fourth during last fall's NCAA Preview and seemed headed to a first-round lead before hitting two balls in the water on the 17th for a quadruple-bogey 7 that turned a potential 70 into a 74. The next day, he rinsed another ball on 17 (he played it six over for the week), for a 77. Closing with a 70-73 allowed for a back-door T-4, but cost Fowler the Jack Nicklaus player of the year award.
Even more befuddling was the performance of USC sophomore Jamie Lovemark, last year's medalist, who twice shot scores that didn't count toward the Trojans' team total (first-round 79; third-round 78) en route to a T-43 showing.
In preparation for Purdue's big ballpark, UCLA spent the week before nationals getting familiar with the business end of their long irons. During practice rounds at TPC Valencia and Bel-Air, Freeman told his charges to sheath their drivers so they would be left with lengthy shots to the greens. The madness to the method paid off when the Bruins claimed a share of the Day 1 lead with crosstown rival USC at nine-over 297. Chappell's three-under 69 was one of three sub-par rounds on the day.
After a second-round 73, Chappell authored the week's most impressive 18-hole performance, a four-under 68 in the third round (only one other player shot better than 72) that showcased his biggest strength: iron play. Chappell impressively worked his way around the course, flighting his ball low into the wind with the precision of a tour professional. Hitting knockdown shots was a skill he began developing at Royal St. George's during the 2006 British Amateur, with his lifelong swing instructor, Chris Doos, helping him with the technique while carrying his bag that week.
"There are times," Freeman said, "when he can do things that other guys physically just can't do, hit shots that other guys just can't."
Holding a four-shot lead entering the final round, Chappell again seemed to be playing a different course than the other 155 players, making the turn at even par for the day to build a seven-shot advantage. While Washington's Nick Taylor and Indiana's Jorge Campillo posted one-over 289s roughly 90 minutes before Chappell finished play, his quest to become the first NCAA medalist in Bruin history never was in serious danger even as he made four back-nine bogeys to finish with a 76 and a two-under 286 overall.
Just as Chappell built a cushion individually, UCLA seemed to have done the same in the team competition. Starting the final round three strokes up on USC and Clemson, the Bruins made the turn seven ahead of the Trojans and grew the margin to eight through 12 holes.
Still, a combination of back-nine jitters and tricky winds blowing from a new direction turned the tournament into a knockdown, drag-out fight for the remaining 2½ hours. Flores, who had been three under after nine holes, shot 45 on the back to limp in with a 78. Freshman Philip Francis and senior Craig Leslie carded 76s (UCLA dropped junior Lucas Lee's 80) as the Bruins shot a collective 18 over on the back nine and for the final round.
Yet USC struggled just as much down the stretch (the Trojans best round was Tom Glissmeyer's 74), allowing defending champion Stanford, five strokes back of UCLA starting the day, to make a bid at becoming the first repeat winner since Houston in 1984-85. The Cardinal finished more than an hour before their Pac-10 foes, posting a 43-over total (led by Sihwan Kim's 71, the only sub-par score in the fourth round), then waited by the 18th green to see how far the leaders might fall back. By the time Chappell was on the 18th tee, UCLA was only one shot up on Stanford and two on USC.
Playing in the final threesome with Chappell, USC freshman Tim Sluiter (whose stellar first three days kept the Trojans' title hopes alive) carded a double bogey on No. 17, making a 3 on No. 18 necessary to tie Stanford and get in a three-team playoff had Chappell bogeyed the final hole as well. The freshman from The Netherlands' birdie putt hung on the right lip of the cup but wouldn't fall, leaving him with a final-round 81 and the Trojans in third place.
For all the talent the Bruins possessed, that they would be victorious in the season finale—their fifth tournament title—seemed unlikely after the turnover of the previous summer. O.D. Vincent, who had rebuilt the Bruin program in his five years in L.A., stepped down as coach to take the job at Duke. Freeman, with just five years of coaching under his belt after starting in September 2002 as a non-paid volunteer at NAIA's Oklahoma City University, and with just one year's experience as an assistant to Vincent, had the support of the players to inherit the Bruins' top job.
While keeping Vincent's custom of wearing a button-down shirt and tie at tournaments, Freeman made a few of his own marks. Chief among them was to instill in the team the idea of setting daily goals and holding themselves accountable.
Perhaps the biggest beneficiary of Freeman's logic was Chappell, who had two wins and seven top-five finishes in 11 starts, posting a 71.03 stroke average while finishing outside the top 12 only once. "I think this week has opened his eyes to [realize] he's really at a level a lot of guys don't get to," Freeman said.
"The feeling I have right now is better than anything I could ever imagine," said Chappell. "To win individually is great, but it becomes even more special because the team also won. All season long we've always been there to pick each other up and that's what championship teams do."
For all the red numbers Chappell posted in his final season as a collegian, however, it is a bogey that will be the fondest memory of the best—and worst—year of his life.