News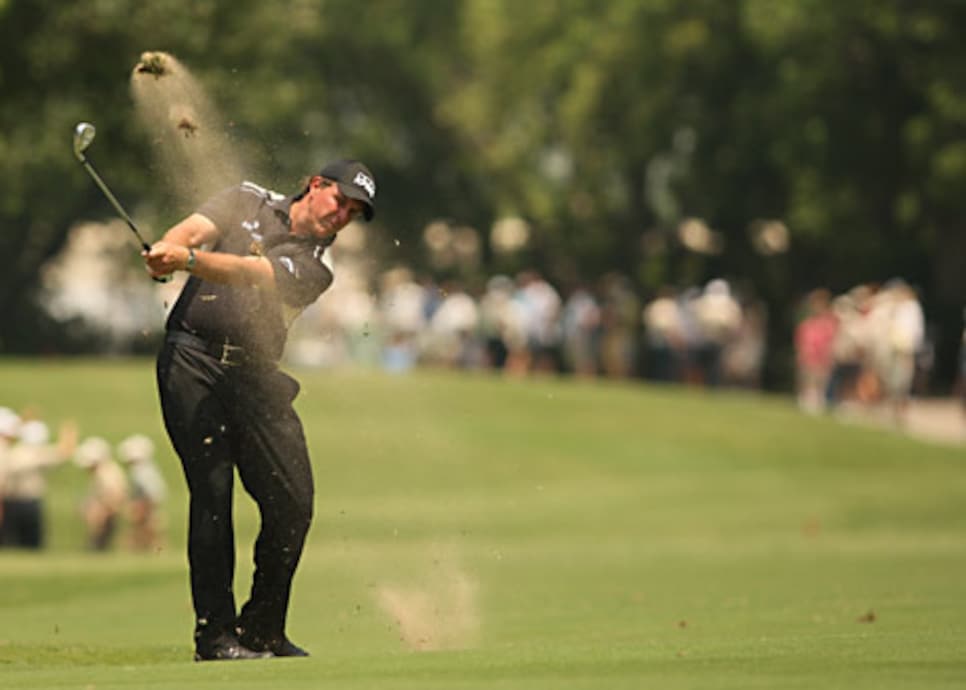 Mickelson wedged his way toward the weekend with a second-round 68.
Well, it has come to this. Fans jump into ponds Tin Cup-style when Phil Mickelson sinks a putt on the 18th hole to win a tournament. The mystically inclined were seen rubbing their hands in the dirt of his 18th-hole divot, hoping for some kind of indirect transference of the magic of the man for whom the phrase, "No, I'm not making this up," was invented.
There is even talk of some kind of plaque being erected to commemorate Mickelson's Sunday miracle at venerable Colonial CC, a 140-yard moon shot from somewhere a lot closer to the Enchanted Forest than Colonial's 18th fairway that somehow settled nine feet from the pin, though he never saw it fly there and no sane person would have ever thought it an option.
Mickelson's walk-off birdie from Brigadoon shut the door on a Crowne Plaza Invitational victory over Rod Pampling and Tim Clark, two game rivals whose only flaw Sunday appeared to be that they weren't gifted with a Mickelsonian, Cirque du Soleil-like flair for the insanely brilliant. And that left them both one miracle shy of the title.
It was a microcosm of Mickelson's week-long approach to attacking staid old Colonial like a house-flipper with a two-month renovation deadline: Selective destruction with an eye on immediate profit. His heavy rotation of driver and multiple wedges established a new take on the much-maligned Bomb & Gouge mentality on the PGA Tour. Call it Smart Bomb & Gouge.
"My scoring takes place around the greens, so I want to have as many options as possible to tackle the different lies and the different shots that we encounter in some of these conditions," he said after Saturday's 65 left him one shot in front of Stephen Ames and Pampling, whose third-round 63 matched Johnson Wagner's opening-round score for lowest of the tournament. Saturday's birdiefest produced a scoring average of 68.96, the lowest one-round number in the 26 years the tour has been keeping statistics at Colonial.
But Mickelson's approach was only as unique as it was well conceived. He and caddie Jim Mackay had discussed adding the extra wedge well before the two even flew to Fort Worth. Over the weekend, Mickelson left out the 3-wood. Thursday, it was the 6-iron that was on the bench.
"It's not like he decided to do this Wednesday night," Mackay said. "Bottom line is: How many birdies are you going to make with a 6-iron? Virtually none. How many birdies are you going to make with that extra wedge? You might make two, you might make three, and that can make a big difference over the course of four days.
"The guy," said Mackay, "thinks outside the box, and more often than not, it's worked out for him."
Mickelson is so far outside the box, it barely looks like a square from his perspective. His approach at Colonial wasn't Caveman Golf, but more like Enlightened Caveman Golf.
"I like to play aggressively, but I do try to think my way through it a little bit," said Mickelson, who does not but should have a tattoo on his left bicep that reads "Impossible is nothing." That approach had Mickelson in the lead alone each of the last three days, and while the aggressive line helped, it was a renewed and retooled putter that sealed the deal. Checking all the angles back at the Callaway Test Center and milling an aiming line in the top of his putter resulted in Mickelson making all 56 putts from five feet or less for the week, ranking him No. 1.
But dig deeper than the scores and you see just what an impact Mickelson's free use of the driver meant in the long run. Among the top five finishers, Mickelson had the shortest approach shots on par 4s by an average of more than 12 yards. And given that his average approach-shot distance on nine of the 12 par 4s was (for him) a pitching wedge or less, the madness to his method suddenly seemed almost textbook.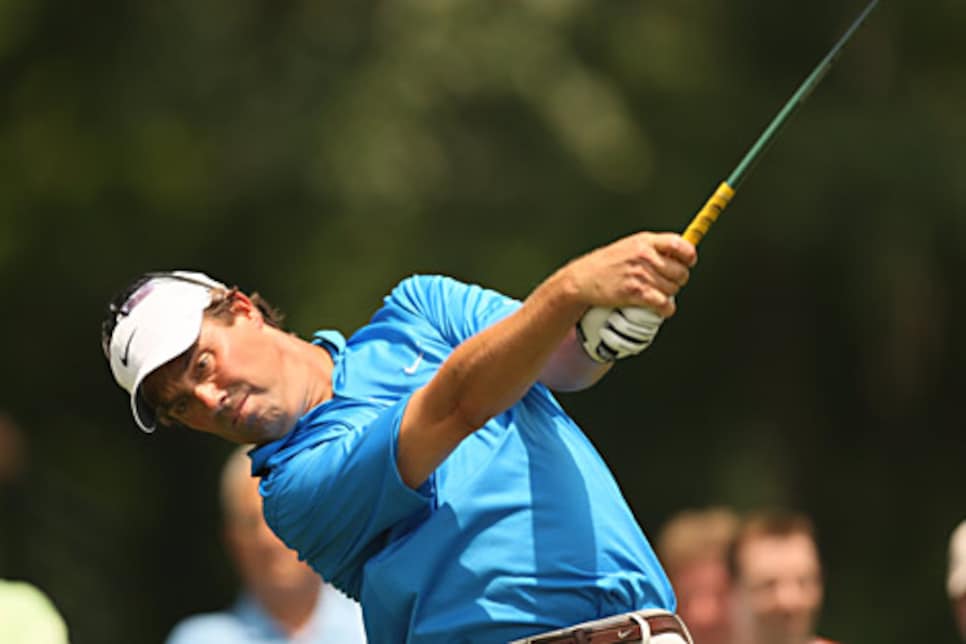 The tradition at Colonial is that its angles and firm greens put a premium on precision, that the shorter hitter is at less of a disadvantage than on many typical tour courses. Indeed, the first page of the leader board after each of the first three rounds featured only two players ranked in the top 65 in driving distance, and the eventual top 25 had only five players in the top 50 in driving distance. But only one of those chose to play the event with five wedges.
In other words, Mickelson single-handedly showed how the bigger hitters need not cower in the wake of Colonial's presupposed emphasis on accuracy and conservative play. On the 387-yard second hole Sunday, for instance, Mickelson aggressively blasted a 316-yard drive well right of the fairway and was able to attack the tucked pin from the third hole's women's tee with his 60-degree wedge. When his aggressive drive on No. 6 left him behind a tree and his punch shot ricocheted sideways into the fairway, his fifth wedge (64 degrees) allowed him to swing aggressively and subsequently save par.
The saves were crucial because those taking the lead were playing slightly less aggressively but more successfully. The stoic Australian Pampling, a two-time winner on tour and a bit of a local favorite from nearby Flower Mound, was moving through Colonial like, well, a member, which he is by virtue of Colonial's generous honorary membership to local tour pros. His front-nine 32 put him two in front of Mickelson at the turn.
Meanwhile, just a group ahead but seemingly light years removed from the Mickelson laser show, Clark neatly birdied 16 and 17 to ultimately throw 13 under par on the board.
Pampling battled the heat of the moment and of the day, which for the fourth straight round registered temperatures that felt like at least 100 degrees. His sweaty hands slipped on a weak iron at the par-3 16th, leaving a long bunker shot that trickled nine feet by. The gritty par save kept him one ahead, but a bad swing with a hybrid off the tee on 17 left him in a tiny hazard right of the fairway. Blocked by trees after his drop, he rifled an approach into a greenside bunker and from a near-plugged lie he managed to save bogey and stay tied for the lead by virtue of what Mickelson called "one of the best shots I had seen all week."
Of course, that was before his own piece of majesty on the closing hole. It is hard to describe the difficulty of Mickelson's predicament on Colonial's 18th, so just think of the 2006 U.S. Open at Winged Foot. He overcut his driver off the tee and found himself so far left he was doing the news updates on Air America. Add to it that it was blind, that he had a slightly downhill lie, that two massive trees were blocking his way low and high (by any reasonable estimation) and that one co-leader was in the clubhouse and the other in the middle of the fairway, and it looked like the show, as exciting as it had been, was over.
Not exactly. Enter wedge No. 3, a 52-degree gap wedge. There was no doubt about his action plan.
"I could tell by his body language that he was exactly committed to what he wanted to do," said Mackay. "There was no debate. Again, all the wedges he brought out this week won him the tournament."
So from 140 yards, blind, downhill and blocked, Mickelson smashed the gap wedge under one tree and up over the next.
"There were trees everywhere," the left-hander said. "You have to go look at it. I was hoping for a 25-30-foot putt. And it just came off perfectly."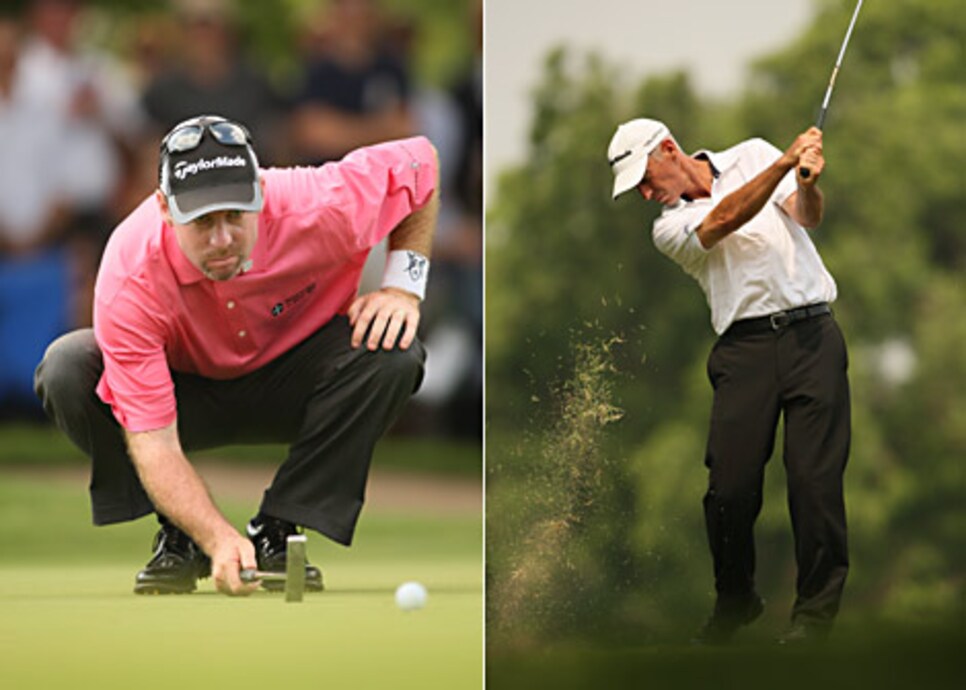 Of course it did. About the only thing Mickelson didn't do was juggle on the downswing or swallow fire on his follow-through. The birdie putt was in the hole from the moment it left the putter face.
"Bottom line, the guy's got guts," said Mackay. "He wins tournaments, and he's got guts. You cannot deny him that."
Classy to the end, Pampling, who (along with Clark) recorded his best finish of the year, expected Mickelson to finish with a flourish. "At the end of the day, it was an amazing shot from Phil," said Pampling. "There were a number of holes in there where you figured [he was] in a bad spot, but you just knew he would get out of that. So you've got to expect him to do that. He is No. 2 in the world. Those guys do those kind of shots."
But Mickelson is his own one-of-a-kind of those guys. He invents and tweaks and elevates and imagines in ways beyond unusual.
"With so many great players," he said Sunday evening, "if you have any opportunities at all, you really need to capitalize on it. You have to take some risks to win. I try to do that. I try to take advantage of the opportunities when they are there."
And even sometimes when they're not. The win was Mickelson's second of the year (a Hogan's Alley double with his earlier win at Riviera in the Northern Trust Open), his second at Colonial, his 34th overall, and it made him the only player (including Tiger Woods) to record multiple victories on tour in each of the last five seasons.
At the awards ceremony Mickelson was presented the traditional plaid Colonial members jacket, there was a color guard and they even played the national anthem.
But there were no fireworks. He had taken care of those himself a few minutes earlier.