News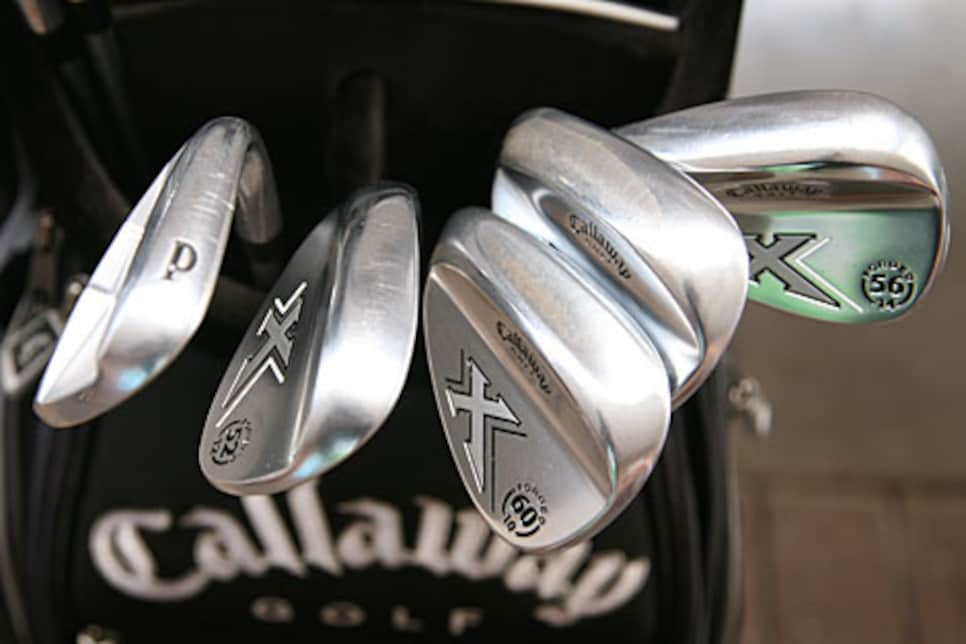 Why five? Mickelson believed wedges were likely Colonial keys.
After Phil Mickelson won the Crowne Plaza Colonial, he could have thanked a number of his clubs, especially the Odyssey putter that rolled in the winning putt or the 52-degree Callaway X-Forged wedge he hit from the trees on the 72nd hole. His 6-iron or 3-wood would have been in for lesser kudos.
That's because those clubs were pulled from the starting lineup for two rounds. The 6-iron was benched Thursday; the 3-wood for the last three rounds. Mickelson pulled them so he could carry five wedges at Colonial CC. Albeit extreme, the moves are the latest examples of set optimization on the men's tour. More and more, it's hard to find "normal" sets.
"Yes, I've got a lot of wedges," said Mickelson. "I rarely have them all in play. But at this course I've used every one each day. [But even] with all of those wedges, it's still not easy to get up and down around these greens."
Mickelson is not alone. Jim Furyk, for example, leaves his 4-iron out of the bag almost every week. Charlie Wi recently altered his iron set, too, in order to add a fourth wedge "to close the distance gaps in my scoring clubs." Wi got rid of his 5-iron and narrowed the disparity between his 4-iron and 6-iron by making the former one degree weaker and the latter two degrees stronger.
As players mix-and-match clubs to conditions, set makeup resembles piecing together a puzzle. The pros play a different course each week, and their job is to put the 14 clubs in the bag they feel can best get the job done, tradition be damned.
"It's not like it's a secret," said Mickelson, who has left various clubs out of his bag on numerous occasions. "Scoring takes place around the greens, so I want to have as many options as possible to tackle the different lies and different shots we encounter. When I play at home, I don't use the 64-degree wedge. But on tour we have extreme conditions a lot of the time, so I kind of have to do the same thing with my club makeup."
John Rollins has gotten on board as well. Mirroring Furyk, he has ditched his 4-iron. His added club is a 56-degree wedge (to go along with 52- and 59-degree wedges).
"I had more shots around the greens and from 120 yards and in that were more important than a 4-iron I might hit once or twice a round," said Rollins.
Are their limits? Who knows? After Mickelson fatted a wedge from 44 yards on No. 2 Saturday, his caddie, Jim (Bones) Mackay, turned to him and said, "We need a sixth wedge."
Mackay wasn't serious, but Mickelson's win proves outside-the-box thinking is no joke when it comes to set makeup.
There was a reason for Phil Mickelson's improved putting at Colonial. Lefty recently went on Callaway's putting monitor and afterward had a softer insert put in his putter as well as a milled alignment line."It really helped with my feel this week," said Mickelson.
Light equals might: To increase his swing speed, Crowne Plaza Colonial runner-up Rod Pampling changed from a 69-gram UST V2 shaft in his TaylorMade Tour Burner driver to a 59-gram V2. ... Old School: The venerable course at Colonial had some players going back to older equipment. Scott Verplank not only returned to his Ping Anser putter, but played the 2003 model of Titleist's Pro V1. Chris DiMarco, meanwhile, used Ping's i3+ blade irons, first introduced in 2002.