News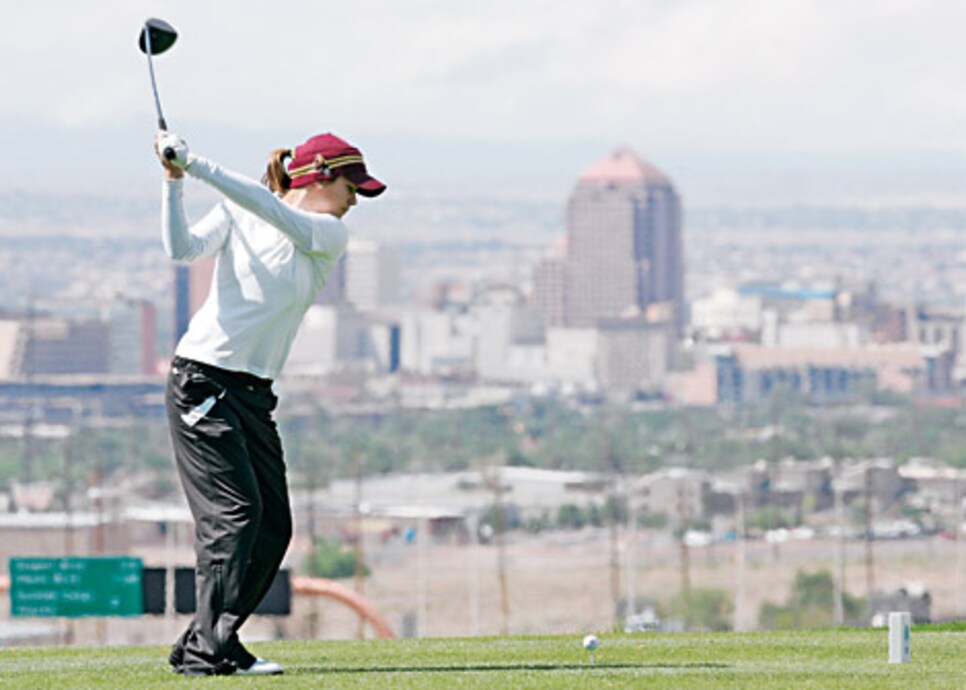 Munoz broke through in a big way, beating Joh in sudden death.
There was never a doubt in Azahara Munoz's mind that when her ball was done with its 25-foot dance across the 18th green at the University of New Mexico Championship Course last Friday it was going to find the bottom of the cup. So what if the 20-year-old from Malaga, Spain, had had a rocky relationship with her putter since arriving at Arizona State in the fall of 2005? The two reconciled earlier this spring, Munoz no longer holding the club responsible for her dubious distinction as college golf's queen of the near miss. Instead, the Sun Devil junior made herself accountable.
"I got tired of hitting 17 greens and shooting only one under," said Munoz, explaining how her daily practice sessions now started and finished on the putting green. "If I wanted to improve, I had to make the effort."
When the ball did disappear, only minutes before the setting sun, three seasons full of almosts seemingly vanished with it. After 30 tournaments, 12 top-five finishes and 23 top-10s, Munoz had career win numero uno with a birdie on the first playoff hole of the 26th NCAA Women's Championship.
It was a victory long enough in the making that even Munoz's vanquished foe was sympathetic. "It's about time people noticed how talented a player she is," said UCLA junior Tiffany Joh, whose 12-foot birdie try to extend the playoff came up short after the pair completed 72 holes in one-under 287, two strokes better than Georgia's Garrett Phillips.
Before the playoff began, Munoz, once afraid her English was so poor she wouldn't utter a word during a round, confidently spoke to ASU coach Melissa Luellen on the tee: "I'm going to birdie this hole." In the gloaming, Munoz's putt never veered from its line. "It was in from the moment she hit it," said Luellen.
Conversely, the Southern California women's program was familiar with winning tournaments, having developed a particular penchant for it in the final two months of the 2007-08 season. In their three events prior to nationals -- including the Pac-10 Championship and the NCAA West Regional -- the Trojans won each by an average of more than 17 strokes.
Not surprisingly, then, when the deepest, most balanced squad Andrea Gaston had assembled in her 12 years as USC coach (including her 2003 NCAA title team) held a three-stroke lead over UCLA with 18 holes remaining, it didn't flinch. Paced by a 69 from 2006 NCAA medalist Dewi Claire Schrefeel, the Trojans shot a one-over 289 Friday for a 16-over 1,168 total, six strokes better than their crosstown rivals and 12 ahead of third-place Duke, ending the Blue Devils' bid to be the first school to claim four straight national titles.
"This is really a special team for me," said Gaston moments after being carried off the 18th green by her charges. "I've coached a lot of talented teams and talented individuals. This has been the most fun. They're all together. Their goals are the same. They love and respect each other. And we have a lot of fun."
You could argue there should be a special designation next to the 2008 champions, considering all they had to overcome to earn their trophies on the 6,424-yard, par-72 course. The week in Albuquerque's high desert turned out to be one only Jim Cantore could love. While Tuesday's first round took place in 90-plus-degree heat (with Southern California grabbing a Day 1 lead at nationals for the fifth time in six years), Wednesday brought steady 30-35 mile-per-hour winds, with gusts up to 45 mph. Twice tournament officials stopped play when balls wouldn't stop moving on the greens.
When the second round resumed Thursday morning, temperatures had plummeted into the 50s as storms packed with rain and hail created more problems, pushing the third round's conclusion into Friday. The tournament's sixth delay came in the final round (lightning) with the last threesome on the second hole.
The tumultuous weather could explain why Duke's attempt at the historic four-peat never gained momentum -- but only partly. Truth is, a disappointing 11-over 299 in the docile first round actually stalled the Blue Devils' title run. Unable then to mount a second- or third-round charge, their trademark the three previous years, the Blue Devils' final-round 281 proved too little, too late. "I wish we had another day," Duke coach Dan Brooks lamented. "We started playing golf today."
The week's other anticipated storyline -- the showdown between player-of-the-year candidates Stacy Lewis of Arkansas and Amanda Blumenherst of Duke -- never materialized either. Both players struggled on the greens, leaving them five and six shots off the individual lead when they were paired together for the first time ever in the third round. Lewis, a senior looking to become the first NCAA individual champion to defend her title, shot 75; Blumenherst posted a 77, her worst round as a collegian. A closing 72 for Lewis left her at four-over 292 and tied for eighth, while Blumenherst's 68 put her one stroke better at T-5 and secured the junior her record third POY award.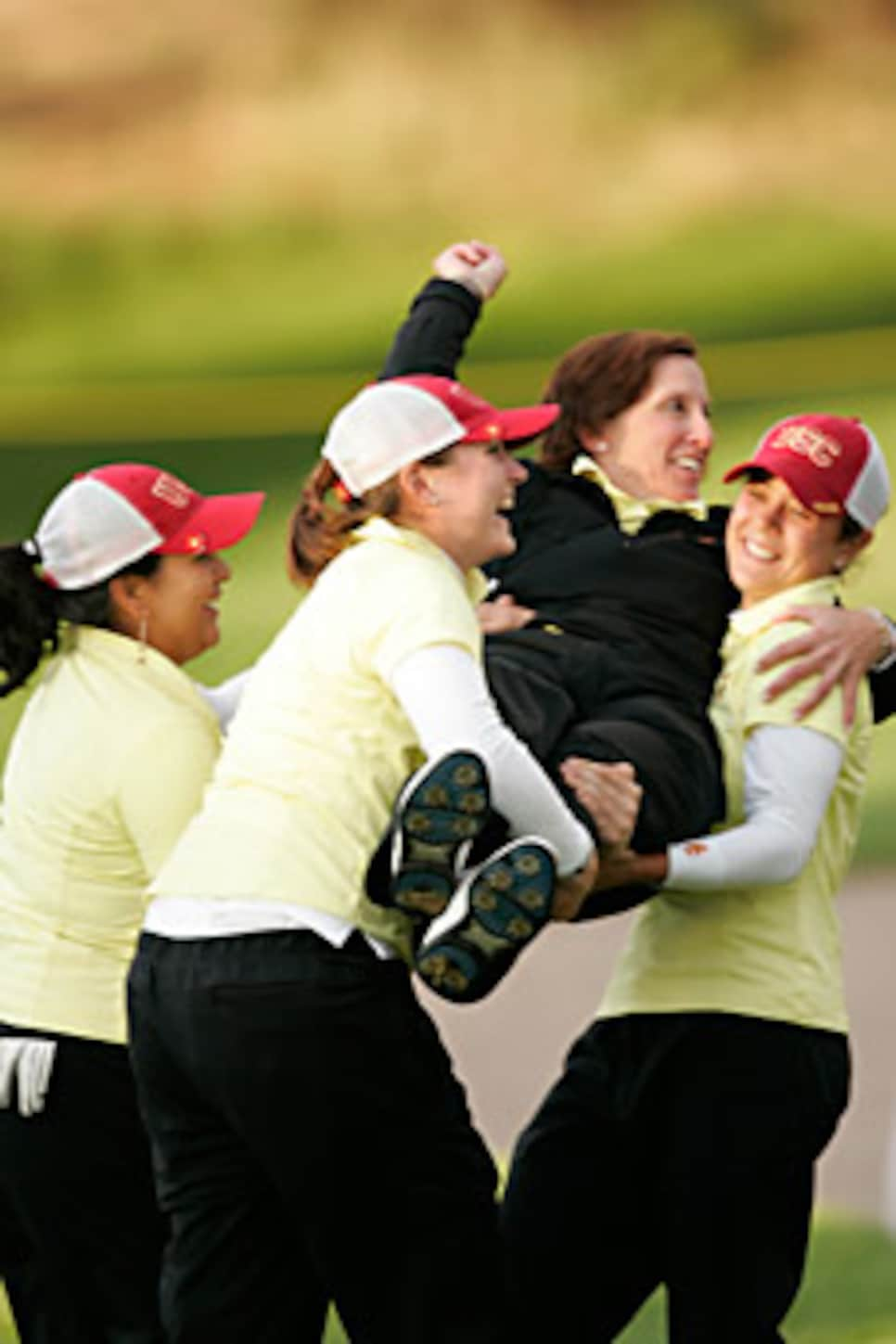 While UCLA cut the Trojans' final-round lead from as high as seven strokes back to three with three holes remaining, it couldn't get any closer as Joh (72) and Glory Yang (72) were the lone Bruins to shoot par or better. Meanwhile, USC had sophomore Belen Mozo (fourth), senior Schreefel (T-8), freshman Lizette Salas (T-15) and senior Paola Moreno (T-20) all post top-20 finishes.
In spite of winning once in the fall, the Trojans' title run essentially began in January with the transfer of sophomore Stefanie Endstrasser from Purdue. Her arrival gave USC a sixth standout player to vie for five starting spots (freshman Joanne Lee was an all-Pac-10 pick but couldn't crack the postseason lineup), creating competition at home that translated to success on the road.
"Everyone on this team can go low," Schreefel said. "We all just pushed each other to get better." The mix of international talent -- Mozo from Spain, Schreefel from the Netherlands, Moreno fromColombia, Endstrasser from Austria and Salas from the U.S. -- created a melting pot that simmered at just the right time.
It was Mozo -- ironically Munoz's best friend growing up in Spain -- who made USC's lone run at the individual title, holding the lead after six holes Friday. Four bogeys over the final 11 holes, however, en route to a 75 left the others in the final threesome, Munoz and Joh, to hash things out. (Phillips, starting the final round on the 10th tee two off Munoz's two-under 214 lead, also was in the hunt. She missed an eagle putt from 12 feet on the par-5 ninth that could have won the tournament, before somehow four-putting for a bogey.)
One shot ahead of Joh beginning the day, Munoz started slowly with bogeys on the third and fifth holes. A six-foot birdie on the sixth helped her build some confidence. Another birdie on No. 9 was offset by a bogey on the 12th, though, leaving her one back of Joh while standing on the 17th tee. Joh's tee ball on the 170-yard par 3 landed on the green but 50 feet from the hole, and she proceeded to three-putt as Munoz made par. Each missed a birdie try on the par-5 18th in regulation (Munoz shooting a final-round 73), forcing them to play the hole again in the playoff.
To say Luellen got fortunate in signing Munoz isn't a stretch. The former British Girls' Open Amateur champion caught her eye at the AJGA's Thunderbird Invitational, but when Munoz mistakenly wrote the wrong high school graduation year on her bio sheet, coaches thought they had to wait to contact her. Munoz's countrymen on ASU men's team, however, told Luellen of the error, allowing her to get a jump on recruiting.
As Munoz's game developed -- she earned second-team All-America honors her first two seasons -- Luellen knew the putter was the one thing holding her back. When the psychology major with a 3.9 GPA began putting more time in on the greens, a suggestion from the coach regarding her set-up improved the path of her stroke and helped things click.
In turn, as putts started to fall, Munoz's confidence soared, allowing her to simply go out and play. "Sometimes in the past I would be thinking about if I was in the lead or if I was one behind," said the fifth female ASU golfer to earn the NCAA individual title. "Today, I just kept doing what I had to do and remembering my routine."
One that, finally, allowed her ball to disappear.