News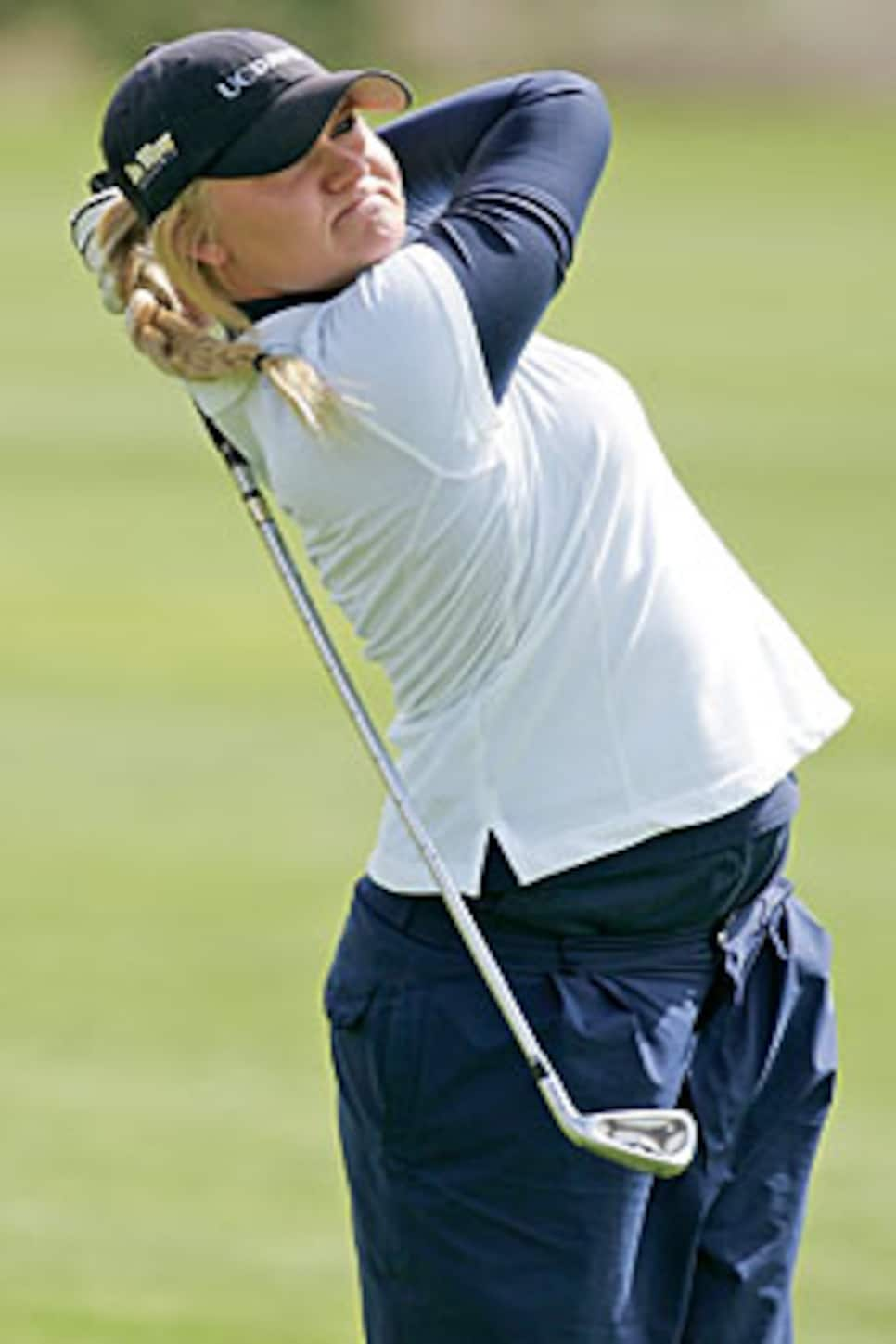 Gregory proved UC Davis belonged on the grand stage.
It's hard to complain about finishing 21st at the NCAA Women's Championship when your school's golf program didn't even exist four years ago and just finished its first year competing in Division I. Still, it says something of the UC Davis squad, upset winners in a playoff with Stanford and Ohio State for the last NCAA berth out of the West Regional, that its members weren't just happy to be at the University of New Mexico Championship Course last week in Albuquerque.
Were they going to win the national championship? "Of course not," said junior Bryana Gregory, one of the team's original recruits, "but that doesn't mean we can't show people we're a pretty good team."
While finishing with an 82-over 1,234, 66 strokes back of victorious USC, the Aggies did beat a trio of schools, including 13th-ranked Arizona. They did so despite the team's top golfer, freshman Chelsea Stelzmiller, finishing T-75 and freshman Katie Sisler withdrawing in the third round with a lower abdominal injury.
The week proved a special one for the program's founder, Kathy DeYoung, who announced earlier in the year she was retiring at season's end. (Anne Walker, a Pac-10 champion at California, takes over July 1.)
It was DeYoung's vision that got the program going four years ago. Never mind that the 55-year-old was a decorated softball coach who won the D-II national title in 2003 and only began playing golf at age 40. "I just always felt the school should have a women's golf team," she said. "At one point I told them I'd even coach." As the saying goes, be careful what you wish for.
DeYoung stepped down from her softball post after 26 years and spent 12 months prior to playing a tournament attending junior events and observing other college coaches to learn the ropes.
"Coaching golfers is a lot like coaching pitchers," DeYoung said. "There's a lot of mental part of the game."
"She knows how to get what she wants," said Gregory, who finished T-89 in Albuquerque: "I think that's why we've been able to excel so quickly."
What DeYoung wanted last week was for her players to savor the moment. "I told them, 'You're going to remember this the rest of your life,' " she said. "You might not remember scores, but you'll remember who you're with. You might come back to nationals but not with this group."
DeYoung knows with four of their five starters returning next season and a talented young coach on board, the Aggies are positioned to succeed long term. "It's hard for me to think about leaving," DeYoung said. "But I know these players will be back here again soon."
Perhaps as early as next May.