News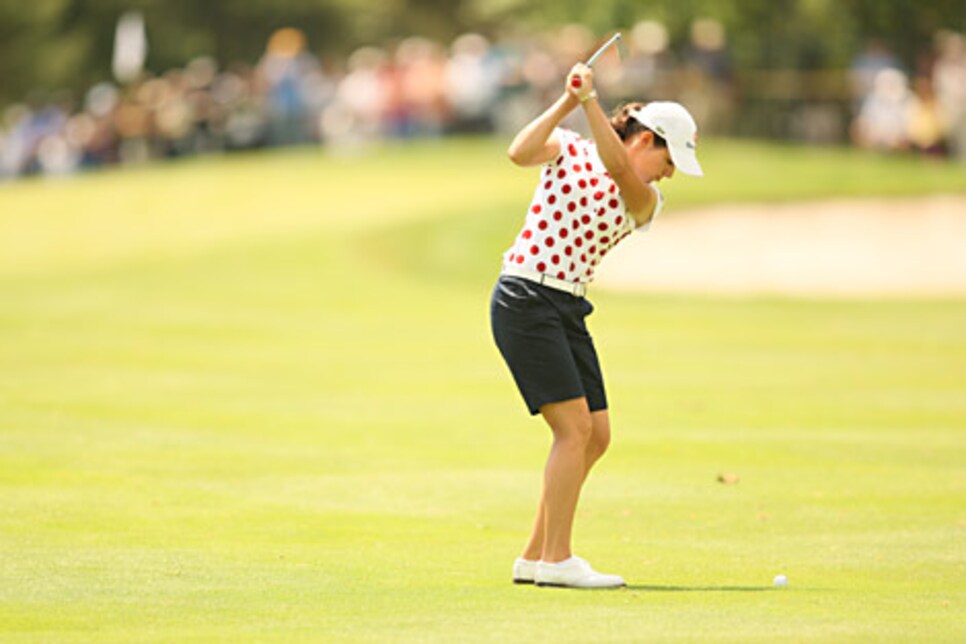 After rain washed out Friday's play, Ochoa shot a second-round 67 Saturday to assume a two-stroke advantage.
To those who wonder why Annika Sorenstam is walking away from competitive golf while still at the top of her game, these words need to be said: There is more to life than winning LPGA tournaments. And to those who see Lorena Ochoa as a star who may shine even brighter than the legend she replaces, there is this cautionary advice: Savor every second for she, too, will step from the spotlight sooner than expected. That these two careers crossed paths last week at the Sybase Classic was not just an appropriately symbolic passing of the torch, but also a compelling reminder of the complexity of two competitors who strive for victory off the course as well as on it. At each challenge, both are winners.
Tuesday at Upper Montclair CC in Clifton, N.J., when Sorenstam announced her retirement from competitive golf, effective at the end of the season, she said: "I have other priorities in my life. I have a lot of dreams I want to follow." Those dreams include starting a family, building a business and becoming an activist for the growth of golf. A day later, Ochoa said, "Just being a part of the Annika era, to me, was an honor." Then Ochoa outlined an exit strategy of her own.
"We all have a plan in our life," said Ochoa, who is 11 years younger than the 37-year-old Sorenstam. "I don't want to be here forever. I want to play maybe 10, 12 years. I do want to go back home and raise a family. I would love to just finish here and be happy with my career and then just go back to Mexico and do things that I love to do, that I miss, and life is too short not to do them."
Perhaps it is because both are so grounded as people that they have been so successful as players. Ochoa, pushed on the back nine at the Sybase for the first time in any of her six victories this year, turned back half-a-dozen challengers and closed with a 71 to finished the rain-shortened 54-hole event at 10-under-par 206, one stroke better than Morgan Pressel, Catriona Matthew, Brittany Lang, Na Yeon Choi and Sophie Gustafson.
Gustafson, in the final threesome with Ochoa and Teresa Lu, had a chance to force a playoff but missed a birdie try from 12 feet on the final hole. "I just didn't hit it," Gustafson said.
Among the points Sorenstam made when she announced her departure from competition was that she felt she was leaving the LPGA in good hands. She meant generally, in terms of the depth of talent, and specifically in terms of Ochoa as a worthy No. 1. She appears to be right on both counts.
The victory at Sybase was Ochoa's 23rd LPGA win, 20 of them coming since April 15, 2006. Ochoa turns 27 in November and already has nearly double Sorenstam's total at a comparable age. "She's why I'm here," Ochoa said about Sorenstam. "Annika has been my motivation. Annika is the best player."
That's certainly how Sorenstam started at Sybase, which turned out impressive crowds despite the weather and has emerged in just two years as one of the top-tier stops on tour. Sorenstam posted an effortless 67 that tied for the first-round lead. But Friday's rainstorms seemed to disrupt her momentum. When the second round was finally played Saturday, Sorenstam shot 73. She eventually finished T-11 at 211, five strokes behind Ochoa.
Sorenstam simply ran out of gas. After her announcement Tuesday, she tossed out the first pitch at the New York Mets game that night, delivered the Top 10 list on David Letterman's show the next night and met with several of her business partners to plan the future. She was so busy she turned down an offer by New York Yankees shortstop Derek Jeter of his box seats for the Sunday night game against the Mets.
"I am happy to have my announcement behind me," said Sorenstam, "and look forward to playing some good golf in the big tournaments ahead." She will play about a dozen more LPGA events -- next at the Ginn Tribute Hosted by Annika near Charleston, S.C. -- before ending the year at the Ladies European Tour event in Dubai in December.
The second-round washout left many players shaking their heads. Half the field was on the course Friday when it was decided to cancel the round and reduce the event to 54 holes. They began the round playing the ball down, despite a dicey forecast, and so much rain fell there was no way to resume Saturday without playing lift, clean and place -- at least not without an outcry from the players.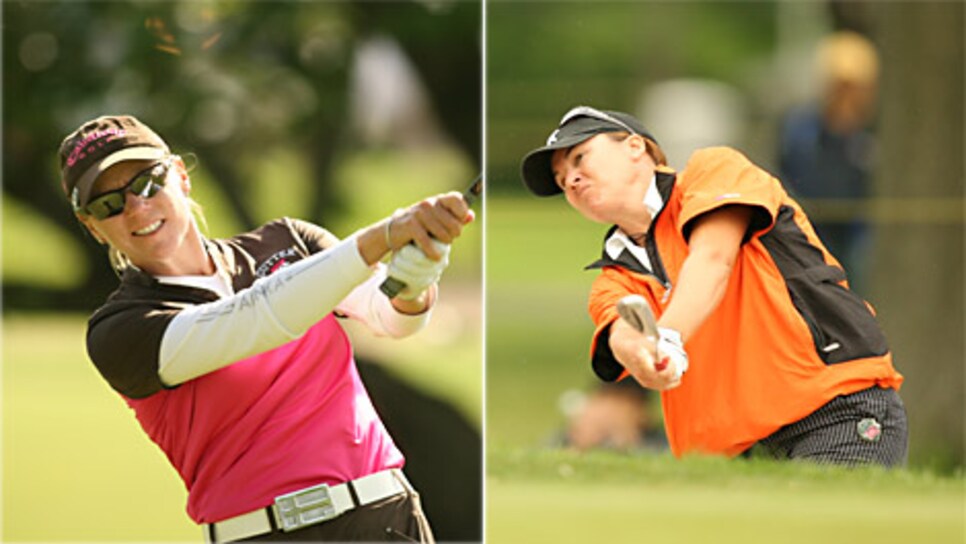 Among those impacted was Rachel Hetherington, who was one under par through seven holes in the cold and rain and then shot 77 in the replayed round Saturday. Michele Redman was two under through eight holes Friday and shot 73 Saturday. Matthew was two under through seven holes, then shot 72. Ochoa, who hadn't started her round Friday before the postponement, shot 67 Saturday to take the 36-hole lead at 135, two strokes clear of Teresa Lu and Gustafson.
Pressel made the biggest move Sunday with a 66 despite missing a ton of birdie putts. She stayed by the 18th green to watch the final group finish, knowing a bogey by Ochoa would create a six-way playoff. When Ochoa hit her approach shot to 10 feet Pressel said, "That's it. Not even I can three-putt from there."
Ochoa's previous five wins this year were by margins of 11, seven, five, 11 and three strokes. "Today it was a different win," Ochoa said about the closeness. "But I enjoyed it a lot. I love that. I love the feeling of adrenaline and just trying to be good and be smart and win at the end." The key shot Sunday was Ochoa's 15-foot par putt on No. 13, one of the few putts she made all day -- two of her three birdies were two-putt jobs on eagle tries inside 25 feet.
Eleven of the 12 LPGA events this year have now been won by Ochoa (6), Sorenstam (3) and Paula Creamer (2). Certainly, Ochoa and Creamer, who has six wins at the age of 21, are among those to whom Sorenstam is entrusting guardianship of the LPGA. But there are more.
While Gustafson and Matthew are veterans, the other second-place finishers at Sybase were 19 years old (Pressel), 20 (Na Yeon Choi) and 22 (Lang). The 20-year-old Lu finished T-11 and Yani Tseng, 19, was T-15. Certainly, part of Sorenstam's legacy will be the generation of young talent she inspired that is now coming of age, and coming from all corners of the world. And, as Ochoa notes, she inspired in other ways as well.
"I think to find the love of doing something different outside the golf course is something that I admire, so I congratulate her," Ochoa said. Then, in explaining her own generous nature, Ochoa said: "You don't need to be mean, you don't need to be rude to play good golf." Sorenstam is right: She is leaving the LPGA is very good hands.