News
Victory Escapes Goydos, But He Remains a Major Dad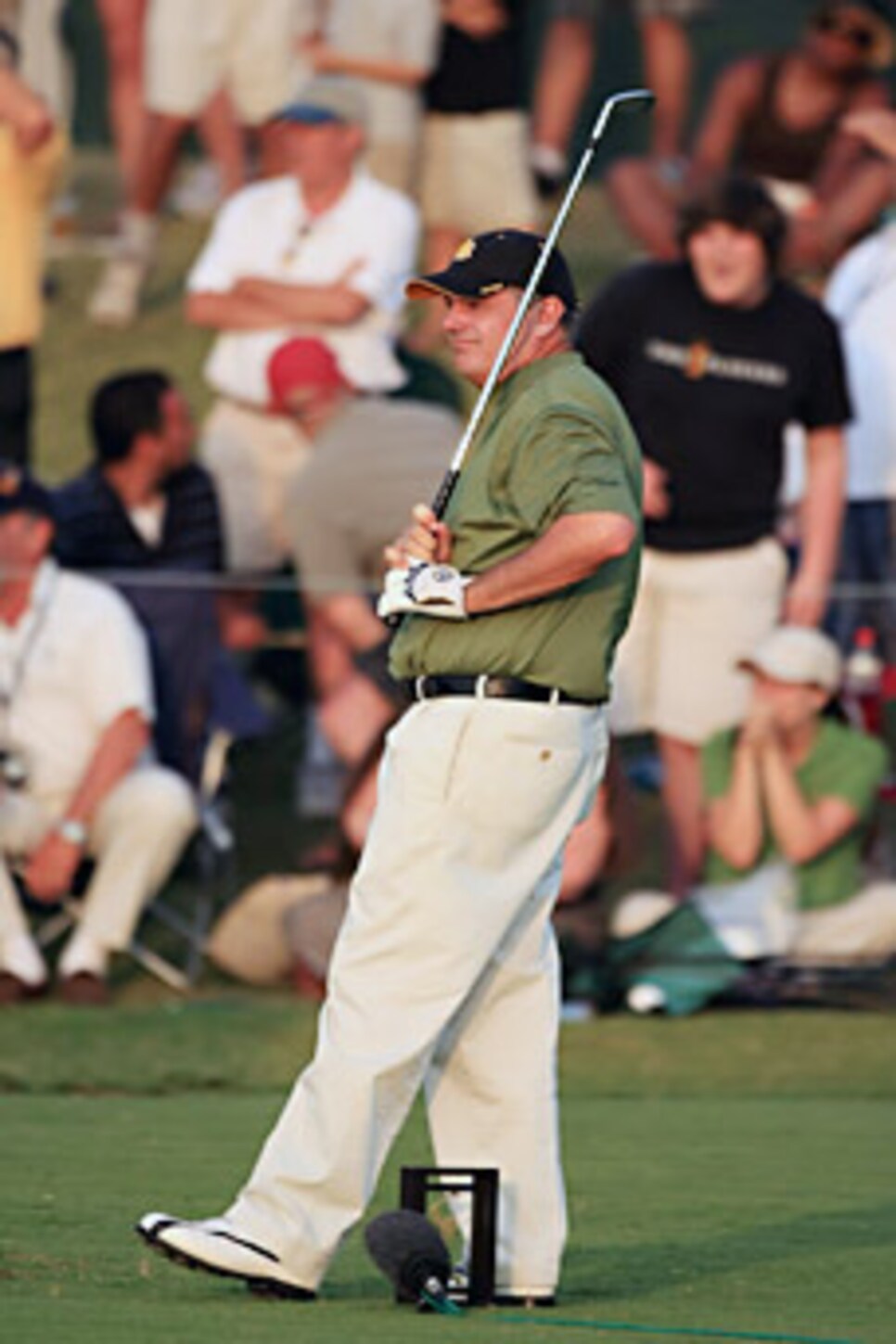 Besides a shirtless John Daly, the scariest scenario for golf is life without Tiger Woods. Despite the pomp and circumstance manufactured toward its fifth-major ambitions, the Players felt the great one's absence last week. The event was sold out, but tickets were available for half price all along A1A, the main drag to the Stadium Course. Inside the press tent seats usually warmed by writers from Los Angeles, Chicago, Dallas and Philadelphia were empty, perhaps a reflection of the economy. Tiger's having a better year than the newspaper industry, too.
But the show went on without the leading man, and while several twentysomethings had bad heir days, Sergio Garcia prevailed, on merit. His vanquished foe, though, was a pretty good story too. Paul Goydos, an unknown soldier nicknamed "Sunshine," shone until the very last drop area on No. 17, a quirky par 3 that spelled sudden death for a guy who did everything right except post the lowest score.
Some might condemn a playoff starting on that island of horrors green—not Goydos. "That hole did exactly what it was supposed to," he said, smiling until the end, the epitome of dignity in defeat. As Garcia and his trophy were brought to the media scrum, Goydos chatted away cordially, enthusiastically, as he had throughout, as if to remind us the PGA Tour is stocked with personable but virtually anonymous souls who get it, yet too often aren't called upon to give it. But, if you suggest that golfers of his ilk are rendered invisible by a tilted marketing scheme, Goydos, a former substitute teacher, will take you to school.
"Tiger is underrated, the most dynamic athlete in the world," Goydos said. "If he goes to a basketball game, he adds something to that basketball game. What are we playing for out here, $300 million a season? If he's not here, maybe it's $200 million. If he brings in $100 million, and takes 10, that leaves $90 million for scrubs like me. He's got to have somebody to beat, and in all my tournaments against Tiger, I believe I've fulfilled my role well. He's going to win 100 times and 25 majors before he's done. But he needs guys like me around to do it. I have no problem with that."
Goydos had no problem with anything last week. In his biggest moment on national TV, he went glib for glib with Bob Costas. Goydos deprecated self to a tee. He played Saturday with Garcia and said Sergio must have "thrown up" at the disparity in their talents. Goydos dismissed picking correct clubs in these gales being a struggle because, "Hey, I play golf for a living … I'm not doing construction." Leading by three on the back nine was nice, he allowed, but leading with no holes to go is nicer. "And," Goydos reasoned by nightfall, "having an 0-1 record in playoffs is better than 0-0."
So, the two highlights during his modest and grinding career remain. Not Bay Hill and Sony. Chelsea and Courtney, teenage daughters back home in Southern California, where he juggles his responsibility as a single father with this other vocation of ball and stick. It isn't easy, but the decision to abdicate golf for parenthood was when he took off virtually the entire 2004 season. It was a wonderful year, maybe the sweetest in his life, because that's what Paul Goydos made of his divorce from wife Wendy. Not many of those result in a husband's custody of the children.
"Wendy had some health issues," Goydos said. "I can sit here and claim that I made an altruistic or courageous decision not to play golf so I could be with my girls. But Wendy made one herself, by not fighting to have them and walking away so she could take care of herself and wind up a better mother. That's pretty strong, too. The girls are with her now, while I'm 3,000 miles away playing golf. They've been with her a lot this year. Wendy's been very helpful. She lives no more than a mile away. But what I did was a no-brainer. It was the only decision to make. Give up a year of my career for the daughters? What, was golf going to disappear from the map? I would hope any guy out here would make the same call. Any father anywhere."
Goydos won over everybody but Garcia last week. A mystery guest to spectators, he enthralled them by tipping his Long Beach State baseball cap, genial demeanor and repeated salutes to caddie Scott Sajtinac for putts well read. Perhaps, Goydos reasoned, because fans know what a difficult, demented game this is, they root for the favorite. But, at nightfall Sunday, someone informed him that thousands watching his moist denouement at No. 17 on the giant screen TV while waiting in the bleachers at No. 18 were visibly and audibly crushed because they wanted to see more of their new hero, the unknown soldier. "These people here treated me like Tiger," Goydos said, bowing his head. "How can I ever thank them for their support?"