News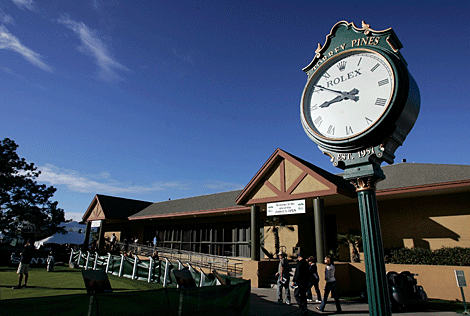 Locals fear more outside play if Torrey Pines goes private.
Privatization is an epithet for golfers whose home courses are municipally owned, particularly those that have assumed a higher profile, Torrey Pines GC and Harding Park GC among them. This became apparent last week when concerns—real or imagined—surfaced over the possibility the pair's operations might be turned over to private companies.
In San Diego, stories have surfaced that the city has been talking to Bill Evans, the owner of the Lodge at Torrey Pines, about his managing Torrey's two courses, of which one, the South Course, is preparing to host next month's U.S. Open.
Paul Spiegelman, who co-founded the San Diego Municipal Golfers Alliance in an effort to give citizen golfers a voice in course operations, said the speculation emanated from city employees and that he has been hearing it for more than a month.
"The city has had no discussions with Mr. Evans or anybody else in terms of taking over the golf operations," said Mark Woodward, San Diego's golf operations manager.
Evans, who already operates the concessions at Torrey Pines, has in the past expressed an interest in taking on the golf operation, but said he has not addressed the issue with anyone connected to the city in more than a year. "This was presented to me as a new situation," Spiegelman said. "It may have been engendered by the fact that Evans is a supporter of [Mayor Jerry] Sanders." Sanders, who is up for re-election, has helped fuel the talk by having said previously he would consider privatizing golf operations for the city's courses, which also includes Balboa Park.
Spiegelman is concerned that citizen golfers retain their allocation of tee times, at a reasonable cost. An outside operator with a profit motive might alter the balance to bring in more nonresident play as a means of cashing in on Torrey Pines' U.S. Open pedigree, he said. Evans, meanwhile, said he shares that concern.
"I would welcome the opportunity to be part of the privatization of the course," Evans said, "but only if the city controls who gets to play and for how much. They need to protect the golf-playing public who own the course."
Evans said his concern, as a stakeholder, is "how much commitment will the city of San Diego have to that course after the Open leaves?" An independent operator, he said, would have more incentive to maintain it in a manner commensurate with its new-found status.
San Diego's courses, at least, generate revenue sufficient to pay for themselves. San Francisco's six courses operate at a loss of more than $1 million annually, according to reports. Privatization is among two options under consideration, the other being to close them altogether.
The Recreation and Park Department acknowledged last week it has solicited proposals from private concerns on operating three of the city's courses, including Harding Park GC, site of the 2009 Presidents Cup.
When the renovation of Harding Park was undertaken in 2001, the idea was that Arnold Palmer Golf Management would run the course. Public outcry over its privatization—and an increase in green fees that likely would result—contributed to that plan being scrapped.
A similar obstacle is expected this time as well, in addition to a faction of the public that believes there are better uses for the land.
"We need to have a thoughtful public discussion about the allocation and disposition of [485] acres of public park land," Isabel Wade, a member of the task force the Recreation and Park Department assembled to help arrive at a solution, told the San Francisco Chronicle.