News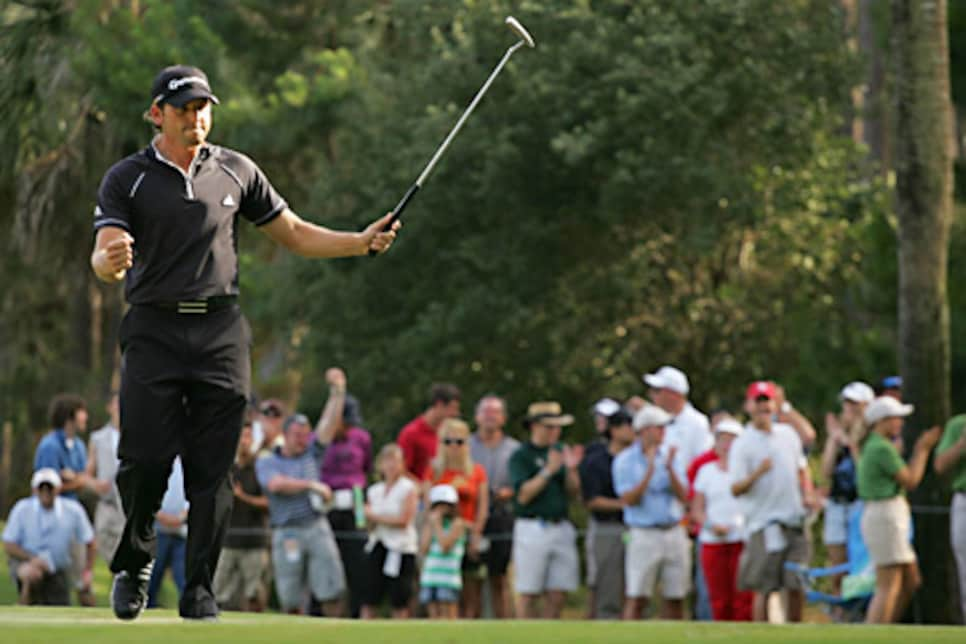 Garcia put distance between himself and Carnoustie with some key putts on Sunday.
On a May day that must have blown in from March, across a stadium course with more skyboxes than Lambeau Field and the outline of stately Casa Non-Profit in the distance, Sergio Garcia stood on the fiendish 17th hole at TPC Sawgrass, put his putter to his lips and kissed a few demons goodbye. Whoever said no wind blows so ill that it does not do some good certainly must have had this Players championship in mind.
But demons seldom go down without a tussle, both inside and out, and Garcia had to first wrestle his to a draw against Paul Goydos, a man as short off the tee as his wit is long off the podium.
That two guys who sound like headliners in the plaza de toros, Garcia and Goydos, would meet for a playoff in Pete Dye's first circle of hell seemed a fitting result since the first one struck the ball better than anyone else in the field all week and the second one putted it better than anyone else. The G-men tied at five-under-par 283, a shot ahead of Jeff Quinney, who narrowly failed in his bid to become the third matador when he bogeyed the 18th from the back bunker, hardly a capital offense since the hole played statistically tougher than three of the course's par 5s. In the end it was the ball-striker who prevailed but not before he delivered the coup de grâce with the putter everyone loves to hate on the new Bermuda greens kept mercifully slower Sunday in deference to the cyclonic winds.
For the first time, the infamous island 17th was to be the opening hole in a playoff. This was like watching the invention of the iron maiden. Goydos' pitching wedge, the same club he had found the middle of the green with moments before, got caught up in the wind that had calmed to, say, 20 miles per hour from gusts around 40 most of the day, and splashed down in the water. Garcia stepped up and stuck his sand wedge four feet from the hole, and it was all over but the lip lock. "Very impressive," said Goydos, who was the first, and last, player of the week to put a ball in the water at the 17th.
The 28-year-old Spanish l'enfant terrible is the guy younger than 30 with the most wear on his treads, but not since Bernhard Langer has a player of such obvious gifts with such obvious psychoses managed to address those eccentricities so forthrightly, from the re-grip yips to his bunker-raker paranoia, to his latest putting disorder. He is undergoing treatment by the great and powerful wizard, Stan Utley, who pulled a few levers behind the curtain and convinced Garcia he didn't lack courage, all he lacked was a medal. He told him there was nothing wrong with his putting stroke, just a nip here and a tuck there. Sergio clicked his heels together three times and said, "There's no place like Sawgrass."
"There were fundamentals, predominantly to do with set up, that caused him to hit putts with a glancing blow," said Utley. "He knew what it was supposed to feel like. From my standpoint, it wasn't very hard to put him in a position to do that." Of course, residual scar tissue from emotional misses such as the one on the 18th hole at Carnoustie last year remained, but becoming the champion Player of the year could begin to heal those fast, maybe even in time for Torrey Pines and the U.S. Open. "I'm certainly not a psychologist," Utley said, "but I do enjoy encouraging. You can call me an encourager."
For much of the day, good things kept happening to the sentimental favorite, Goydos, whenever he seemed to need it most. And, after all, if you're the single parent of two teenage daughters, what else is there to be scared of? He made a monster downhill putt for birdie at the fourth to stop some early bleeding and pitched in from the rough from 34 yards on the 10th. The 43-year-old Goydos, wearing his alma mater's Long Beach State "Dirtbags" cap he bought in a Lids in the Charlotte, N.C., airport, took a one-shot lead over 47-year-old Kenny Perry into the final round. Perry is a Kentuckian who is so excited about the prospect of playing on the U.S. Ryder Cup side at Valhalla GC in Louisville he was actually willing to win the Players to get there but fell short with a 43 on the back nine.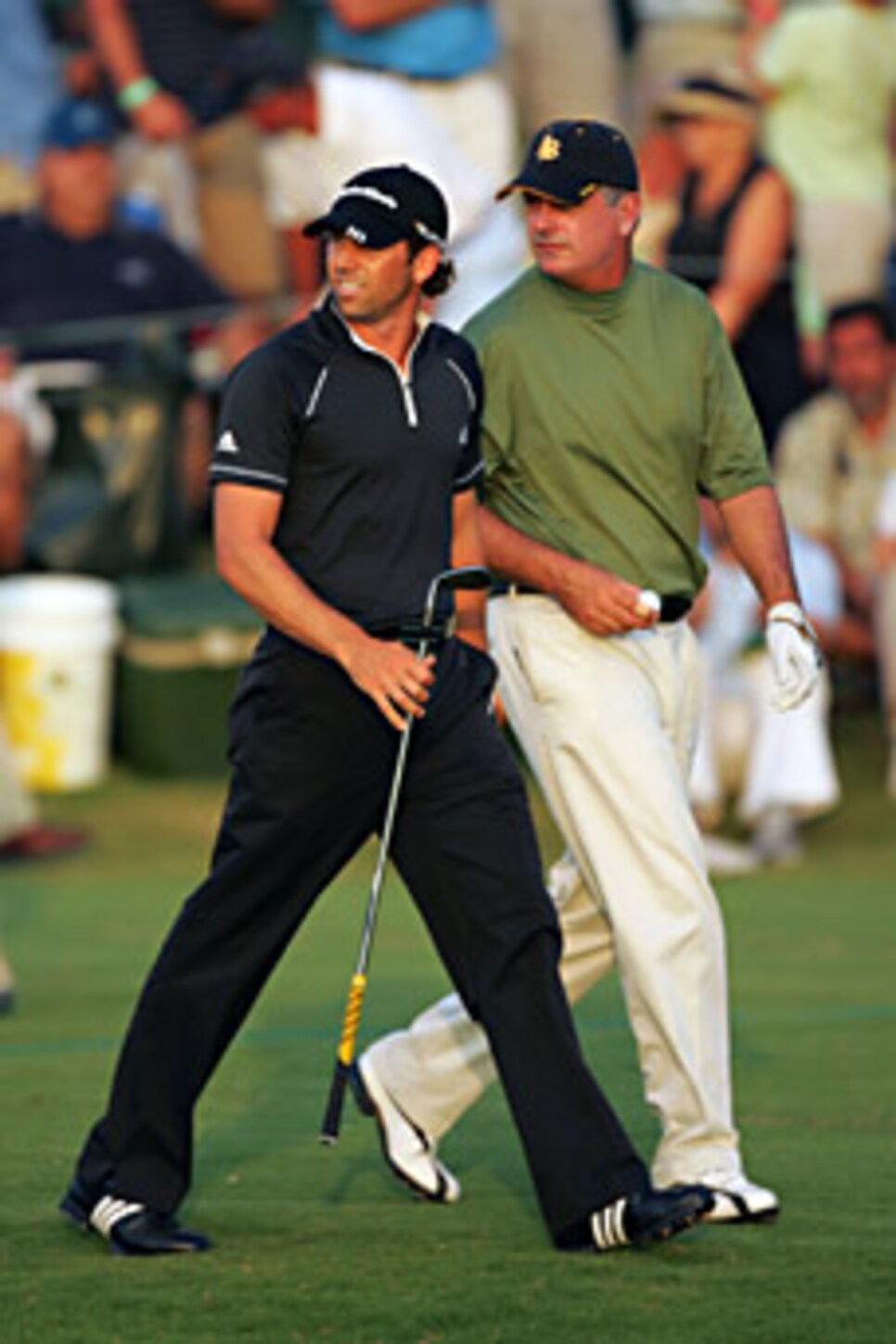 In the meantime, Garcia's putter rediscovered his youth. After lipping out at the first to make bogey and failing to birdie the par-5 second, Garcia saved a par with solid 10-footer at the fifth and gave his day's first fist pump, adding a swift kick to his golf bag. He birdied the seventh to get to four under with Goydos and Perry playing behind him, each at five under. After bogeying the eighth, Sergio made another key putt at the ninth, saving par when his third shot went over the green, leaving himself a very difficult bunker shot he did well to get inside 15 feet. He birdied the par-5 11th when he holed a seven-footer; hit it close on the 12th for another birdie; dropped a shot on the par-3 13th from over the green; rolled in a 46-footer on the 14th to get back to five under; endured a frustrating miss for birdie on the 16th; made a three-foot tester on the 17th; and saved a crucial par on the 18th when he drove it into the right rough, ripped it out 51 yards short of the pin, scared the hole with his pitch, then made the seven-footer coming back to post a final-round 71.
"The good thing about it was that I knew I was going to make that putt [on 18]," said Garcia. "I actually had a little grin when I was going into the ball because I was thinking, I felt so calm and I was like, 'You know, I don't know if this is going to be enough or not but I'm going to make this putt and I'm at least going to make Paul work a little bit.' "
Behind him, Goydos struggled with bogeys on the 14th and 15th holes but made a perfectly executed birdie at the 16th to get back to six under, a shot in front. He parred the 17th with a pitching wedge to 22 feet and, like Garcia, drove it into the right rough on the 18th. Goydos laid up, but the man who took up golf when he got beaned three times in Little League, nearly had to give it up because of arthritic hands and then devoted himself to his daughters after his divorce four years ago, couldn't make the 14-footer to win it outright.
"I had a putt on the last hole to win the tournament," said Goydos. "I don't really think that you could ask for any more than that, other than it being a little shorter. I got to do a lot of firsts this week. You know, first time leading and first playoff. I've got to think 0-1 is a better playoff [record] than 0-0. Right?"
If Garcia was driving it like Iron Byron all week (he hit 14 of 14 fairways Friday), Goydos was nailing the mots juste for the media. His dry humor was on display but what was getting equal time was his devotion to his family, his ailing mother -- he marked his ball MOM on Mother's Day -- and his daughters, Chelsea and Courtney.
"There's very little doubt the kids were better off with Paul," said his close friend, Patrick Burke, who played the tour with Goydos for just over seven years. "He put a lot of his golf on the back burner. He didn't put a beeper on. He stayed home and did it. And I don't think he would consider it a big deal. The reality is, [he was] the one that [had] to step up, and he did."
This latest edition of Fifth Major Week kicked off with the master of disaster, Dye, getting an invite from the World Golf Hall of Fame, which is something akin to asking Hannibal Lecter to dinner and having Freddy Krueger carve. They might as well induct him. Half the people in it already have cussed him out. By Thursday a handful of players had come down with gastroDyeitis, including Masters champion Trevor Immelman, leaving the year's fifth major without the winner of its first, in addition to the glaring absence of He Who Is Without Peer. This sudden epidemic was surely something that would have made Pete prouder even than the call to the Hall. Imagine, after all these years, he can still make 'em sick to their stomachs.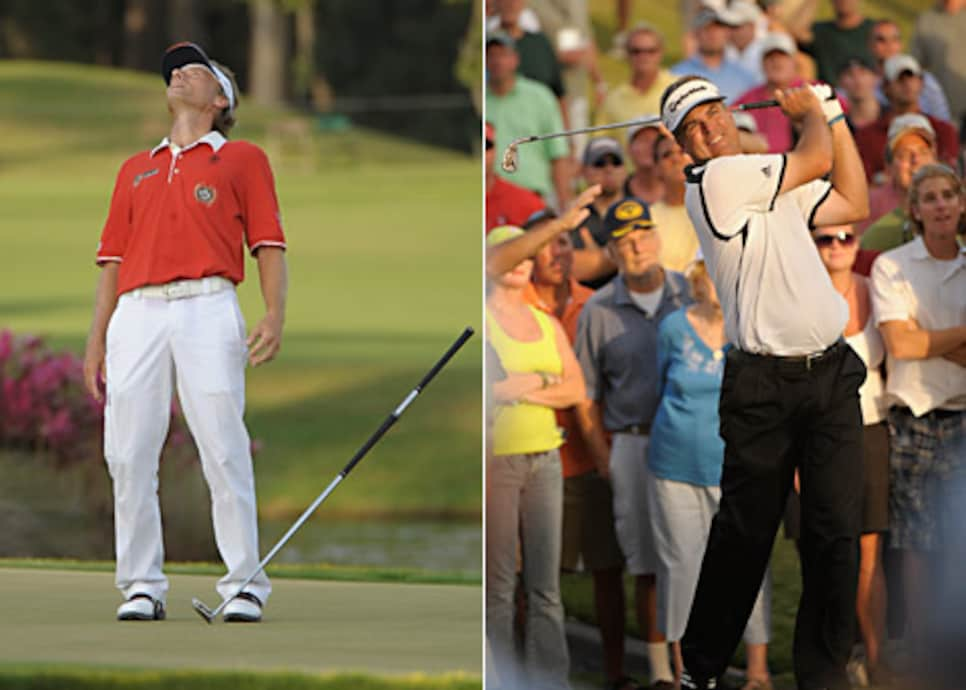 "First," said Garcia when he had the crystal trophy in his hands, "I'd like to thank Tiger for not being here." Welcome to Week Two of www.zzz (World Without Woods, dot, wake us up when it's over). Garcia, who rarely missed a fairway or a green, took the first-round lead at six-under 66. Friday, Langer, the ageless and taciturn German (not to be confused with all those howlingly funny Germans), actually held the lead for a few minutes as the breeze freshened sufficiently to blow the alligators out of the lakes. The 50-year-old Champions Tour rookie wound up in Saturday's final pairing, one shot behind Perry's six-under total of 138. The two-time Masters champion was tied with Garcia, who slipped up on the 17th with the rare dry double bogey, and Goydos, the pretty good player who can no longer be confused with a thyroid condition.
Bloody Saturday ended up being all about Serg and the Sunshine Boys, though the garage band, Firm and Fast, led in the clubhouse after it scattered more wreckage across north Florida than your basic Cat 5 hurricane. Firm and Fast? Before Dye, the place was a swamp. Pete was shooting for something slightly more solid than muck.
Of the 15 players going into the third round under par, only three posted rounds of par or better Saturday -- Goydos, Perry and Phil Mickelson, who had a touch of the bug that went around early in the week. John Merrick shot 40 on the back; Boo Weekley and Ernie Els 40 on the front; Fred Couples went out in 41; Kevin Stadler took 41 on the back. Ian Poulter drove it in the water on the 18th to take lavender and misty rose out of contention. Anthony Kim finally hit the wall with a 43 on the back after being in contention since Hilton Head.
The biggest momentum shift of the afternoon came when Garcia three-putted the 17th from just outside 10 feet while Goydos birdied it from just inside the same distance, then parred the 18th from the right rough while Serg bogeyed it from a horrendous lie for a three-shot swing on the closing two holes. Almost the flip side of Sunday.
Early Saturday, at the 237-yard eighth, Goydos hit 4-iron while Garcia used a 7. As they walked off the tee, Goydos turned to his caddie, Scott Sajtinac, and said, "Do you think we have a problem when his clubs are divisible by mine?"