News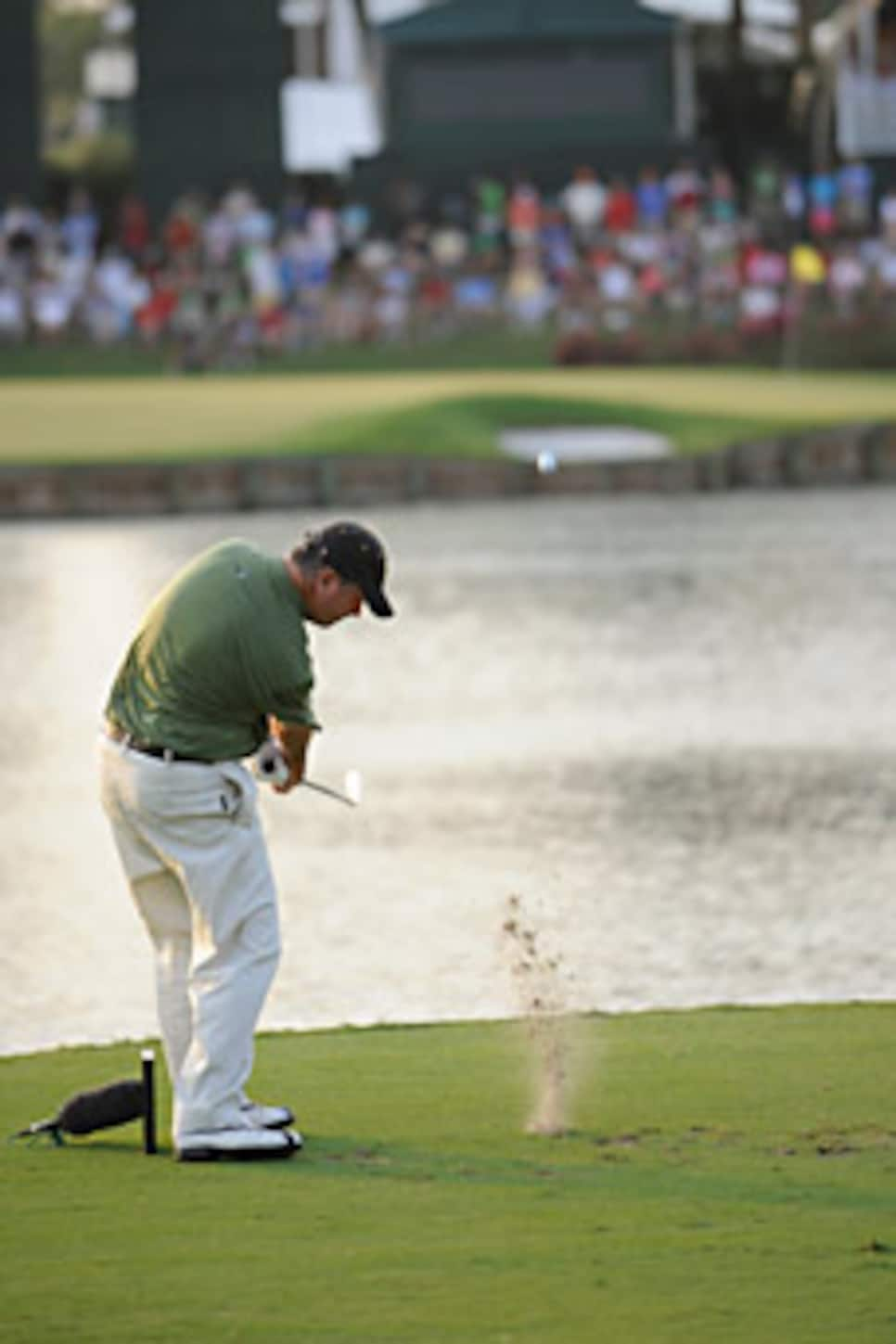 For fans of strategic golf architecture who love options and angles and loathe you-must-hit-it-here! holes, No. 17 on the Stadium course at TPC Sawgrass in Ponte Vedra Beach, Fla., is anathema. A player gets as many choices on the 137-yard, island-green par 3 as a prisoner gets for dinner. His ball is dry or wet, and he has passed or failed. That said, as demonstrated again last week at the Players championship -- where it did its usual job of becoming part of the plot and, in fact, was the scene of the decisive action in the playoff won by Sergio Garcia over Paul Goydos -- the hole is almost beyond type, a singular sensation in tournament golf.
On the large hillside to the left of the 17th, one can smell cigars and sunscreen, hot dogs and perfume. If you had a couple of good hound dogs and pointed them toward the tee, you could probably pick up the scent of anxiety, too. For four days every spring, the party-and-picnic crowd that gathers to see and be seen witnesses some of golf's most white-knuckle moments. The world's best golfers are taken to task by a short little one-shotter whose moods literally shift with the wind, corrupting gusts that can upset their spirit as much as confuse their club selection.
Golf's water hazards have come a long way since the first one, which came to be when the Old Course at St. Andrews evolved on land where the Swilcan Burn meanders toward the sea, tightly guarding the first green along its way. Bernard Darwin, who weighed in astutely on things golf for decades, called the burn "an apparently paltry little streamlet," but acknowledged its surprising ferocity to a golfer who isn't careful. "It is an ingloriously little stream," he wrote. "We could easily jump over it were we not afraid of looking foolish if we fell in, and yet it catches an amazing number of balls."
The Swilcan Burn remained the most famous water hazard in the game for a long time until being supplanted by a bit of the Pacific Ocean on the 16th hole at Cypress Point and Rae's Creek on No. 12 at Augusta National. Cypress' par 3, with its lengthy carry over the ocean, came to be seen as the ultimate go-for-broke, make-or-break, swim-or-drown hole despite a sliver of land that affords a two-shot strategy for the timid or the weak. Nearly everyone, hall of famer to hacker, has the horsepower to reach Augusta's most daunting water hole, but clearing the creek and escaping unscathed is not as easy as it looks because of the extremely thin green above which blow the most mysterious breezes in golf.
The 17th hole at the Stadium course is neither as beautifully brawny as Cypress' 16th nor as challengingly seductive as Augusta's 12th. Larry Dorman of The New York Times once described the shallow (four-foot deep) body of water as "Lake Balata" when golf balls the pros used were still of wound construction with soft covers. Recreational players deposit more than 120,000 balls a year in the lake; they are eventually retrieved by a scuba diver who must not only check that his tank is working properly but that the resident alligator is otherwise distracted.
Tournament week also is responsible for contributing its share of balls, including from caddies, who, in a long-running tradition, get to take a crack at the green in the practice rounds. Last Wednesday, in the Bruce Edwards Memorial Caddie Competition, Jeff Willett, who caddies for Brian Bateman, won a laptop computer and a 42-inch plasma television for the best shot by the loopers, inside two feet, from the 128-yard middle tees.
Jim Colbert, who competed in six Players at TPC Sawgrass, used to try to appease the golf gods by tossing four balls in the lake before the tournament began. No ball finding the water before Thursday morning may have angered anyone more than the 8-iron course designer Pete Dye flew over the green in the pro-am in 1982 on the eve of the inaugural Players on the layout he created out of swampland. Actually it wasn't so much the ball he hit in the water but the one that came rolling between his legs seconds later. "Deane [Beman] had it set up," Dye recalled last week. "He had a pretty little girl on the tee with golf balls. I was in between clubs; I couldn't get there with a 9-iron and an 8-iron was too much. After I knocked it over, here came this ball rolling between my legs. I was livid. But I knocked the next one on."
[Ljava.lang.String;@1e6365f1
Like so many things in modern golf -- metal woods and non-metal spikes, to name two -- the 17th hole at TPC Sawgrass was a new twist on an old idea. The first island green came more than a century ago when Baltusrol GC in Springfield, N.J., constructed one on its 330-yard 10th hole prior to the 1904 U.S. Amateur. The putting surface on the downhill par 4 was encircled by a moat, but the hole (which also featured out-of-bounds to the right of the fairway) was deemed too difficult by a committee of club members, causing an alternate green to be utilized in the championship.
Baltusrol's island green was still there when the club hosted the 1915 U.S. Open, and competitors weren't spared its challenges this time. Jerome Travers arrived at No. 10 needing to play the final nine holes in even-par 37 to beat Tom McNamara, who already was finished. "There is always a time in the course of a final round for a championship that a crisis arrives," The New York Times reported. "With Travers this happened on the tenth hole, and once he had risen to the occasion it meant added confidence for a player who never really lacked it. He sliced his tee shot out-of-bounds, and, fearing he would repeat the error, pulled his second shot from the tee into the rough [a shot out-of-bounds then called only for a distance penalty]. Strokes were as precious as diamonds. It was then that the disposition of Travers made itself manifest, for he coolly tore the ball out of its nestling place and laid it on the green within six feet of the cup, carrying over a dangerous water hazard in flight."
Travers sank his par putt en route to a one-stroke victory over McNamara. Finishing back in the pack, 16 strokes behind, was Herbert Strong, who soon would begin to focus on golf course design. In 1932, at Ponte Vedra (Fla.) CC, he conceived an island green at the par-3 ninth hole, which joined several other layouts with a green surrounded by water. The oldest island green in continuous use was constructed by Tom Bendelow in 1908 on the par-5 16th hole at Atlanta Athletic Club. When Donald Ross remodeled the course, which is now East Lake CC, in 1915, he kept the island green and utilized it for the par-3 sixth hole. Two years later, A.W. Tillinghast designed a 15-foot-wide moat around the 193-yard par-3 15th hole when creating the second nine at Galen Hall GC in Wernersville, Pa.
Architect Robert Trent Jones was intrigued by water hazards from the outset of his long career, placing an island green in the Fox River on the 345-yard third hole at Pottawatomie GC, a public nine-holer in St. Charles, Ill., in 1939. "I've found that water holes, because of their beauty and challenge, are the most popular among the majority of golfers," Jones wrote in Golf's Magnificent Challenge. "They get excited about water. It is a hazard that is immediately recognizable, and it appeals to them, even if in a perverse way. They are intimidated by it, but they are fascinated by it."
Jones built his best-known island green in 1964 at the 160-yard 16th hole at Golden Horsehoe GC in Williamsburg, Va. The hole plays significantly downhill, and the putting surface is edged by five bunkers and a modest grass berm of varying width. It provides a golfer with slightly more margin of error for getting wet than the hole Strong created just a few hundred yards from the Atlantic Ocean. Strong's par 3 has about 25 yards between the water and the front of the green, and about 15 yards to the rear of the green.
Pete Dye played Strong's north Florida layout many times when he was at Rollins College in the late 1940s and qualified for the U.S. Open at Inverness Club on it in 1957. "Perhaps it was the memory of Strong's island green, but I knew we had happened onto something special," Dye wrote in his 1995 memoir Bury Me in a Pot Bunker. The 17th was in fact a happy accident. When it came time to complete the hole, which Dye originally had envisioned as a fairly vanilla par 3 guarded on one side by water, much of the sand around the proposed putting surface had been scooped out to build other holes. Alice, Pete's wife and partner in his design endeavors, suggested the island green. As Alice told me in 1999: "We weren't trying to be innovative and do something that hadn't been done before. It just looked like such a neat idea."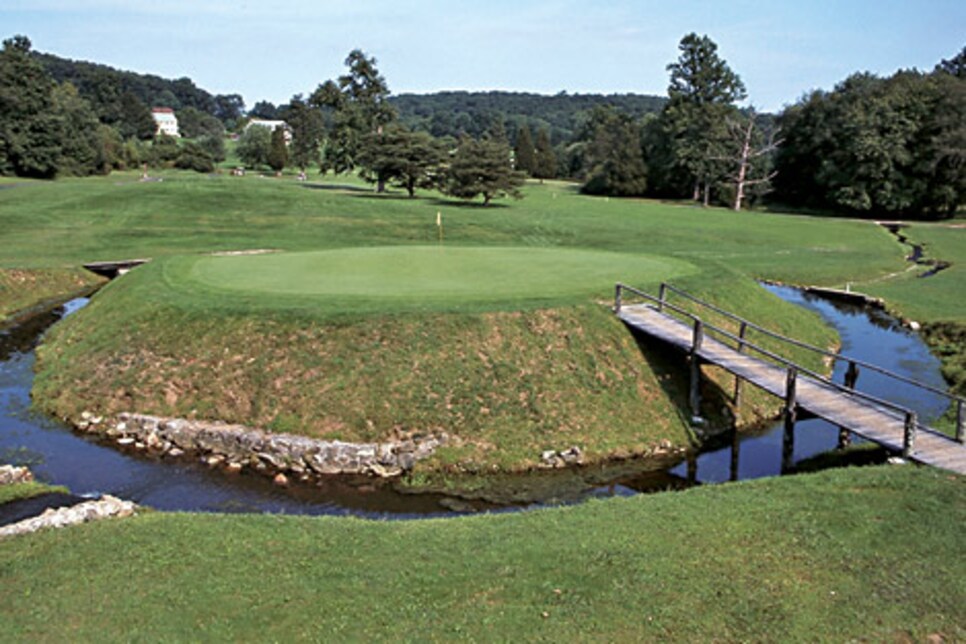 After the 17th was constructed, as Pete recalled last week while watching play on his creation, "I hit a little 8-iron right on the green playing with Alice. I told her those pros were going to tear it apart. She said, 'It's a lot different when your wife and that frog are the only ones watching you.' "
Darwin wrote that "golf at its best is a perpetual adventure," and that "it ought to be a risky business," but some of the game's stars haven't been huge admirers of water hazards. Ben Hogan certainly wasn't a huge fan, perhaps because his last, best chance to win a fifth U.S. Open unraveled in 1960 at the island green of the par-5 17th hole at Cherry Hills CC in Denver when his third shot, with a wedge, spun back in the water. "You can get too much water on a golf course," Hogan said late in his life. "I think every golf course needs a little water, on one or two or three holes, just for aesthetics."
When the Players, nee Tournament Players Championship, moved from Sawgrass CC to Dye's Stadium course, there wasn't much the field liked about the course. In 1983, during the second staging, a petition supported by top players such as Jack Nicklaus, Tom Watson, Tom Weiskopf, Hale Irwin and Ben Crenshaw called for changes to soften the severe layout -- particularly the small greens with small quadrants separated by mounds that tended to repel all but the most precise approach. "That just drove 'em crazy," Dye said. "Believe it or not, 17 wasn't one of things they had a heart attack about."
Dye modified the greens to satisfy the tour pros, but the saucy par 3 got plenty of attention in 1984 when winds blew up to 40 miles per hour during the first round, wreaking havoc. The stroke average on No. 17 that day was 3.853, and 64 balls were hit in the water, a one-day record that still stands. John Mahaffey, who would win the tournament in 1986, said the hole was "one of the easiest par 5s on the course."
Paul Azinger, who was known for his command of the short irons and wedges, is the only player to have birdied the 17th hole every round of a tournament (en route to a sixth-place finish in 1987) and one of six players with an ace there (the others are Brian Claar, Fred Couples, Brad Fabel, Miguel Angel Jimenéz and Joey Sindelar). More infamous numbers cloud the hole's history. Phil Blackmar made a 10 in the second round in 1990, Robert Gamez an 11 in the third round that same year and Bob Tway a record 12 in the third round in 2005. Blackmar probably feels worse about the 5 he made during the final round in 1991. He arrived at 17 with a one-stroke lead and finished T-3, two shots behind winner Steve Elkington. Nobody who has hit a ball in the water at 17 in the final round has ever won the Players; only Elkington (1991) and Fred Funk (2005) have bogeyed it in the final round and won.
Some players cope with the challenges better than others. Tway has the worst cumulative career performance at the 17th, 32 over par, followed by Duffy Waldorf at 24 over. By playing the hole 5-5-3-4 last week, hitting his tee shot in the water three of the four days, Billy Mayfair is now 18 over on the 17th. "The shot is difficult enough as it is, but I'm not playing very well, and when you're not hitting it good, it's even more difficult," Mayfair said. "Little things pop into your mind. Normally with a 9-iron in your hand you're not thinking about missing the green, you're trying to hit it close. All of a sudden, you get up there with a 9-iron and you're just trying to hit the green. It's talked about so much -- people write about it, and now they've got a camera on it all day and the fans are all around. Things just build up."
Mayfair could learn from his fellow Arizona resident Tom Lehman, who found dry land all four days last week at 17 en route to a T-6. Lehman has avoided the water in 61 of his 62 career attempts, while going 11 under par, one of the best in Players history, despite a three-putt bogey Sunday. His philosophy is simple. "My lack of failure? For the longest time, I never thought about it," Lehman said. "No matter where the pin is, I'm always pleased with a 3. I'm always aiming for the same spot on the green, that little flat spot just left of the bunker, almost the dead-center of the green. A mentality of a great putter works well there; either you make it or you don't. If all you're concerned with is hitting a quality putt, putting becomes easier. If all you're concerned with is hitting a quality shot, which is what I do, the hole becomes easier."
[Ljava.lang.String;@5c3e7fc1
When Ian Poulter, who was in the first pairing off the 10th hole last Thursday, got to the 17th tee shortly after 9 a.m., the air was still save the breeze produced by two electric fans at the top of the greenside grandstand, whose misting effect would be appreciated as temperatures rose into the 90s as the week went on. Poulter knocked his tee shot to 18 feet and made the birdie putt. Only a handful of players in the morning wave -- Goydos was the first, but he scrambled for a bogey that felt like a par -- hit their tee shots in the water. The wind picked up in the afternoon, contributing to 19 balls finding the water on day one, including shots hit by Ernie Els, who came up short and made a 6, and Jim Furyk, who was long and had a 5.
Els was scared of going long in the strong downwind and eased up on a pitching wedge, hitting it fat and not coming close to reaching the green. "I probably should have hit the sand iron as hard as I could," Els said. "I actually chunked it a bit, and it went in the water. Yeah, it's tough to take."
While the wind, which would continue to confuse players at No. 17 the rest of the week, isn't as hard to dicipher as the breeze at Augusta's 12th hole, it isn't a case of players being able to dial in a stock, range-session shot either. "It's not nearly as difficult a hole as the 12th at Augusta," said Furyk's veteran caddie Mike (Fluff) Cowan, "but there is certainly a stress factor. We hit a shot on Thursday, and when the ball was in the air not once was I thinking, 'Oh, geez, get down.' I thought it looked fine. But it hit the green and was gone."
The hole was located on the back shelf of the green the first two rounds, on the front-left portion Saturday and in the traditional back-right spot Sunday, although with the heavy winds (20-25 mph, with 40 mph gusts) the tee was up and No. 17 played 128 yards, shorter than usual for the final round. The wind was at its most fickle Sunday afternoon. "I threw some grass, and it would go downwind a little bit," Furyk said, "then I'd throw some up, and it would hit me in the face. And the hard thing about that green is you can wipe away about the last eight yards on it, because if you land the ball [back] there it's going to kick in the water anyway."
Sometimes last week, the 17th exacted a toll even when players avoided the water. That happened to Garcia Friday after his tee shot bounced through the green and rolled down the seam between the real grass and the strip of artificial turf on the frying-pan-handle-like footpath leading off the island green. "It can be dead calm like what happened to me," said Garcia, "and then it can be blowing really, really hard in the next second." Garcia took three putts after pitching onto the green. Saturday, he three-putted from 10 feet for a bogey.
All of the highlights and lowlights were captured on streaming video on pgatour.com on "Live @ 17," where retiring TPC Sawgrass course superintendent Fred Klauk did some guest analysis Saturday. "We'd have a lot more balls in the water if we didn't have that one-foot piece of rough," Klauk said as Retief Goosen's ball narrowly avoided running over the green. "A marginal shot that is going slow enough is saved. It stops, I bet, about 20 balls a year."
Tiger Woods, who has among the poorer cumulative records at No. 17 (13 over), has suggested the hole is too severe to be the penultimate hole on the layout. Mark McCumber, the 1988 Players champion and a respected course designer, thinks the hole serves its purpose where it is and wouldn't be the same at a different spot on the scorecard. "It has worked perfectly here," McCumber said. "If it were the third hole or the 11th hole, there would still be train wrecks, but the players wouldn't be quite as intimidated. If I made a double on the 12th at Augusta, I knew I had 13 and 15 to make up strokes and still go on to a good finish. When that happens here, there is no time to make up shots. Would I say it is a great par 3? I put it as one of the most fascinating, stimulating holes on my list. On a calm day, I don't think it scares people. You get a windy day, and it takes your breath away. Love it or hate it, it has worked. It has become a part of golf history."
[Ljava.lang.String;@281e5a51
The 17th is the closest thing championship golf has to a Hollywood sound stage, and NBC has enough cameras (10) and microphones (24) to see and hear it all. There hasn't been a Players where everything has quite come down to the little terror the way it did Sunday, with Goydos one shot ahead of both Garcia and Jeff Quinney when he arrived there. The three handled the final-round pressure as if there were only amphibians and reptiles eyeballing them instead of thousands in person and millions more on television; in fact, among the final 12 players on the course, only Bernhard Langer rinsed his tee ball. That wasn't the case when Goydos and Garcia returned for the first hole of their sudden-death playoff. With the honor, Goydos struck a pitching wedge, the same club he had used so effectively 30 minutes earlier. This time, though, it flew a bit higher and was affected by the wind. It splashed a yard short of the bulkhead, opening the door for Garcia, who responded with a stunningly pretty shot to four feet.
"I think it did exactly what it was designed to do," Goydos said later when he was asked what he thought of the 17th hole, which in addition to tripping him up played as the fourth-hardest hole with a 3.302 stroke average, the fourth-highest scoring on the hole in Players history. "For me to complain to Pete Dye now would be sour grapes. Just got me instead of somebody else. And it gets somebody every year. That's what it's designed to do."
Talk about a ripple effect.