News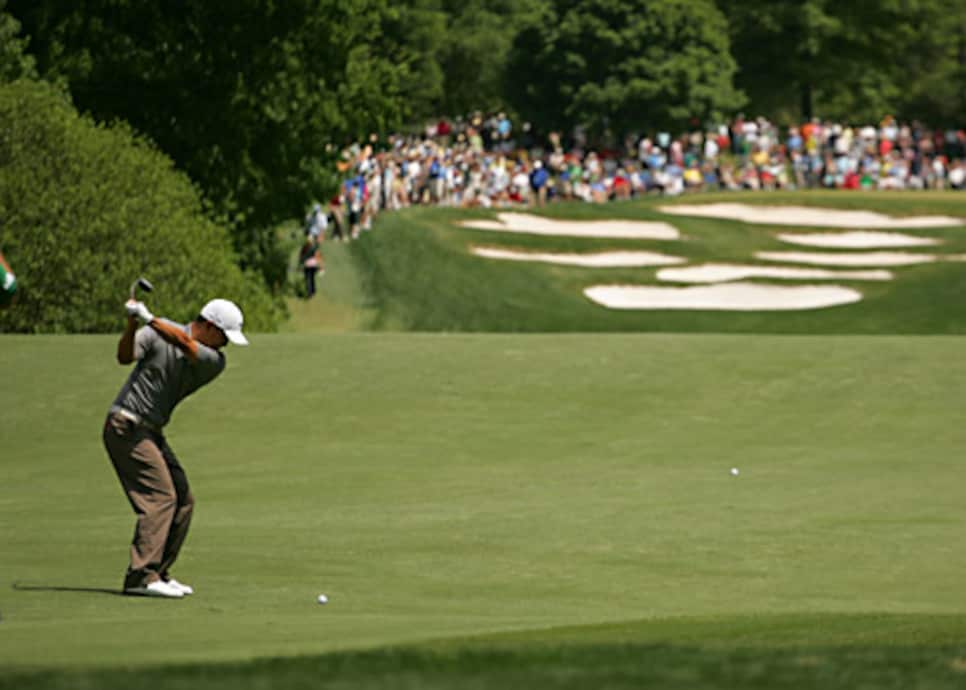 Woods' absence left the door open for some big-name veterans, but it was second-year pro Kim who filled the void.
Greetings from Charlotte. Well, you missed it, bro. Johnny Harris and the Dancing Wachovias had the Maybach fired up and waiting, and they were real disappointed you couldn't make it. On the other hand, some of the guys seem concerned you might be pushing it a little, trying to get back too soon. They think you should take all the time you need. Nothing is more important than your health, at least I think that's what those shrugs meant, though I confess it's not easy to read body language. Anyway, get well, big guy.
Just a suggestion, but you might want to Satchel Paige this Anthony Kim kid who won his first here. The list of folks younger than 23 who have won on tour is short and stout. Guys like Crenshaw, Ballesteros, you. Paige said, "Never look back, something might be gaining on you." Well, AK-47 is dangerous. Kim's still a little bling-o-licious with his House of Sabbatini belt buckle and maybe he did join the tour last year with a little bit of L.A. street brat in him, but the kid is learning how to flat play golf. Did you know he's got Mark Calcavecchia's caddie, Eric Larsen, on the bag? What's the deal with that? I thought you and Calc were buds. Apparently, Calc told Eric he could make a boatload of money with the kid, and he'd be an idiot not to try it. You know Calc, he's the Panama Canal of boatloads of money. So far, these guys have a second at Hilton Head and now they throw a headlock on first at Quail Hollow, which Eric said is just like Harbour Town except all grown up, which is kind of the way the kid seemed, too.
You know as well as anyone, you have to golf it around Quail Hollow. Even at 7,442 yards, you can't just bang away at it which is why you like it, too, right? At any rate, the kid was talking about the greens at the Hollow and how sometimes it's better to have a 30-footer uphill than a four-footer from above the hole, which is the same for all those Oakmonts and Winged Foots and Oakland Hills-type places, not to mention Augusta National where he's going to be playing next year, which means he's figuring out the big stages. Heck, your buddy, Mark O'Meara, is one of the guys who advised him last year in that Merrill Lynch Shootout when the two of them played together. And I thought Marko was your man. What's the deal with the posse?
Whatever. It's started to kick in for the kid. After he smoked the field, he said, "I think if I had won last year, my practicing would have gone down to even less and there wasn't much [for] it to go down. I might have been playing on the Hooters Tour. It might have been the best thing for me, just to get slapped in the face and realize that I can't win out here without practicing and giving it my all and focusing on every golf shot and on every practice round. You know, all that stuff is behind me. I was an immature kid last year, and I feel like I've grown up quite a bit, and I think that helped me so much this week, so much this year and, hopefully, in the future." Sounds like a man to me.
What I'm getting at is, you might want to watch this one close. You know, he's 22 and you're 32, and Watson was 10 years younger than Jack, and Jack was 10 years younger than Arnold and, well, you get the picture.
All the kid did was stomp a pretty good field the way Lucy and Ethel danced with the stars through a vat of grapes. Let's see, it says here he finished at 272, 16 under par, and won by five over Ben Curtis. Yeah, that Ben Curtis. I'll get back to him. AK-47 had it to 18 under and a seven-shot lead with those last three holes to play -- which means he made one of the scariest finishes on tour look like yesterday's sushi. Couple of walk-off bogeys and he was outta there.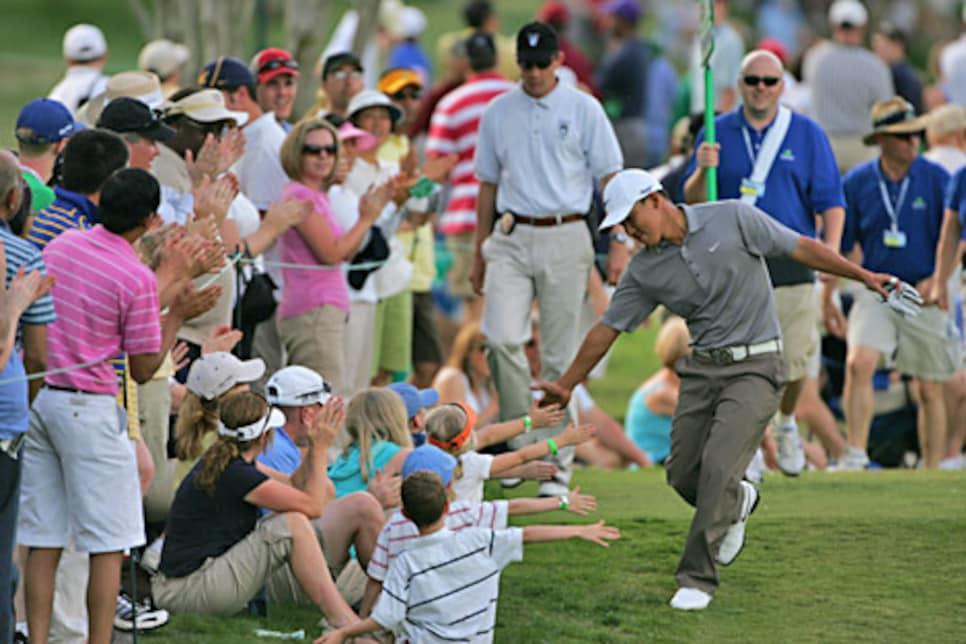 You could say he won it on the front nine Sunday but that's only partly true. He actually won it on the last three holes Saturday plus the front nine Sunday. He took 14 putts over that 12-hole stretch and played it five under par. It reminded me of that time in '97 when you dusted Colin Montgomerie on Saturday at Augusta. Remember what Monty said back then? "I appreciated he [meaning you] hit the ball long and straight, and I appreciated his iron shots were very accurate. I did not appreciate how well he putted." It's déjà vu all over again, bro.
On Saturday afternoon everyone is just trying to survive those last three beasties, post some kind of score. They're the hardest holes on the golf course, no doubt. After a clutch two-putt on the 15th, AK-47 makes a 10-footer for par on the 480-yard 16th, a nine-footer for par on the 217-yard 17th and a seven-footer for birdie on the 478-yard 18th. Then, on Sunday, he birdies the first when he wedges it out of the left rough to five feet; two-putts from 80 feet for birdie on the par-5 fifth; makes a 20-footer for birdie on the par-5 seventh after he drives it in jail; and pulls driver on the 343-yard eighth, hits it in the right rough, flops it to 20 feet just off the green and makes that. He even gets it up and down for par on the fourth and ninth when he can't reach the green, the first time out of the rough, the second time out of a fairway bunker when he hits the pin with his wedge.
Heath Slocum was trying to do Scratch Ankle, Fla., proud for the second time in three weeks (his high-school chum Boo Weekley is the guy who beat the kid at Harbour Town), but all he got was a front-row seat for the slaughter. "From the get-go, he put his foot on the gas and never let off," Slocum said. "That was very, very impressive."
It would have seemed like the old times to you.
Oh, and you should have seen Phil Mickelson. Man, with you running in place in the pool back home, he had this look on his face like he was a 17-year-old high school junior whose parents just told him they're going away for the weekend and he's going to have the house to himself. And, get this, Phil says he's grown an inch since he's been working out so he had to get a longer shaft for his putter. Maybe his trainer got a degree from Spanish Inquisition U.
The spinal-enhancement thing worked pretty well for him the first day, but Friday Phil did another very-Phil thing and drove it into the trees on the left on the 15th -- you know that really easy par 5 around the lake and up the hill? Well, everyone knows, you miss the fairway, you play a little D, make a 5 and get out of there because all of a sudden the lay up is no gimme. Of course, you could have cut it outta there, but Phil's not as strong as you yet. He's still a growing boy. (Ha, ha.)
Anyway, Phil tries to hook it out of the rough, hits it dead straight into more trees and makes double. Then he doubles the 18th with a wedge in his hands. So, back to the rack.
The guy who led the first day was David Toms. Yeah, D.T. hasn't been around much lately, either, has he? His back's been in active revolt. He says his grandpa and his pops had the same thing but, honestly, I think he's thinking at least as much about skiing as golf, which is a little ironic since he won here that time with a snowman on the last hole. Anyway, he was leading with a 67, but you got the feeling he was just waiting for it all to go south on him, which it did the next day with a 75.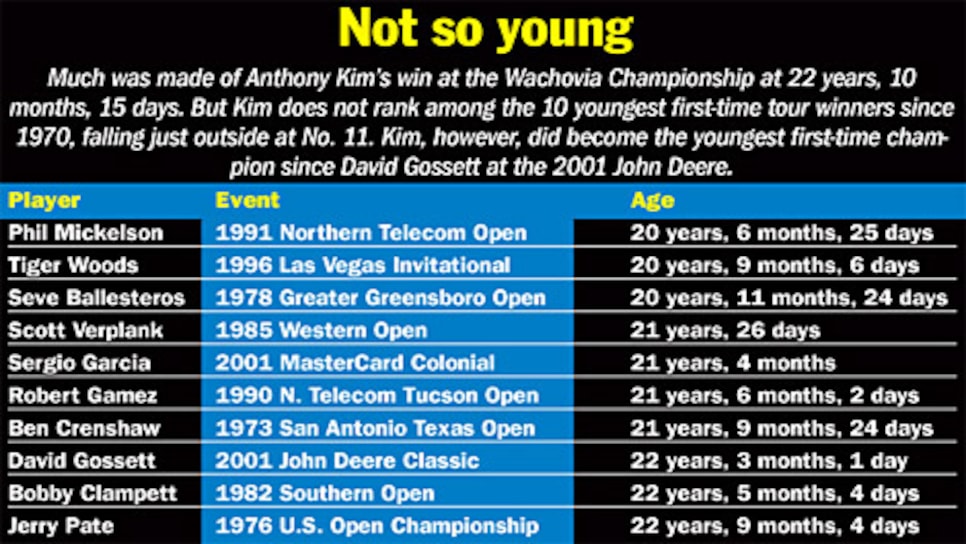 The best thing about having Jason Bohn grab the 36-hole lead was you got to hear all about that million dollar hole-in-one again. J-Bo popped a couple of ribs last year at Memorial then re-broke them that day at your tournament at Congressional and had to take a medical for the rest of the year. At least he didn't get bored and do some John Daly "No-Shirt-No-Shoes-No-Service" video and show up on YouTube barefoot, beltless in blue jeans and topless in the Ozarks. Hey, you think J.D. waxes? Oh, and the thing about his ex-Hope girl and the Rocket came out, too, though that's old news out here, isn't it?
Anyway, J-Bo has 'em all laughing just like always. Says it was the day after Halloween, and he was a sophomore at Alabama. Says he's wearing this Batman cape (you favored Spiderman, right?), and he goes to every party in Tuscaloosa the night before then passes out on the floor of his apartment. The next morning his roommate wakes him up, makes him go to the hole-in-one thing because Jason wasn't feeling too good, you know? There's like this qualifying round then he snoozes for a couple of hours until he gets the chance to dunk the seven-figure 9-iron. Best shot ever made by a human barley fogger. He turns pro while he's still in the air on his first jump, takes the mil in annual installments, and the rest is mini-tour legend. Of course, what he gets every year isn't even tip money to you, but it meant a lot to him, I guess.
Sunday figured to have a major champion winner of some kind or other chasing the kid, who slept on a four-shot lead. The smart money was on Jimmy Furyk or Geoff Ogilvy, who I swear walks like the Australian Don January, sort of like he's up to his waist in water. Maybe Vijay Singh or even Phil. But, instead, here comes out-of-nowhere Ben, who hasn't had a decent tournament in the 48 contiguous states all year. He birdies the first four holes and finishes with a 65 for closest also-ran. So, that's about it. After it was all over, I bet Calc sent Eric a text message, something like: "This time you're fired for sure. :)" Give my best to Elin and Sam. See you when I see you.