News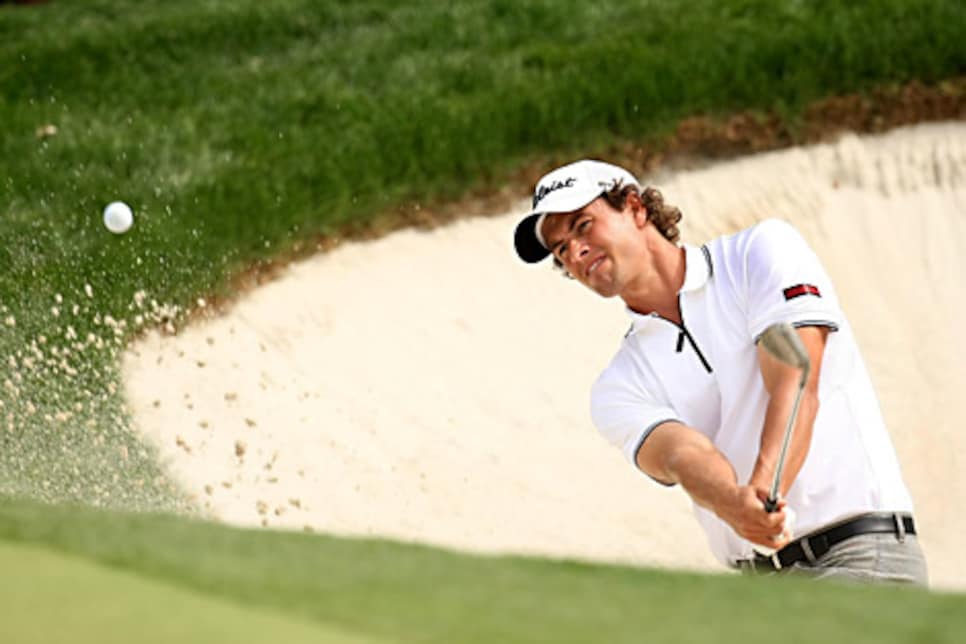 An improved short game helped Scott close on the game's elite.
For Adam Scott, the road to golf's highest level has been a four-lane highway with a rest stop every couple of miles. He began 2007 ranked third in the world but entered last week's EDS Byron Nelson Championship at No. 10, an apt reflection of a player who piles up lots of high finishes but never seriously has contended at a major. Scott's six PGA Tour victories are evenly spread over five-plus seasons in the U.S. More often than not, winning has proven considerably more difficult than it should have been, although Scott hasn't double-bogeyed the 72nd hole to lose a tournament, either.
At age 27 his career has become the property of subjective perspective. Underachiever? That would be awfully harsh, although anyone standing on the 18th tee at the TPC Four Seasons last Sunday night might still be wondering why Tiger Woods isn't lying awake at night worrying about a curly-haired Aussie who is movie-star handsome and, every once in a while, nothing less than awesome.
On the first of what would be a three-hole playoff against Ryan Moore (both finished at seven-under 273), Scott unloaded a 333-yard draw on the 18th, a par 4 with water down the left side, a textbook collision of power and precision that finally came to rest in the center of the fairway, 60 yards closer to the flag than Moore's drive into the right rough. From there, Scott nipped a low-altitude sand wedge that stopped 15 feet right of the hole, but for all he had just done to end this playoff moments after it started, he babied the game-winning putt with a tentative stroke and mindset of a man who led by three.
No blood, and back to the par-3 17th, where Scott carried the greenfront pond by no more than two yards, a shot even Evel Knievel would have thought gutsy. The bold play left him an uphill, inside-the-hole eight-footer, but Scott burned the left edge and Moore, whose first putt was from about 80 feet, canned a six-foot comebacker for par, sending two of the decade's more heralded phenoms back to the 18th.
This time Moore held the edge off the tee. Scott's drive found the right fairway bunker he had aimed at all week. His approach came up 10 yards short of the green's midsection, leaving him a 48-foot, no-way-José putt from the front third to a deep-left pin. Just when it looked as if this battle might last until dark, Scott holed the bomb for his first U.S. victory in more than a year and another temporary exemption from the angst of what might not have been.
"I kind of got away with it today," he said afterward. "I was a bit lucky, certainly on the putt, and in the end, I learned I could actually win without things going my way, but this wasn't quite the statement I had in mind."
Perhaps not, although one senses the 2008 Nelson champ is just as dangerous over a 50-footer with six feet of break as an eight-footer with no wiggle, especially when a trophy is on the line. Beyond his enormous talent, lanky build and classic golf swing, Scott bears some striking resemblances to Davis Love III. Both are ultra-gentle, kind-hearted people whose niceness is easy to depict as a competitive weakness. They can hit shots and hole putts few others have any business even trying to execute, but as the tasks get simpler and performance expectations rise, so does the level of internal anxiety.
It's called a dilemma. Do those with gifted bodies and passive souls manufacture some artificially flavored intensity in an attempt to vanquish the doubt that festers inside? "I don't play well if I get too pumped up, if I don't bring myself back down to hit a shot," Scott said. "I was grinding today. I was playing hard, and I wasn't going to let it slip away. I felt like I'd worked hard all week to get into this position."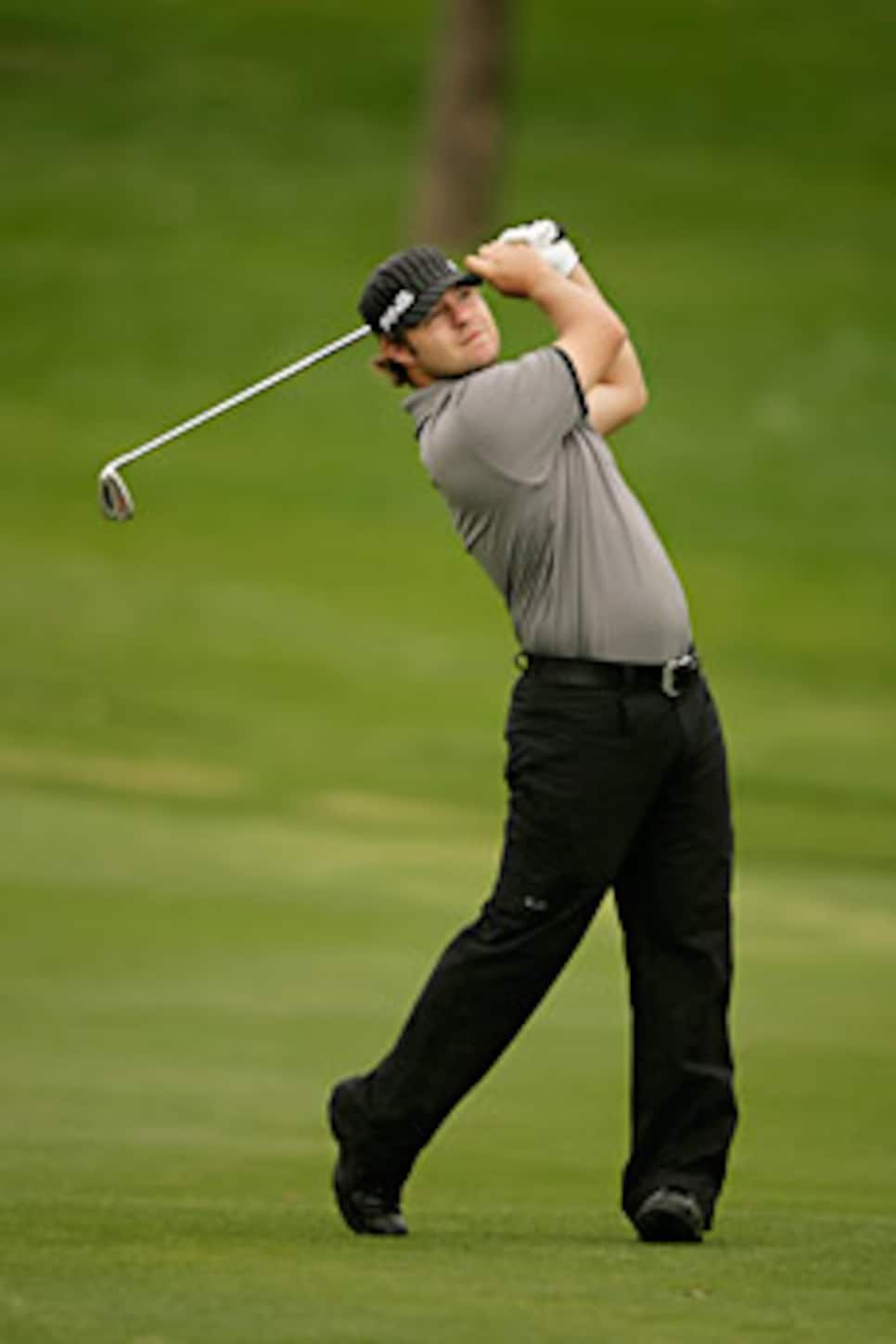 So you can't tell a man where to set his dials, whether you're sitting a thousand miles away with all the answers or standing three feet away holding a bag with 14 clubs. "Yes, sometimes I'd like to see him get mad," admitted veteran caddie Tony Navarro, who spent years alongside Greg Norman before hooking up with a less bossy Aussie after Scott turned pro. "He can get hot at himself, at me, at anybody, but he treats everybody the same. You, me, the hotel attendant. Doesn't matter."
Think back to the 2004 Players Championship, where Scott lugged a two-shot lead to the 18th fairway and launched a 6-iron into the drink on the left, eschewing 15 yards of very friendly grass right of the green. He made an eight-footer for bogey to prevail by a stroke, but when a very similar situation occurred last spring in Houston -- Scott found water left off the tee but got away with murder again when Stuart Appleby's fairway-bunker shot hopped into the same lake -- you couldn't help but wonder about the kid's nerves.
Never mind that Scott dunked a mile-long putt on the 18th green in Houston, stretching his final margin of victory to three. If Appleby hits even a half-decent second shot, Scott easily could have walked away from that experience with 400 pounds of trauma strapped to his future. "There is no downside to winning," he theorized. "And to be honest, I'll probably take more away from this one than if I'd won by five, whatever that may be."
It wasn't exactly an endorsement loaded with self-confidence, but Scott continues to win tournaments and, thus, continues to close the gap on the lethal sickness known as vast potential. The same can be said of Moore, whose spectacular amateur season of 2004 led to projections of immense success as soon as the hardware started coming with a cash reward. A hand injury cost him about a year, and more recently, a shoulder ailment forced Moore to limit his practice time and tour starts. Even with those issues, he had collected three runner-up finishes before last week's heartbreaker.
Caddie Matt Hauser worked alongside J.J. Henry for years until the two recently parted amicably, and Moore just happened to be looking for someone to take over his bag. The two worked together for the first time two weeks ago in Hilton Head Island, and Hauser, an excellent player himself, can quickly spot players with outrageous upsides. "This kid, the later you get in a round, the better he gets," Hauser gushed. "He's had that same feeling [of dominance as an amateur] that Tiger and Lorena [Ochoa] are feeling now, which is something very few players have experienced. He's had that feeling before, and he wants to feel it again."
Moore didn't do anything to cost himself his first tour victory. His two-under 68 was the lowest final round among those in the hunt starting the day, and he spent the entire afternoon on the lead after the large pack of 54-hole wonders headed back to reality. Bogeys at the 13th and 14th obviously didn't help Moore's cause, but Sunday was an unseasonably chilly day near Dallas, and with the usual two- to three-club breeze, the redesigned (and renamed) TPC Four Seasons was all anybody could have wanted.
In fact, Moore rallied with birdies at the par-5 16th and another at the 17th, where a front-right pin and in-your-face wind brought the water very much into play. After knocking his tee shot to 12 feet left of the hole, a perfect spot, Moore holed the putt to take a one-stroke lead to 18. Scott, playing one group behind, would force overtime with a birdie at the 18th.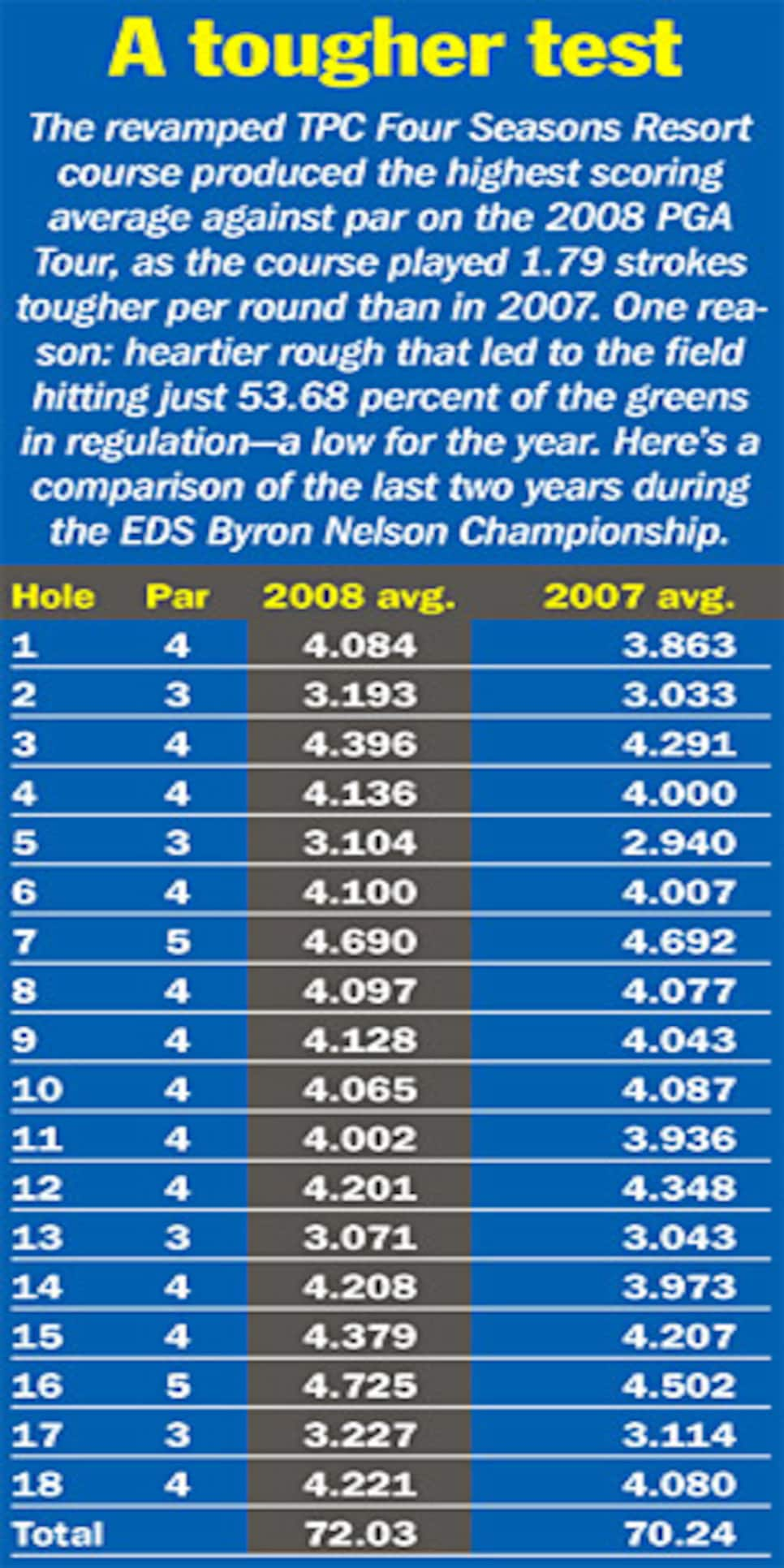 If you won't find a more benevolent top-tier player than Scott, Moore packs a little attitude. Those who first spoke to him after his T-13 finish at the 2005 Masters couldn't miss the cocky streak, but it's not a blustery, over-the-top brand of braggadocio like the stuff Rory Sabbatini crams into his hip pockets. There isn't a player on the tour who stands more open to the ball at address, but Moore is exceptionally adept at shaping the ball, or at least he was last Sunday.
With his homemade swing, Oakley threads and funky engineer's cap, the 2004 U.S. Amateur champ has more than a little David Duval in him. And just as Duval in his heyday, this guy can play. "I just went head-to-head against one of the best players in the world, and he had to make a 50-footer to beat me," Moore assessed. "That's a good place to be." So is the trophy ceremony, no matter which road you take. Scott clearly has distanced himself from all other post-Woods phenoms, which only means it is time for the next step.
His best performance at a major was a T-3 at the 2006 PGA Championship, which earned Scott a bunch of spending money but doesn't mean he had a chance to win -- Tiger shot 18 under and won by five. Rightfully maligned early in his career for owning a sloppy short game, Scott has improved dramatically around the greens in the last three or four years. The 10-footer he made Sunday to force the playoff was a big-time clutch putt, and if that 48-footer to win was a bit lucky, those look-what-I-found surprises are the kinds of breaks that can propel a player to new heights. He may not hit every drive 336 yards, but Scott is exceptionally long off the tee. Although he has never ranked better than 117th on the tour in fairways hit, he is rarely out of play with the big stick.
If you look at his 2008 statistics, you may notice Scott leads the tour in the all-around ranking and is enjoying an exceptional season with the putter. None of that will work against him at next month's U.S. Open, where the big ballpark by the Pacific may represent the Aussie's best chance to win that particular major. "Torrey Pines should be a real good course for him," said Navarro, who left Dallas with a Cadillac as part of a promotional program the tournament held for the caddies.
Fact and optimism needn't be antonyms, but Southern California has a lot of four-lane highways, most of which are always bumper to bumper no matter what car you drive. As did Norman, his fellow countryman and boyhood hero, Scott might want to think about taking a helicopter to reach the highest level. It might be a good idea to leave the parachute at home.