News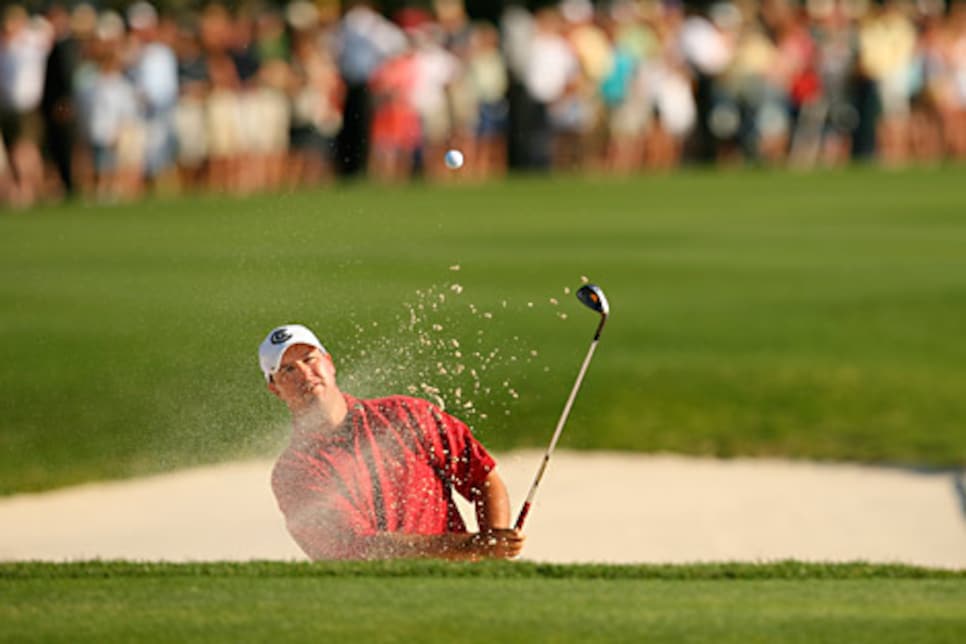 Weekley's short game, critical to his '07 win, was also part of his '08 formula.
Boo Weekley freely admits he once presumed that, if he were going to make a living with his hands, it would probably have something to do with a shovel. We know he can maneuver a rake, because there he was, smoothing out a bunker last Friday, just to keep things moving. Writing that column during the Masters was OK, but he'll defer to mother Patsy's efforts in a local paper throughout the Verizon Heritage. Said Boo of her distinct advantage, "She can spell."
What this good ol' boy can do is golf his ball and collect tartan jackets. Weekley's now got two for the darkest corner of his mobile-home closet after another excellent adventure at the Harbour Town GL, where he repeated as tournament champion by ambling to a three-shot victory Sunday over Anthony Kim and 2006 winner Aaron Baddeley. Boo signed for an even-par 71, his highest score ever on this timeless parcel of real estate at one of the PGA Tour's most anticipated stops, and yet he wasn't really pressured much in his debut as a 54-hole leader. He made a few mistakes, the most glaring being when he readied to hit first on No. 18 although it was Kim's turn. But that's still not as dangerous as 'rassling an orangutan.
For all Boo's drawling antics -- "I kind of act like a cartoon character" -- he strikes it pure and low, a perfect antidote for these tiny greens surrounded by tall trees that disguise nimble breezes. That makes Weekley somewhat windproof. Add a few strategic putts to a penchant for chip-ins (No. 10 Sunday for birdie, Nos. 17 and 18 a year ago to nudge Ernie Els) and you have yourself, as he says, one happy redneck. Boo's problem might be career planning. He's no fool when it comes to investing, according to his hunting buddies from the Florida Panhandle. Plus, he would rather fish than fly, so he's set a goal of $8 million. When Boo gets there, Boo promises he'll be gone, and Boo is getting there quickly, although he and Kim were put on the clock during the back nine.
Weekley called that "aggravating." But then, he termed his entire round "ugly" and so nervewracking that he perspired through four gloves. Borrowing from Tigerspeak, sort of, Boo said he brought it home with his C or D game. However, he went on, "It goes to show, I kind of proved to myself, you ain't always got to have your A game to win. I had the rights all day. I had them all week with the driver and a little bit with the irons. On the practice ground this morning, I had the pulls. This golf is a crazy game. That's why I only want to do it for so long and get out of it."
Weekley began his afternoon clutching a three-shot advantage over Kim, saved par with a 15-footer on No. 1, then widened his margin to five at No. 2 with a birdie while Kim bogeyed. Weekley's cushion over Kim was reduced to three again at No. 8, but Kim doubled the short par-4 ninth. While others of age 22 might have wilted, Kim belied his inexperience with three consecutive birdies on the back to shoot 71 against Baddeley's 69. Apparently, Kim's film study of Tiger Woods with head frozen over putts was instructive.
Still, Weekley executed just effectively enough to thrill the thousands of Boo-birds in the gallery. With his closing aggregate of 15-under 269, Weekley became the third player to win at Harbour Town in consecutive years. Davis Love III, who has five jackets, was the champion in 1991 and '92. Payne Stewart prevailed in 1989 and doubled his pleasure in 1990. Last year, Boo's coronation was delayed by high winds until a Monday finish before a slim gathering. Last Sunday, around happy hour, the stands were packed. That's more like it.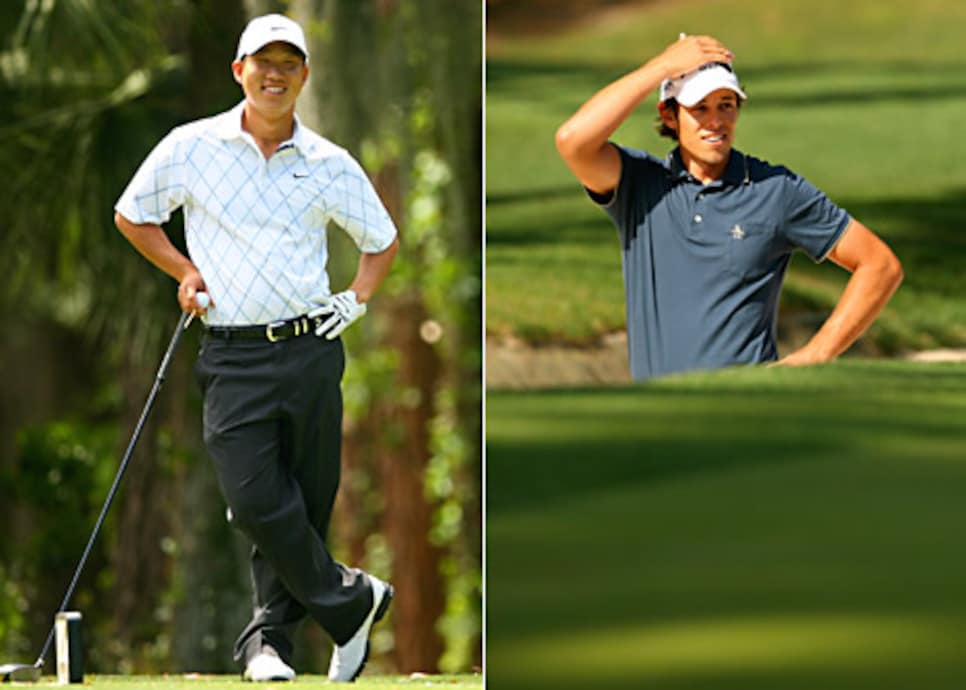 "I didn't rehearse nothing," assured Weekley, who passed on the belly-roll or moonwalk for a simple fist-pump. That concluded another eventful trip for this deeply Southern cult hero who donned his holdover tartan jacket for a pre-tournament ceremony he characterized as a "march around that lagoon." Then came Wednesday's pro-am, and he played with Patsy, who outdrove him on one hole, much to his dismay. "Did kind of get under my skin," admitted Boo. After a 69 Thursday that positioned him three shots wide of the lead shared by Love, Lucas Glover and Justin Leonard, Weekley blistered the premises in 64 Friday, when he reckoned the longest of his seven birdie putts was only about 10 feet. Normally, to follow a low number with another is a rarity, but so is Boo, which is why you won't often utter his name and "normally" in the same breath. So he birdied five straight holes on Saturday's front nine for 31 and wound up with 65. He thus picked up eight digits in four hours on Glover, who sagged to 73 and finished T-7. He was 12 under for his first 45 holes and four over on his last 27.
Weekley is a ready, able and willing accomplice to sights you assumed you would never see. Jim Nantz, the great CBS voice of golf, shook hands with Boo over the weekend. Whether this was an initial hello or a re-introduction Boo couldn't be sure, because he couldn't quite place the famous broadcaster. "Guess I ain't watching enough TV," apologized Weekley. Then again, Boo will chat it up with absolute strangers across the ropes "because they're paying my bills," and he is renowned for random acts of kindness.
One tale they tell about Boo is way back when he was a hydroblaster at a chemical plant, earning $7.50 an hour. Business was slow, so layoffs were pending. Weekley had seniority on another guy at the place, a guy who had a family, a wife and four kids. Boo was single and carefree so he walked into the boss's office and volunteered for the furlough so the family man could keep his job. Now, Boo and his wife, Karyn, are expecting their second child soon and building a new house right near that mobile home. He has come a long way from Abraham Baldwin Agricultural College, where he didn't matriculate very long anyway.
Last year, after Zach Johnson won the Masters, he also played the Verizon Heritage. "I went to New York but left right away to come down here," said Johnson. Last week, Trevor Immelman went to the Big Apple and stayed a while. One of his stops was basketball at Madison Square Garden. Is that what you get for winning the Masters? A Knicks' game? What do you get for losing the Masters? Two Knicks' games?
Woods took the less painful alternative, knee surgery. Some of Tiger's lodge brothers were surprised. Stewart Cink, who notched his fifth top-10 of the year at Harbour Town, didn't notice anything peculiar as Woods' sidekick on Masters Sunday. But others recalled how Woods walked tentatively last summer, during the PGA Championship, Tour Championship and Presidents Cup. Meanwhile, there was ample celestial musing about the fellow who beat Woods at Augusta National.
"I tell you, what Trevor accomplished was off-the-charts important back home," said Els of his countryman's green jacket. "The Masters is the major back in South Africa, even though you would think the British Open would top it, what with our country's history. Maybe it's that a whole generation of us grew up watching Gary Player at Augusta National on television. This is huge for Trevor. When he was younger, competing in Europe, some of the press there had him coming across as cocky. But he's a great kid from a nice family.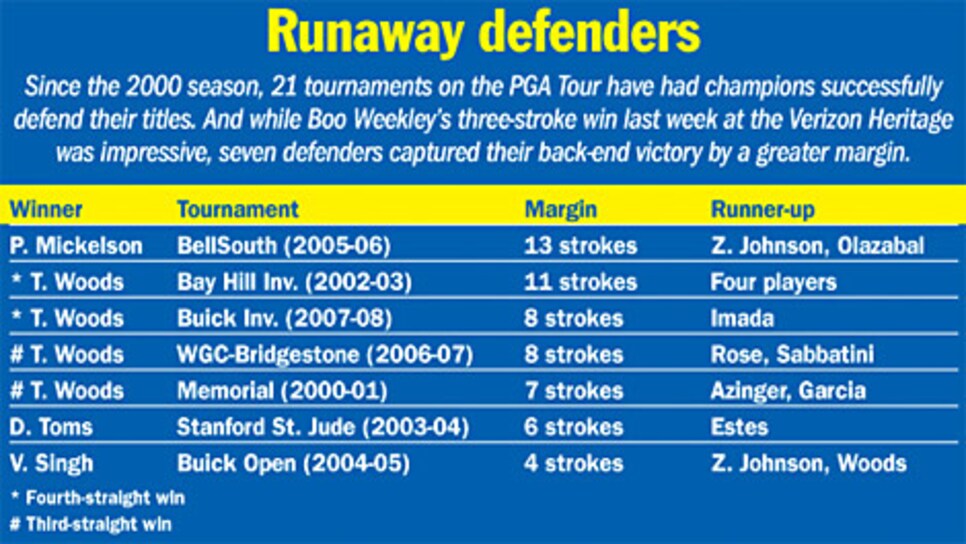 He was always asking us -- and, obviously, Gary -- for advice on how to win a major. Now I can ask him for advice on how to win a Masters. We've all tried to win it for so long. Myself, Retief [Goosen], Tim Clark, Rory Sabbatini. We've all finished second. We've never gone that one step further. And it's a perfect situation for South Africa, given Trevor is in his 20s and so closely associated with Gary, who recognized Trevor's passion when Trevor was just a kid."
Els gave his driver to a volunteer after Thursday's 72 and flew back to London after Friday's 76. He hasn't broken 70 in four tournaments since his Honda Classic victory. Although he hasn't yet logged many sessions with new coach Butch Harmon, Els said he is encouraged. Also, The Big Easy has other things on his mind.
Weekley certainly would be an interesting component of Paul Azinger's 2008 U.S. Ryder Cup team. Boo could qualify on points, of course, but if not, Azinger has four wildcards. He has already expressed the desire to build an unconventional roster, if necessary, and Boo doesn't quite fit any mold. He chides himself for chewing tobacco, but chews anyway because, he says, he likes to spit, and if you have nothing to spit out, spitting "just white stuff" gets boring. "Bad habit, not for the kids," cautioned Boo, who might be immune from Ryder Cup angst because he is not what you would call a student of golf history. "I think Justin Leonard made a putt or something," he said of America's last victory over Europe in the biennial matches.
Speaking of which, Greg Kraft made his first appearance since he registered a victory at the Puerto Rico Open. Last week, Kraft made a point to find Azinger, who has also said he might lean toward selecting "hot" golfers with his four choices. That got Kraft's attention. "So I went up to Paul and asked him the other day here," he said. " 'If I win my last start before the Ryder Cup, am I on the team?' He said, 'You're in.' Great. So I told him I'm done for the year. I won on Easter Sunday, and that's it. I'm on the team, right?" Azinger, realizing he'd been had, rolled his eyes.